Black Dresses Under $100
Loads of little black dresses for all sorts of events… and all for under $100!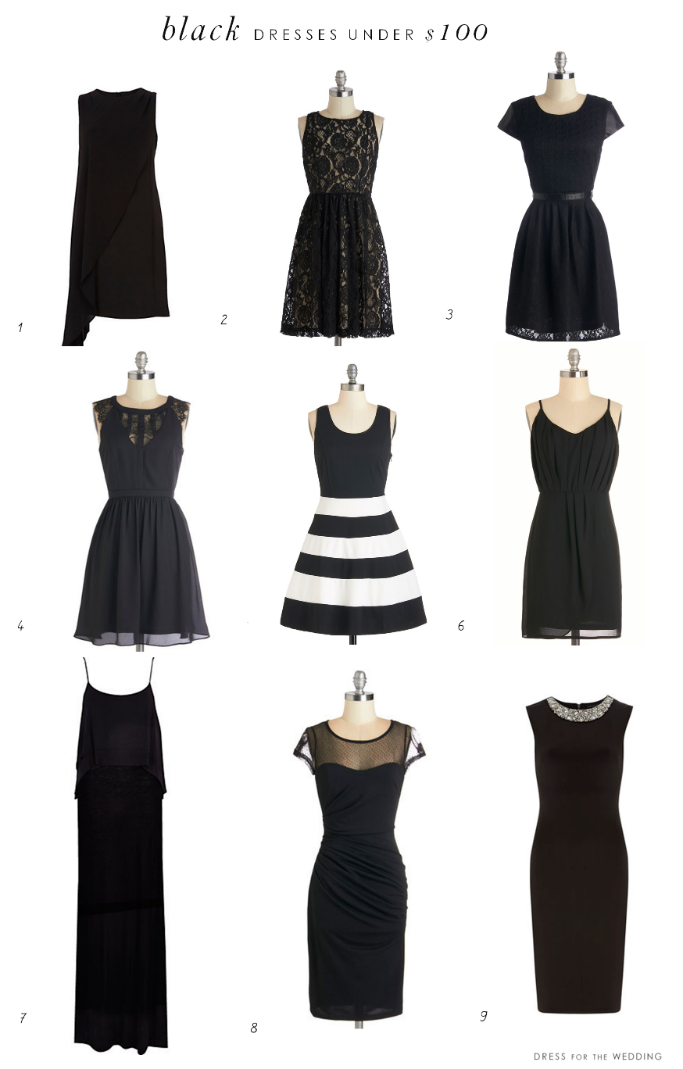 1. Black Draped Dress from River Island // 2.  Tracy Reese 'Dinner with a Darling' Dress ( was $147, on sale for $43.99!) // 3. Networks like a Charm Dress at ModCloth //4. 'Bringing Fancy Back' Dress from ModCloth // 5. Demure Dame Dress from ModCloth // 6. 'Everlasting Elegance' Dress from ModCloth  // 7. Black layered Cami Dress   // 8. 'Fete for a Queen' Dress from ModCloth  // 9. Embellished pencil Dress from Dorothy Perkins 
I commented last week that orange seems to be the reigning color of October,  but if you think about it, black is pretty prominent this time of year too. ( Did I just kind of say black is the new orange? Hmm.) The little black dress never goes out of style or season, but in the fall and winter there is often a flurry of evening parties, events, and holiday celebrations that make the little black dress just the thing to wear. You can also wear a little black dress to a wedding–just be sure to make it festive, not funereal.
I've been happy to see that these 'under $100' dress posts have been popular–it's good to know my readers love bargains as much as I do!  These dresses are also great if you're a bride who is asking her bridesmaids to wear a black dress of their own choosing. Just have your ladies pick one of these and they'll love you for saving them money, and for letting them choose a dress they'll absolutely wear again.  So whether you're hoping to channel Audrey Hepburn (dress #8 and #9, seem very Audrey-esque) or want stripes (#5), lace, or modern shapes ( #1 and the maxi dress that is #7) you have plenty of choices.  And in typical form, I couldn't just stop at 9 during my search, so I have a few more in the shop section below.  Have fun in these LBDs!
More posts you might like:
Black Dresses in the Bridesmaid Dress Shop
Little White Dresses under $100


More style ideas you might enjoy :