Accessories - Tipsy Skipper Clutches
You may have noticed by now that I have a soft spot for preppy style, bright prints, nautical pieces, and clutches.  That's why the line of accessories I'm about to show you--which incorporates all of these elements--is quickly becoming one of my absolute favorite things.
The brand is called Tipsy Skipper, which is one of the catchiest names ever. Don't you agree? The designer behind these great prints is Kearsley Lloyd, who brings her incredible eye for color to every fabric she designs. As a graduate of Rhode Island School of Design (RISD), a former design intern at Lilly Pulitzer and Vineyard Vines, and the winner of CK Bradley design contest, Kearsley has some amazing credentials, and has now built the Tipsy Skipper brand into a full line of classic style staples that folks will be sporting for years to come.
The Tipsy Skipper product line includes: totes, flip-flops, key fobs, and Skipper Skimmers, which are adorable little flats, but today, I wanted to show my readers the line of Tipsy Skipper clutches known as the Captain Morgan Clutches.
While many of us became familiar with Captain Morgan name while enjoying a rum and coke, Kearsley is an actual descendant of this famous pirate. Did I mention this lady is fascinating?! (And she's based in New England, where I'm from, too!)  All of the prints are her own original fabric designs, and all are 100% American-made.  So you have an artist, female small business owner, and American manufacturer and retailer all rolled into one. You should feel really good about making a purchase here!
Ok, so on to the clutches. I have had a hard time deciding which one to add to my collection since they are all so pretty. Here's a sample of some of my favorites, but there are many more options to choose from.
Find your favorite Tipsy Skipper Clutch!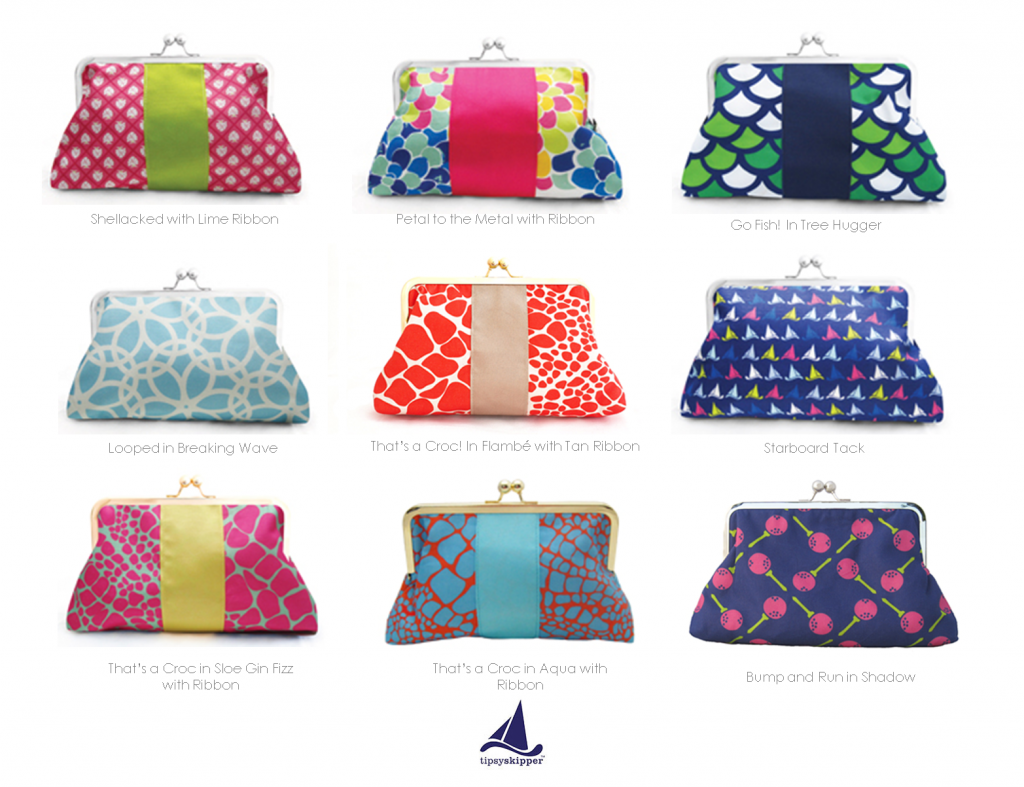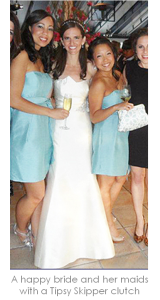 I think these might possibly be the ultimate gift and accessory for a bridesmaid, because they coordinate well with so many bridesmaid dress colors, and you can have a lovely little monogram added to personalize this gift for your favorite girls. Kearsley also has been known to do custom designs for weddings and sororities, so if you have a vision of what you want, or need a particular color combination, drop her a note.
If you're a wedding guest, it almost goes without saying that by all means you should snap one of these up. Again, the colors are so pretty and go with a rainbow of current dress styles, especially the navy, pink, coral, and minty hues I've been so in love with this summer.
Ann Taylor Bridesmaid Dresses and Dresses for Wedding Guests with Tipsy Skipper Clutches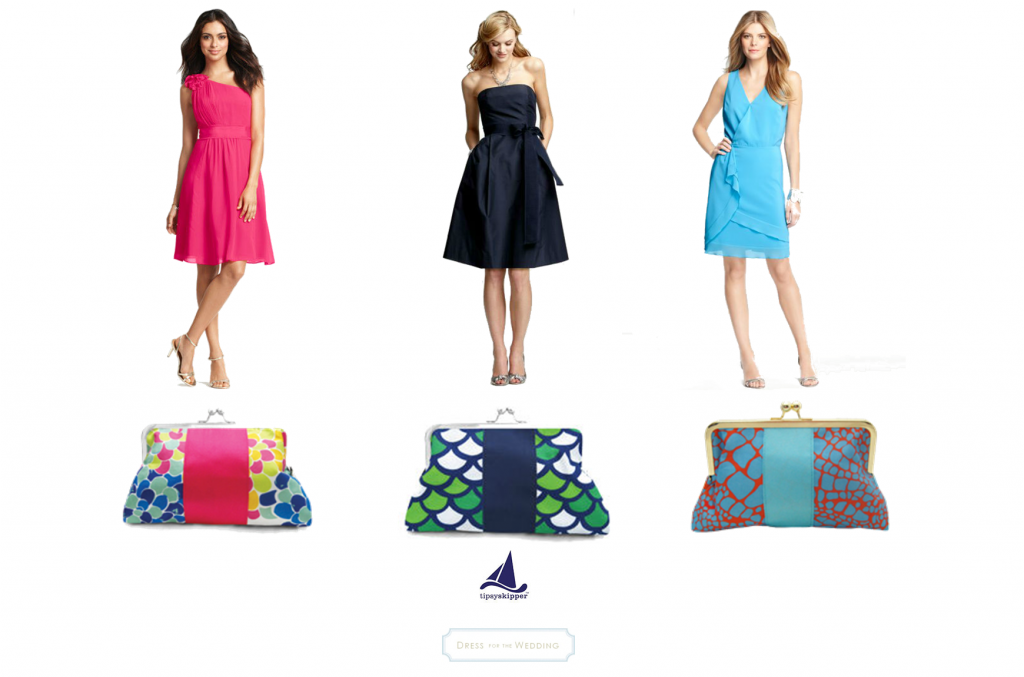 Shop this look: Ann Taylor Pink Dress | Ann Taylor Navy Dress | Ann Taylor Aqua Dress | Tipsy Skipper Clutches
If you're a bride–don't give it another thought, get one of these clutches for each of your maids, and fill it with an added treat like some fun nail polish or lip gloss, and pick up a pair of the Tipsy Toes flip-flops for your bridesmaids to wear dancing.
If you're a guest, pick your clutch, and I'll help you find a dress to match! Visit the Tipsy Skipper online store today!