Apple Themed Wedding
One of the classic icons of fall, is the apple. And if you're planning a fall wedding, apples are plentiful, relatively inexpensive, and a great way to add color, festivity, and even a delicious scent to your fall wedding.
As a part of a monthly collaboration, Dress For The Wedding has partnered with one of our favorite event designers, KristynJennifer Events - Live Eventfully, to create what will be known Dress to be WEDnesdays, where we will present event and styling ideas on the last Wednesday of each month.  For our first Dress to be WEDnesday, we have decided to feature an apple theme, to inspire all of you who may be planning a fall wedding. You can see some of the beautiful event inspiration that KristynJennifer Events has pinned on Pinterest, here.
Red Apple Inspired Design
For this first look, we've shown a traditional apple theme, with the classic bright, candy apple red, which can be nicely offset with some other fall tones and always adds a pop of color to the day. The Ann Taylor wedding dress shown here, with the cascade of ruffles reminded me of the way the peel of an apple will spiral in on itself as it is being trimmed, and also of the fluted edge of a delicious apple pie. I chose a bright candy-apple red dress for the bridesmaids, some jewel toned accessories, and a bright checked red tie for the groomsmen, to complete this orchard-inspired theme.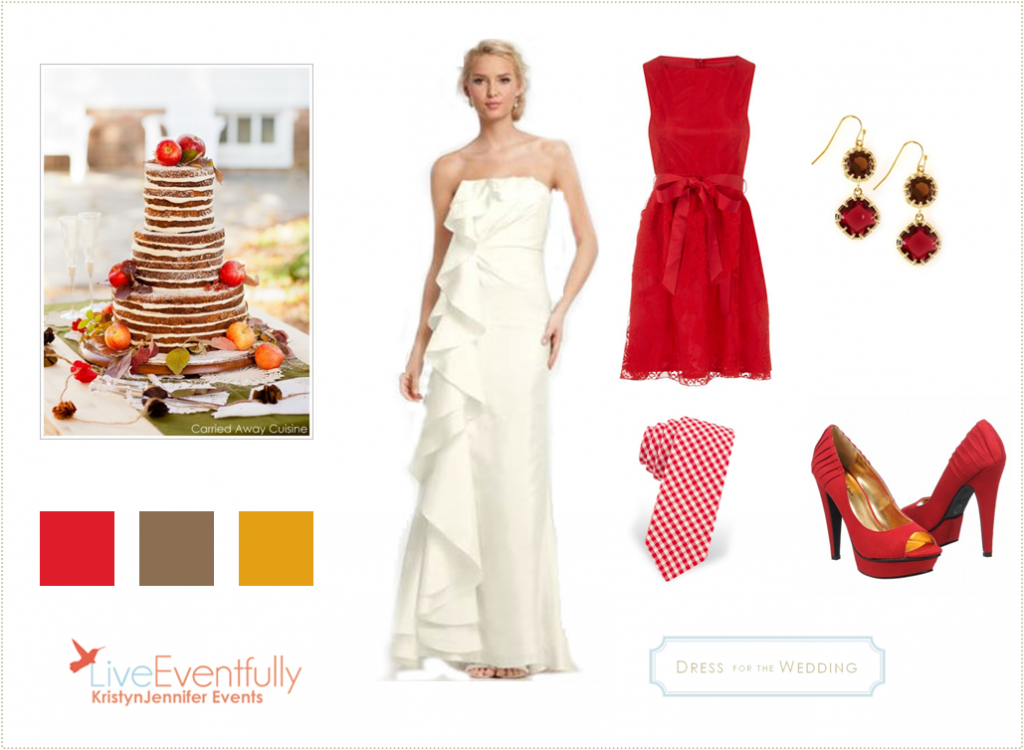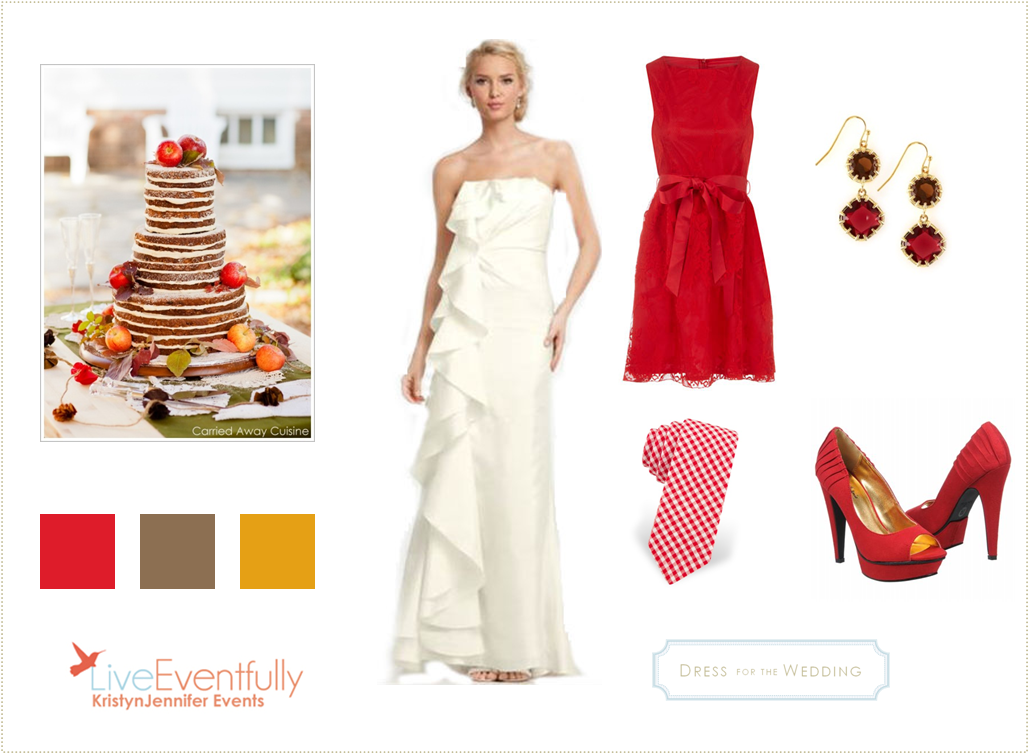 Cake Photo Credit :  Cake by Carried Away Cuisine,  Photo by Natalie Bell (featured on The Cake Blog)
Ann Taylor Cascade Bridal Dress | Dorothy Perkins Red Bridesmaid Dress | Michael Antonio Red Shoes | Red and Amber Earrings | Gingham Red Checked Tie
Green Apple Inspired Design
For the second design, we wanted to show that the bright green of a Granny Smith apple is also great design inspiration, and a beautiful piece to incorporate into a wedding.  The bright green will coordinate  well with a softer cream-colored green, and a soft brown, and give your wedding a nice rustic look.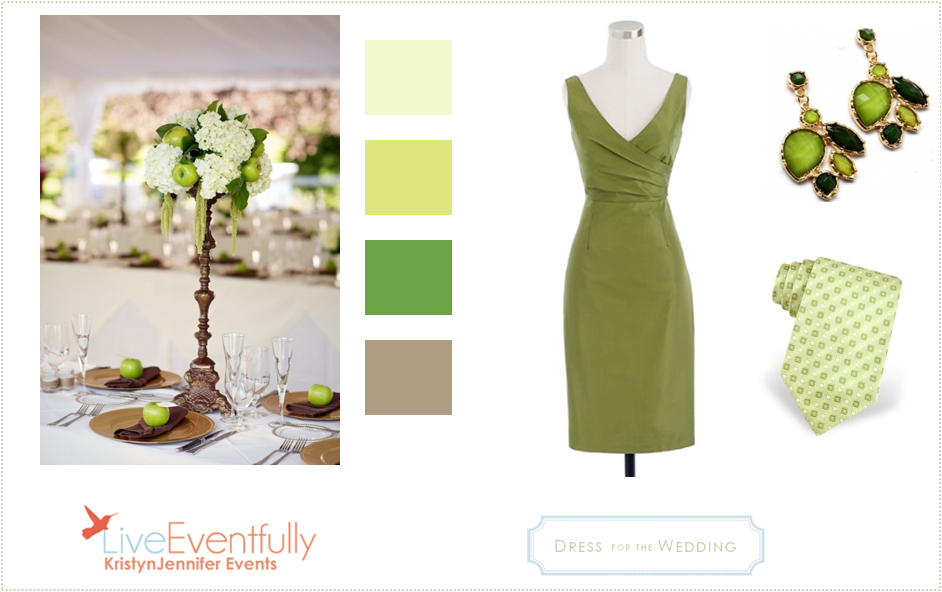 Event Design Image Source : Style Me Pretty Photography By : Lindsay and Jacqueline for Readyluck
J Crew Green  Ruthie Bridesmaids Dress | Illayah's Green Cluster Earrings | Green Tie
Caramel Apple and Mulled Cider Inspiration
Perhaps you just want to include the earthy, autumn colors of a caramel apple, or a hot mulled cider, for your apple-themed wedding.  Here's a color palette inspired by those wonderful shades of fall.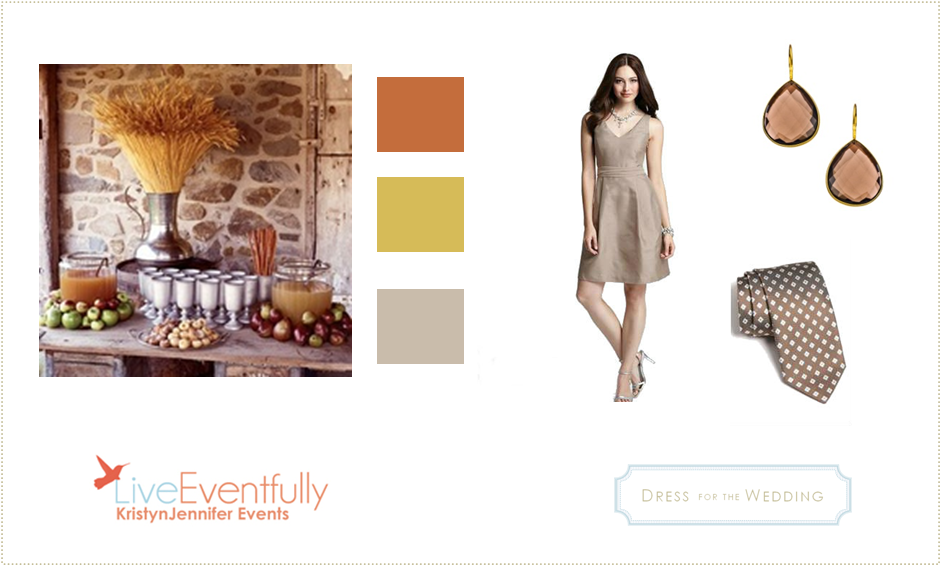 Image Credit: From Grey Likes Weddings 
 Ann Taylor Bridesmaids Dress in Toasted Brioche | Chunky Max & Chloe Earrings | Calibrate Brown Tie
 As you can see, the simple apple can provide a rainbow of colors and inspiration for your fall themed wedding. To plan your next stunning event be sure to contact the KristynJennifer Events for top-notch event design and coordination.
See Live Eventfully's post here.
Shop this post: