Beach Wedding Guest Outfit
The following outfit collage is a few years old, but here are some current styles we love to wear to beach weddings. Also check out our posts with wedding guest dresses to wear to a beach wedding, beach wedding gowns, all about sandals and shoes to wear to a beach wedding, as well as our picks for maxi dresses to wear to weddings!
Shop Beach Wedding Guest Outfits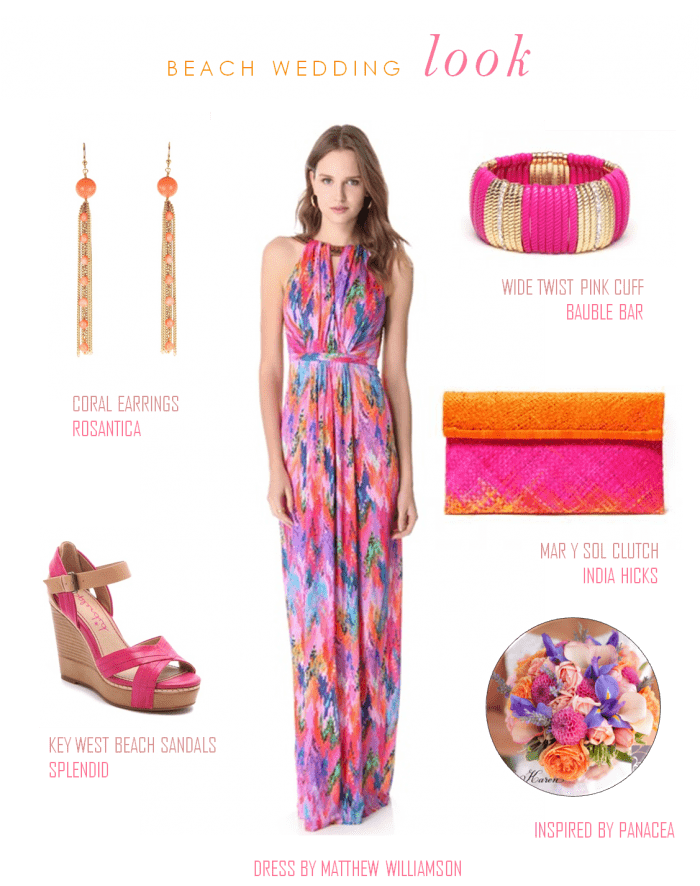 Matthew Williamson Escape Column Dress/ Rosantica Coral Earrings / Bauble Bar Wide Pink Twist Cuff /India Hicks Mar Y Sol Ariel Sunrise Clutch /Splendid Key West Wedge Sandals / Floral Design: The Karen by Panacea
The shopping sources in this post use affiliate links, which means this site may earn a commission if you make a purchase from our links.
Beach Wedding Guest Look Inspired by Panacea Event Floral Design
Hello, friends! I'm continuing on with my ideas for how to dress for a beach or destination wedding, and hoping you enjoyed Tuesday's post on the same topic. Thinking of sunny days and tropical drinks is exactly the sort of pick-me-up I need right now in the middle of winter. The other thing that really helps me chase away the winter blahs is staring at beautiful flowers; I honestly think just looking at them, even on Pinterest, is an automatic mood brightener!
On the subject of cheery things and flowers: a few weeks ago I became acquainted with Corinne Samu Smith who designs some of the most beautiful floral works of art you've ever seen at Panacea Event Floral Design (www.panaceaflowery.com). I told her how flowers often inspire my work, and asked if I could include some of her beautiful blooms in my styling sets. She graciously agreed!
So today's look for a tropical beach wedding is inspired by one of the magnificent Panacea creations, The Karen, seen here: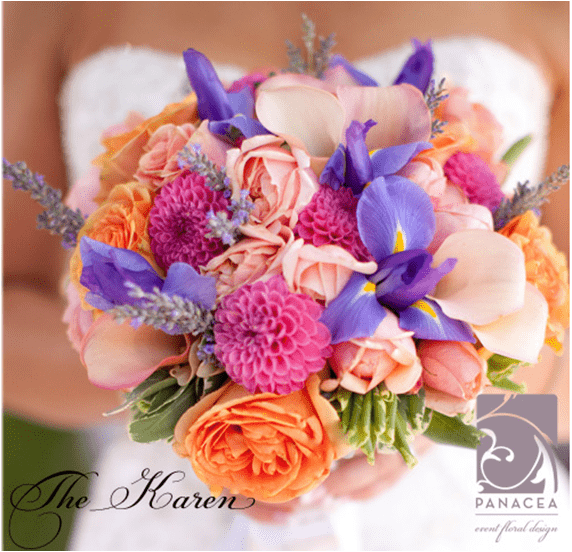 Since Panacea specializes in outfitting coastal California weddings and events with beautiful floral design, I thought it was only appropriate that I show a beachy look. I loved the colors in this arrangement, and immediately thought of it when I saw this Matthew Williamson dress, which s a great flowy maxi dress for a beach wedding.
I'll be honest here, I read in the description that this dress can also be worn as a beach cover-up, and I didn't think I'd see the day when I'd ever advocate wearing a beach cover-up to a wedding, but this looks so beautiful, elegant, and well-made, that I can't imagine confining it to just a dress to throw on for a day by the pool or beach. The fabric is jersey, so it's probably fairly casual, so I'd wear it to an afternoon beach casual wedding, or recommend it for a bride to add to her honeymoon trousseau. The pink and orange accessories just accent the already very tropical and chic look of this dress.
I hope this vibrant flowers and bold beachy-outfit have brightened your day and your outlook. Maybe they've even taken you away to the beach -- even if it's only in your imagination!