Blue Dress for a Bachelorette Party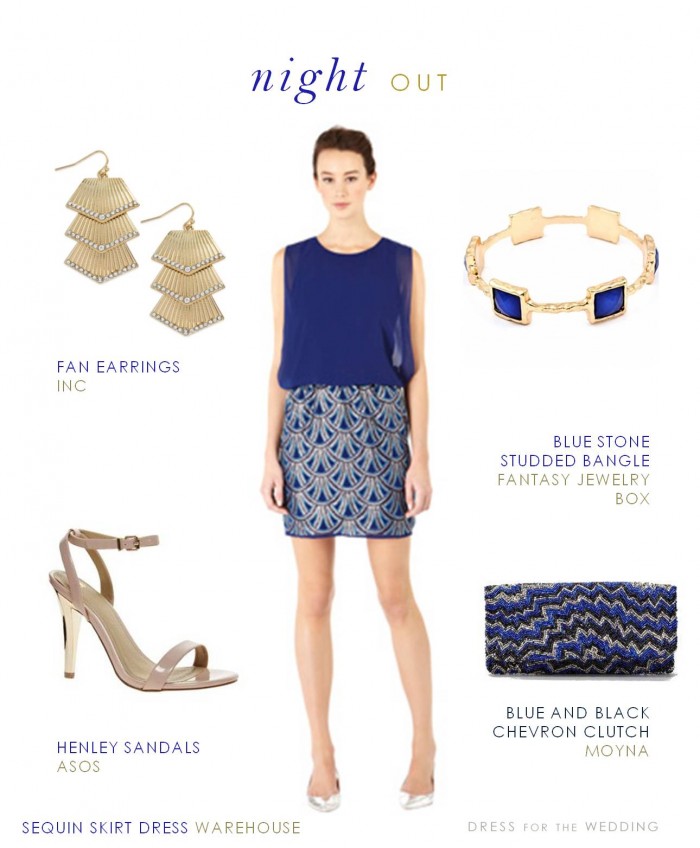 Warehouse Sequin Skirt Dress / Clare's Blue Stone Studded Gold Bangle / Moyna Chevron Beaded Clutch Bag in Royal Blue/Pewter / ASOS Henley Heeled Sandals / INC at Macy's Gold Fan  Earrings
Cobalt Blue Dress for a Bachelorette Party
Hi, dress-seeking friends! It's Friday!  In the spirit of the weekend, I've decided to show this cobalt blue dress for a bachelorette party.  Just as one might not exhibit the same behavior at the bachelorette party as one would at the wedding; the attire for a bachelorette can also be a little more spirited and fun.
This sequin skirt dress from Warehouse has a contemporary skirt and top look, with some sequins in the fan detail in the skirt and a blouson sleeveless top. It looks like a fun dress that just the right look for a bachelorette party.  I'm also seeing these high heeled strappy sandals everywhere, and I thought these would be perfect the nude color and the interesting shiny metallic gold heel. I was pretty literal with the matching and repeated the fan shape in the skirt detail in the fan earrings, and then picked up on the cobalt blue in the clutch and bracelet.
So, I'm not recommending this blue dress for a wedding, but I do recommend you take this little number out for a spin for a night on the town for your bachelorette.   Have fun!
P.S. You can also visit me over at Bayside Bride today, where I'm featuring some ideas dressing for a shower and registry tips.


More style ideas you might enjoy :