Design Your Own Dress with PIOL
PIOL has generously sponsored this post. The write-up and dress designing experience are by the editor of Dress for the Wedding.
Have you ever tried a dress on and wished you could add a little more length, take in the waist, or change the color just so it would be perfect for you? With PIOL you can do just that! You can design a dress from start to finish, and include the exact touches you want in your next dress.  And if for some reason your creativity reaches a standstill, there's advice the whole way on the best color and style to accentuate your complexion and figure. I was so excited to try it! And here's a little known fact: long before I was creating collages on Dress for the Wedding, I was drawing dresses I wished I could own, and-- thanks to my mom's sewing expertise--we were able to bring a few of my dress drawings to life.  Now with PIOL, my designing days are back and yours can be too. Here's how it works!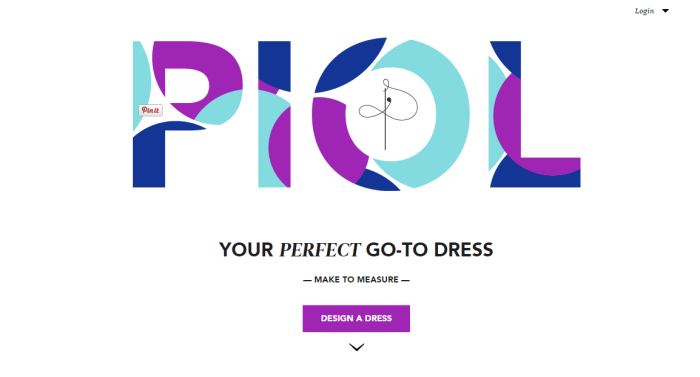 PIOL was founded upon the idea that every woman wants the perfect go-to dress. You hear all the time what a difference tailoring makes in the look of a dress, and it's true! These dresses are completely custom -- made to your style specifications and your measurements.  You'll notice all sorts of quality details, like a seam at the arms where you bend your elbow so that the dress doesn't bunch, a double lining to make the dress fall perfectly, and tucks that allow the dress to follow your shape. These dresses are an investment, but that is intentional, a PIOL dress is meant to be a wear-it-for-years dress.
If you're a professional looking for a rock-solid wardrobe staple this is it! If you're a mother-of-the-bride who wants to design a custom dress with a tailored look, these dresses take away the need for expensive tailoring. If you're fashion-forward and looking to create a look that is uniquely yours, these dresses are for you!   And think of the fun when you can tell people you've designed the dress yourself! Even if you don't think you're a designer-in-the-making, the process is so easy it will give you complete confidence in your abilities.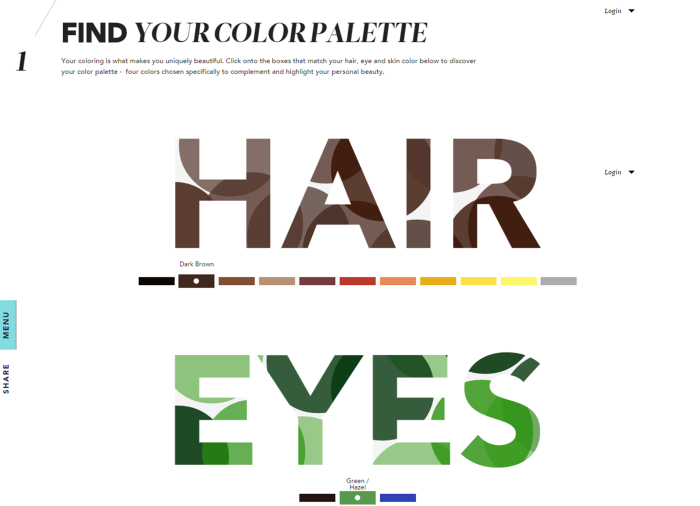 Here's how it works: First, you'll fill in some in formation about your hair color, eye color, and skin tone. PIOL's system -- based on a method developed by costume designer Edith Head -- provides your ideal color aura.  My colors were green, blue, pink. These are colors I frequently wear; now I know why!  I also found some colors in my neighboring color charts that I love intrigued me, and you're free to use those too! Enter your details to find your color aura too!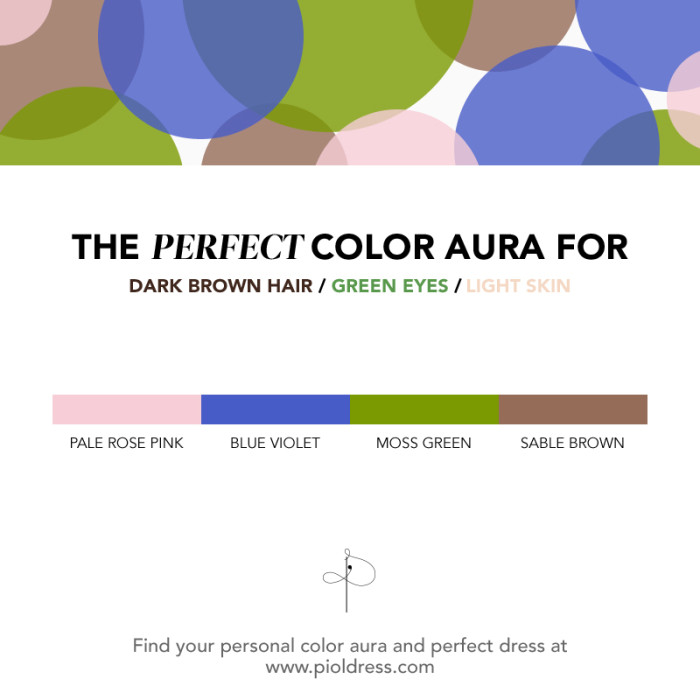 Then it was time to choose a overall silhouette. At this step, I thought about two dresses in my closet --   a tailored long sleeve dress and a favorite tailored short-sleeve navy dress -- that I've always wanted to meld together. I also checked out looks in the Inspiration tab on the right side of the PIOL site as well as on PIOL's Facebook to see all the great styles other PIOL wearers have come up with. Even though I loved the design freedom, the inspiration examples really helped expand my ideas for what was possible, especially since I felt a little overwhelmed by all the choices.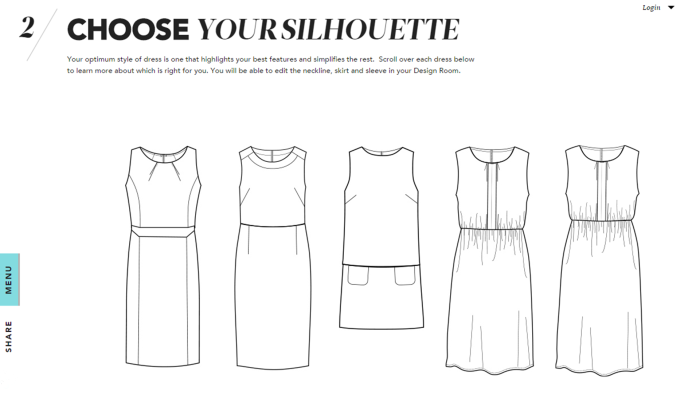 I decided I needed a tailored long-sleeve blue dress with darts along the neckline. At the last step, I took and entered my measurements to get that custom fit. Then I ordered my dress, and it will arrived a few weeks later beautifully packaged.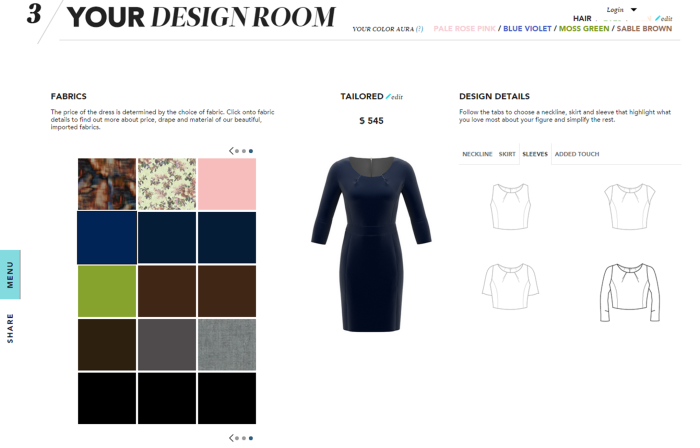 Now if you're like me, you probably love the control this dress designing gives you, but you might be wondering -- what if I didn't get it right? This might be the part I love the most -  even if you made a mistake with measurement, color, or style, it's returnable for a full-refund, and PIOL will help you get it right the next time.  PIOL really stands by their no-waste policy; they donate the dresses that have been returned to non-profits who help women who are in need of professional clothing for employment.
Now, for the big reveal....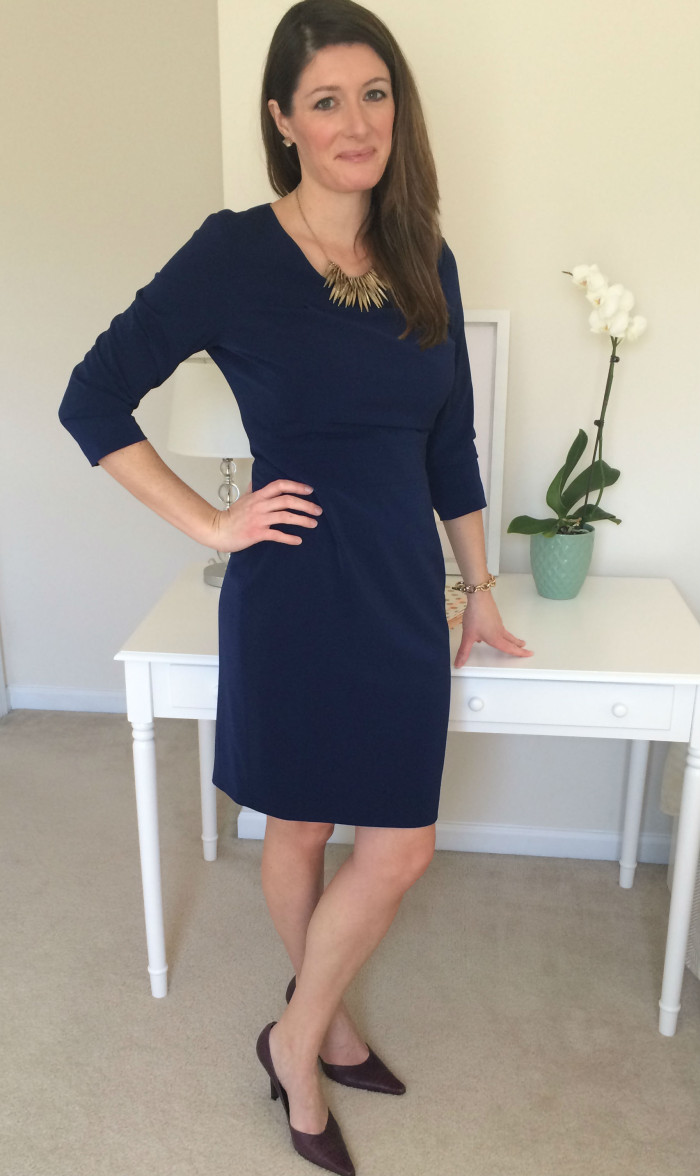 I was very self-conscious about this part. There's a reason why I'm a collage creator and not a 'regular' photo journalistic fashion blogger! I hate taking photos of myself and I can't do that thing that real fashion bloggers do to make their photos look awesome.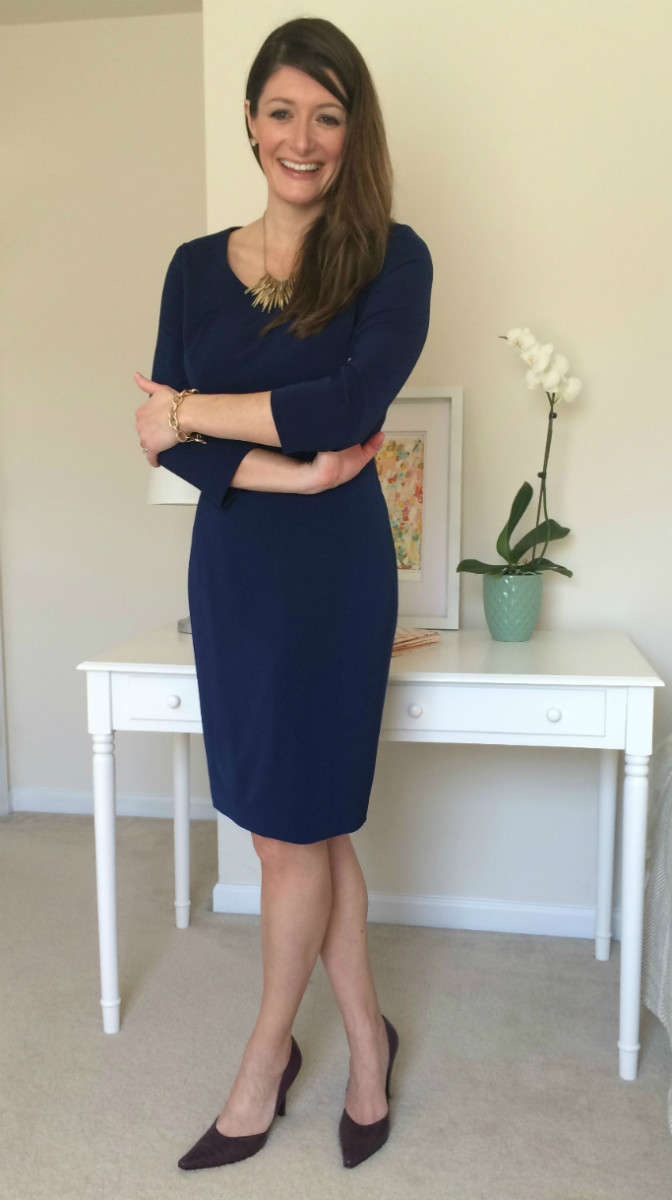 I tried but failed at the "here-I-am-smiling-softly-to-myself" look, and the "I'm-looking at-something-here-in-the-middle-distance" look, and didn't even attempt the "here's-a-pretty-glance-over-my-shoulder" thing. Heck, I can't even manage to remember to do my nails for this little photo-sesh.  But my friend and blog helper Ally and I did have a great time laughing about how awkward it is to for me to pose. With Ally's help I managed to get these shots, plus some hilarious outtakes! Here's one: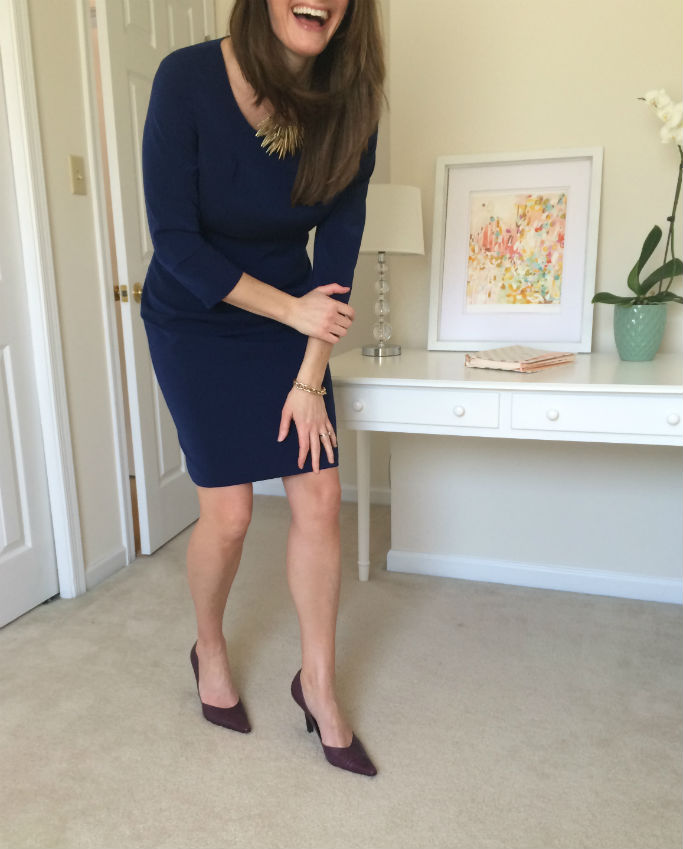 Ok, back to being totally serious.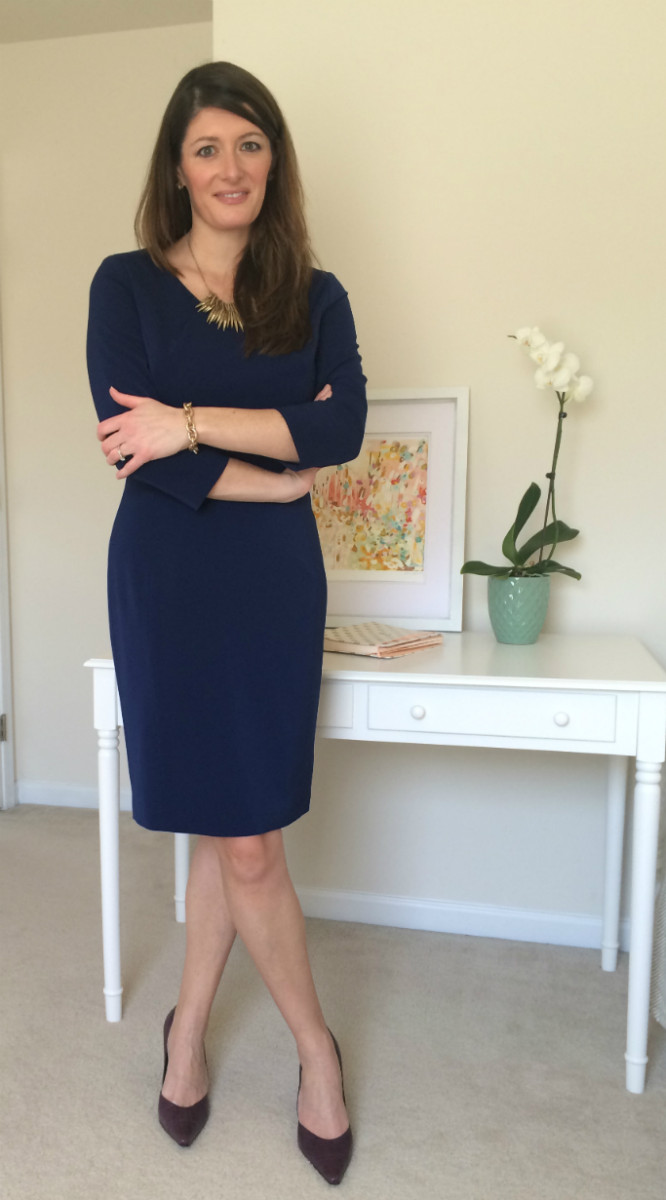 So, there's the story of my go-to dress. And even though I work from home, the dress I chose is very ready-for-the-office because when I'm not wearing jeans, I need a dress just like this to go to a meeting or to attend Bridal Market. This dress goes with anything, but I paired it with my "edgy" spiky necklace from H & M which I throw on with the tailored conservative looks I favor to make things a little more fun, a pair of BCBG plum pumps that I have owned forever and my other go-to pieces: my link bracelet and gold clear stone stud earrings that I wear all the time.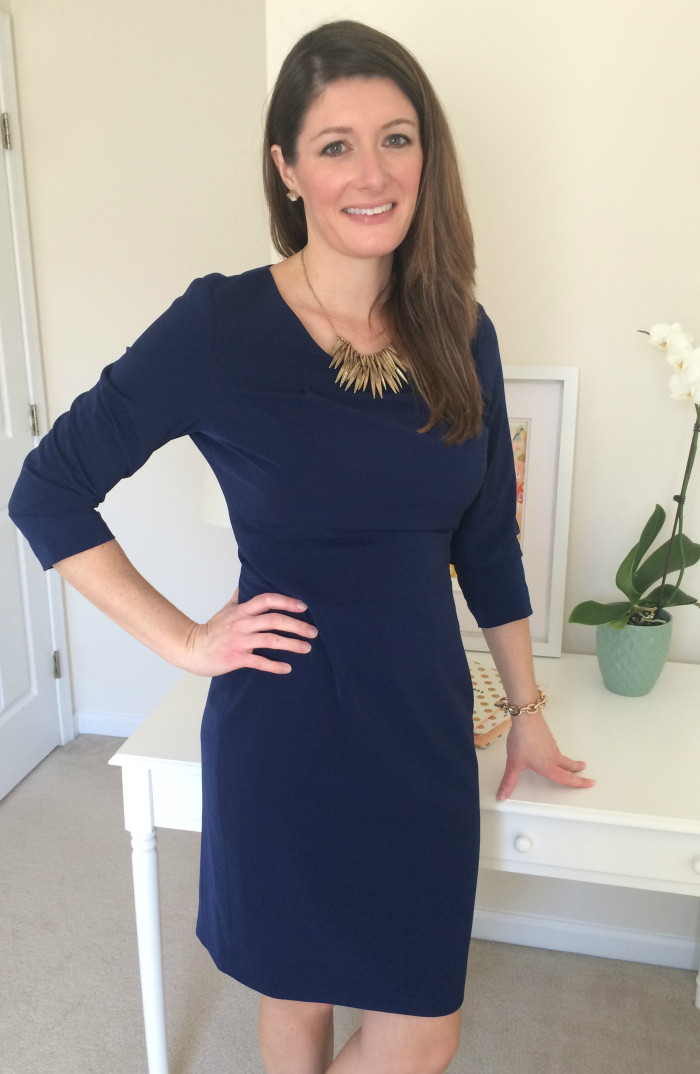 So are you ready to create your next look and your go-to dress? Head over to PIOL, and be the designer behind your next dress!
Details:  Dress:  Provided by PIOL - details: tailored silhouette, regular scoopneck, long sleeves, and straight skirt in Blue Violet Matte Stretch  | Earrings: Square stone studs, no longer available.  Similar earrings available from  kate spade new york  | Necklace: H&M, no longer available. Similar available from Toms . | Bracelet: Pave Link Bracelet, similar available from J.Crew Shoes: Plum Snakeskin Pumps by BCBG, no longer available,  similar available from Pour la Victoire. Artwork by Michelle Armas.
PIOL generously provided my dress and has sponsored this post. The write-up and dress designing experience are by the editor of Dress for the Wedding.