More Dresses for Spring 2014 Weddings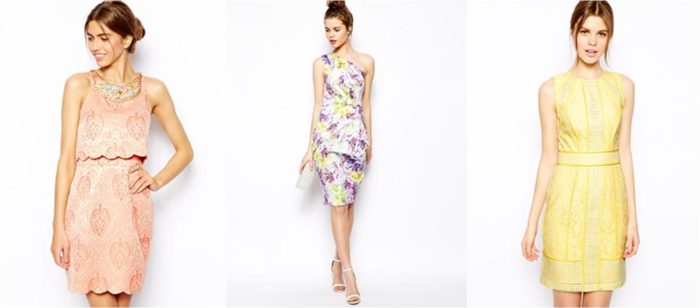 3 of my current favorites from Asos: Pink Dress | Floral Dress | Yellow Dress
[Note: This post is a few years old, so visit our new picks for spring guest of a wedding dresses!] Wedding season is definitely here, and if you're not heading to a wedding this weekend, perhaps you're on the search for a dress to wear to a wedding next weekend, or for several wedding weekends after that! I'm here to help with that, so that you don't have to spend hours shopping when you could be out having fun!
I have been so inspired by so many of the spring dresses that are out there this season, and I just found the prettiest crop of dresses at Asos. I always love the styles there, but I'll admit that it had been a little while since I had visited that site, since sometimes their highly-on trend looks are a little too risque for weddings. Not so this season! They are wedding guest perfection! They have modest tea length dresses, floral prints, and gorgeous floor-length gowns. And for cocktail dresses -- the standard wedding attire -- pretty details abound! I found some gems that I can't wait to have in my own closet!  I hope you like this quick shoppable collection, and stay tuned for more ideas soon!



Not your style?
Try the Wedding Guest Shop, or see these options for Bridesmaids, and Mothers!
More style ideas you might enjoy :