Dresses to Wear to Holiday Parties
Happy Holidays, everyone! I'm still on a break from the blog and gearing up for 2015, but I wanted to re-run this earlier post to provide this inspiration for holiday party dresses.
If you have special plans for New Year's Eve, these dresses will do the trick. Also check out Party Dresses Under $100, and the Holiday Dress Shop.  Scroll below to see dresses for the current season, as well as tips for what to wear to your work holiday party, what to wear for holiday meals and festivities with your family, what to wear out with friends, and what to wear for New Years!
Shop The Look: 2018 Holiday Party Dresses

This dresses shown  inthe next part of the post are a little old! 2014 to be exact! So above, I've added some holiday party dresses that are current and should be in stock for the 2018 - 2019 holiday season. The dresses below have likely sold out, but I'm keeping them here for a bit, since you may reach this page from one of these images on Pinterest. The advice for what to wear to each kind of holiday event, however, is generally still good!
---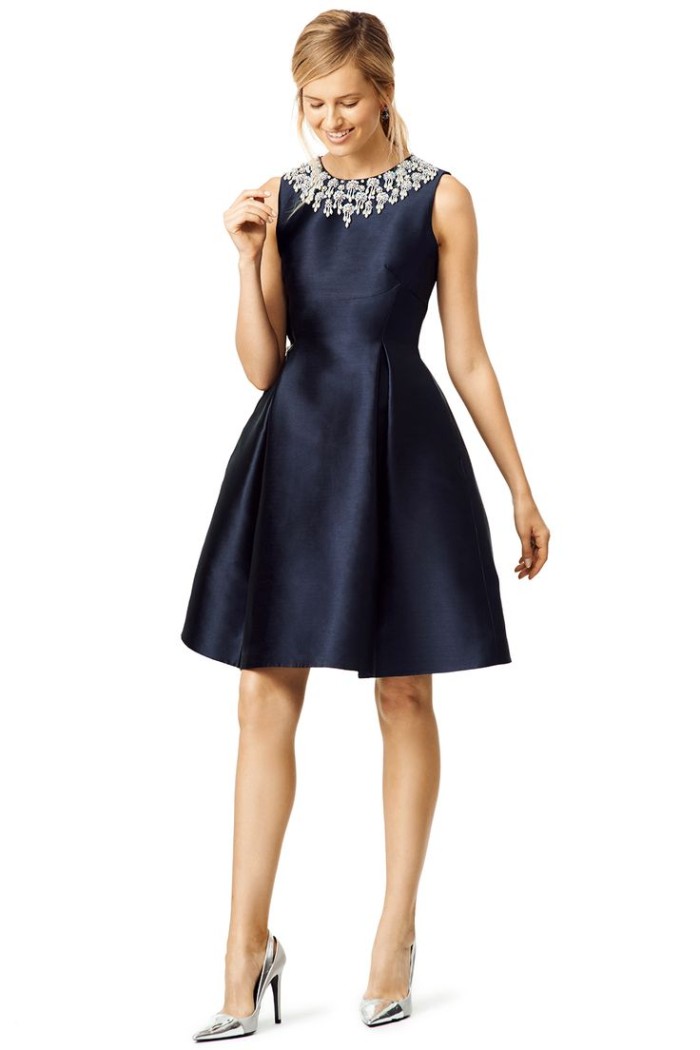 Perfect Era Dress by kate spade new york at Rent the Runway
Hi, Everyone! I'm shifting seasons here on Dress for the Wedding, and shifting topics ever so slightly, as well! While many are still planning weddings and looking ahead to late 2014 and 2015 wedding plans, it's also a time of year when many of us are invited to holiday parties and events. In my quest to help you find dresses to wear to all sort of festive occasions, I'm going to be starting a series of looks for what to wear to the events that happen this time of year. You'll see ideas for what to wear to holiday dinners where you might be meeting your significant other's family for the first time; what to wear to your office holiday parties; and what to wear for meeting up with your friends for various festivities!  Stay tuned for full outfit styled posts, but here are a few ideas to get things started!
What to Wear to Holiday Dinners
Holiday dinners are a time to relax and enjoy a great meal and time with your family. Depending on how formal these events are, you might head to the table in just a cozy sweater and jeans, or you may want to step it up a little and wear a skirt or dress. I know if you're meeting family for the first time, it's always nice to feel a little dressed up; I love sweater dresses for an easy combination of comfort and style! You can pair a sweater dress with flats and tights or tall boots and have a look that is comfortable but ready to be forever captured for posterity in family pictures. A skirt and a top, or even pants and fun top, is always an option too. A look like this takes you from Thanksgiving dinner to church services, or other events, plus you can wear it to work later!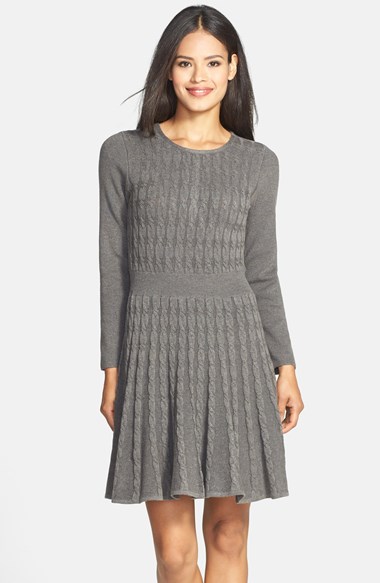 What to Wear to Your Work Holiday Party
Ok, so Dress for the Wedding only employs me, so my holiday work party won't be quite the same as it was when I worked for a company of 400 people or more. Still, I have my eye on lots of dresses for those of you who do have work parties! Attire for work events can vary widely from fun tacky Christmas sweaters, cocktail attire, all the way to formal ball gowns for black tie galas, and all are fun to dress for! For this pick, I'm picturing my former company's holiday party where a semi-formal to dressy casual style was usually the best choice. It was a fun time to wear something than the usual corporate attire, and wearing a festive, but professionally elegant dress was always a fun departure from the usual work-day wear.
Erin Fetherson 'Green Light' Dress
What to Wear for Holiday Cocktails out With Friends
This season is also a great time to reconnect with friends and meet for a drink or a meal at a favorite restaurant. It's fun to get into the spirit of the season, and break out of the jeans/heels/dressy top combination that is so often my fall back.  You can still wear a jeans but add a sequin top, or a spirited color, or wear a fun little cocktail dress with a little more sparkle with tights and boots or heels.  Here are a few picks for that look!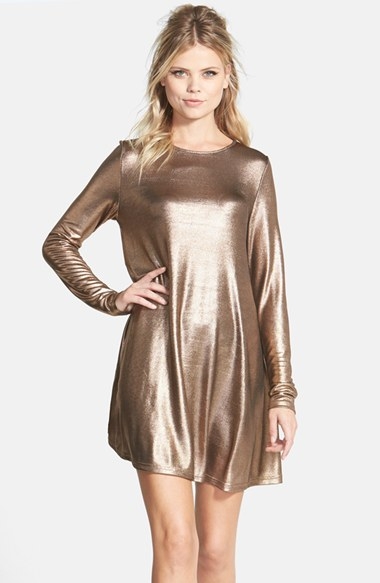 What to Wear to a Holiday Gala Event
Perhaps you or your significant other takes part in civic or military events where an end-of- year holiday gala is on the calendar. Lucky you! It's a great time to put on a ball gown and have some fun! There are so many stunning formal length-gowns, so take advantage some dramatic, sweeping styles in the colors of the season.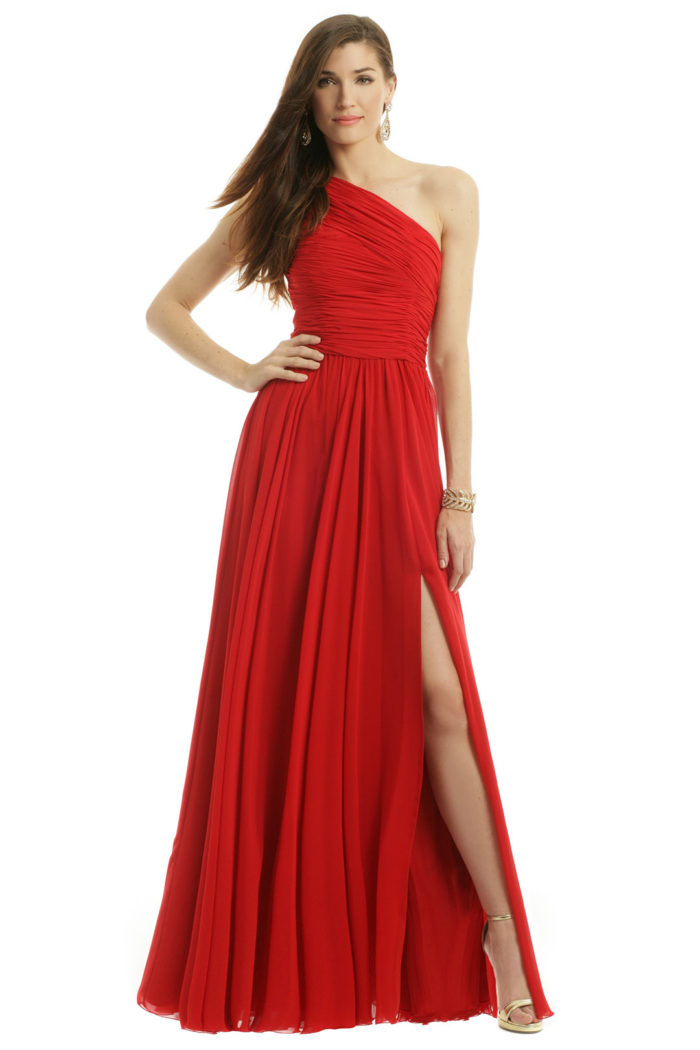 Halston Heritage Nepal Sunset Gown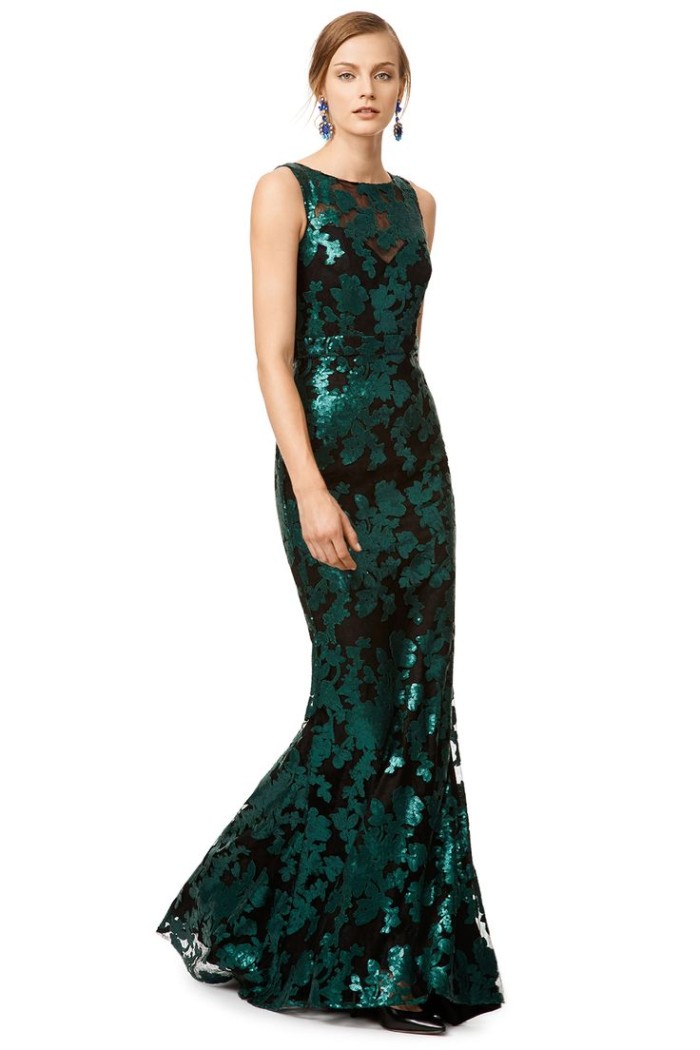 What to Wear if  You're Hosting a Holiday Party
Perhaps you're the one hosting a party, and you want something special to wear to stand out and set the tone for fun! Here are a few of my picks to make you the hostess with the mostess!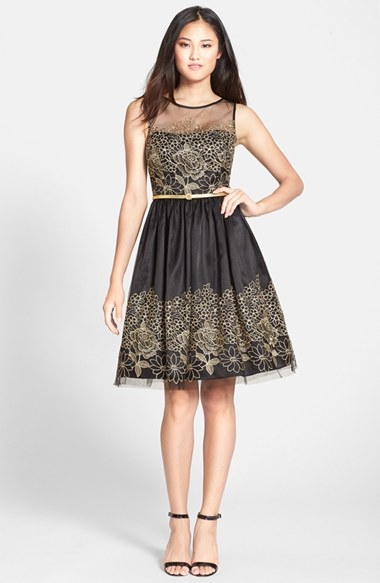 Holiday Dinner Date
And lastly, maybe your idea of the perfect holiday is having a special dinner date. You want a dress that is memorable.  Here are a few picks for a special date dress!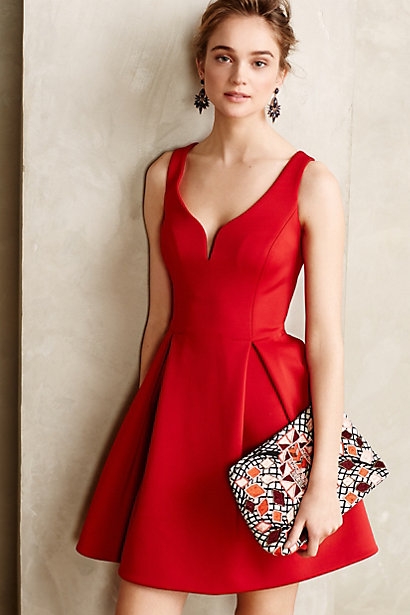 Red Ravine Dress from Anthropologie ( This dress is now out of stock - but you can rent this dress from Rent the Runway)
So this is just a start for the season - keep checking my shop section of Holiday Dresses, which I'll update as I find new dresses to love and celebrate! Also keep an eye on my Holiday Dress Pinterest board and Holiday Gift Guide for daily updates and finds. Also check out this post on Holiday Dresses under $100!
Links in this post go to my affiliates and sponsors.
More style ideas you might enjoy :