Fabulous Bridal Shower Dresses to Wear if You're the Bride!
Our latest picks for cute dresses to wear to your own bridal shower. Wondering what to wear to the bridal shower in your honor? These dresses should help!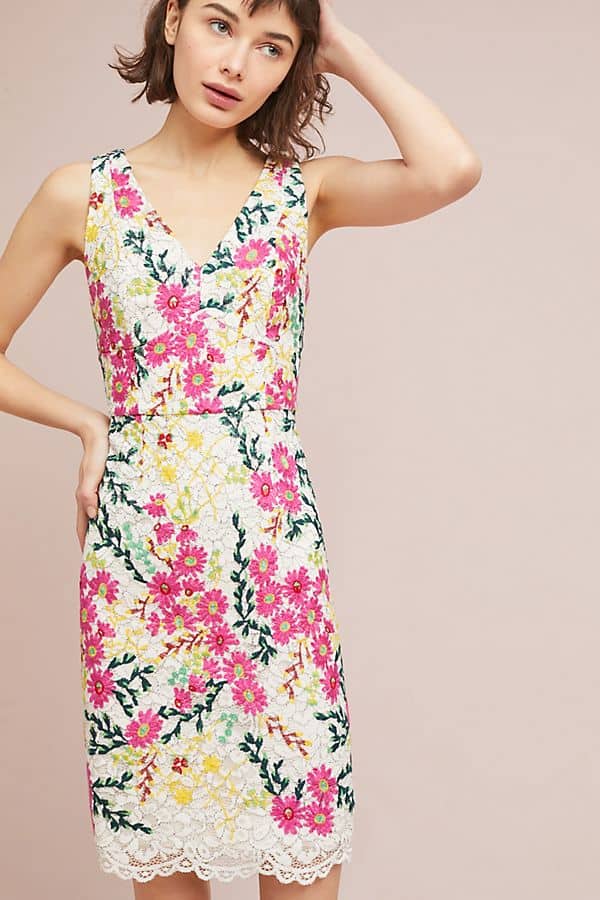 Taylor Lace Dress from Anthropologie
What to Wear to Your Bridal Shower If You're the Bride
I have a 'thing' for bridal shower dresses, and this is certainly the season for them! If you're the bride, you have so many choices for what to wear for your bridal shower. Since you're the guest of honor, really anything you like goes-- dresses, skirts, pants, rompers, and jumpsuits! In this spring season, I personally love some of the spring dresses we see that just look like they were picked by a Hollywood wardrobe department as the quintessential bridal shower dress. My weakness for lace, eyelet, pastels, pretty sundresses and florals, really is on display in this post,  but any dress or outfit that you feel is your look for your style of bridal shower will do!
Bridal Shower Outfits for Brides-to-Be
The outfit that a bride chooses to wear to her bridal shower is a great opportunity to either set the stage for the wedding and echo the colors for the big day, or the opposite-- wear some of the colors that you love but couldn't use in your wedding, or use the opportunity pick up on the theme of your shower with a fun dress that really matches the mood. Pretty white dresses are a popular choice and certainly should be reserved for the brides to wear to their showers, there are also many colorful options.  Here are a few of my favorites for this season for the bride to wear!
Shop Bridal Shower Dresses for Brides

Older Picks from Past Seasons
These dresses were from the orginal post, so some dresses amy be out of stock.
Links in italics are from affiliated sponsors.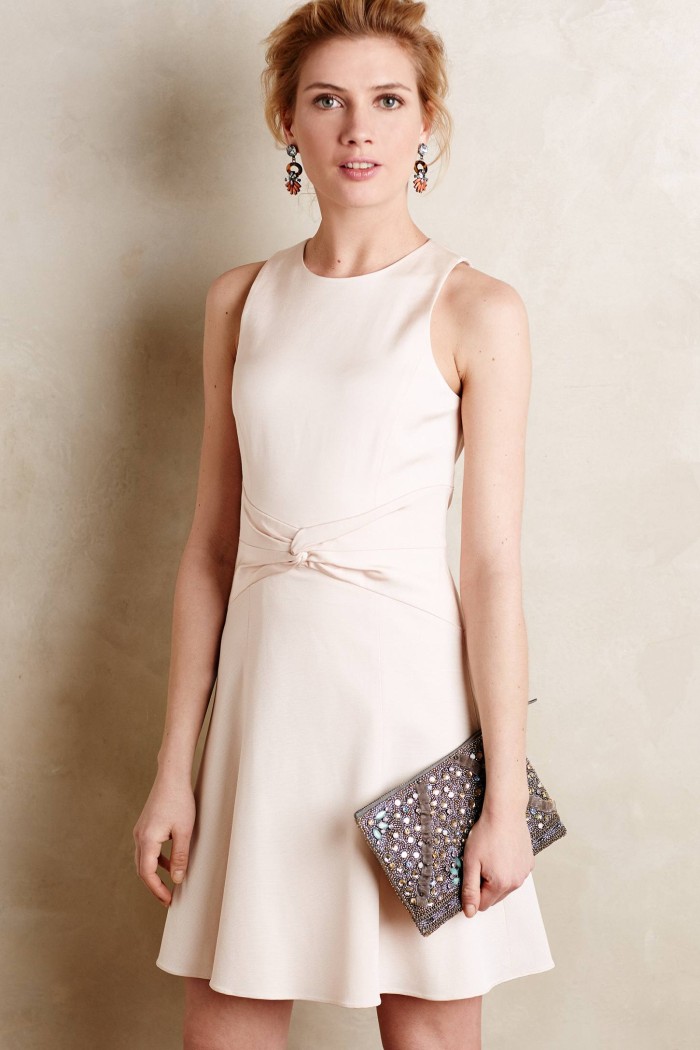 This pretty blush pink knotted waist fit and flare, is a beauty for your bridal shower dress pick! Faille Knot Waist Dress from Anthropologie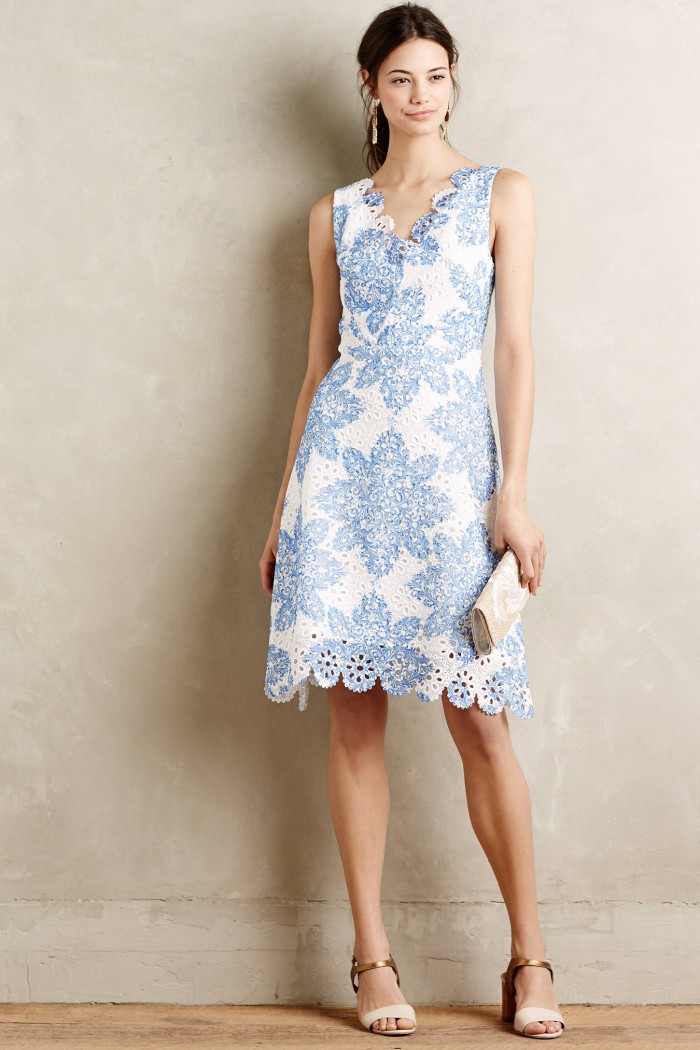 This is the 'Starflower Scalloped' Dress by Eva Franco available at Anthropologie I love the scalloped edges, and the perfect balance of something blue, mixed with pretty white lace. This is a dream dress for a bride to wear to her shower!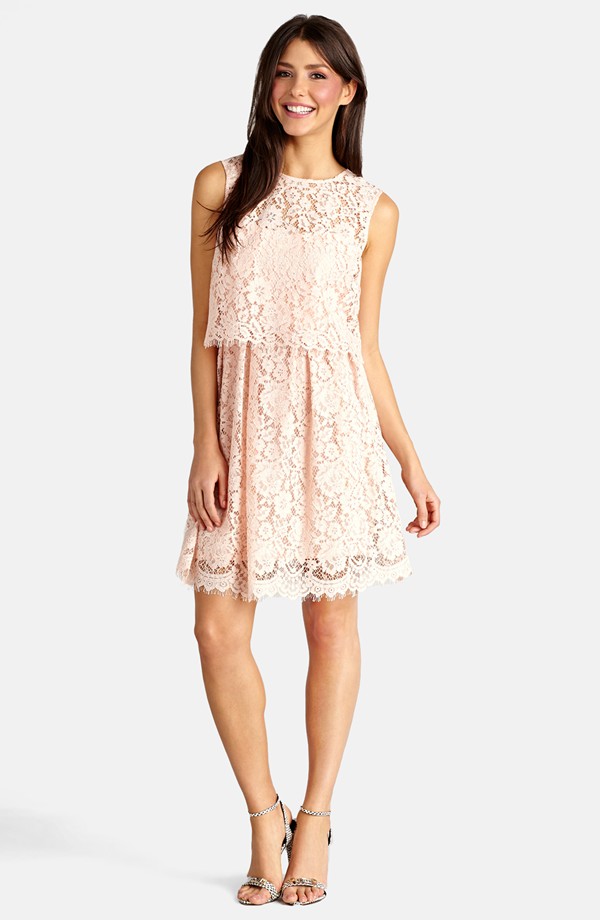 This popover style is one of my favorite new silhouettes, and in pink lace it's bridal shower perfection! Dress by Donna Morgan from Nordstrom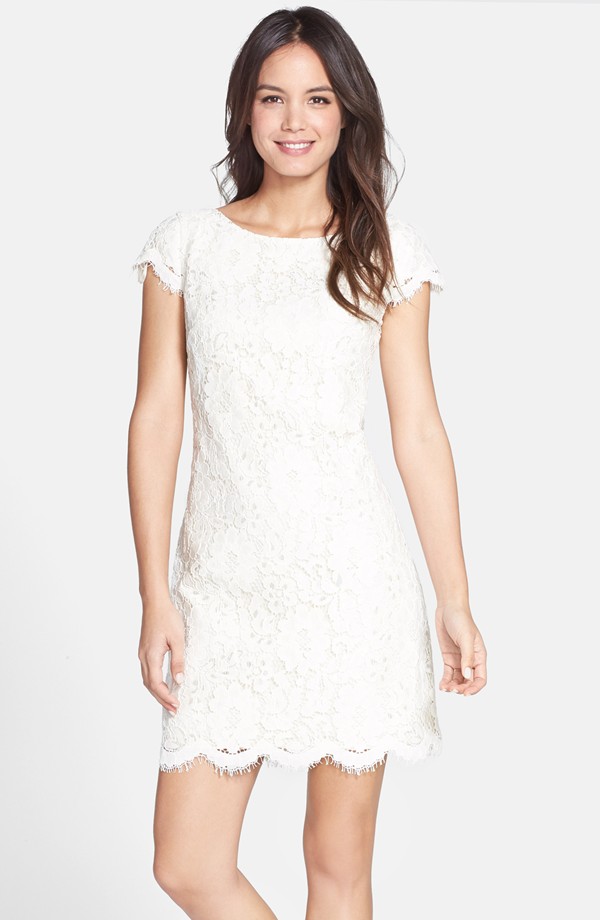 This sweet little lace shift is a great bridal shower dress for the bride. The lace makes it dressy and special, and the shift shape keeps it slightly casual. Eliza J Lace Cap Sleeve Dress from Nordstrom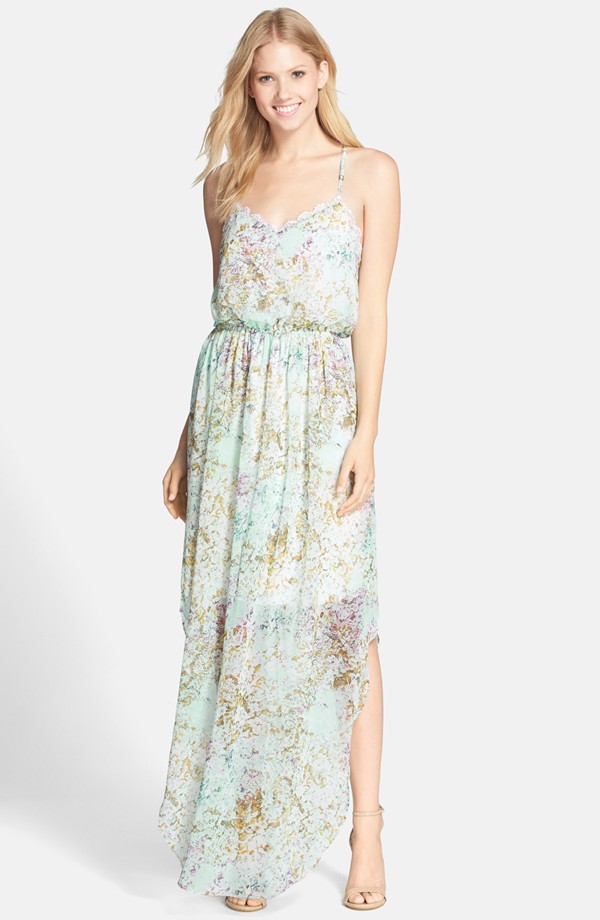 Maybe your bridal shower is a beachy, laid back event? If so, this pretty maxi length sundress is a lovely pick! Floral Print Strappy Dress at Nordstrom.  I have more maxi dresses here for wedding guests, but some would be lovely for showers too!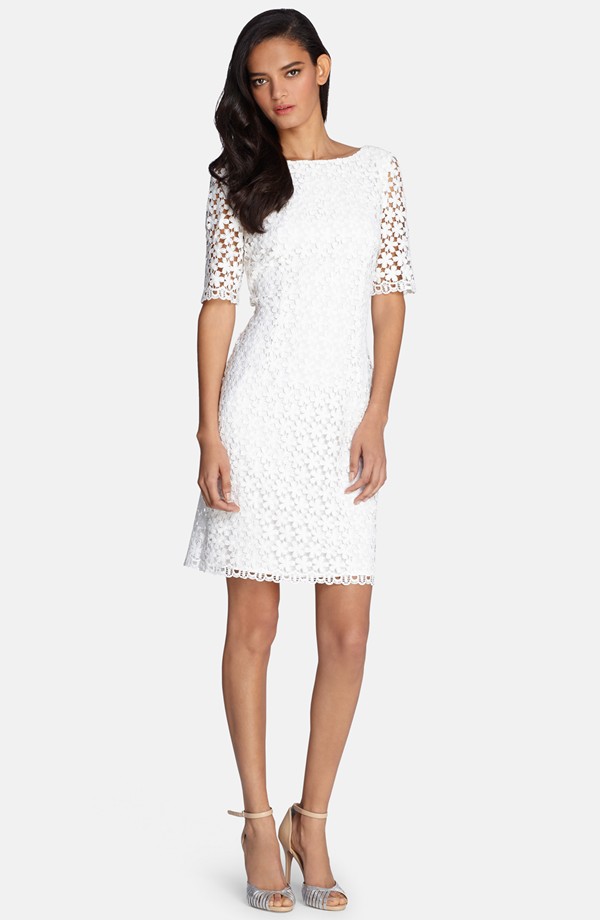 This classic shift dress with sleeves is a beautiful bridal shower dress for the bridal shower guest of honor! Tahari Sheer Lace Shift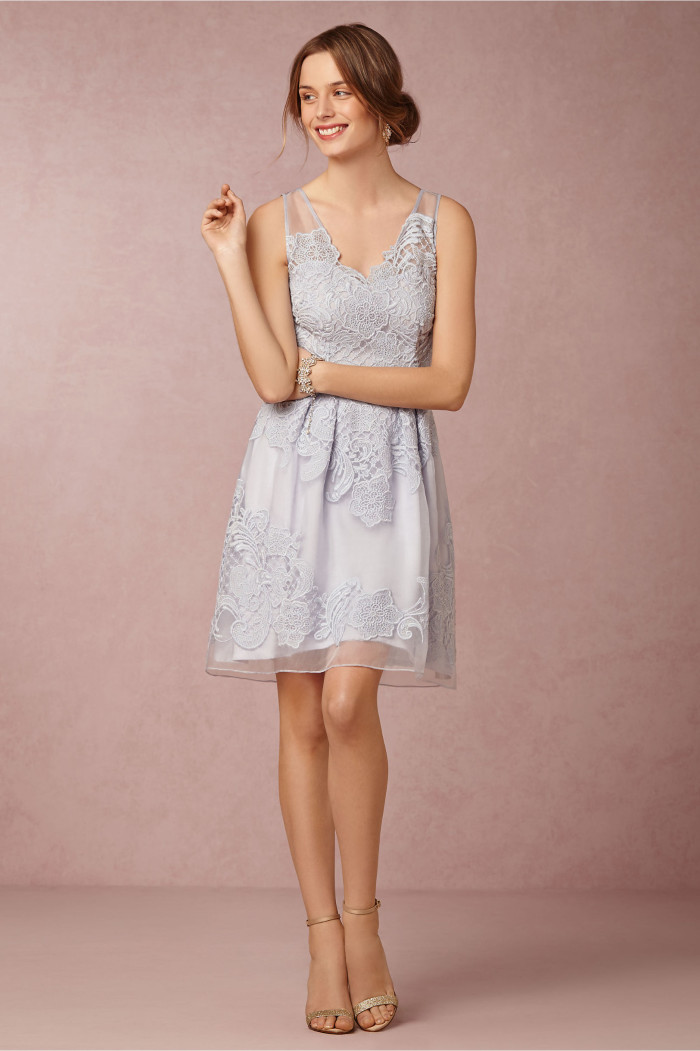 This Celestina Dress from BHLDN in Blue Harbor is a gorgeous dress for bridesmaids, but I see no reason it can't work as a bridal shower dress as well! It's another great way to work in the something blue!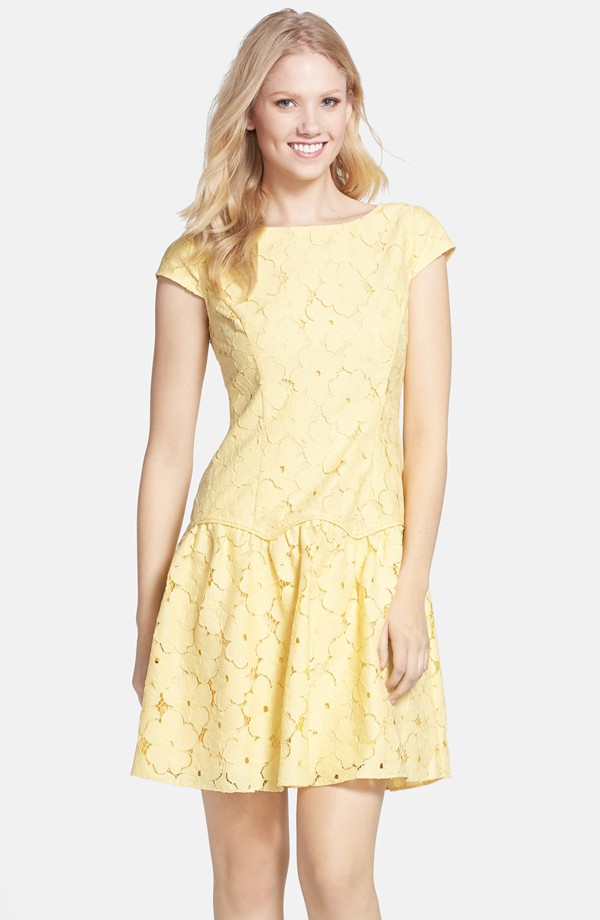 If you're looking for a bit of sunshine and pretty pastel color, this pretty yellow lace dress is a great look for the bride or a bridal shower guest. Drop waist yellow lace dress by Adrianna Papell at Nordstrom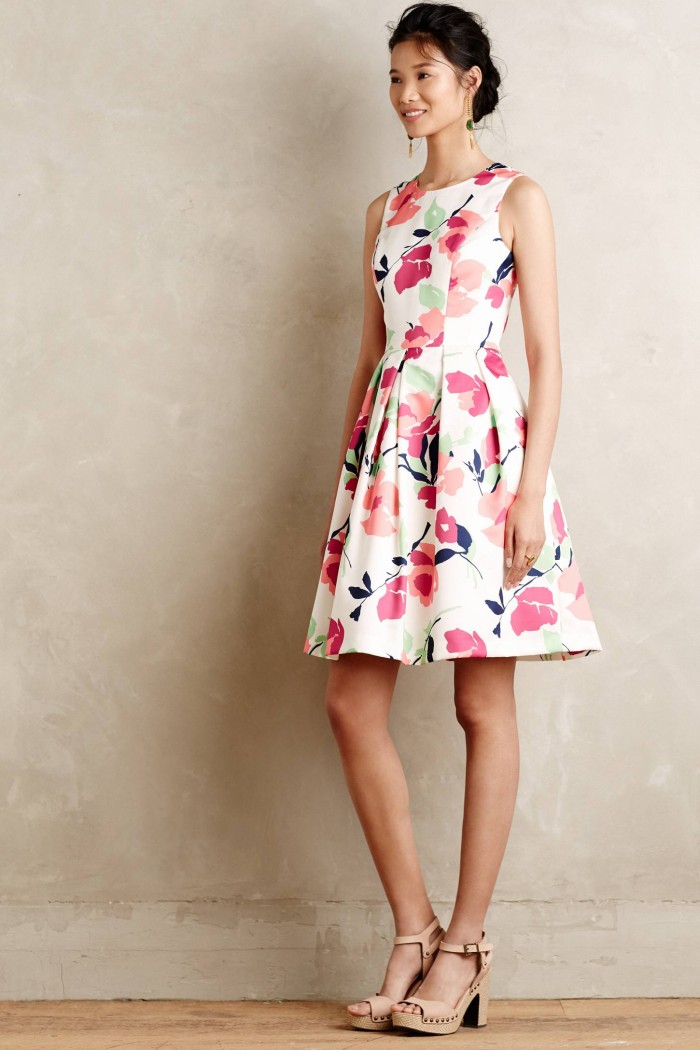 Pretty floral dresses always have a place at a bridal shower! Asola Dress at Anthropologie.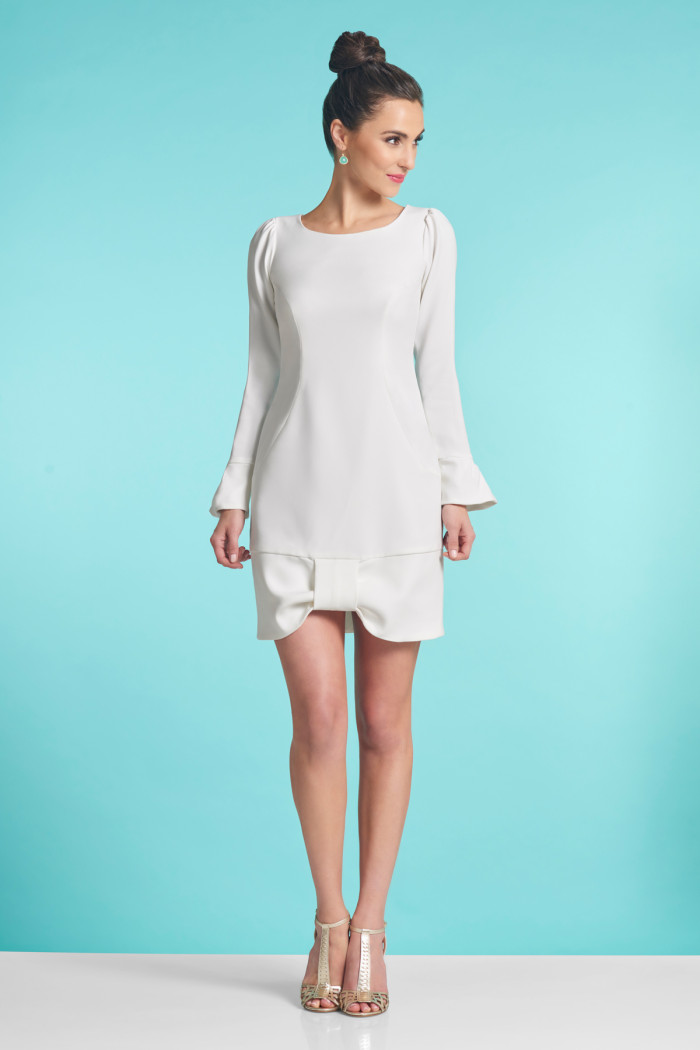 I have a soft spot for anything with a bow, and long sleeves and a bow at the hem makes for a  completely darling dress! Penny Dress from Kirribilla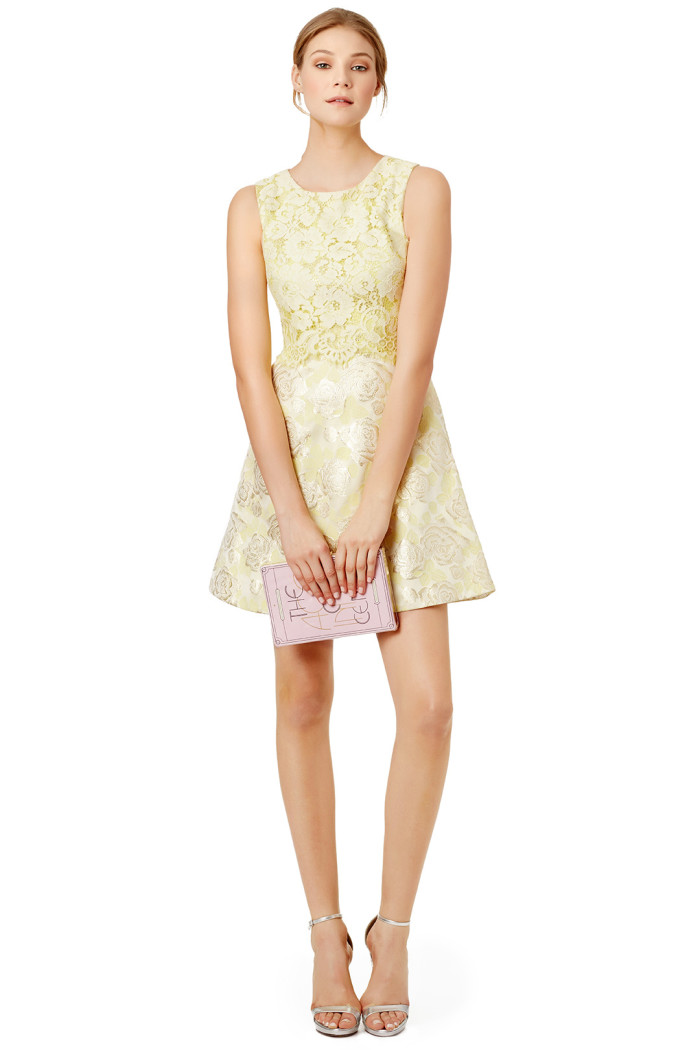 Here's another sweet fit and flare - The Buttercup Dress by Erin Fetherson available to rent at Rent the Runway!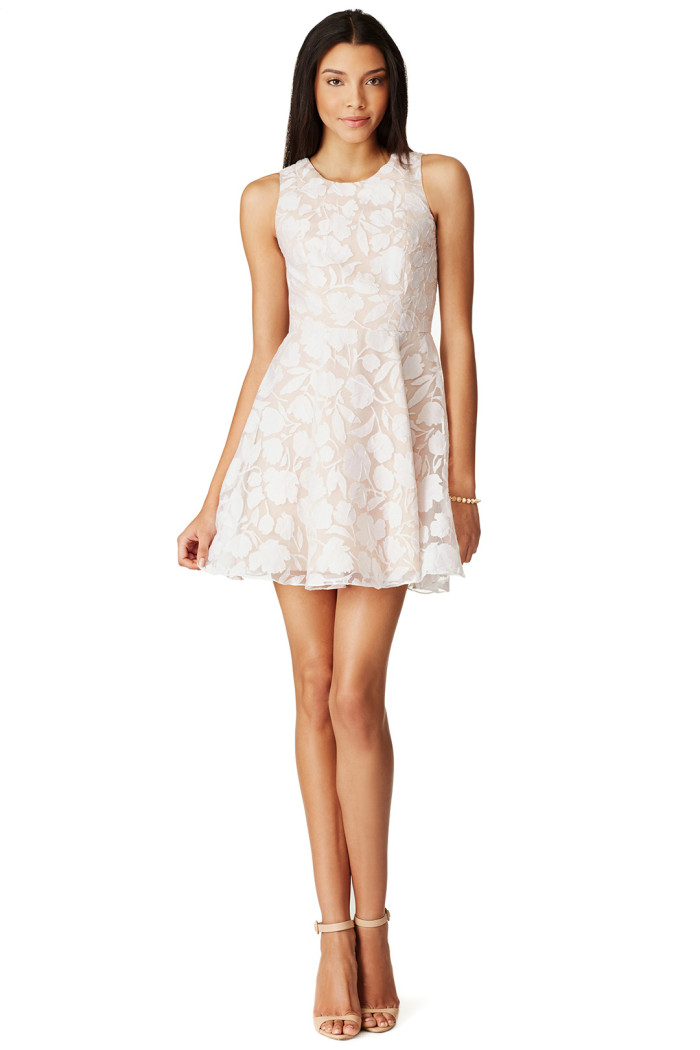 Looking for another great rental option? This sweet lace dress - the Tori Garden Dress by Jay Godfrey at Rent the Runway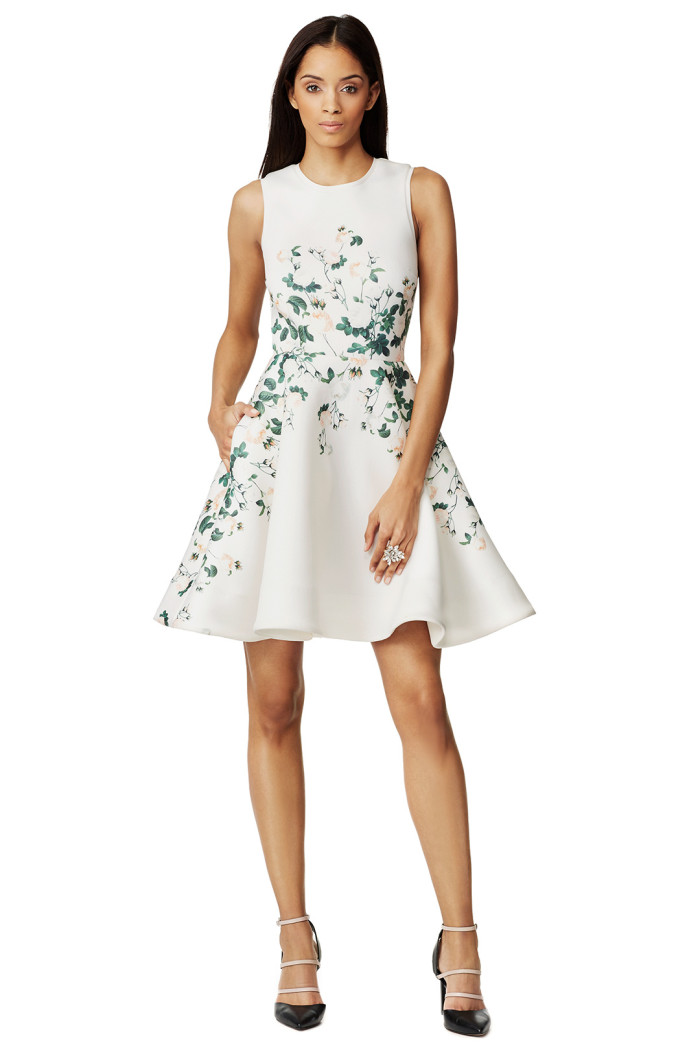 And last but not least for rental options, this Floral Erin Fetherston number, available to rent at Rent the Runway, or buy it at Anthropologie!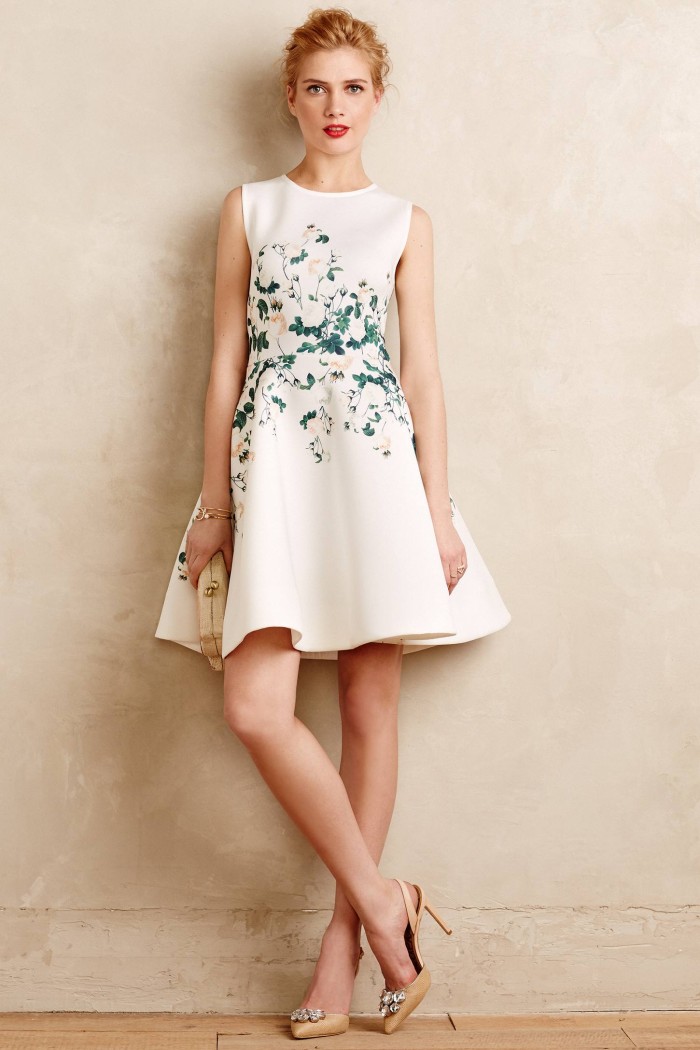 Sweetheart Roses Dress by Erin Fetherston at Anthropologie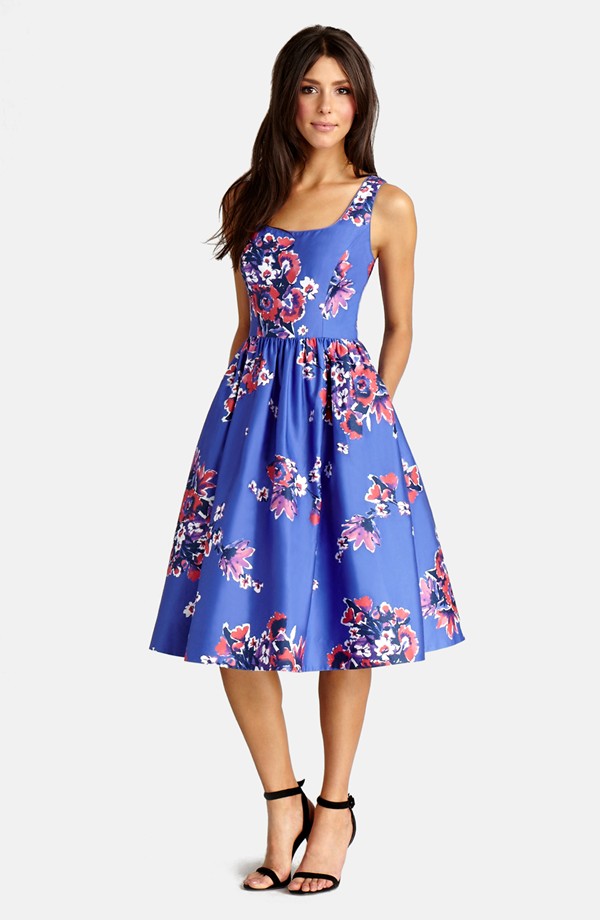 This dress could work for a shower guest, a wedding guest, or a rehearsal dinner dress but I also love it for the bride who wants a colorful dress to wear for her shower. Printed Cotton Midi Dress by Donna Morgan at Nordstrom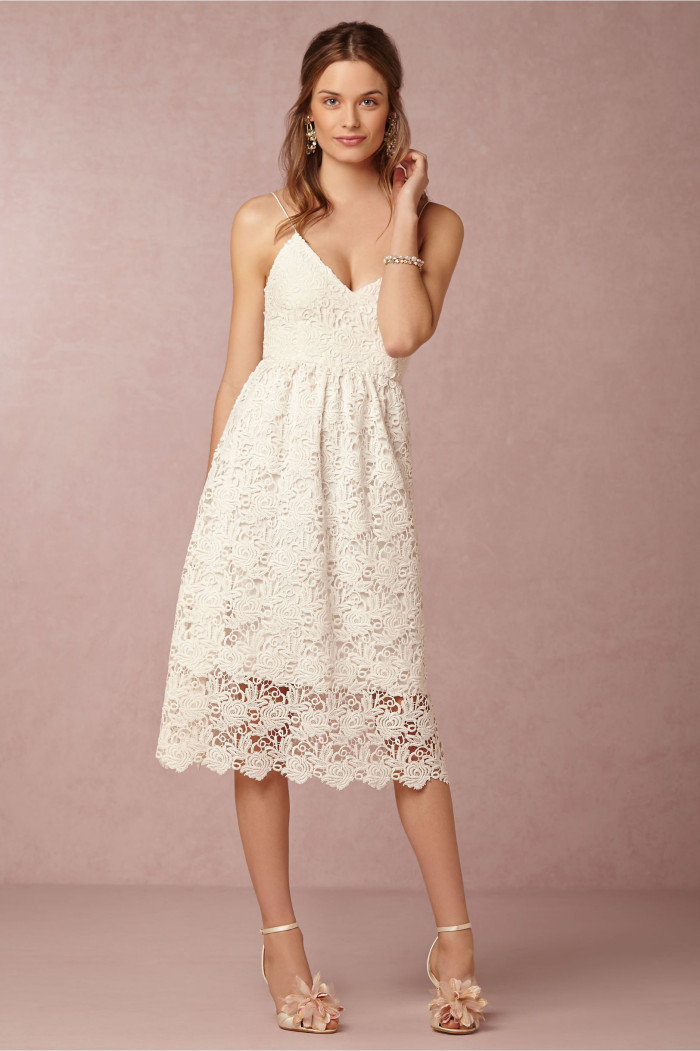 If you do want to go the route of the little white lace dress ( which is always a wonderful choice!) this is one of the prettiest I've seen! Reese Dress at BHLDN
Want a little color?  Add a pretty watercolor print like this Elin Print Dress by Trina Turk from Nordstrom
or this: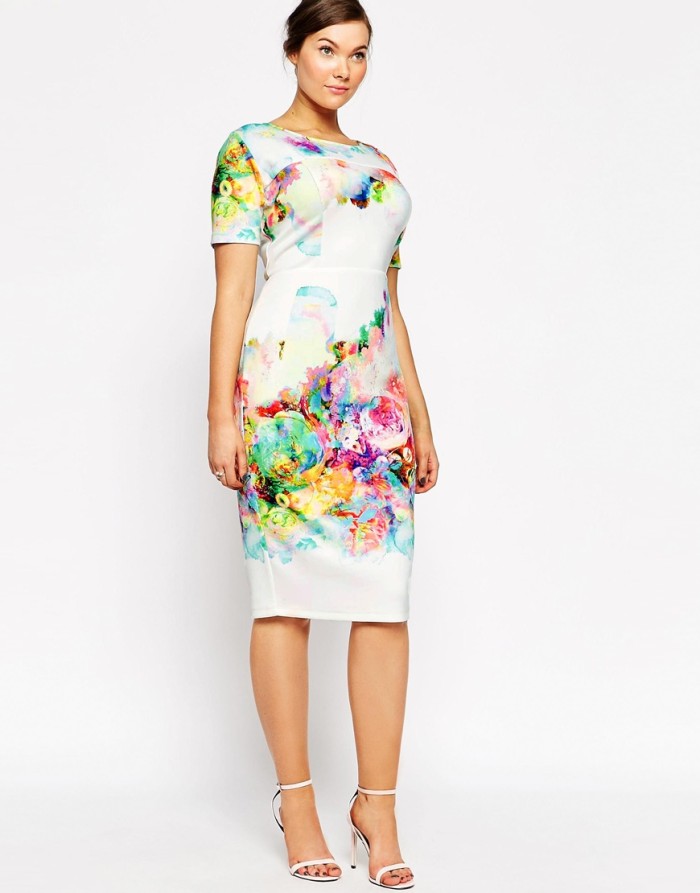 ASOS Curve Scuba Dress with Digital Floral Print Pattern
And, of course, stripes work too!
How cute would this Eliza J Dress from Nordstrom be for a modern Kate Spade-inspired shower?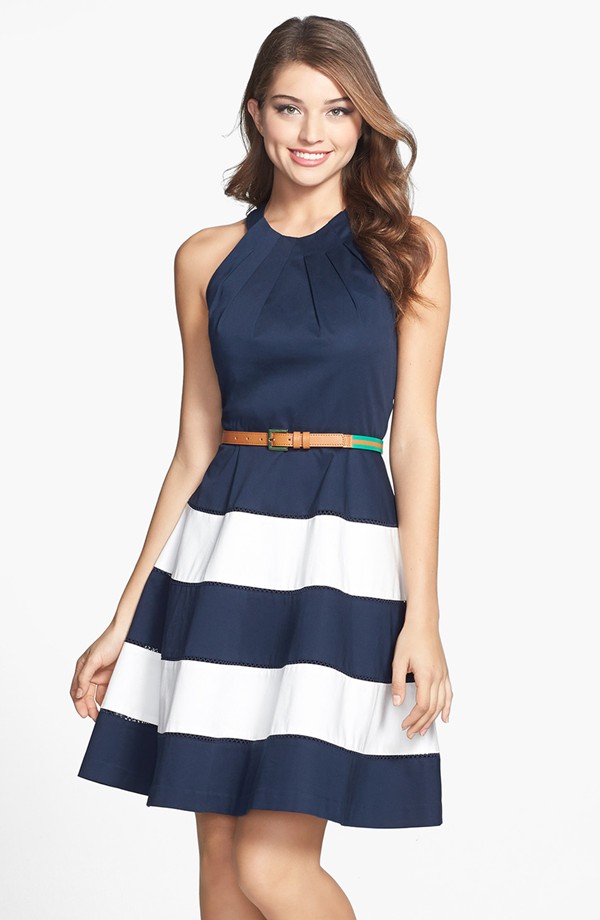 Or this navy and white striped dress by Eliza J from Nordstrom for  a nautical theme bridal shower?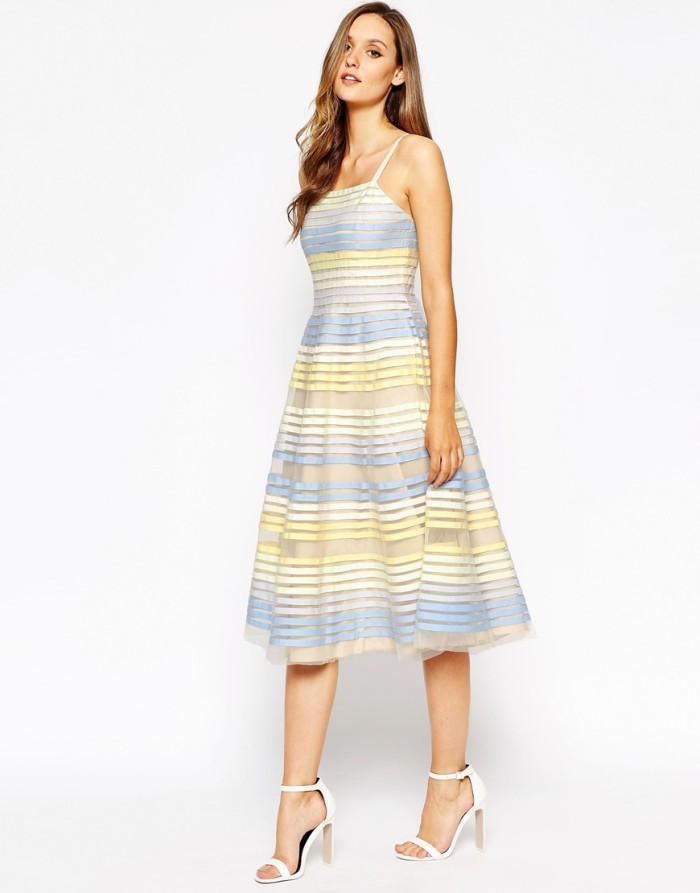 Or stripes sweetly done in sheer organza and ribbon? Ribbon Midi Dress from ASOS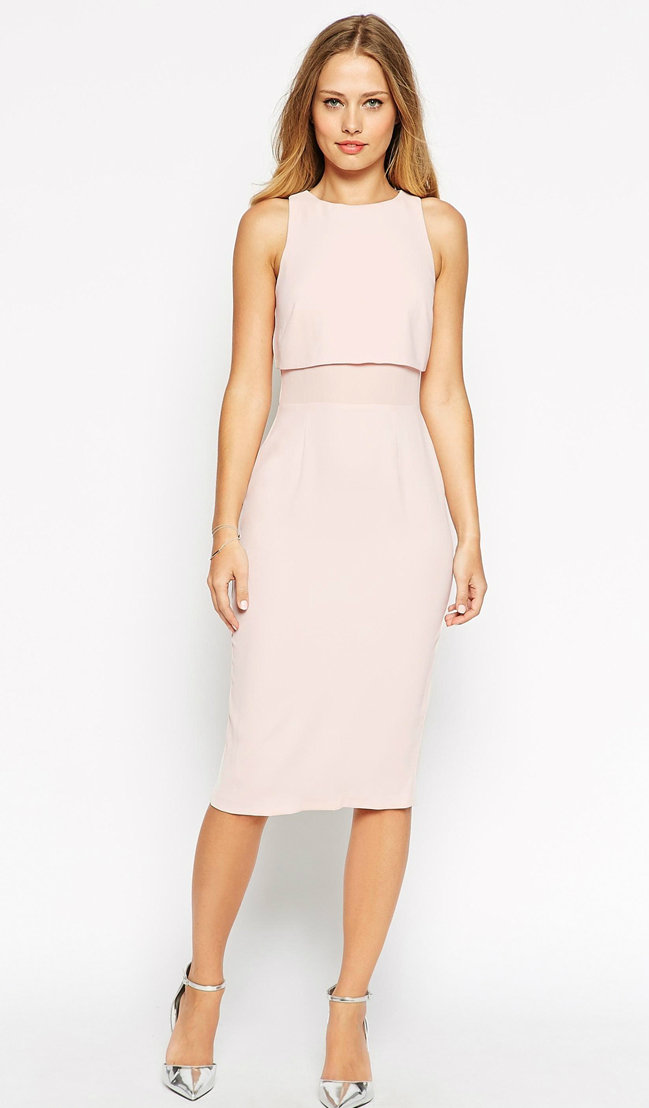 For those who like a classic tailored sheath dress, this pink mock crop is both tailored and on-trend! Sheer and Soft Pencil Dress from ASOS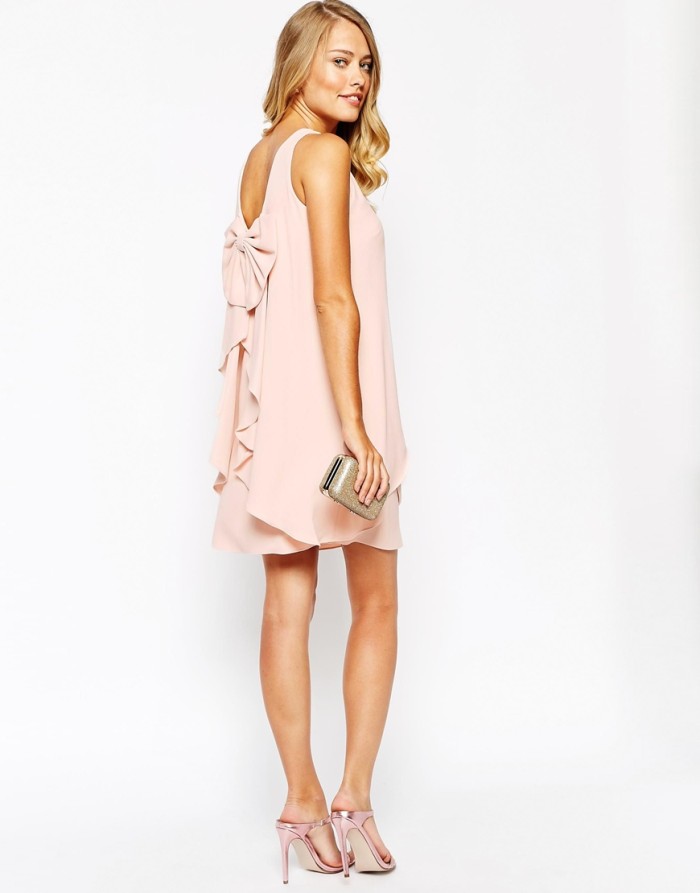 And, my weakness for bows continues... this dress is perfect for a bridal shower, or dress it up like this and wear it for the rehearsal dinner! (It's a sweet wedding guest dress, too!) Coast Lauren Dress from ASOS
With any luck, you have a weakness for bows, pastels too and one of these dress is the one for you! Until my next post, I hope you are looking forward to being showered with gifts and surrounded by friends and family!
More posts you might like:
Pink Lace Dress for a Bridal Shower
Links in italics and in the shop section are from affiliates and sponsors, meaning that this blog may earn a small referral commission from the retailer, at no cost to the purchaser, if a qualified sale is made.