Jewelry for a Wedding - Emily Condon Designs
Sometimes following the things you love, leads you to find other things you love. For me, this happened a few weeks ago when I was indulging my love of horses at The Jumper Classic with my mother.

Gemstone Necklaces (Left to Right) :  Green Aventurine  - Large Aventurine Stones, Offset Silver Button, Sterling Silver Clasp | Coral and Green Blue Stones - Ruby Zoisite and Pink Coral   | Serpentine -  Serpentine Stones, Brushed Silver Balls, Amethyst Chain, Sterling Silver Clasp
It started out as just a day to be spent enjoying the horses. the competition, and time with my mom, but, as I checked out the vendors who were attending the event, amid the saddles, bridles, and monogrammed trinkets we horse people love, I found a great jewelry craftswoman in the row of booths.  This was how I came to meet jewelry designer, Emily Condon.
Not only did Emily's creations stand out against the leather goods and horsey items, her work and her cheerful, welcoming manner would have stood out had there been a hundred jewelry designers there.  The display she had set up with a pale green and white backdrop, beautifully set off all the delicious gemstone colors featured in her work - these bright colors even got my attention away from the ice cream booth near her door - these pieces were that lovely.
Emily hand-selects beautiful precious and semi-precious gemstones, and pairs great colors and sizes together to make beautiful, earrings, bold stone necklaces, and delicate gold or silver chains with semi-precious faceted stones. It was  sunny day, and the sunlight caught the light of all the stones and accents, displaying her eye for color, contrast and texture.
Gemstone Earrings by Emily Condon

Earrings from left to right: Bezel Quartz -Faceted Bezel Stone, Swarovski Crystal, Hammered 24K Heavy Plated Sterling Post | Pink Quartz - Faceted Pink Quartz Stones, Clusters of Gold Balls on a Vermeil Loop, Hammered 24K Heavy Plated Sterling Ear Wire | Prehnite Pear Shaped Prehnite with Clusters of yellow Citrine on Vermeil Loops, 24K Heavy Plated Sterling Earwire
Chain Necklaces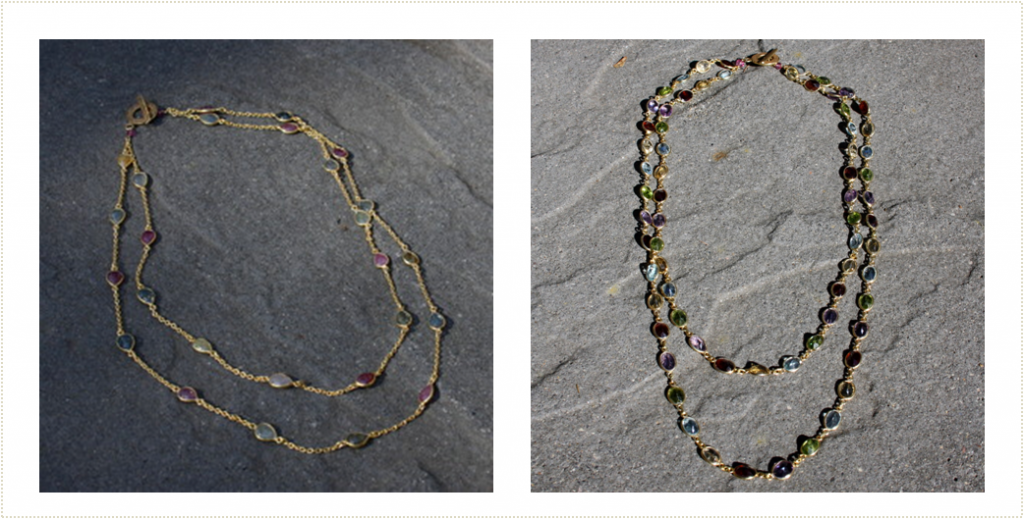 Multi Colored Semi Precious Stones Multi-Colored Semi Precious Stones, Gold Filled, 24K Vermeil Toggle | Multi Colored Gemstones Various Linked Gemstones, Gold Filled, Vermeil Clasp
Since I love a the look of a chunky stone necklace for a wedding guest accessory; as a bright accent for bridesmaids; or, as a focal piece for a bride against her pretty white dress; I immediately thought that my readers should know about this wonderful designer. Emily's drop earrings would also be really elegant to wear for an evening wedding,  as a special keepsake for your bridesmaids, or a perfect gift for mothers of the bride and groom. I also really loved her longer chain necklaces - again, they'd be a great choice for a mother of the bride, or to buy for yourself as a special piece.
Emily's necklaces and earrings are all one-of-a-kind creations, but, if you're particularly smitten with a past design, she will attempt to re-create them.  Otherwise, she'll also work with you to create something perfectly tailored to your liking.
Emily's jewelry work is in addition to her full time work as a designer with a residental design firm in Boston -- she simply lives and breathes good design, and it shows in her beautiful work! Please browse these pictures, and take a look at Emily's site to see all of her great creations. And, remember the lesson in this:  always follow the things you love, for that will lead you to more beautiful discoveries!
To contact Emily about custom work, please visit her at Emily Condon Designs www.econdondesigns.com
Gemstone Necklaces

Gemstone Necklaces from left to right: Smoky Quartz - Large, Smooth Smoky Quartz stones, Vermeil Curved Discs, Chips of orange/pink moonstone, 24k Vermeil Clasp | Blue Quartz  - Various colors of Faceted Blue Quartz Stones, Faceted Green Prehnite, Sterling and Bronze Clasp | Green Prehnite - Green Prehnite, 24K Hammered Vermeil Link, Garnet & Prehnite Clusters, 24K Vermeil Clasp
Coral Necklace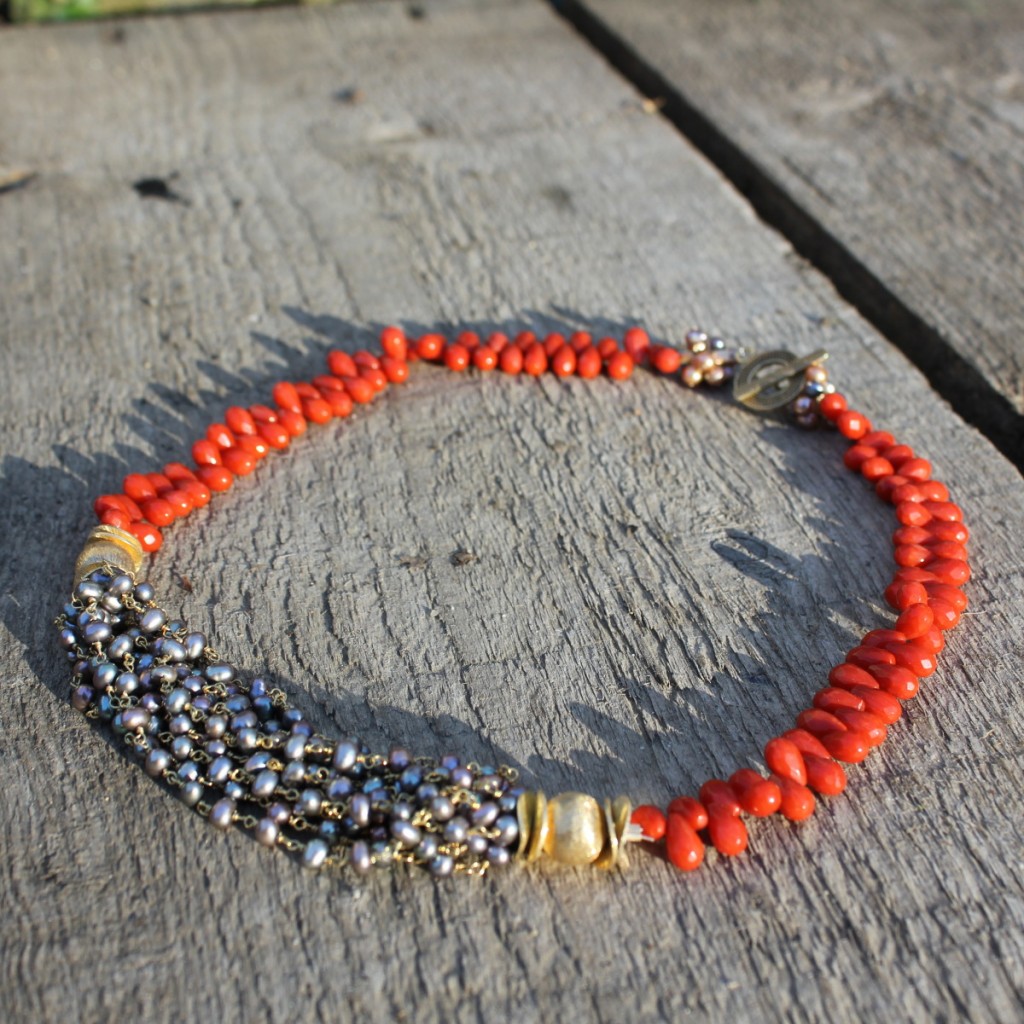 Coral Necklace -Faceted Coral Stones, Sterling Silver Wire Balls, Fresh Water Pearls
Charoite Necklace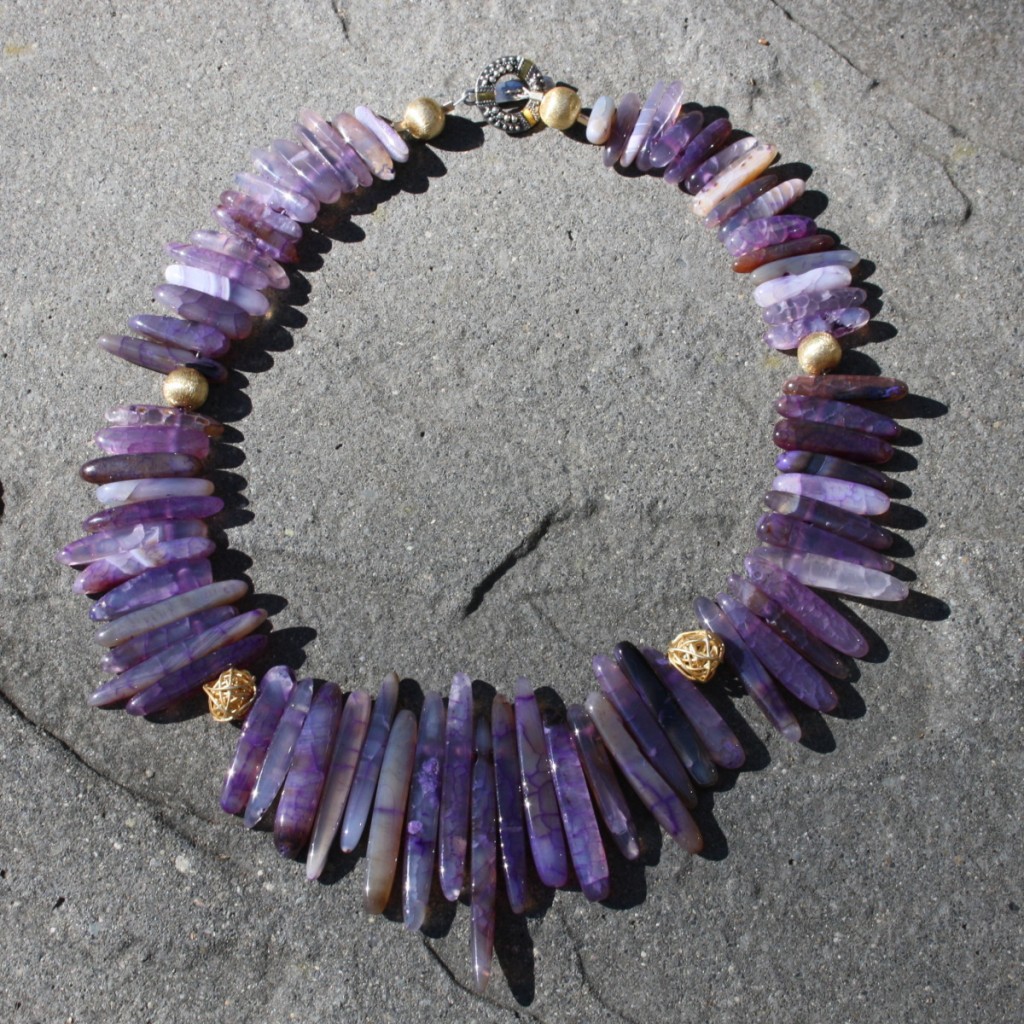 Charoite Necklace - Large Charoite Stones, Vermeil Wire Balls, Brushed Wire Balls, Sterling and Vermeil Clasp
Images courtesy of Emily Condon Designs.
More style ideas you might enjoy :