Julie Elizabeth Jewelry - Accessories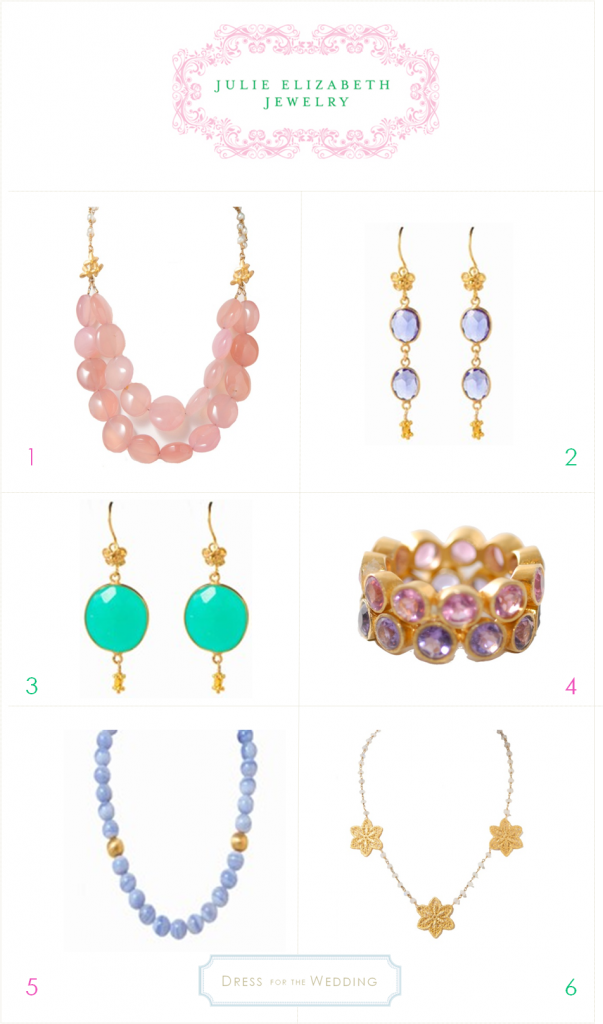 Julie Elizabeth Jewelry - Accessories 1.
Pink Chalcedony Flower Necklace
 2.
Double Amethyst Drop Earrings
3.
Gold Flower and Green Chalcedony Earrings
4.
Pink Quartz and Purple Quartz Ring Set
 5.
Blue Lace Agate and Gold Vermeil Necklace
6.
Gold Flower and Moonstone Necklace
Julie Elizabeth Jewelry - Accessories
Like choosing the best candy in a candy shop, the yummiest cupcake at a bakery, or the most delectable flavor of ice cream, when presented with the visual deliciousness that is Julie Elizabeth Jewelry, it's really, really hard to pick just one.
I found myself in that conundrum while deciding to feature her jewelry here. I learned of Julie's creations about a month ago, and I've been wanting to feature them ever since - that part was a no-brainer. But selecting just a few items of her jewelry to feature, so that I wouldn't simply be re-creating her entire shop on this site, was very, very tough!
As with most jewelry designers I choose to feature, there is something for everyone in my audience. Julie has designs that would be perfect accompaniments to your bridal attire; ideal gifts and accessories for bridesmaids or mothers; and also the perfect detail for a wedding guest's ensemble. The colors she picks: cool pastels, vibrant blues, greens, and corals; are what make these pieces magical to me. Using the best semi-precious stones, Julie hand makes necklaces,  rings, bracelets, and earrings, that look good enough to eat, and are a veritable treat to wear.
I've chosen a few of my favorite pieces of Julie's to show, but please visit her shop to see why I think it's so hard to pick just a few items to feature. Julie also does custom bridal work, to design jewelry that is exclusively tailored to your special day.
To illustrate the wearability of Julie Elizabeth Jewelry, I've paired it with this pink dress below which I'm recommending as a fall wedding guest dress. By the way, I get a lot of questions asking if you can wear pink in the fall. The answer is yes! I think as long as it is a heavier fabric, and the pink is a stronger pink than some of the very pale pinks we see in the summer, pink is a wonderful color to wear to a wedding. Mauve, hot pink, and deeper magenta pinks are very appropriate for fall.
As Julie says to her clients: "Remember, always be lovely to look at by wearing Julie Elizabeth Jewelry." I couldn't agree more! Visit Julie's site at www.julieelizabethjewelry.com.
Pink Dress for a Wedding Guest featuring Julie Elizabeth Jewelry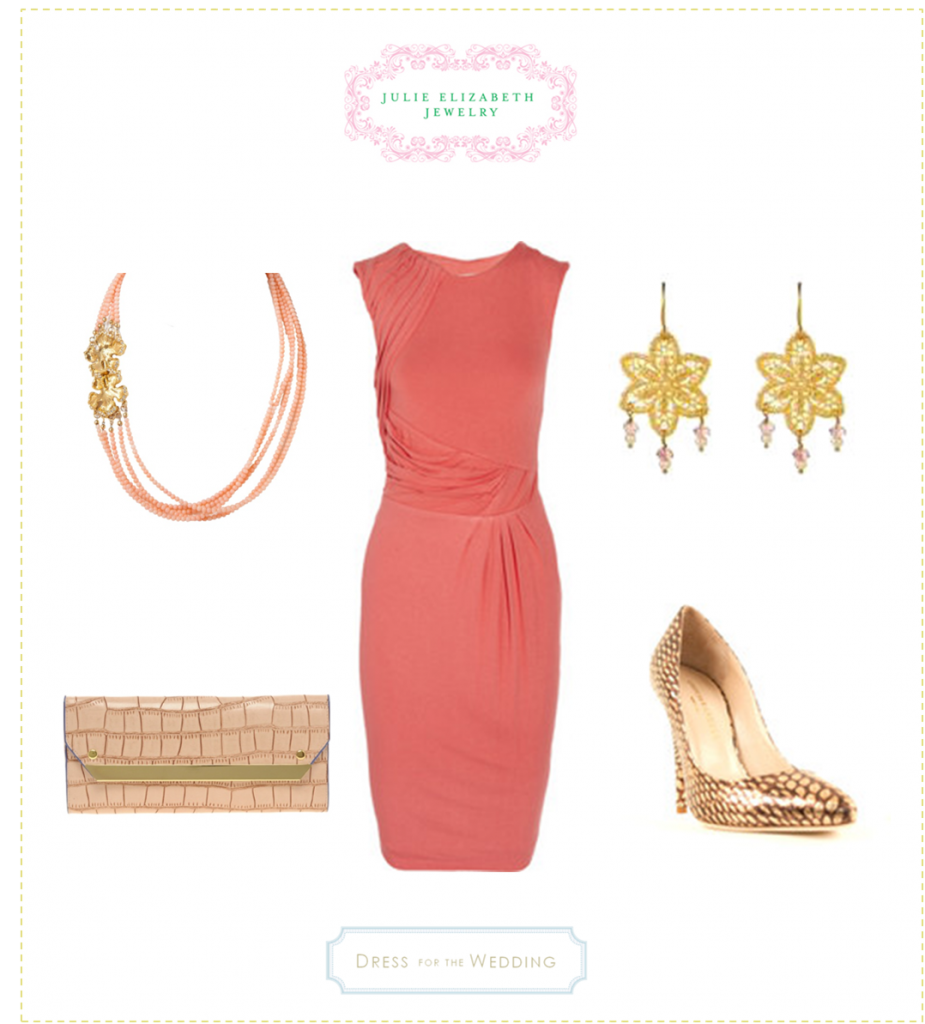 Dress:
Ce Me London Fabriane Stretch Dress
|| Necklace:
Julie Elizabeth Coral Necklace with Gold Vermeil Flower Clasp
 || Earrings:  
Julie Elizabeth Gold Vermeil Flower and Pink Topaz and Pearl Earring
 || Shoes:
Loeffler Randall Zuri Stiletto
|| Clutch:
ASOS Metal Bar Clutch in Nude