Stylish Maternity Dress for a Wedding
Where to find a cute maternity dress for a wedding guest.  Our picks for maternity dresses for semi-formal, formal, and daytime weddings. Plus, where to find more ideas for what to wear to a wedding when you are pregnant, nursing, or postpartum. Updated February, 19, 2018, with picks for 2018 the wedding season! These dresses feature mainly semi-formal and dressy casual styles. If you need a more formal gown, check out formal dresses for wedding guests!
Shopping sources on this site use affiliate links, which means this site may earn a commission if you make a purchase from our links.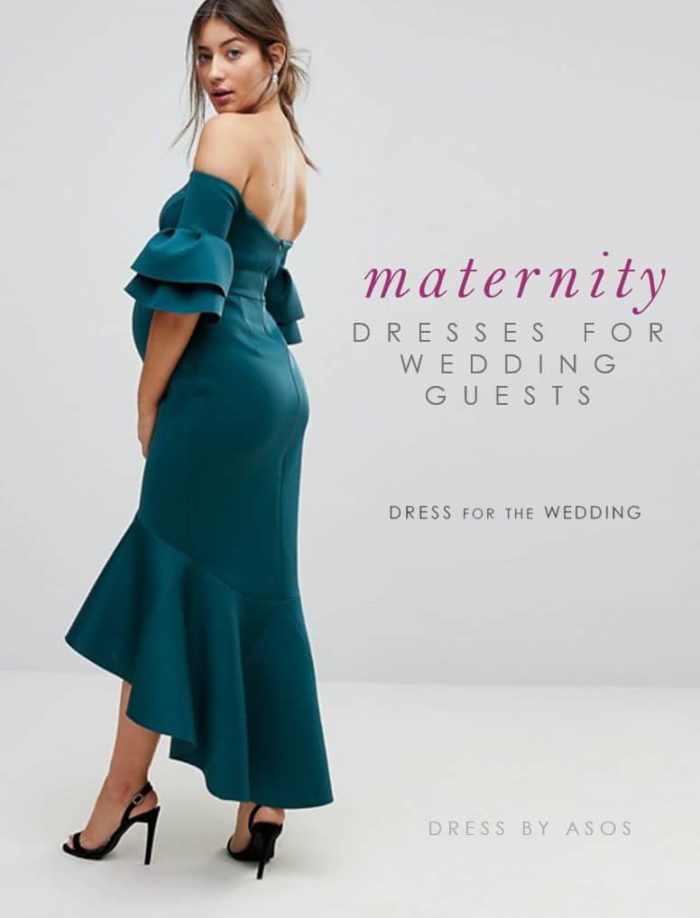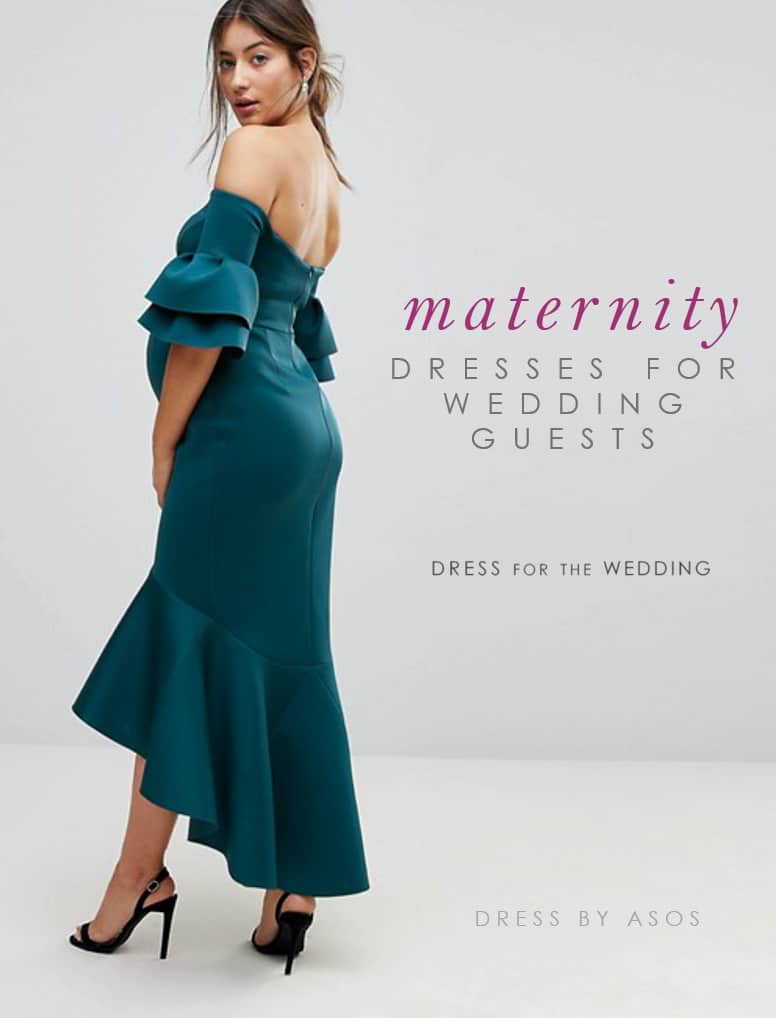 Featured dress: ASOS Maternity PREMIUM Bardot Bodycon Pephem Midi Dress
Shop Maternity Dresses for Wedding Guests

Fashionable Maternity Dress for a Wedding
Congratulations, you're pregnant!  And... you also have a wedding to go to in your second or third trimester. Eeek, perhaps the all-out what- to-wear panic ensues!
I'm not a mom myself, but I know from my friends that the combination of a near-full term pregnancy and a wedding invite is a tough combo for many reasons, but especially because finding  a maternity dress for a wedding guest or any special occasion clothes when you are 5-9 months along can be tricky.
Well, thanks to ASOS and other online retailers like Amazon,  Seraphine, Tiffany Rose,  and Pink Blush Maternity, stylish maternity clothes can be had for weddings and other occasions.
Where to Find Wedding Guest Dresses for  3-6 months Pregnant Guest
You can also find that some "regular" dresses have full skirts or plenty of stretch so that you can easily wear them, especially if you are still in the early months.
Here are a few that, based on reviews or general style seem to work! I'm calling them bump-friendly, or "maybe (?) maternity" wedding guest dresses.
In general, if you are trying to find a non-maternity dress that will stretch, look for dressy stretch jersey, stretch crepe, scuba fabrics, and some beaded dresses that are made with a stretchy mesh net (Adrianna Papell often has several) Wrap style dresses, dresses with an empire waist, loose maxi dresses, and flowing layered styles and some full skirted styles may work as well!  My tip is to check out some reviews -  places like Rent the Runway have several reviews of mothers-to-be who have found dresses that worked for them- and see what has worked for others!
Regular Dresses that Might Work For Pregnancy Dresses

More Wedding Guest Dresses
Here are a few more picks to inspired  you! Have a great time at the wedding, and congratulations on your soon-to-be-here new arrival!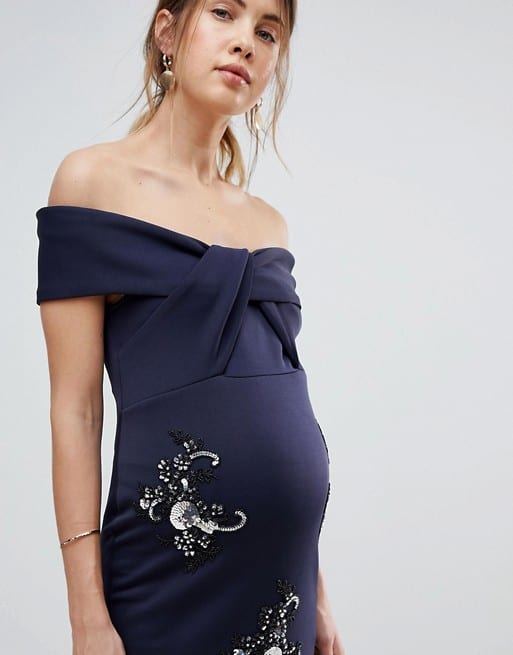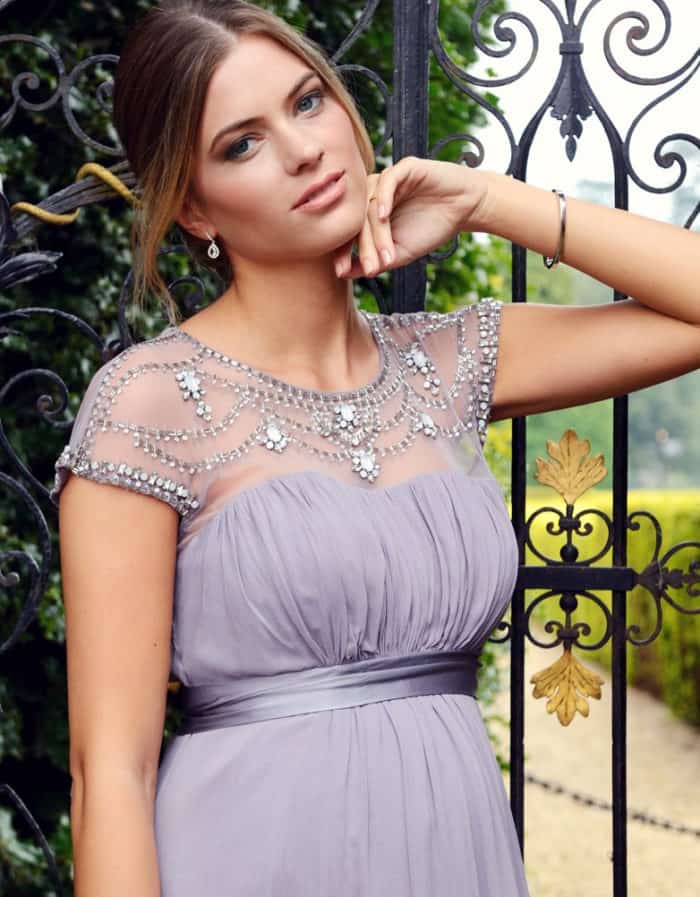 Mauve Beaded Maternity Dress from Seraphine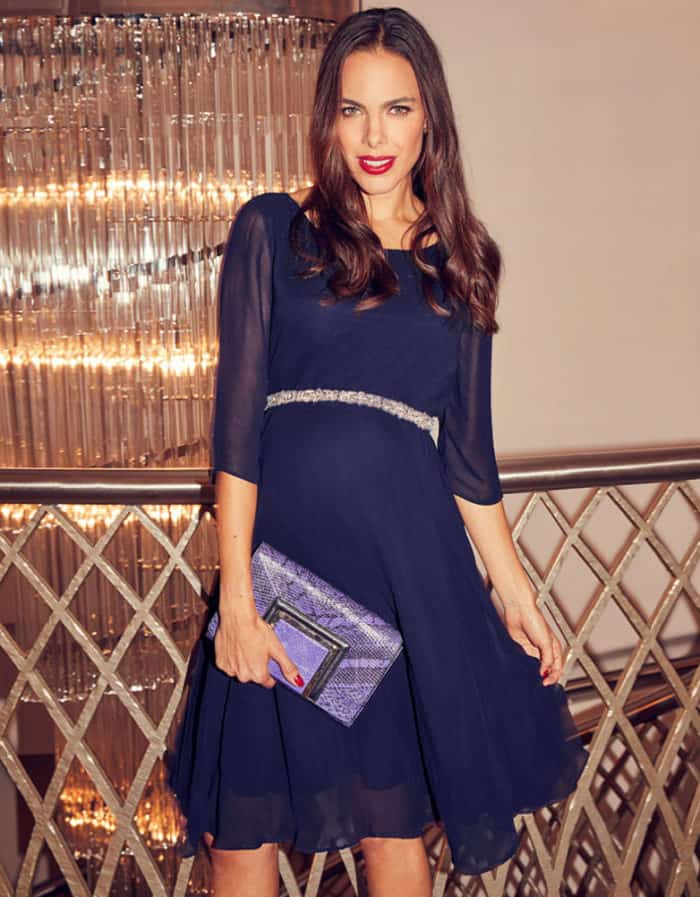 Maternity Dress from Seraphine
Maternity Outfit for a Wedding Guest
Below is my original collage, now very out of date! This was from when I started this blog for a completely glittery and bold, I'm-going-out-and-having-big-fun-at-this-wedding kind of look, with some black and silver accessories.  I even tried to find wedge heels that would give a little support.  If you'd prefer something more subtle, I've included some of those styles above for day and evening weddings. I'm hoping this will help some guests-to-be and moms-to-be attend a wedding without the what to wear anxiety.


Dress:
Asos Maternity Dress in Sparkle Print
| Earrings:
Blu Bijox at Max and Chloe
| Bracelets: 
Panacea Black, Silver and Gold Bangle Set
from Cusp.com |Shoes: 
Lumani Wedge Shoes from Zappos.com
| Clutch: 
Nina Margate Clutch in Black and Silver