Orange and Green Wedding - Dress to be WEDnesday
Happy Halloween, everyone! It's also the final Wednesday of the month which means it's Dress to be WEDnesday, the day that LiveEventfully- KristynJennifer Events and I bring  you a dose of wedding inspiration through event design and wedding attire suggestions.  To pay tribute to October, we decided to show you an orange and green color palette today.
Yes, sometimes orange and green around Halloween can call to mind those chewy little candy-corn-like pumpkins the with green stem on top, but done with a refined touch, these two colors can look very sophisticated together. Taking a cue from the leaves turning orange against the green grass hills, these hues are a natural pairing, and perfect for a fall wedding!
If this is a wedding theme you're thinking of, visit our Pinterest board where we've collected many ideas for you. And, to get some help any help with the planning for your orange and green wedding, contact KristynJennifer to put together an elegant event. Here's a sampling of our pins: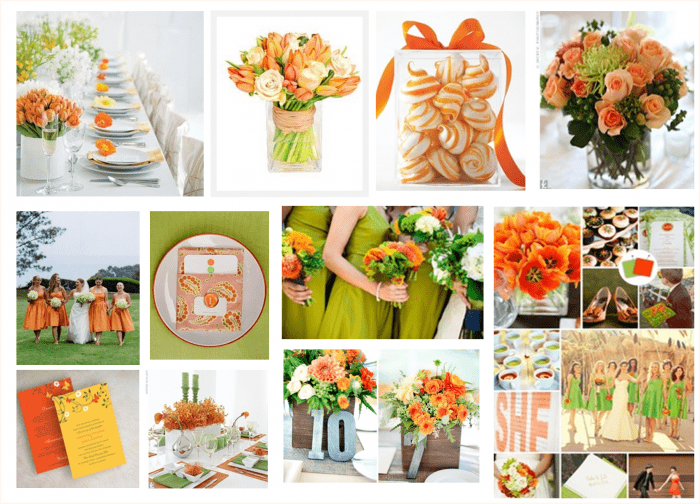 Top Row : Table Setting from brides.com / Orange and Green Flowers /  Meringue Swirls / Orange and Green Bouquet The Knot photo by Jacki V Photography | Second Row: Orange Bridesmaids Dresses/ Place setting / Green Bridesmaid Dresses / Orange and Green Inspiration Board | Bottom Row: Invitations/ Orange and Green Tablescape/ Orange and Green Flowers / Inspiration Board (same as above)
If green and orange is your theme, here are my picks for some pretty bridesmaids' dresses and green and orange pairings. I think the key with a bold pairing like this is to pick a main color (i.e., either the orange or the green as the dress color for your bridesmaids). Then, add little touches of both the accent color and the main color, especially in your flowers and decor. When you see it paired in a balanced way, you'll see this is also a great color combination for spring or summer weddings, too!
Orange and Green Wedding: Bridesmaids' Dresses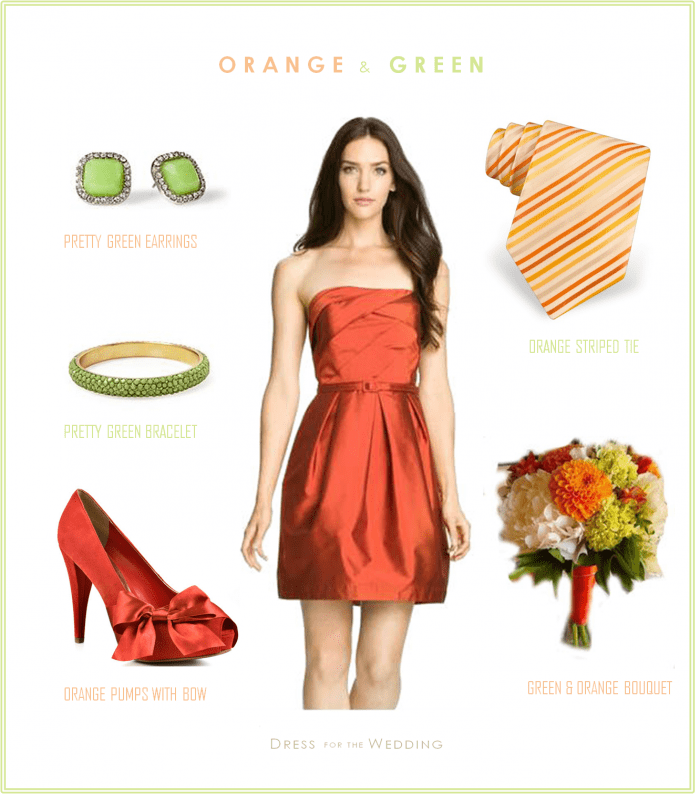 Eliza J Tulip Orange Bridesmaids' Dress / Orange Striped Tie / Bouquet Image/ Orange Pumps with Bow/ Pim + Larkin Green Bracelet/ Sabine Green Earrings
Green and Orange Wedding: Bridesmaids' Dresses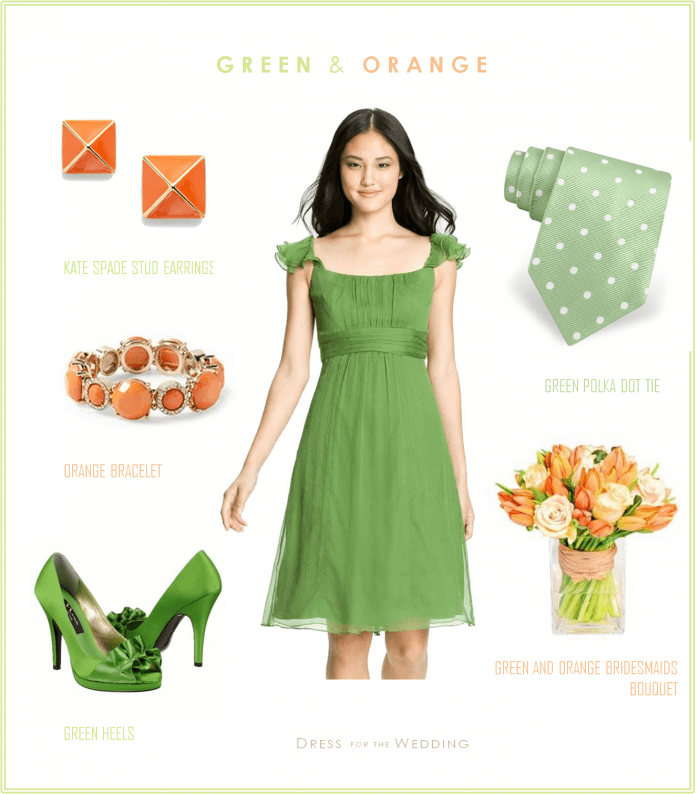 Amsale Green Empire Waist Bridesmaids' Dress / Brent Morgan Green Polka Dot Tie / Bouquet Image / Nina Eveliza Green Apple  Frill Pumps / Tinley Road Orange Bracelet/ Kate Spade Studded Orange Earrings
If call it lime and tangerine, bright orange and chartreuse  or just plain orange and green. If is the color pairing for you, we hope this has given you even more ideas on how to put it together in a lovely way! Happy Halloween, and happy wedding planning!
Shop this Look
Check out our other Dress to be WEDnesday themes.