Pink Bridesmaid Dresses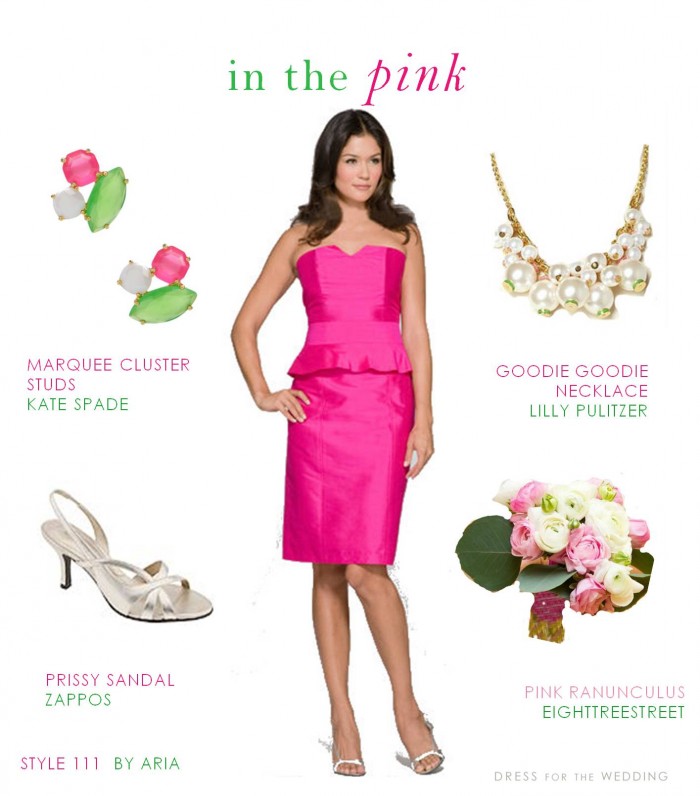 Aria style 111 in Sorbet / Goodie Goodie Necklace from Lilly Pulitzer / Zappos Prissy Metallic Sandal / Kate Spade Marquee Cluster Studs in Pink and Green Multi /Pink Ranunculus by EightTreeStreet Floral Design, Photo by  Teresa Wood Photography
It has been a pink week around here! Yesterday we had a long pink dress, and today I've been moved to catalog that most classic of bridesmaid dress colors: pink! If you love the color, and/or your bridesmaids do,  there are very few things rosier than a line of attendants in this pretty hue.
I'm showing hot pink and vibrant green inspiration in the peplum dress from Aria above,  which was inspired by the green, white and pink in that lovely bouquet created by EightTreeStreet Floral Design Studio.  That sleek peplum is such a ladylike shape, and pink and green are very ladylike colors! A hot pink hue like this fuchsia or raspberry shade of pink can hold up to other accent colors that have some punch: green, purple, blue, yellow, orange, navy, and black ( one at a time…not all at once!) .  To go the classic route, choose  pearls, metallics, silver or black for more neutral look.  I combined the two with the pink , green, and pearl accents and the slightest bit of gold, and made it kind of whimsical with the chunky earrings and necklace. If your style is less preppy and more classic, there are plenty accessories that will go with this!  This color family comes in lots of short styles or varying intensities of pink,  and I've picked 3 favorites from J.Crew,  and Alfred Sung below.
Short Pink Bridesmaid Dresses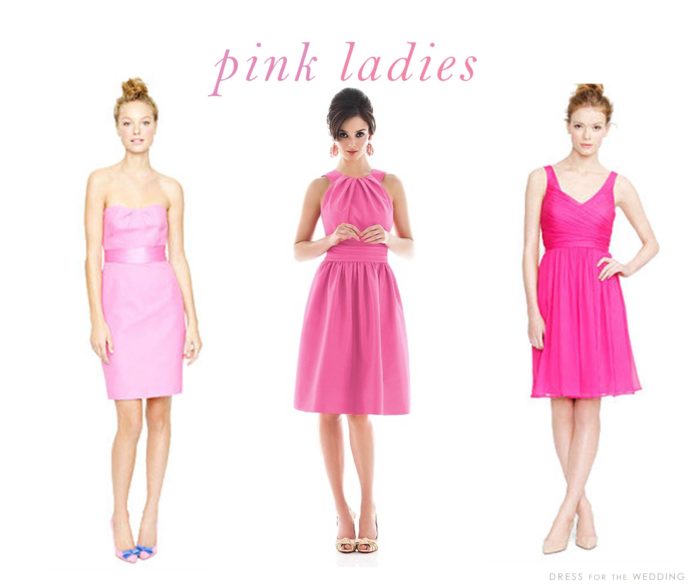 J.Crew Lacey dress in cotton cady in Vivid Fuschia/Alfred Sung Style D436 in Strawberry / Heidi Dress in Silk Chiffon in Vintage Berry from J.Crew
I also have more pink bridesmaid dress ideas
A section where you can shop more bridesmaid looks.
Or you can browse top bridesmaid designers.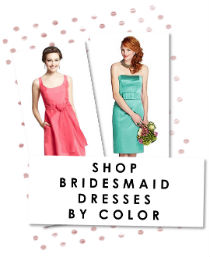 More style ideas you might enjoy :