What to Wear to a Dressy Casual Backyard Party
Happy Friday, Everyone! Is it me or has this summer flown by faster than any other on record? It has also flown by without a wedding to go to for me; except for one! Friends of ours married this summer in Italy, and now they are home and holding a casual backyard party this weekend at the bride's parents' home to celebrate with everyone who couldn't make the trip to Italy. It will be such fun!
Since it's my only chance this month to dress for a bit of a wedding reception (albeit in a very casual setting) and I look at dresses all day I had been thinking about what I wanted to wear, and *thought* I had just the thing in my closet already. Now with a day to go, it turns out I'm kind of sick of the dresses I have, and I find myself looking longingly at a few I wish I had purchased weeks ago to wear to this event.
I thought I'd share them with you here in case you're planning on going to a similar party or very, very casual wedding reception. Without further ado, here are the dresses! And, if you'd like more background on why I think these are what I want, I've included lots of details behind this little shindig and below the dresses are all the innermost workings of my mind!
---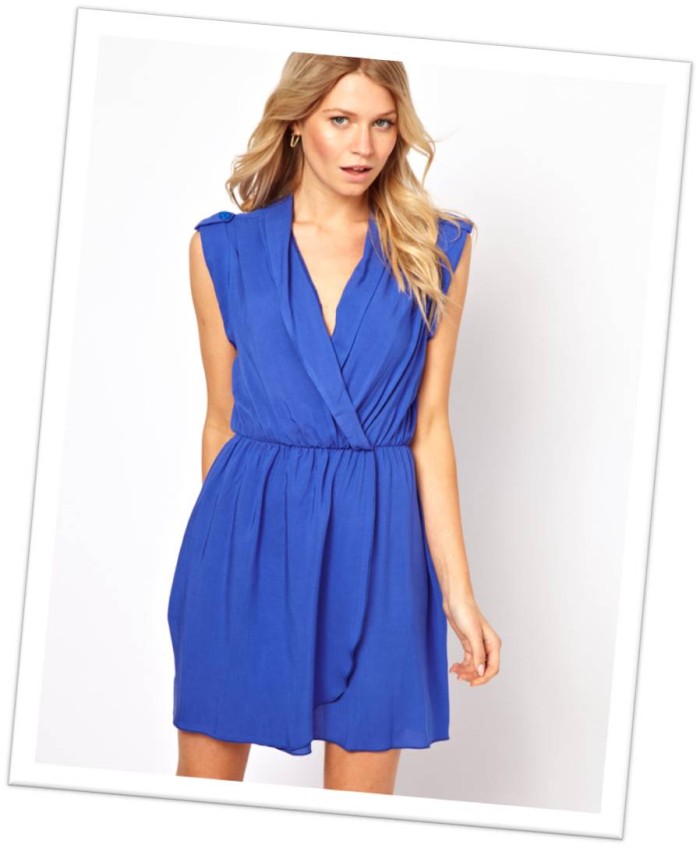 Another number from ASOS. I can't seem to stop buying cobalt blue dresses ( I have 3 already!) but I love the casual floaty style of this one - the others I own are tailored sheath dresses and seem too formal and stuffy for this event.
---
For starters, I happen to know the bride is wearing a non-wedding dress that was featured on this blog. ( It's one of my favorite posts, but I'll reveal it later so as no to spoil the surprise!) So, I have that as one reference for what people are wearing, as well as the invite which states "casual" as the dress code, and the fact that we'll be playing cornhole and camping in their backyard that night -- thus, I'll be setting up a tent in whatever I choose to wear. Last week, though, it came to pass that I was climbing into a dinghy, in a 1950s style prom-like dress and heels, so I'm kind of used to the dresses I own finding themselves thrown into rough-and-tumble settings.
---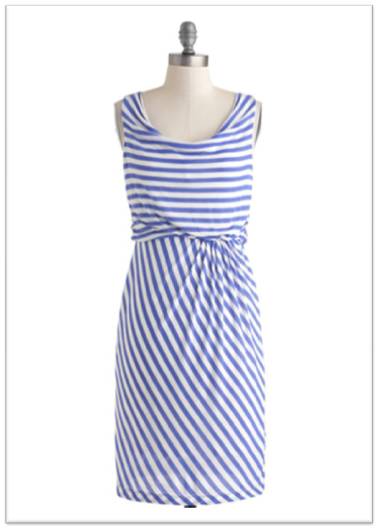 Swathe The Decks dress from ModCloth Oh, hi there nautical stripes, you = my favorite thing to wear! This dress is just perfect for summertime events! I love everything about this style and that the asymmetry and cowl neck soften the stripes a bit. I usually get a little worried about wearing even a trace of white to a wedding (even the white isolated to stripes sometimes I get freaked) but since this isn't a ceremony and the bride isn't even wearing white, this normally should be fine. EXCEPT - ha - wait! This dress happens to be a little similar the dress the bride IS wearing, so I guess on second thought I definitely don't want to wear it! It just that I saw the stripes and got a little nuts. Ok. It's decided then, just want this dress a lot... but for other times.
---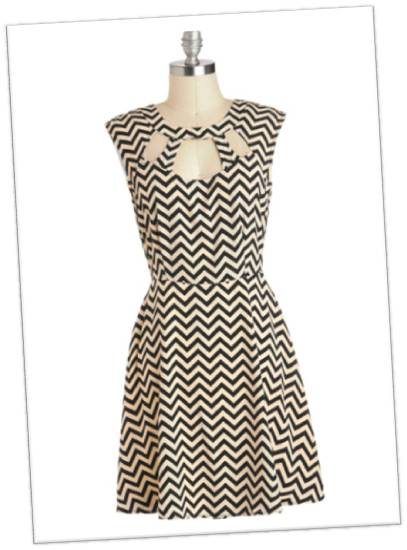 What a surprise! More stripes for me (or really chevron, my other favorite!) This "Zagging Rights" dress is similar to 2 of the dresses I'm thinking of. It's black and off white like one I picked up this week, and chevrony like my front-runner dress, but this is so pretty and I just love the cutouts. I also really love this zig-zag chevron dress that I've pinned before!
---
My other reference point is that my husband who is solidly a t-shirt or polo shirt and khaki cargo shorts kind of fellow in the summer, gestured to the polo and cargo outfit he was wearing last weekend when we were hanging out with this couple, and asked the bride "Is this ok to wear next week?" To which she gave an enthusiastic, "Yes"! So I guess he has his outfit all planned out! Note: This already flies in the face of two of my own dressing for a wedding rules: 1. Try not to bug the bride with your "what to wear questions" ( although I guess since she's already married, and we were hanging out and chatting about the party last week this is not a big deal.) 2. NEVER wear cargo shorts to a wedding reception. But a cookout wedding reception? Maybe, just this once it's ok. Ideally in my mind we'd have some neatly pressed Bermuda shorts for my husband to wear, but he's just not a Bermuda shorts fellow; so this brings up my biggest rule: it's important to also feel comfortable and like yourself!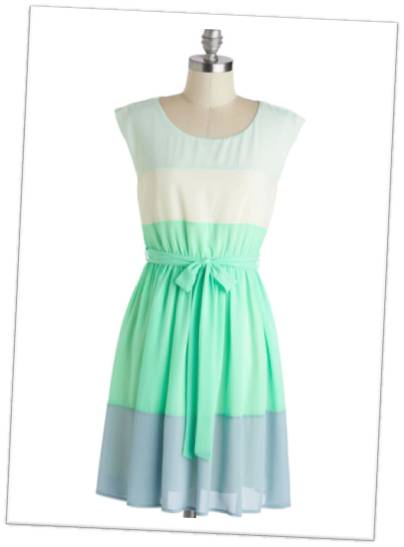 This fresh mint and blue "Sash Decision" from ModCloth dress just says "summer cookout" to me. I love the breezy colors, and it of course has some stripes! When I started writing this post an hour ago, this one was just a runner-up, now it might be one of my favorites. See how quickly things change?
---
Now on the other end of things, in my head this is still a wedding reception of sorts, and I want to look nice, but not overdone to the point of being incapable of playing some lawn sports, looking too dressy next to my handsomely casual husband, and, since our dog will also be coming with us, so it has to be something that allows me to keep up with him! ( The dog will the fanciest of all and will probably be wearing a bow tie, since this is the only chance he ever gets to wear it.)
Clubhouse Soda dress by ModCloth, again, this was a front runner an hour ago, but it looks a little dark next to all the others now. I thought it was green and navy stripes, but it's green and black - making it a great choice to wear now into fall, but maybe not perfect yet for my end-of-summer fun! See more picks of dresses I considered below!
Of the dresses I have, I actually have 5 in the running that I think strike that balance of casual yet festive. But you know that feeling where you're just sick of your clothes, and you feel like everyone has already seen the dress you're thinking of wearing because you wear things to death and maybe you went through a phase last summer where you wore a certain dress nearly every other week? That's where I am. I ran out and bought one more backup dress his week, but I'm not sure if I love it. So, as is usual for me, I will likely wear whatever strikes me on that day. But if you're smart and plan ahead, maybe YOU can wear one of these to a backyard party in these waning days of summer!
More style ideas you might enjoy :