We've looked at all the shops and we'll show you where to find neutral mother-of-the-bride dresses. We've curated and collected some of this season's prettiest gold, taupe, beige, and neutral dresses for the Mother of the Bride and Mother of the Groom with resources on where to shop and ideas for how to select the best dress.
Gold, Taupe, and Neutral Mother of the Bride Dresses
Be a sparkling mother of the bride with these neutral-toned dresses. From champagne to soft beige, these gold, taupe, and neutral mother-of-the-bride dresses in lace, silks, and sequins will send you down the aisle in style at your daughter or son's wedding.
This page uses affiliate links, which means this site may earn a commission if you make a purchase from our links or pictured gowns.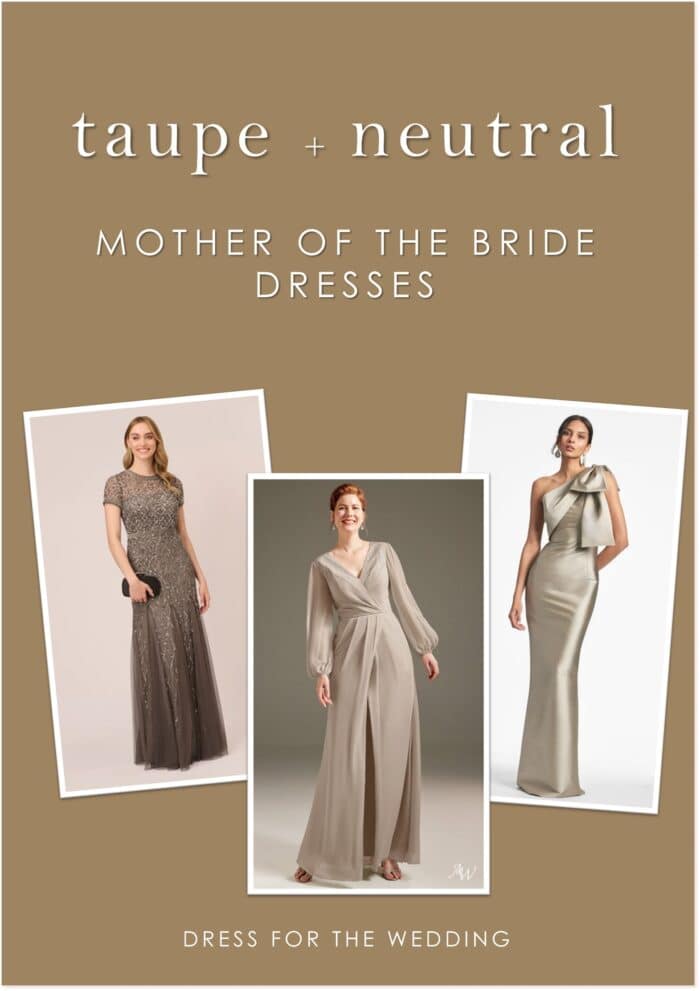 Cover image featured dresses image credits and shopping sources: 1. Cap Sleeve Beaded Gown by Adrianna Papell 2. Long Sleeve Taupe Gown Olivine Dress from AW Bridal 3. Bonnie One-shoulder Gown in Pewter by Sachin + Babi
Featured Neutral Mother of the Bride Dress
This dress is a classic year after year and is carried at BHLDN, now Anthropologie weddings. The gown is truly timeless and works for every season!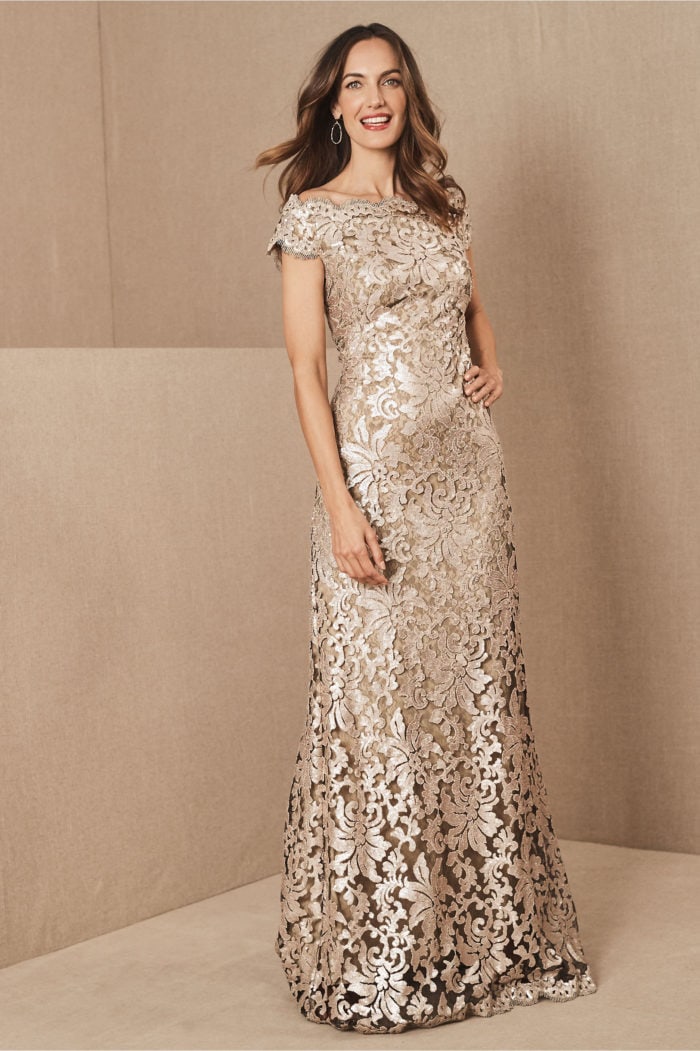 Odette Dress by Tadashi Shoji from Anthropologie
Our Favorite Gold and Neutral Dresses for the Mother of the Bride
Here are a few favorite gold and neutral mother-of-the-bride gowns and dresses, with a direct link to the shop where the dress can be purchased.

If you are looking for other colors that can also be considered "neutral" we also love dresses in navy blue, silver or gray, black and even shades of blush that can be considered neutral tones. If none of these gowns were a fit, you may want to see more mother-of-the-bride dresses organized by color for ideas.
Want more sparkle? Check out this shop page full of sequined and beaded mother-of-the-bride gowns.
You might also like the dedicated pages with gold mother-of-the-bride dresses, champagne mother-of-the-bride dresses, rose gold mother-of-the-bride dresses, or grey and silver mother-of-the-bride dresses.
More Gold, Beige, Champagne, and Taupe Mother of the Bride Dresses We Love
One Shoulder Taupe Satin Gown

This fitted style with one-shoulder styling comes in a few colors, including this rich taupe shade, which is a great neutral for all seasons. This dress is by Teri Jon.
Long Sleeve Beige Chiffon Gown Under $100

This gown is from a new-to-us line we've been featuring, AW Bridal. They've actually been around for some time, it's just a new thing for us to feature these dresses. We love them so far because they offer some colors and silhouettes that we've never seen before, and were missing from our repertoire of dresses we like to show you. The best part of all is that they have semi-custom and custom sizing and most dresses, like this one, are under $100, and come in an array of colors!
Stretch Satin Off-the-Shoulder Golden Gown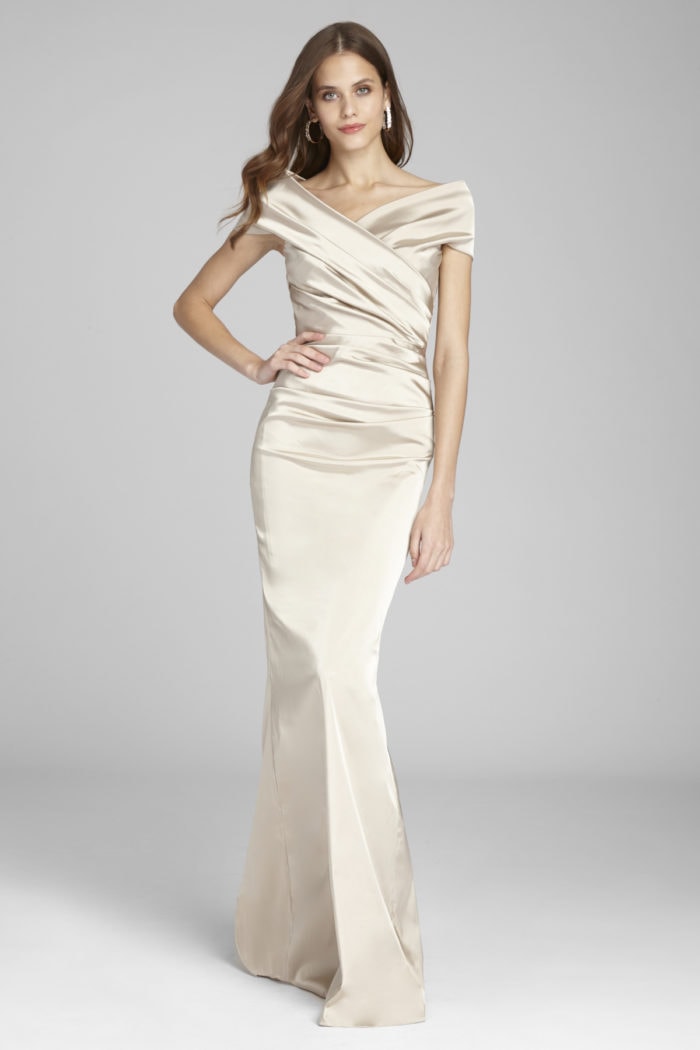 This Off-the-shoulder stretch Satin Gown by Teri Jon, cuts a classic and sleek figure.
Champagne Sequin Gown with Short Sleeves

If you want any kind of beading or sequins we love the dresses from Adrianna Papell. They now have a Legacy Collection, which includes classic sequin dresses that we've been in love with and have been featuring for years. They simply do not go out of style! If you're looking for a gown you'll feel great in and never tire of looking at the pictures, this one might be it! This is the Scoop Back Sequin Gown in Champagne.
Short Mother of the Bride Dress with Sleeves

There's no rule that says the Mothers in a wedding have to wear a long gown unless perhaps it's a black tie or a very formal wedding. For small weddings, daytime weddings, or warm weather weddings a below-the-knee, tea length or other short dress can be a great idea. We think this neutral lace and beaded cocktail dress by Mac Duggal is a wonderful example. See more of our picks for Short Neutral Mother of the Bride Dresses.
Chiffon Taupe Gown with Sheer Draped Sleeves and Belt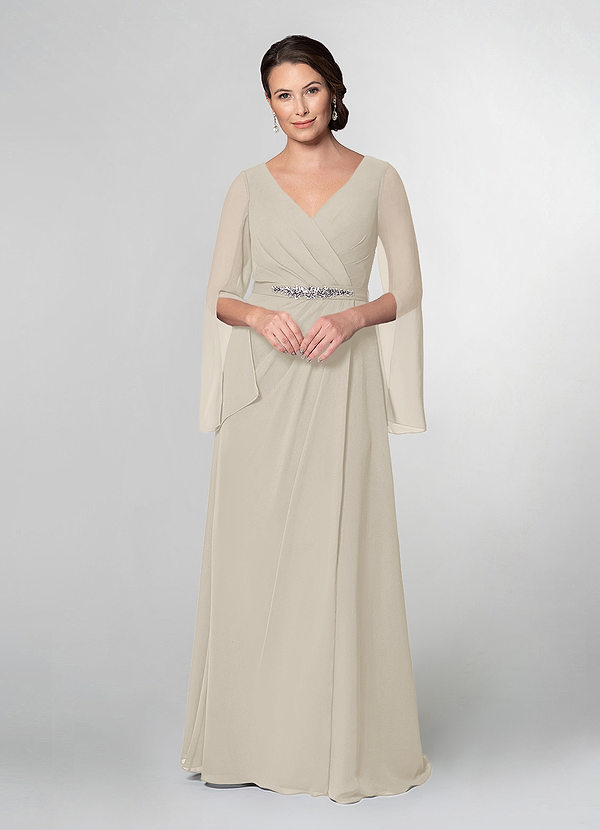 Azazie
This gown has elegant sheer sleeves and is the Belinda Gown from Azazie which is another affordable mother-of-the-bride option with hundreds of colors and silhouettes to choose from.
Designer Satin Champagne Gown with Jeweled Sheer Illusion Neckline

We have recently become completely smitten with dresses by this brand - Sachin+ Babi. They offer the kind of tasteful high-quality gowns that are the gold standard of what a mother of the bride could wish for a gown to be. This brand effortlessly combines silhouettes that will never go out of style with rich colors and subtle details that are completely modern.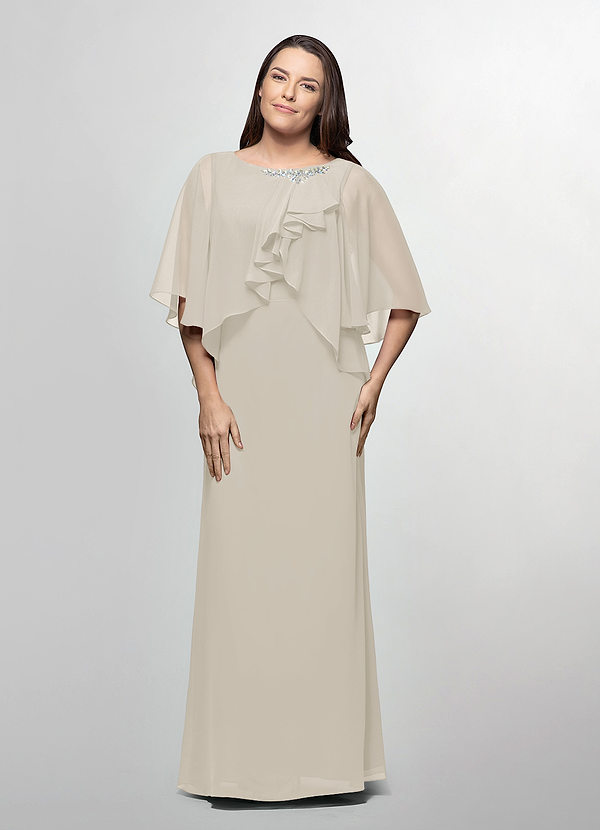 Azazie
We get a lot of requests for mother-of-the-bride dresses with jackets, sleeves, or some type of cape, and this one has sort of combination of all. Best of all it is under $200.
More Neutral Mother of the Bride Outfit Ideas
If you're looking for ideas for how to accessorize or style your dress We've also put together a few posts with neutral outfit ideas for the Mother-of-the-Bride or Mother-of-the-Groom.
Get inspired by this Mother of the Bride outfit for a Rustic Wedding, which features a gold beaded gown, or this Taupe Evening Gown or Beige Long Sleeved Dress for a Mother of the Groom.
Pink and Blush Mother of the Bride Dresses and Silver Mother of the Bride Dresses can also be great neutral options!
This article was originally published October 5, 2013 and was most recently updated on September 26, 2023