A visual guide of what to wear to every kind of wedding!
What to Wear to a Wedding
Wedding guest attire guidelines can be tricky, but we'll decode the dress codes for what to wear to a casual wedding, a beach wedding, a semi-formal wedding, and the most formal events.
When your next wedding invitation arrives, guests typically get all the details of who, when, and where – but the specifics of the other "w"s--namely, what to wear to a wedding are sometimes left for guests to interpret between the lines.
A Visual Guide: Wedding Dress Codes Decoded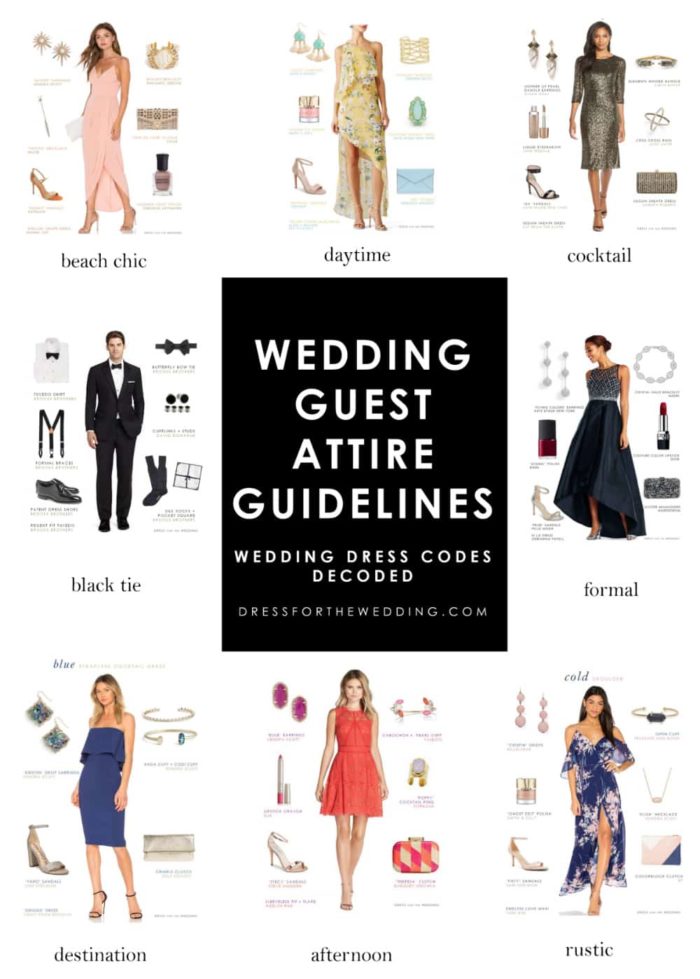 Links to details product sources for the individual collages created by Dress for the Wedding Beach Chic: Outfit for an Outdoor Summer Wedding | Daytime: Pretty Yellow Printed Dress | Cocktail: Sequin Cocktail Dress for a Wedding Guest | Black Tie: What to Wear to a Fall Black Tie Wedding | | Formal: High Low Ball Gown | Destination: Blue Strapless Dress for a Wedding Guest | Afternoon: Coral Lace Dress | Rustic: Cold Shoulder Floral Maxi Dress
Why Follow the Wedding Dress Code?
It is a sign of respect for the couple and the event to get dressed up for a wedding, and your attire should always be respectful, conservative, and appropriate. But keep in mind, the rules of etiquette were designed to help one feel more at ease and comfortable in all social situations. So simply remember your cheerful presence at the wedding is what counts here, and you're likely to have a good time no matter what you decide to wear.
Wedding Guest Attire Guidelines for Any Type of Wedding
Before 4 PM
In general, daytime weddings are more casual, so lighter fabrics, festive colors, and less-formal attire is the rule.
For women, a nice daytime dress, skirt, top, or jumpsuit are good choices.
For men, a well-tailored suit in a mid-to-dark neutral color like gray, blue, or charcoal is appropriate.
After 4 PM
In the case of evening weddings, more formal styles, longer dresses, and gowns special occasion fabrics are appropriate for women
Men should wear darker suits in navy, black, gray.
Although sometimes a white dinner jacket or suit in a fun color can work too! We go into deep detail in our wedding attire style boards
Above all, the wearer should also always chose something that fits with one's own personal style as well as the requested dress code.
What Never To Wear to a Wedding
Jeans, Hats, Non-Collared Shirts
The standard rules of being well-dressed for a wedding still apply, so just like a restaurant or private club, the warning of ripped jeans, baseball hats, and non-collared shirts aren't appropriate --unless it's at the request of the couple that you dress down. (You may be asking, do people really wear that? But I have been to weddings where I have seen all of these things recently so I have edited this post just to address this!)
White or Off-White
Please don't wear white or off-white dresses or anything that could perhaps photograph as white. Head- to-toe white suits or jumpsuits are also off-limits, too. Pale pastels like the palest blues, greens, yellows, grays, nudes, and blushes all have a tendency to look lighter than they are in photos. A white wrap or sweater to throw on if you get chilly is generally fine, especially if it's after the ceremony. Prints with some white elements are ok but just be sure the colors are much more predominant than any white background. We wrote a whole post about wearing white to a wedding, but we're sure you get it -- please, just don't!
Anything Too Revealing or Too Short
And of course, don't wear anything too short or revealing, and don't look unkempt or wrinkled. If you have to fight with your outfit to keep parts of your body you'd rather not show, it might not be the right choice.
Anything too Formal or Glamourous for the Requested Dress Code
This means, that if it's a casual outdoor wedding, it's not the time to break out your favorite super glam sequin maxi dress or the tux you still have from your own wedding. You never want to outshine the couple. Try to read the tone of the invitation to get a glimpse into the style of the wedding.
The Wedding Party Colors and Styles
It's sometimes hard to know this, but sometimes you can guess at a potential color scheme from the invitation and other elements. It's not the end of the world, but it can be awkward if you're wearing exactly the same outfit as the wedding party. For instance if you wear a suit like the groomsmen and the same color tie - you will probably get mistaken as one of the gang. For women, we think it's really hard to completely avoid most bridesmaid dress colors because popular colors blue, pink, and green make great colors for wedding guest dresses too. However, if you know for sure what the color scheme is or what style of dress the bridesmaids are wearing, try to avoid coming too close to that style and color with your own attire.
Head to Toe Black, (but not for the reason you think!)
It's more than ok to wear a black dress to a wedding in my book, in fact, it's pretty common! However, dressing in a non-festive black outfit--for instance, a very simple work-type black sheath dress or a black shirt and pants is a bad idea. Why? Because usually, a tasteful all-black outfit is the uniform of choice for the catering staff, photographers, DJ, and other vendors who are working the event. You don't want to have to spend the reception explaining you're a guest - so add a little bit of color and sparkle to your outfit.
Red - in Some Cases
We think burgundy and berry reds are perfect and very tasteful colors to wear to a wedding. However, some of the more fiery red dresses with a hot orange hue to them can be a little attention-grabbing, especially if the dress or suit itself makes a huge statement with its general silhouette. We still love them and even recommend some of them in our posts, but in some cultural areas of the US, and perhaps some couples see a red dress as a no-no. We leave this to your judgment on your personal feeling on whether red would be festive or offensive in your own situation. Here are more details on red dresses you can wear to a wedding!
Even after those general wedding guest attire guidelines, there can still be many gray areas. We'll go into much more detail about wedding dress codes below!
Affiliate links are used in the shop sections of this post.
Quickly find attire for your next wedding by dress code, or read below for the guidelines of what to wear!
Dressy Casual Semi Formal Formal or Black Tie
Daytime Afternoon Evening Semi Formal Evening Formal
What to Wear to a Daytime Wedding
If both the wedding ceremony and reception will start and end before 5, it's a daytime wedding! Morning or early afternoon weddings are usually slightly more casual. (But if your invite still requests formal attire, then certainly defer to that! )
In general, lighter colors and more casual styles and fabrics like floral prints, soft chiffons, and even cotton will work for daytime casual or dressy casual weddings. Here's a bit more decoding the daytime dress code.
What is Casual Wedding Attire?
While this type of dressing sounds the most relaxed, it can also be the most open-ended, and, therefore, sometimes the most mystifying! The venue may help you better determine the best level of formality --or lack thereof. Usually, this casual style is reserved for a morning or daytime wedding in an outdoor or informal venue.
For Women: A skirt and top or nice pants with a pretty top, and a casual sundress or casual cocktail would certainly be appropriate.
For Men: If it's a very casual event, just a nice collared or button-down shirt in a short or long sleeve, worn with a tie, and some dress pants might suffice. However, unless it's a casual outdoor wedding or a beach wedding, usually a little more formality is good. If you're sure it's casual enough that a full suit isn't required, try a navy or subtly patterned blazer and dress pants with a crisp collared shirt with no tie, or if you forgo that tie, vest, and shirt can work. After all, it's a wedding, and still calls for a little more formality. So err on the side of being overdressed; it's easy enough to take off the tie or blazer if you feel like you've gone overboard.
For the Feet: Heeled or structured sandals (not flip-flops) for footwear for women are fine, and dress shoe like a loafer or similar style would be nice for men. Sneakers or sneaker-like shoes should be avoided.
What not to wear: jeans, tank tops, t-shirts, stretchy pants, cargo shorts, flip-flops, and athletic clothing would still be a poor choice, unless specifically approved.
It is almost always better to err slightly on the side of being overdressed, so dress as you would for meeting with clients in a business casual setting. And, if you accidentally go dressed too casually, as long as you have a smile on and your best manners, you'll probably be just fine. Find a casual wedding look, and check out The Wedding Guest Boutique
Some Favorite Casual Wedding Guest Attire Styles

Beach Wedding Attire (Casual and Formal)
This style of wedding sounds soothing and peaceful at first, but can be very intimidating to dress for. Again, let the venue, weather, season, and time of day be your guide. Are you headed to the local State Beach at sunset for an informal exchange of vows, or are you going to be at a four-star hotel's private beach club, with elegant cabanas and white-gloved waiters surrounding you?
If it's the former, wearing approximately the same thing as a casual wedding - but with a beachy twist and beach-appropriate fabrics should be fine.
Women can also wear a beachy look with a linen or cotton shirt and nice pants, or a pretty, light, flowy skirt, tunic dress, or casual sundress.
Men can wear a festive linen shirt, a cotton short-sleeved shirt or button-down, or a tasteful tropical printed shirt. I'd pair this with dress pants in linen, cotton, or twill, or – if you have the knees, socks, and courage for it-- Bermuda shorts.
If it's a more formal venue, women can wear a sundress, a casual maxi dress, or beachy-but-elegant skirt and top, and make the look a little bit dressier with some dazzling accessories.
At a more formal beach affair, men's shirts should be of elegant linen or crisp cotton. A summer suit or sport coat in madras or seersucker or linen would fit well here. A tie is not required, but some of the lovely preppy or beachy print ties would certainly look wonderful, just be sure to wear them with a shirt with a full-length sleeve.
Because of the sand, you'll want to wear flat shoes with some grip in case there's a slippery rock step or two for you to navigate. Or, be prepared to swap out your heels for some flip flops, and then change back if you find yourself on solid ground again.
Find attire for a beach wedding guest, or check out The Wedding Guest Boutique
Some current favorite beach wedding guest dresses and styles:

Dressy Casual and Casual Wedding Dress Code
This designation is a bit of a contradiction but if you combine elements that are a little bit dressy with casual you should be just fine.
For instance, a cotton dress in a formal cut will work, or a chiffon dress made in a casual style would also be fine. Overall, I take this dressing designation to mean more festive, elegant attire. Casual fabrics like cotton or knits are acceptable here if the overall style of dress is correct. The time of day and venue again will be a good guide here. If it's daytime, then a sundress would be fine. If it's evening, then wear cocktail attire in darker, richer colors, and fabrics like silk or satin in a casual length and cut. Make it dressy with more accessories and a simple dress. Find a Dressy Casual look or check out The Wedding Guest Dress Boutique
What is a Semi-Formal Wedding Dress Code?
A semi-formal dress is an evening style of dress with formal fabrics like a satin, chiffon, silk, and a bit of beading. A rich fabric like velvet or velveteen in the winter months would also be very nice.
Generally, the dress length would be cocktail length—in other words, just above, or at the knee; or a little longer. A tea-length, midi length, or a longer, ankle-skimming hemline–like a maxi dress would also be perfect, as long as it is not an overly formal silhouette or material--save those ball gown style dresses for the fully formal wedding invites you receive!
Find a Semi-Formal look or check out The Wedding Guest Dress Boutique
Favorite Semi Formal Styles

Black Tie Optional Dress Code
Black tie optional dress code, is formal but with the option of black tie. I would assume that the wedding party will be wearing tuxedos and formal attire, but the guests need not exactly meet that level of formality.
For the women, a dressy cocktail dress, jumpsuit or sleek pantsuit, or a long formal dress or long skirt and top is appropriate for black-tie optional attire. You can see more details below in Black Tie required.
For male guests, you have easy access to a tuxedo, by all means, wear black tie. However, there will be probably many other men in a dark suit and dark tie or bow tie and these gentlemen will look just as elegant and appropriate as the dapper tuxedo-wearing folks. Find a Black Tie Optional look or Find a black tie optional wedding guest dress.

Formal Attire for a Wedding
Formal attire, to me, is nearly the same as black tie optional, but I also think this implies slightly less pressure for the men to wear a tuxedo. A dark navy or black suit, and crisp white shirt, with a dark, or neutral tie is appropriate here. Look at Formal Styling ideas or find a formal dress for a wedding,
Women should wear an elegant cocktail dress or full-length dress, and beautiful real jewelry or costume jewelry. Sparkling accessories are encouraged for formal events!
A Black Tie Wedding Dress Code
This one clears up any ambiguity for the men. In this case, a tuxedo in a dark color is in order with the other elements: either vest, or cummerbund, or suspenders, and appropriate bow tie or tie. In some cases, a well-cut black suit and black tie will do!
Women should generally wear a full-length gown for black tie dress codes, but those rules are changing. Many styles of types of mid-length, cocktail, or tiered skirt length are usually appropriate if the material, cut, or embellishment is highly formal. A long or ball gown style skirt paired with a dressy top is also a great look.
If dresses aren't your thing, a formal pantsuit or women's style tuxedo or formal jumpsuit is also appropriate, especially if a skirt or gown isn't part of your personal style.
If you know it's a very formal event, to be truly correct, full-length is the standard. Find a Black Tie Look or check out The Wedding Guest Dress Boutique
Favorite Formal Looks
White Tie Dress
This is the most formal type of wedding, so you should adhere to the rules on this one. I had to consult Emily Post again on this since these types of weddings are rare in my life.
Women should wear a floor-length, formal evening gown (No knee-length dresses here!)
Men should wear a tailcoat with a white vest, white shirt, and tie with white gloves (gray is an acceptable choice as well), and fine black shoes without laces. Find a White Tie Look
Cultural Attire at a Wedding
If the wedding party will be wearing some sort of cultural dress that is not your own culture--for instance, kilts or saris you could wear something that might complement those other guests' styles, as long as you are sure you are not appropriating cultural dress.
For instance, if you know the groomsmen will be wearing kilts, perhaps wearing a tie with a bit of plaid is a way to join in, without upstaging the attire of the wedding party or misappropriating cultural dress.
If your own religion or heritage states that you wear a certain type of dress to an occasion, as long as you're sure it's in keeping with the event and won't cause offense or detract from the event, then I'm sure most couples would welcome this expression of respect and festivity. I'm eager to hear first-hand stories on cultural dress, so if anyone has experience here, please let me know.
Getting More Information on What to Wear if the Wedding Invitation is Vague
If the invitation is vague, and there's no wedding website, getting more information on what to wear can also be gleaned from the wedding party. They are likely to know the attire in advance.
I would avoid asking couple getting married about the dress code unless you are already in frequent communication. Please especially don't ask the couple for details within a few days of the wedding. The couple has so much going on already! One of the roles of the wedding party is to support and attend to other details --like assisting guests with questions like this!
How To Find Out the Wedding Dress Code
If you know a member of the wedding party, ask them about the dress code. Attending the showers, and bachelorette parties, are good avenues for getting in touch with the bridal party. Asking someone in the wedding party about what to wear, also help to ensure you pick a dress that is complementary to the wedding theme. It will also help you avoid wearing a dress that is similar to the wedding party. It's an easy mistake to make since many guests and bridesmaids shop at similar stores.
If you don't know the couple -- perhaps you are a date of a friend -- then you might call the venue or check their Instagram of other weddings to see what type of dress is appropriate. Sticking with a classic semi-formal look is usually a good rule!
Be Prepared
Another idea is to bring a few easily-packed accessories that will either dress up or dress down your core outfit. Then, just adjust once you find out how everyone else is dressed.
Again, no matter how you are dressed, be sure to enjoy yourself!

Here are a few other ways to search for wedding guest attire:
Casual or Dressy Casual Dresses for Day Weddings
Semi-Formal Cocktail Dresses for Evening Weddings
Maxi Dresses to Wear to Weddings
Or shop for a wedding guest by dress color: Red Dresses | Pink Dresses | Coral Dresses| Yellow Dresses | Green Dresses | Light Blue Dresses | Dark Blue or Navy Blue Dresses |Purple Dresses | Floral Dresses | Gray or Silver Dresses | Black Dresses | Dresses for Wedding Guests Under $150
Are you in the wedding? Check out : Wedding Dresses | Mother of the Bride Dresses | Bridesmaid Dresses