If you're looking for a green dress for a wedding to wear as a guest, or as a member of the wedding party, this guide is for you. We've collected some of the prettiest sage green, forest green, and bright green dresses that are perfect for wedding attire for guests, bridesmaids, and more.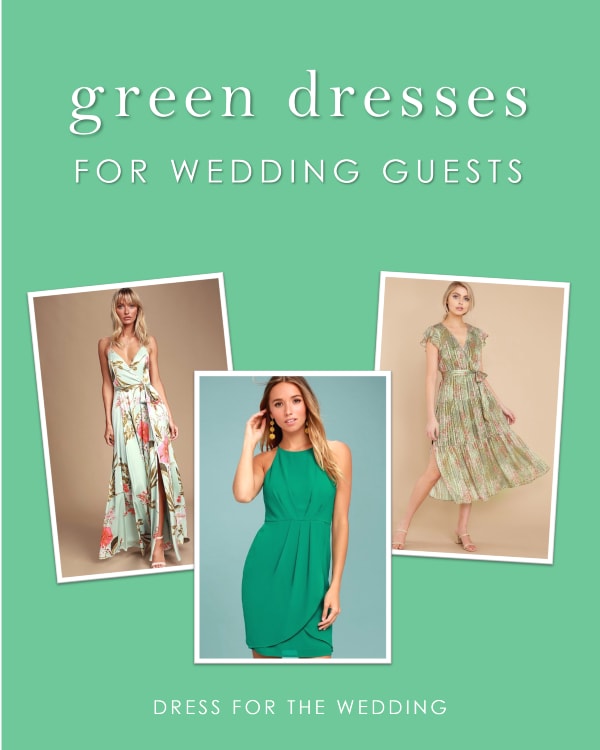 Image and product sources: 1. Still the One Sage Green Floral Print Dress from Lulus 2. Best Wishes Teal Green Dress from Lulus 3. Monet Multi Midid Dress from Red Dress Boutique
The shop section uses affiliate links from our partners.
Wedding Guest Dresses in Green
Here are our latest picks for green dresses that are appropriate to wear to weddings. Remember, daytime weddings usually call for lighter colors and more casual styles. Evening and formal weddings usually mean more dressy fabrics, longer lengths, and darker colors in some cases. Each image is linked to the shopping resource where the dress can be purchased. If you're in the wedding and looking for a green dress, see our pages for Green Bridesmaid Dresses and Green Mother of the Bride Dresses.

This page uses affiliate links meaning that Dress for the Wedding may make a small commission, at no cost to the purchaser, if a qualified sale is made.
Green Dresses for Weddings
Mint, emerald, and sage are all beautiful shades of green dresses to wear to a wedding as a wedding guest. This selection of green dresses will work for wedding guest attire, bridal shower attire, and some will work for bridesmaid dresses. We've pick long styles for formal weddings, and green maxi dresses for semi-formal weddings or an outdoor wedding, and short cocktail style dresses that are a great choice for semi-formal weddings or daytime.
More Dresses to Wear to a Wedding
Here are a few more green dresses we love for wedding attire.
Sage Green Maxi Dress

Sage green is having a big moment this season. Thi dusty green shade is popular for weddings, bridesmaid dresses, and is perfect for a wedding guest. This sage green maxi can work for an outdoor wedding, or get glammed up with heels and sparkling jewelry for a more evening style.
Sage Green Midi Dress

This pretty sage green midi dress is perfect for a spring or summer semi-formal wedding. Just add silver or gray accessories and you're ready to go!
Emerald Green Gown

This is what we love about Lulus - they offer formal styles that will suit any black tie or formal evening event, and they price them under $100. This sleek style off the shoulder style is sure to turn heads!
Pretty Floral Print Satin Gown

Another favorite from Lulus, comes in both a dark green and light green style.
See more green dresses from Lulus
Floral Maxi Dress

We love these floral print dresses by Eliza J. There's a plus-size version and another print in a pretty blue-green and pink print.
More Dress Ideas
For more ideas for how to style or accessorize a green dress, please check out these ideas for green wedding attire. Also follow us on LiketoKnow.it, and Instagram, for more ideas!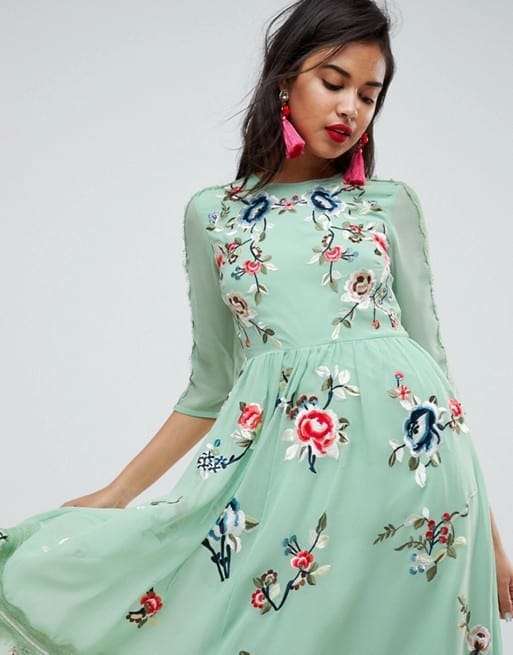 This dress I now sold out, but was previously used in a pin referencing this page. We have left it here for continuity. Featured dress: ASOS Floral Embroidered Skater Dress