Our picks for the best Mother-of-the-Bride dresses for fall weddings. Short and long styles for moms of brides and grooms, stepmoms, and grandmothers in the best fall wedding colors.
Shopping sources on this site use affiliate links, which means this site may earn a commission if you make a purchase from our links.
Fall Mother of the Bride Dresses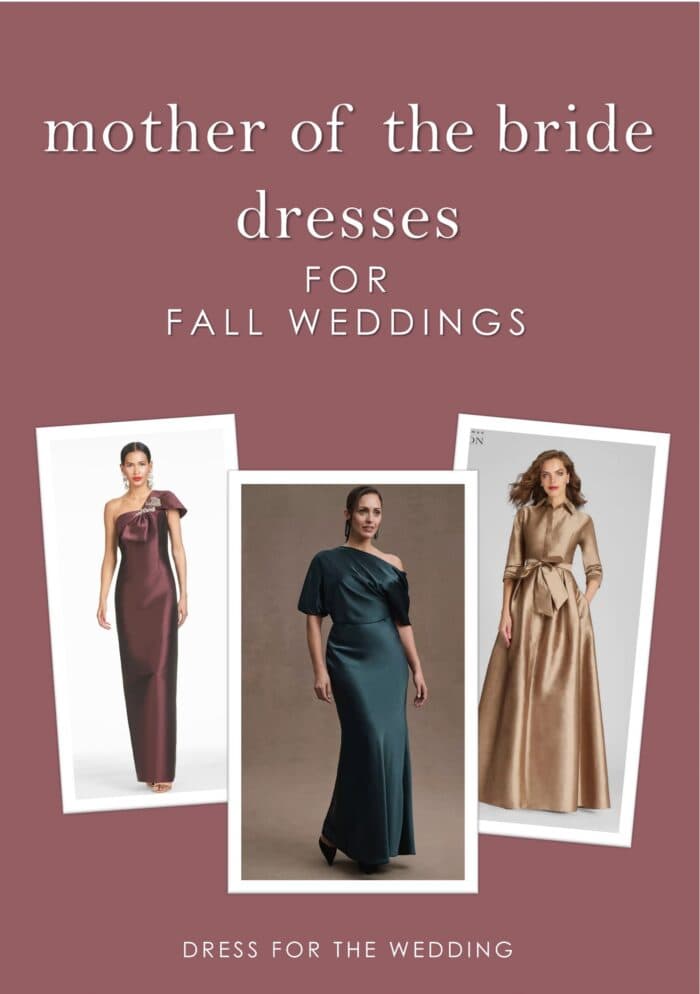 Image credits and shopping sources: 1. Ines Gown by Sachin + Babi 2. Amsale Pryce Gown from Anthropologie 3. Taffeta Shirtwaist Gown from Teri Jon
To make your search for the perfect dress for your son or daughter's autumn wedding easy, here's a shoppable selection of some of our Mother-of-the-Bride dresses in fall's best colors from our retail partners.
Gorgeous Fall Dresses for Mother of the Bride and Groom
Here are our favorite dress picks for the 2023-2024 Fall wedding season!

Popular Colors for Mother Of the Bride Dresses for Autumn Weddings
The fall season for weddings allows for some of the prettiest colors for dresses, and Mother-of-the-Bride dresses are no exception. Mothers' gowns and dresses for autumn weddings are often found in muted tones, harvest colors, and colors that reflect changing foliage. For wedding attire, we recommend colors like burgundy, ruby red, midnight blue, plum, and emerald along with sparkling neutrals like bronze, gold, and rose gold. These rich colors, when done in a special occasion fabric like satin, silk, lace, or sequin make for wonderful choices for Mother-of-the-Bride and Mother-of-the-Groom dresses for fall weddings.
Burgundy

Long-sleeved gowns are a popular request for fall weddings, and this deep merlot color is just perfect for the autumn season. We also love the sequined style which is a signature of this brand, Adrianna Papell. See more of our favorite Red and Burgundy Mother of the Bride Dresses.
Olive Green

Olive green is coming back in formal wear, and it makes a wonderful new variation on green beyond the emerald and sage greens we see in more seasons. This has more of a neutral cast, and it looks glorious when done in a beaded formal gown like this.
Rose Gold

While gold is always a great choice for mothers of the bride, we also like the pink metallic warmth that can be found in a rose gold dress. Even better if it has a bit of beading like this one! See more rose gold dresses like this.
Navy Blue

This is a classic off-the-shoulder portrait neckline. The floral detail at the hem makes this navy blue gown stand out. See more Dark and Navy Bue Mother-of-the-Bride Dresses we love.
Emerald

This gorgeous gown is ideal for a black tie formal fall wedding. We love the ballgown skirt, one-shoulder neckline and the rich jacquard fabric. If this is a color you love, see more green mother of the bride dresses we love.
Mauve

This color reminds us of mulled wine, which is a gorgeous color to use for a fall wedding color scheme. The long sleeves and sweeping long gown make this a winning combination for a fall black tie wedding.
Bronze

This rich bronze and almost chocolate color is another color that we're seeing much more of this season. We absolutely love this as a different option from the usual golds.
Terracotta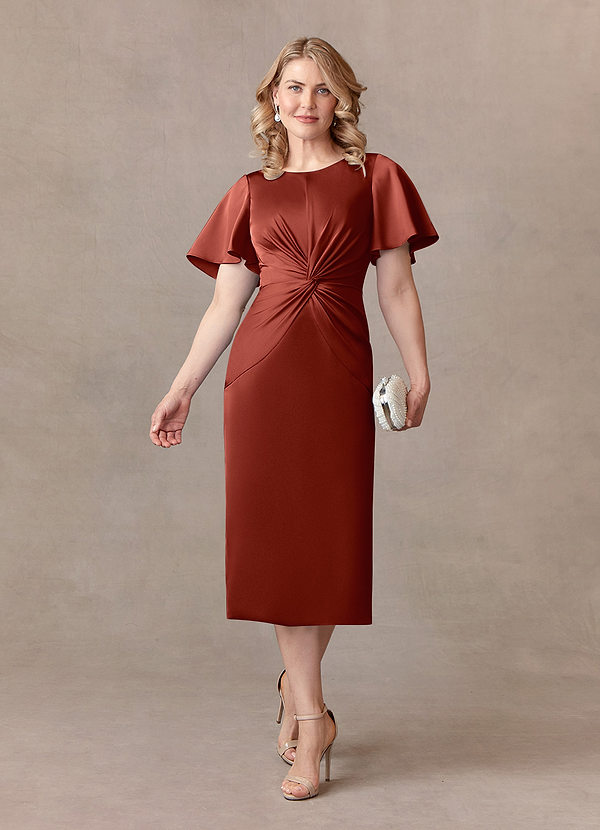 SatinTerracotta Everlyn Dress by Azazie
This burnt orange or rusted rose color is sure to be a wonderful color to set against changing Autumn leaves and other gold, red, yellow colors of the leef peeping and harvest season.
Purple

This rich color is a pleasing contrast to red, gold, or other popular wedding party colors or the fall season. Here are more options for a purple mother of the bride dress.
Fall Florals

Florals aren't just for spring! Choose a floral with a dark background and rich color pattern in rust, gold and red or other fall colors, and you have a great look that will tie together several colors that might be in a fall wedding color scheme. See more floral dresses for mothers.
Shop Dresses by Color
Looking for a specific color for a fall mother-of-the-bride dress? We organize our favorite dresses by color and try to update our picks each season.
Sequined Dresses for the Mother of the Bride Red or Burgundy Mother of the Bride Dresses | Pink or Blush Mother of the Bride Dresses | Coral Mother of the Bride Dresses | Yellow Mother of the Bride Dresses | Green Mother of the Bride Dresses | Light Blue Mother of the Bride Dresses | Dark Blue Mother of Bride Dresses | Purple Mother of the Bride Dresses | Silver and Gray Mother of the Bride Dresses | Gold, Taupe, and Neutral Mother of the Wedding Dresses | Black Dresses for the Mother of the Bride
Fall Fabric Tips
Obviously, the color fall season requires a shift from summer. Here in the US, longer hemlines and sleeves are wonderful for the fall season. Fabric choice is also important. Dresses in fabrics like silk, satin, and lace and heavier fabrics like velvets, and beaded styles are all good choices for a mother's wedding outfit.
Past Fall Features
This is an older graphic from past seasons. These dresses are now out of stock or sold out, but we keep the image in case the dresses become available again.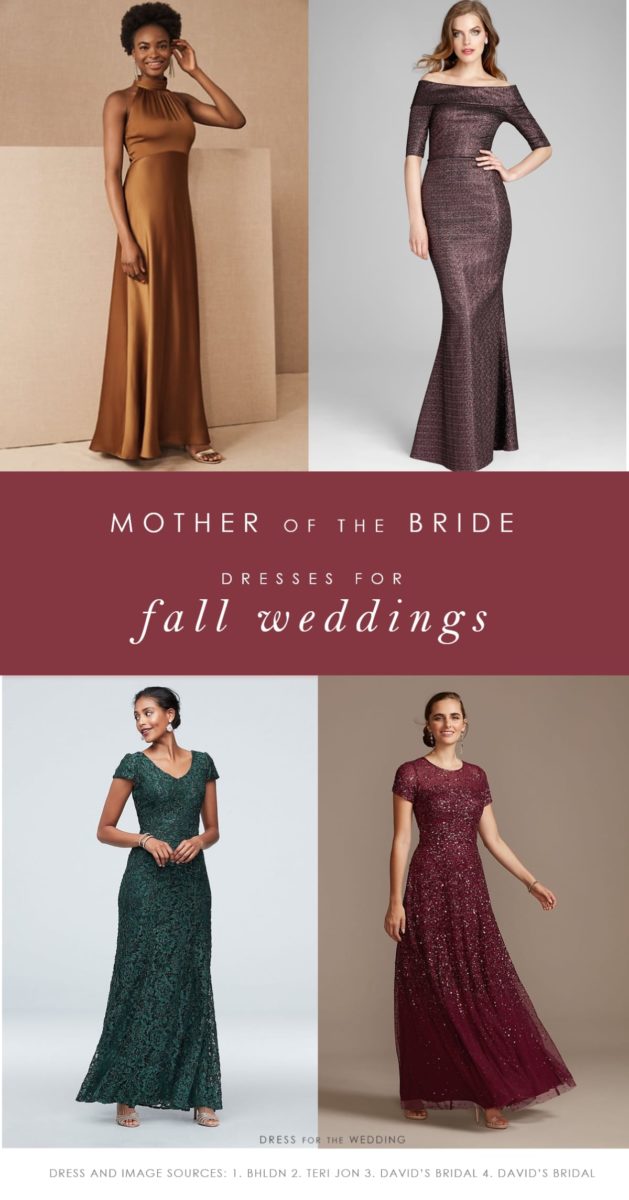 1/ BHLDN Cortland Dress 2 / Metallic Jacquard Gown with Sleeves by Teri Jon 3/ Green Shimmer Corded Lace Cap Sleeve Gown from David's Bridal | 4/ Allover Beaded Mesh Overlay Short Sleeve Dress from David's Bridal
Favorite mother-of-the-bride dress shops: | Neiman Marcus | Nordstrom | Saks Fifth Avenue
This post was originally published in August 2015 and updated most recently on September 9, 2023.