Silver or gray is such a chic color to consider for a wedding guest dress. In this guide, we've found over 50 beautiful silver and gray dresses for weddings. These are some of our favorite grey dresses for wedding guests, in every type of length from midi dresses to maxi dresses, and with styles for every season and every type of wedding dress code.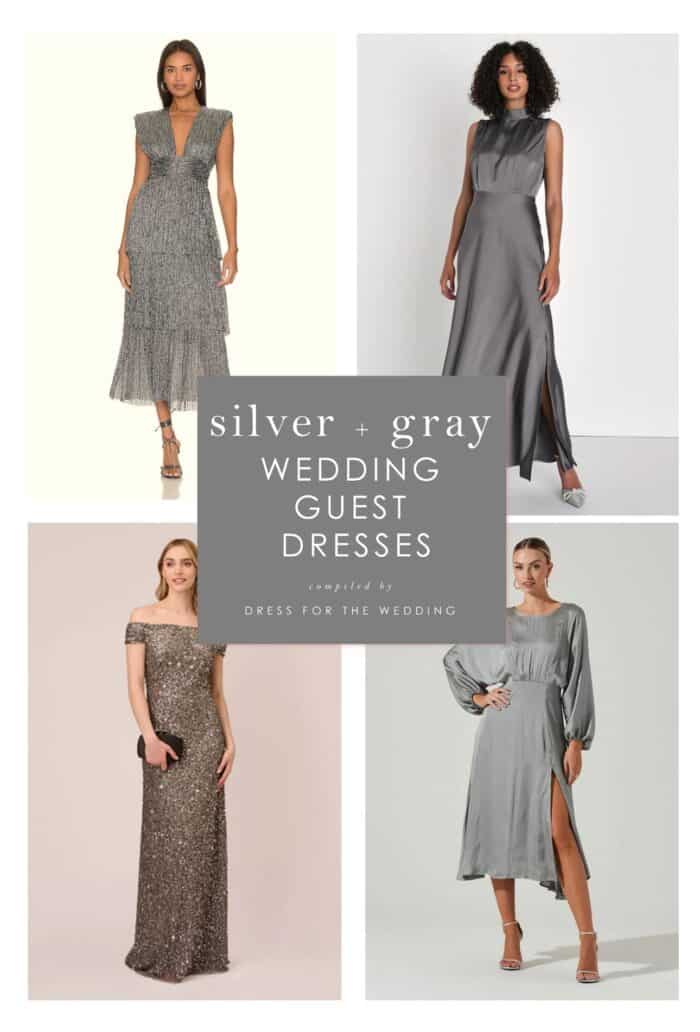 Collage and cover image credits and shopping sources: 1. Revolve 2. Lulus 3. Adrianna Papell 4.Astr the Label
The Best Silver or Gray Dresses for Wedding Guests
Pale grey or silver dresses can be an ideal elegant choice for wedding guest attire, but sometimes finding the right gray or silver is a little tricky for weddings. With so many wedding parties choosing gray and neutral dresses, you'll want to be sure your color gray is not too bridesmaid-like. To help we've found these dresses that hit that sweet spot between being wedding-appropriate, but not light gray or silver.
Draped Satin Gunmetal Gray Dress

This is one of our favorite looks for wedding guests this season. The dark grey satin is undeniably chic and wedding-appropriate. The satin fabric combined with an asymmetrical neckline and draping adds interest to this modern wedding guest dress.
Grey Velvet Off the Shoulder Gown

This velvet gray gown has a beautiful silhouette and is constructed out of the prettiest gray fabric. It's hard to imagine a better way to wear gray to a winter formal event.
Charcoal Gray Sequin Dress

This dress is a wedding guest "do" for how to wear sequins to a wedding. The midi length, cap sleeves and sleek sheath style are a classic silhouette, while the sequins are ideal for a evening wedding in winter or fall.
Dark Grey Gown

This dress from Rent the Runway gets high praise from all of those who have rented this dress. It is a beautifully constructed style in dark gray. It's a great way to wear a dark color without going for the usual navy or black.
Plus Size Gray Dress

For a casual wedding, we think this plus-size style is a perfect way to wear a gray dress. The tie at the waist, lightweight fabric, and oversized sleeves all have a great look.
50 Gray Wedding Guest Dresses

How To Pick The Right Gray Dress to Wear to a Wedding
If the gray dress is too light, it might appear white or ivory, and sometimes silver can get a bit flashy. With many brides choosing pale silver or gray bridesmaid dresses and bridal parties wearing the silver trend, you might accidentally imitate the wedding party.

Sticking with a definitely dark gray like pewter or gunmetal or charcoal or a darker shade of silver (and confirming that the bridal party isn't following the metallic trend!) or wearing a gray dress with a beautiful pattern or slight light blue or lavender coloring is a wonderful way to go!

Floral dresses, lace dresses, or beaded dresses with a bit of texture are another perfect choice for gray dresses that will earn you the title of best-dressed guest.
If you need more ideas for how to style a grey wedding guest dress, see our top picks for gray dresses and check out Gray Wedding Guest Outfits.
Grey Dresses for the Wedding Party
If you are in the wedding party, or planning a wedding and you want you might want gown or formal look, here are our picks for
Gray Bridesmaid Dresses Grey Mother of the Bride Dresses
Here are a few favorite grey and silver wedding guest dresses from our affiliate sponsors. Click the images to visit the retailer to purchase.
The shop section uses affiliate links to our retail sponsors.
Still looking for the perfect wedding guest dress? Find more dresses in our shop pages: Casual or Dressy Casual Dresses | Semi-Formal Cocktail Dresses | Long Formal Gowns | Maxi Dresses to Wear to Weddings
Or shop wedding guest dresses by color: Red Dresses | Pink Dresses | Coral Dresses | Yellow Dresses | Green Dresses | Light Blue Dresses | Dark Blue or Navy Blue Dresses | Purple Dresses | Floral Dresses | Black Dresses | Dresses for Wedding Guests Under $150
Are you in the wedding? Check out Wedding Dresses | Mother of the Bride Dresses | Bridesmaid Dresses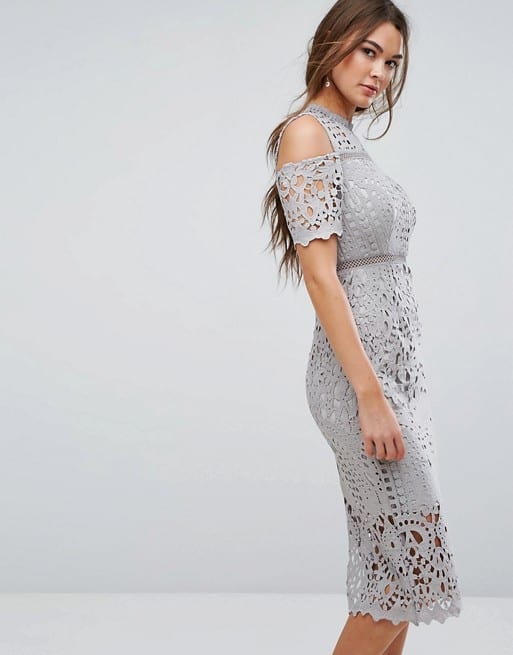 Previously featured Dress: True Decadence Dress from ASOS
This article was originally published on May 1, 2015 and was updated most recently on October 28, 2023