Finding a dress to wear to a wedding for less than $50 doesn't have to be impossible! This shopping guide makes it easier to find an affordable wedding guest outfit with over 50 wedding guest dresses under $50!
Shopping sources on this site use affiliate links. That means that this site may earn a commission if you make a purchase from our links.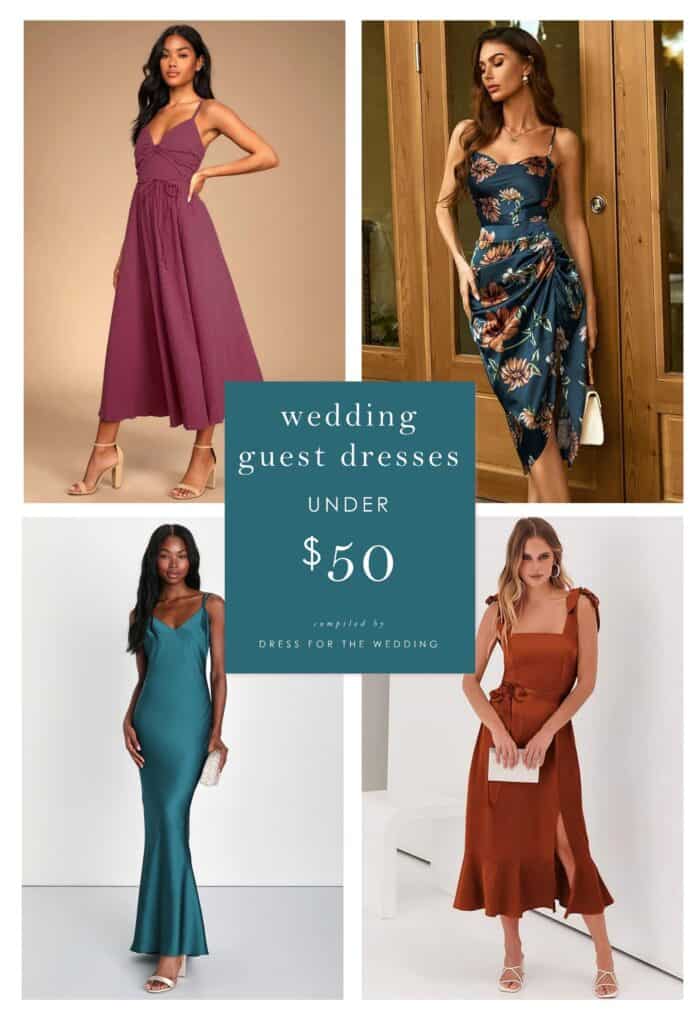 Image credits and shopping sources: 1. Cue the Cuteness Dress from Lulus 2. Floral Slip Dress from Amazon 3. Chic Entrance Dress from Lulus 4. Square Neck Formal Dress from Amazon
Wedding Guest Dresses Under $50
Are you a bargain hunter? We are too! As much as we love designer clothes, we also love getting an incredible deal on something that actually looks way more expensive than it is! So, if you have weekends full of spring and summer full of weddings to attend, it only makes sense that you would want to perhaps save a little. These dresses for wedding guests are wedding-appropriate, but all under $50. We will keep this page updated with more dress deals as we see them!
The Best Wedding Guest Dresses Under $50
Here are our latest finds for dresses under $50. We hope these will help you find affordable wedding guest styles that look expensive!

Velvet Off-the-Shoulder Midi Dress for Winter Weddings
This is an affordable velvet dress that is perfect for holiday parties, velvet bridesmaid dresses, and winter weddings. This emerald green shade and chic style make this such a winner at an affordable price. We tried to find cheap dresses for wedding guests that don't look cheap at all. this one in particular looks like dresses that sell for much more.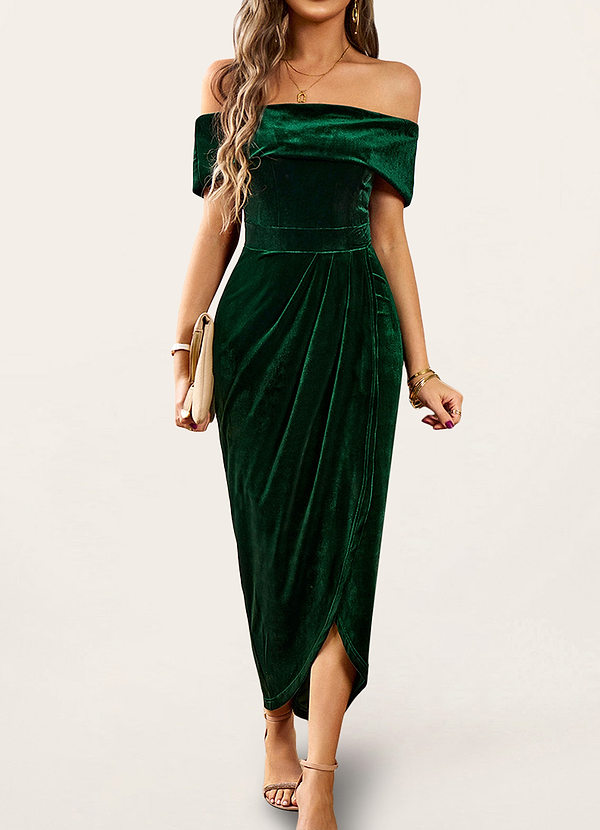 Dark Emerald Osprey Dark Emerald Velvet Off-The-Shoulder Tulip Dress $45
Floral Slip Dress under $50
As we mentioned above, we also love the styles at Azazie and we love that they offer so many pretty and affordable dresses. We have to show those dresses in a different format, but here are a few of our favorites - all under $50!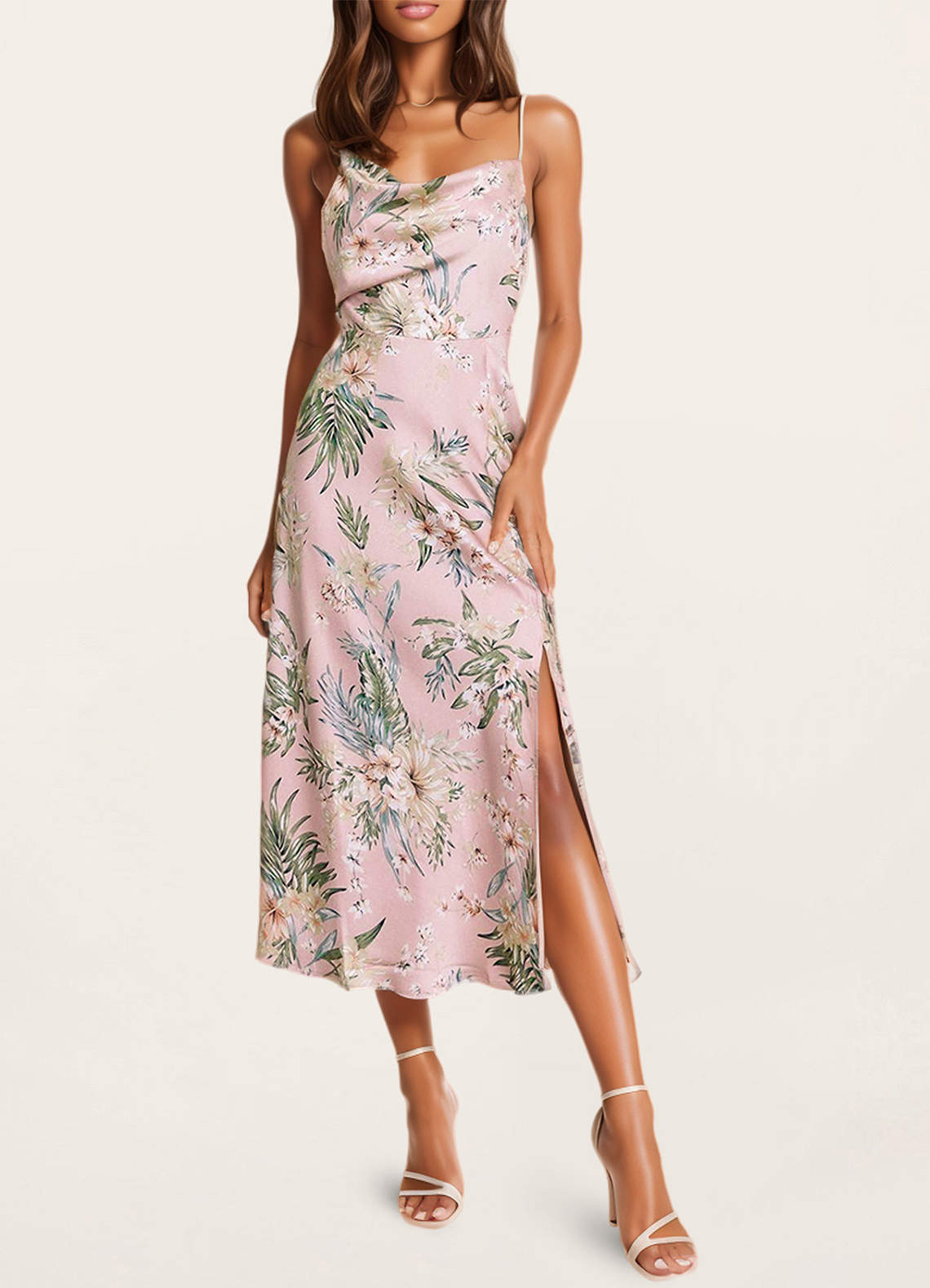 Blue Remarkable Beauty Floral Satin Midi Dress Dresses from Azazie - Comes in 3 colors and is $39!
Black Formal Floral Gown Under $50
This dress with colorful embroidered details looks formal and ready for a black tie wedding, and it's only $49!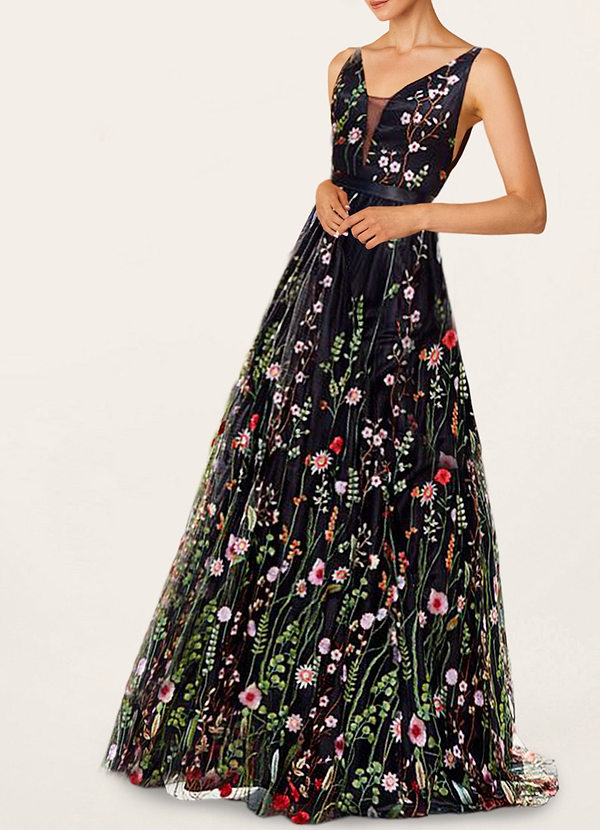 Forever Lovable Black Floral Embroidered Maxi Dress Dresses from Azazie
Blue Square Neck Dress with Tie at Shoulders
We love a square neckline and a bow. The beautiful color of this dress just adds to the appeal. Wear this one to an afternoon wedding.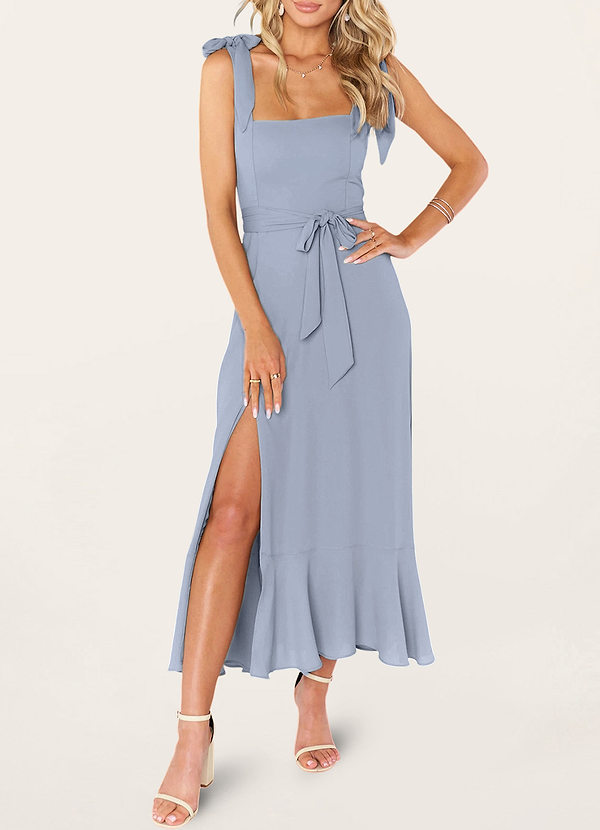 French Blue Love Of Romance French Blue Tie-Straps Ruffled Midi Dress Dresses is $39 at Azazie
Affordable Floral Dress with Cutouts for Daytime Wedding
This floral dress comes in 3 other colors. This bright print and above the ankle length is perfect for daytime summer weddings.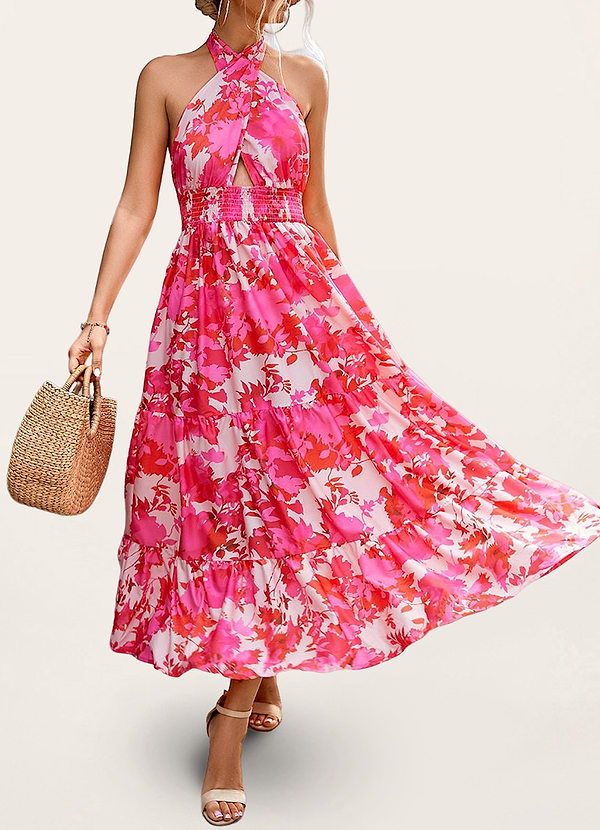 Fuchsia Feeling Like Forever Fuchsia Floral Print Maxi Dress Dresses Comes in 3 Colors and is $39 from Azazie
Formal One Shoulder Black Gown
It's amazing to think that one can get a formal black tie dress this timeless for under $50, but here we have it! It also comes in blush, emerald green, and red! It's a great way to attend a formal event in style without an expensive price tag!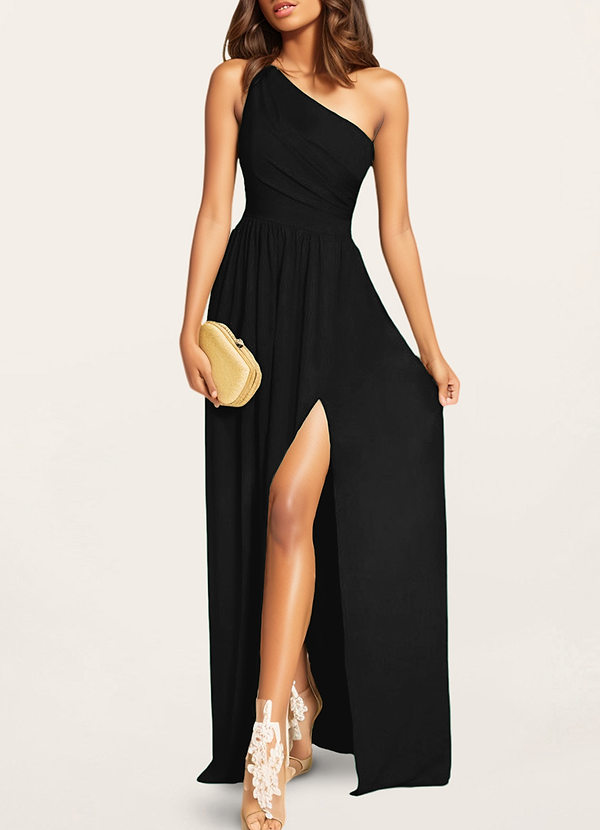 Black On The Guest List Black One-Shoulder Maxi Dress Dresses for $39 at Azazie
Gold Satin Midi Slip Dress

Slip dresses have such a great modern minimalist style, and the color gold just adds warmth, depth and sophistication to this style. THis one retails for more than $50 usually but is on sale now for under $30!
One Shoulder Floral Tiered Midi Dress
Tiered skirts on dresses are such a flattering look. Add the pretty floral print and you have the perfect dress for an outdoor wedding, a winery wedding, or a rustic country wedding. All at an affordable under $50 price tag.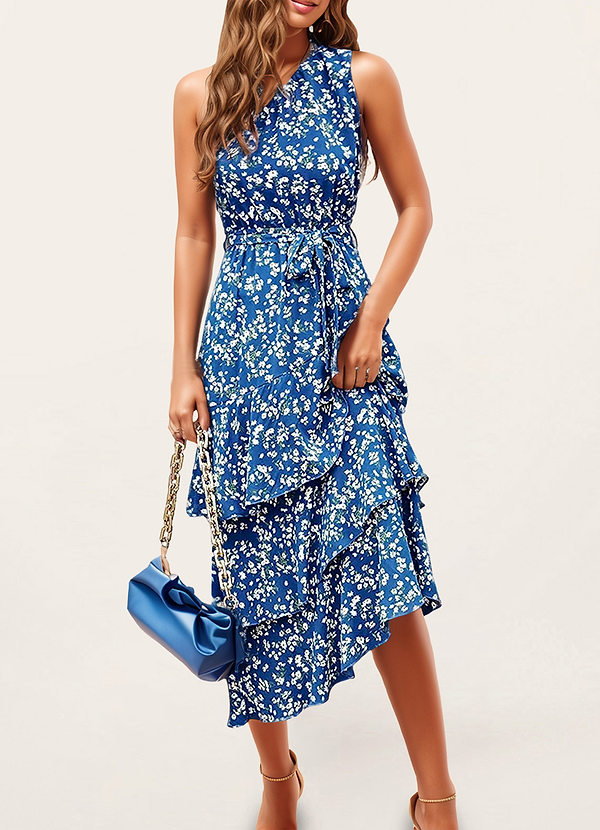 Blue Maynard Blue Floral Print Tiered Midi Dress Dresses from Azazie
Light Blue Designer Look For Less

This light blue fitted cocktail dress looks like a designer style we have seen before! This one is significantly less - only $40 instead of over $300! Wear this one to a beach wedding or spring garden wedding.
Navy Blue Tiered Midi Dress Under $50
This is a gorgeous go-anywhere semi-formal navy blue midi dress. We've seen one like it for twice the price! We love the high-neck styling, satin fabric, bow at the waist, tiered skirt and classic navy color! This one was made to twirl on the dance floor. Add some neutral strappy heel sandals and a pair of great earrings and you're ready to go! If you love midi dresses see all the best midi dresses for wedding guests.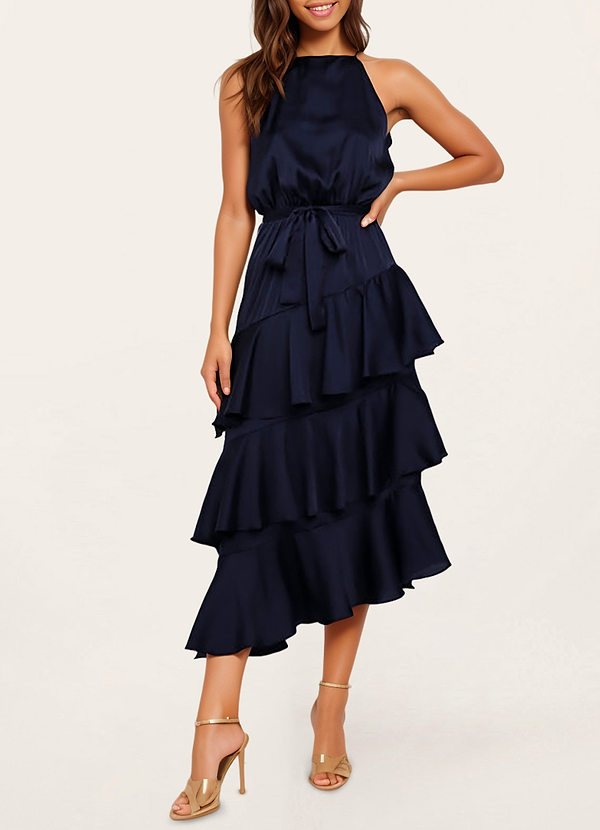 Navy Blue Satin Halter Neck Tiered Midi Dress Dresses from Azazie
Orange Floral Slip Dress
Orange is such a great color for summer weddings and can be worn well into fall. The floral print style on this adds a touch of chic floral design to make this a great guest dress.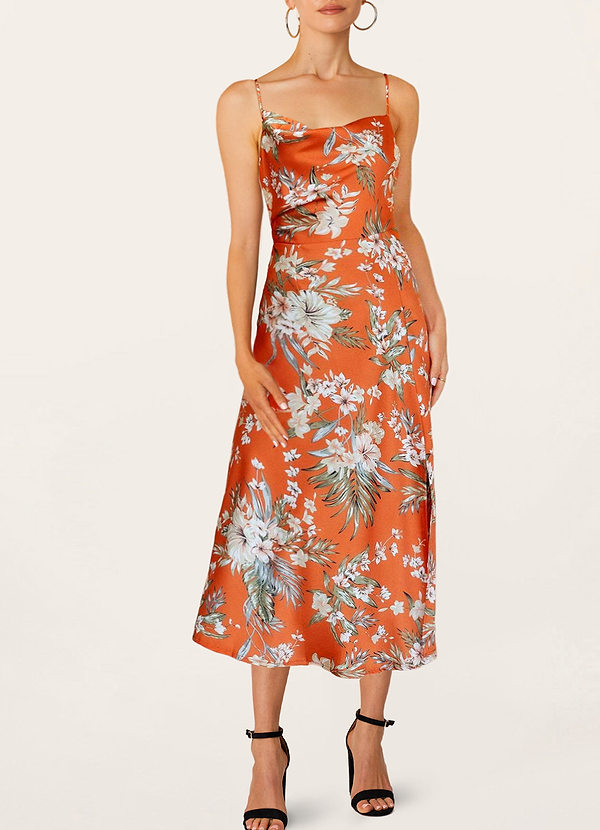 Orange Floral Satin Midi Dress Dresses from Azazie
Best Places to Shop for Inexpensive Wedding Guest Dresses
Here's where we look when we are on the hunt for cheap wedding guest dresses that look expensive!
Amazon - has some amazing deals! Cute lace cocktail dresses for $40 and such! Just be sure to read the reviews, to avoid getting something cheaply made. But there are definitely some deals to be had! Use the try before you buy option and try several sizes and dresses at once to be sure you get the perfect styles. Check out the wedding guest dress deals on Amazon
Azazie - By now you saw that we love the dresses from Azazie. But, if we haven't convinced you, just check out their full selection of dresses from $30 to $50!
Lulus - Lulus is our favorite for wedding guest dresses under $100, but most full priced dresses are between $60 - $100 usually. However, their sale section has so many styles and colors that they are retiring, and most of them are under $50, and sometimes as low as $25. They are always worth a look!
Nordstrom Rack - Where do the awesome dresses I feature from Nordstrom go on sale? Nordstrom Rack! This shop is full of dresses I've featured recently, at deep, deep discounts. It's truly a bargain hunter's paradise. Loads of designer dresses at 50 - 60% off. If a favorite dress has gone out of stock at Nordstrom, I always look here. Check out the selection at Nordstrom Rack
ASOS - has one of the best selections of wedding-appropriate dresses for under $100. It can be a little trickier to find a dress under $50, but their sale section is a great place to look. It's also a great spot to find affordable maternity dresses!
Rent the Runway - technically these dresses cost quite a bit more than $50, but you can find hundreds of dresses to rent for under $50. While you may not get to wear it again, if you really need a formal gown and don't want to spend hundreds of dollars, this is the first place I look! You can also do their unlimited program, and get several dresses a month, however, the selection is limited!
Target - has a whole section of wedding guest dresses, although I would say they are probably more suited to casual weddings, there are still some good picks. They also have quite a selection of wedding party supplies!
Petal and Pup - This is another favorite spot of ours for the best styles of wedding guest dresses under $100. When they go on sale, you can find lots of styles under $50
If you have a little flexibility in your budget but still want to find an affordable wedding guest dress also check out our picks for Wedding Guest Dresses under $100, and Wedding Guest Dresses Under $150! If you prefer to do your own bargain hunting, check out the attire sales and coupon codes!
Also see Navy Blue dresses under $100 Black Dresses under $100 Blush Pink Dresses under $100 and Burgundy Dresses for under $100 for more affordable wedding styles.
Shopping sources on this site use affiliate links, which means this site may earn a commission if you make a purchase from our links.
This article was originally published on February 28, 2018, and has been updated most recently on October 26, 2023.
The following dress was featured in earlier posts in this graphic. It is now out of stock.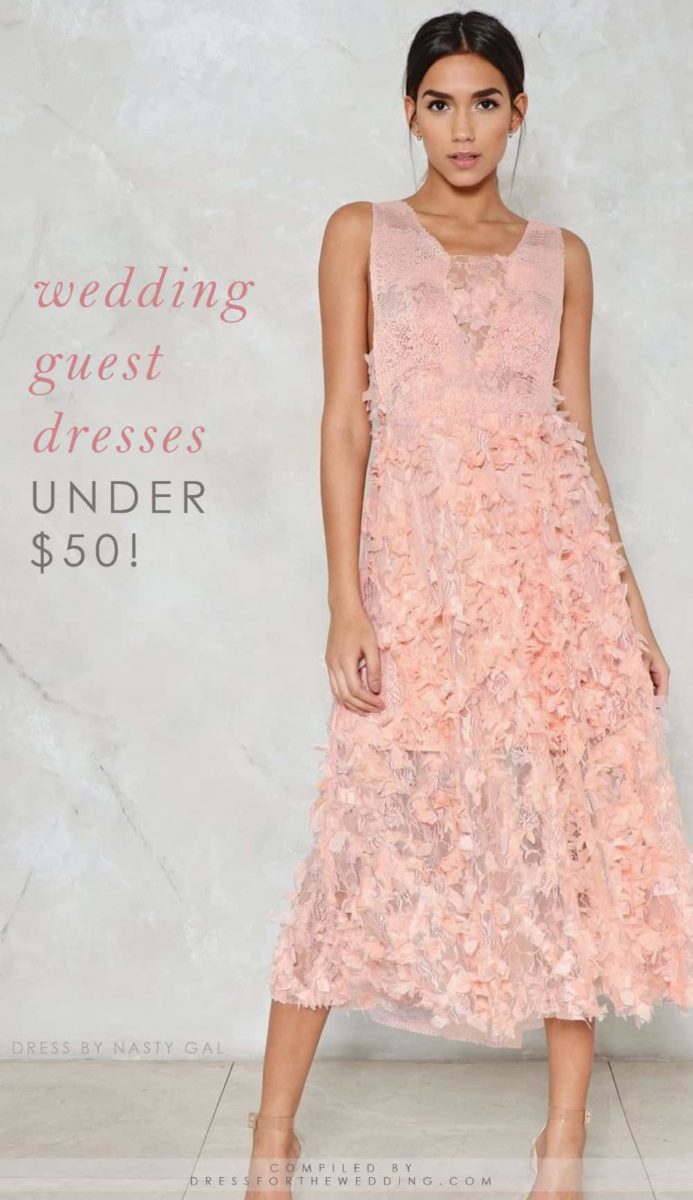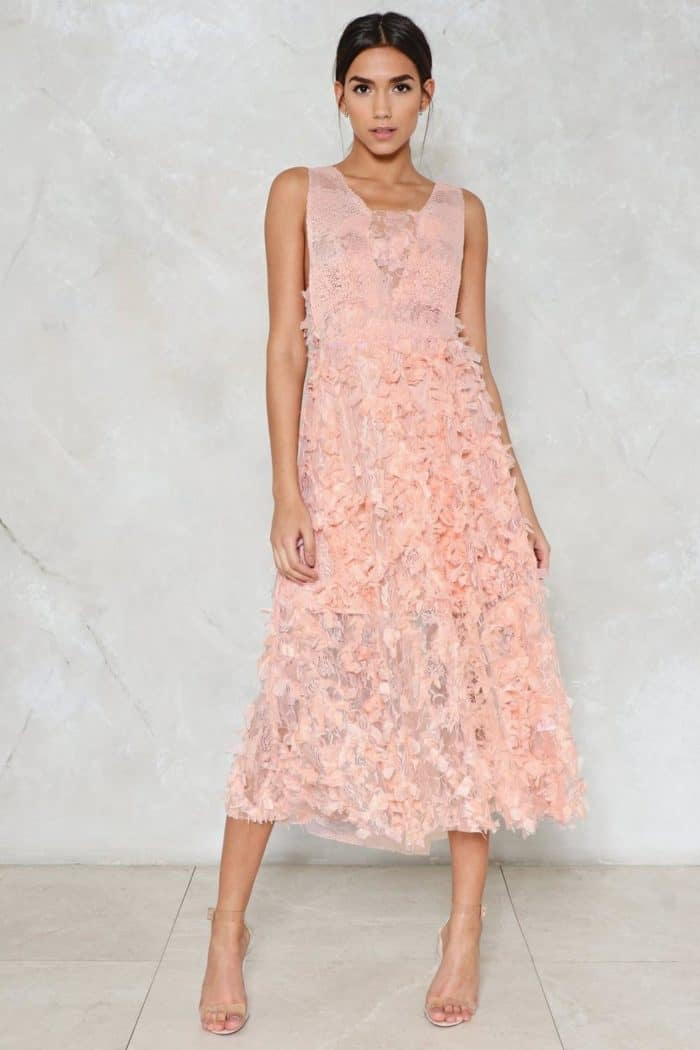 Coming Up Roses Dress from Nasty Gal