Let's face it, the navy blue suit will never go out of style. This always-classic look will take you to weddings as a guest or as a part of the wedding party in classic form. Here's a shopping guide to where to find a navy blue suit for a wedding; we've included some dark blue tuxedos and blazers as well!
Links in the shop section are from affiliates and sponsors, meaning that this site may earn a small referral commission from the retailer, at no cost to the purchaser, if a qualified sale is made.
Navy Blue Suits for a Wedding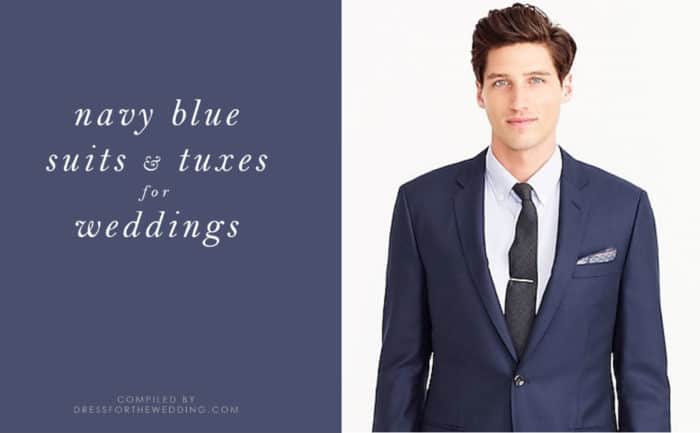 Navy Blue Suits for Grooms, Groomsmen, and Guests
A navy blue suit can be worn by grooms, groomsmen, wedding guests, and can go from day to evening events.
Here, we've collected some of the best navy blue suits we've seen out and about for you to wear to your next wedding as a guest, groomsman, or as the father of the bride or groom.
Shop The Look

Should I Wear a Navy Blue Suit, Jacket or Tux to a Wedding?
When attending more casual events, a navy blue blazer is a great choice - always very classic with tan pants. For more formal events, one can try a navy tuxedo. At semi-formal weddings, and the vast majority of most wedding dress codes, the dark blue navy suit with matching pants and jacket is the most appropriate.
What to Wear with a Navy Blue Suit
The other bonus? A navy blue suit matches most shirt combinations including white, light blue, and light patterns of checks and stripes. Navy blue suits also work with many tie combinations and can be worn with brown or black shoes. It's just one of those fantastic colors that goes with everything!
More Style Ideas
If you need a tie to go with your suit, we've organized ties by color!
We also have a few styling ideas for grooms, groomsmen, and wedding guests!
If you need more choices for navy blue suits, try these places: