Wedding Guest Dresses Under $150
Attending a wedding is an expensive undertaking, so finding a reasonably priced wedding guest dress under $150, is sometimes a prerequisite for those who are planning attending a full season of wedding events of various dress codes. Finding pretty dresses for wedding guests that fall under the $150 mark, isn't hard, but does take a little time to search out, which is why it is a frequent reader request! Fortunately there are many dresses out there in this under 150 price range, and we have found an assortment of over 50 that will suit a range of wedding dress codes!
Shopping sources on this site use affiliate links, which means this site may earn a commission if you make a purchase from our links.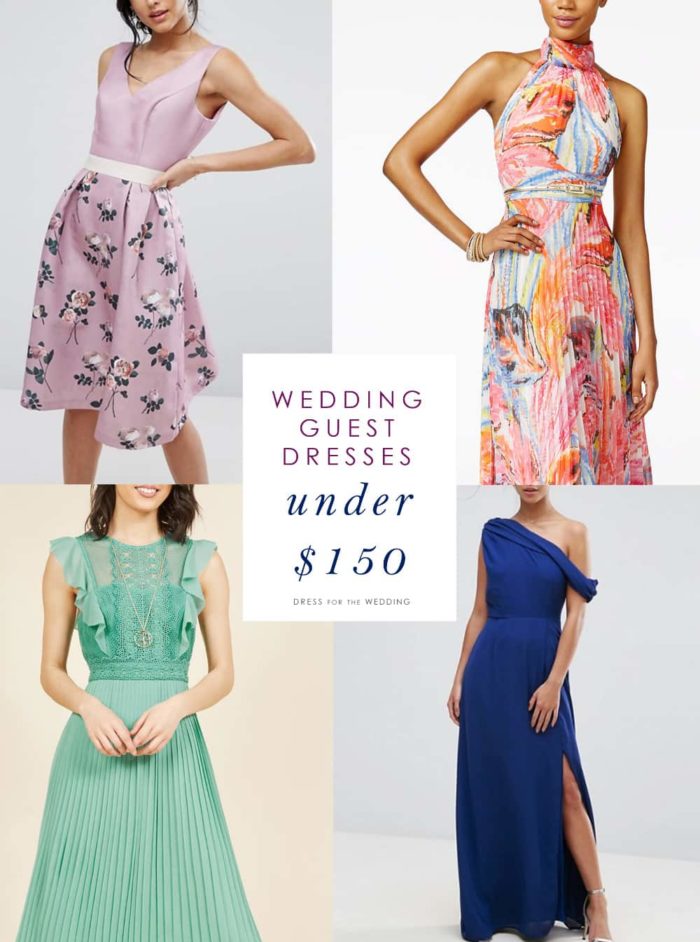 Featured dresses: 1. Chi Chi London 2 in 1 Floral Midi Dress With Low Back from ASOS 2. INC International Concepts Pleated Floral-Print Maxi Dress 3. Ruffled in Florence Midi Dress from ModCloth 4. John Zack Petite Drapey One Shoulder Maxi Dress from ASOS
Where To Find Affordable Dresses for Wedding Guests
I get the request for affordable dresses for wedding guests so often that I've decided to created this shop page with dresses from my affiliated retail partners that are all under appropriate for a guest of a wedding and under $150. Some are under $100, or even a few are under $50! Check back frequently, since this page will be updated with the current season! Also see this post with more cute dresses under $150.
Dresses for Wedding Guests Under $150

You can also shop these links for a quick view of what some of our favorite retailers offer for affordably priced dresses to wear to weddings:
Dresses Under $150 at Nordstrom | Dresses Under $150 at ModCloth | Dresses at Bloomingdale's Under $150 | Or Rent a Dress from Rent the Runway - so many choices under $150!
Still looking? Find more wedding guest dresses by color:
Red Wedding Guest Dresses | Pink Wedding Guest Dresses | Coral Dresses | Yellow Dresses | Green Wedding Guest Dresses | Light Blue Dresses |Dark Blue and Navy Blue Wedding Guest Dresses |Purple Wedding Guest Dresses | Floral Dresses | Gray or Silver Dresses | Black Wedding Guest Dresses