So many places now offer affordable wedding dresses under $1000. Best of all, you can purchase these bridal gowns online!

Wedding Dresses Under $1,000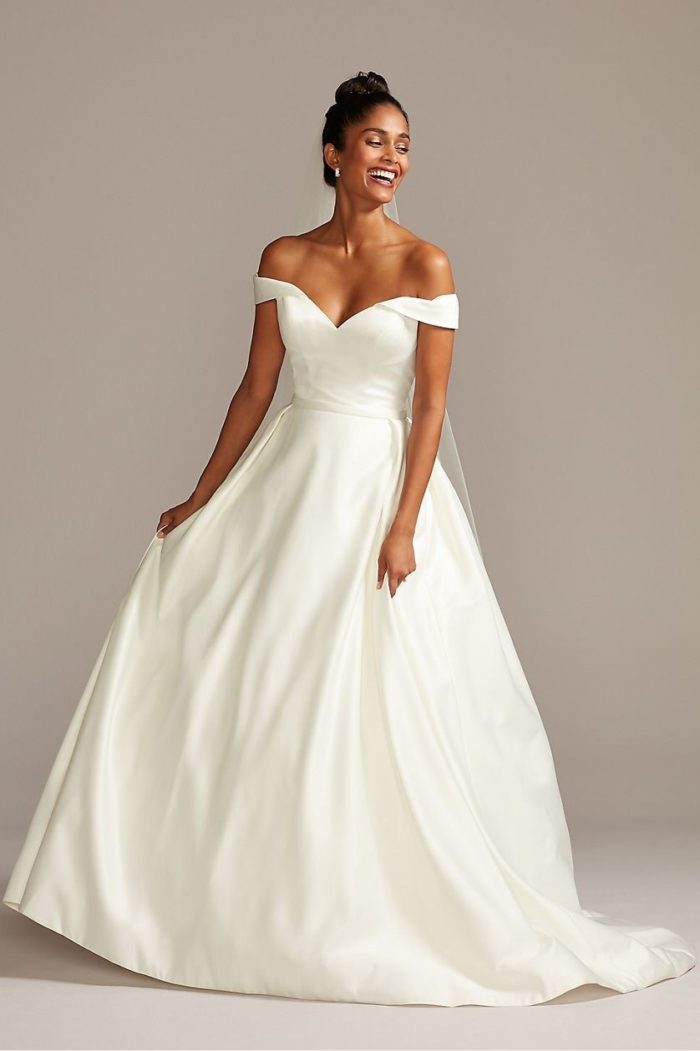 Featured Dress: Off the Shoulder Satin Ball Gown from David's Bridal
There's no shame in having a $1,000 budget for a wedding dress - that's a lot of money for a dress you'll wear for one day! High quality and affordable wedding dresses are available at a number of places, with many under $500 or even $200. David's Bridal, Lulus, BHLDN, and Etsy are some of our favorite places to look for wedding dresses under $1,000. We've compiled the best of them here!
Shop The Dresses

Wedding Boutiques That Sell Wedding Dresses under $1000
BHLDN
BHLDN always has the prettiest selection of romantic boho style dresses. They carry lines like Jenny by Jenny Yoo and Willowby by Watters that are known for having good price points!
Shop Dresses Under $1000 at BHLDN
David's Bridal
David's Bridal has one of the largest selections of wedding dresses for this price range. They actually specialize in this price point and have top quality dresses for $1000. And, with online sales and locations in many states, it makes it easy to shop.
Shop Dresses Under $1000 at David's Bridal
Etsy
Each seller is different on Etsy, so be sure to read the reviews! However, we have seen some beautiful dresses for less than $1,000 here. We've seen these dresses for rent and we love the styles at Wear Your Love XO
Shop Dresses Under $1000 at Etsy
Show Me Your Mumu
Show Me Your Mumu is known for maxi dresses and bridesmaid dresses, but they offer most of their styles in white - which means gorgeous simple and super affordable wedding dresses for you!
Shop Dresses at Show Me Your Mumu
Azazie
We recently did a review of Azazie, and we got to see these wedding dresses up close! They were really substantial! Best of all you can try the on before you buy and get fabric samples. They are also sized so that the need for tailoring is kept a minimum. Most dresses we tried were under $500!
Shop Wedding Dresses at Azazie
Revolve
See our post on white dresses from Revolve to see our picks for wedding dresses from Revolve. They have loads of white wedding-style dresses that are under $1000!
More Ways to Find Dresses
More dresses to love are in our wedding dress shop, or you can browse the wedding dresses in our collection features of designer wedding dresses available in boutiques. We also have more posts about affordable wedding attire with more wedding attire ideas for brides!