Silver or gray bridesmaid dresses are a perfect way to add some understated elegance to your wedding party. Gray bridesmaid dresses can be a nice neutral color to keep your wedding party's attire muted or use it as a backdrop against brighter colors. Silver bridesmaid dresses are a beautiful metallic look for your bridesmaids, which will give them some festive sparkle.
Stunning Platinum, Silver, and Gray Bridesmaid Dresses for Your Wedding
Here are some of my favorite choices from affiliated partners and sponsors for silver bridesmaid dresses and grey bridesmaid dresses!
Our editor handpicks each dress that is featured in this post.The shop section and shopping sources use commissionable affiliate links which means we may earn a small commission on sales we refer to retail partners.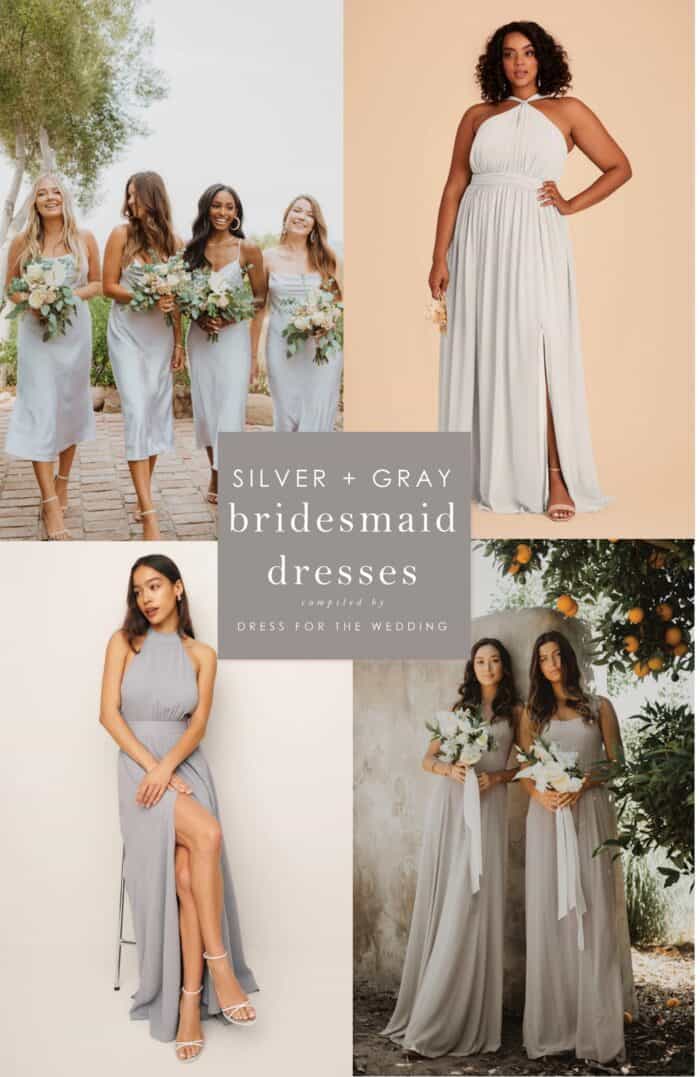 Image credits and shopping sources: 1. Verona Cowl Neck Slip Dresses in Silver Luxe Satin from Show Me Your Mumu 2. Kiki Chiffon Dress in Dove Gray by Birdy Grey 3. Andee Dress from Reformation 4. June Maxi Dress from Show Me Your Mumu
Where to Find Grey or Silver Dresses for Bridesmaids
To help you find the perfect silver and gray bridesmaid dresses, we've created this comprehensive guide, showing top styles, and the variety of gray and silver dresses available and showcasing silver satin, metallic, and sequin styles which are especially suitable for winter weddings. We've picked gray bridesmaid dresses in a variety of fabrics, silhouettes, sleeve lengths, and necklines to help you make the perfect choice for your big day.

Couples today have the flexibility to choose bridesmaids' dresses in different colors and styles. Whether you're looking for silver sequins, gray with a hint of lavender dusty blue, or a darker shade of charcoal, online stores like Dessy Bridal, and Azazie offer a wide range of styles, from cap sleeves to cowl necklines, high necklines, and square necklines to cater to different body types and preferences. You can also explore a variety of fabrics, metallic hues, and color swatches to create a cohesive look for your bridal party.
Silver Satin Midi Dresses for Bridesmaids

Silver satin is a beautiful fabric and color combination, and it gets even better when combined with this chic, shorter midi length. These satin slip dresses are a perfect choice for a modern minimalist wedding.
Silver or Gray Bridesmaid Dresses Under $100

Bridesmaids' dresses are no longer limited to expensive, one-time wear outfits. With so many places offering bridesmaid dresses under $100, there's no need to make your wedding party pay too much for expensive dresses. Many online stores offer affordable price ranges, and some even provide free shipping. Birdy Grey, AW Bridal, and Azazie Gray are all places where you can find bridesmaid dresses in grey for under $100. This ensures that brides can find the perfect silver bridesmaid dresses within their bridesmaids' budget, making it an accessible option for all your friends.
Silver Bridesmaid Dresses for Winter Weddings

As the temperature drops, silver and gray bridesmaid dresses offer a sense of warmth and comfort. The muted tones resonate with the winter theme, creating a cozy yet elegant atmosphere for your big day. These dresses come in a wide variety of styles and fabric options to suit your wedding theme and color palette.
Winter weddings often embrace cooler color palettes, and silver and gray provide a natural partner to other winter hues like silver, platinum, and crystal, creating a monochromatic look that is truly captivating. These hues also act as a perfect foil to pastel accents, allowing brides to experiment with different colors and create a balanced, visually appealing palette for a romantic look.
The appeal of silver and gray bridesmaid dresses is particularly turn for winter weddings. The cool, sophisticated tones of silver and gray perfectly complement the enchanting ambiance of a winter wonderland.
Long Neutral Gray Bridesmaid Dresses

Silver and gray bridesmaid dresses have emerged as a neutral, sophisticated, and timeless color for modern weddings, adding a touch of understated refinement to the bridal party.
Plus Size Gray Bridesmaid Dresses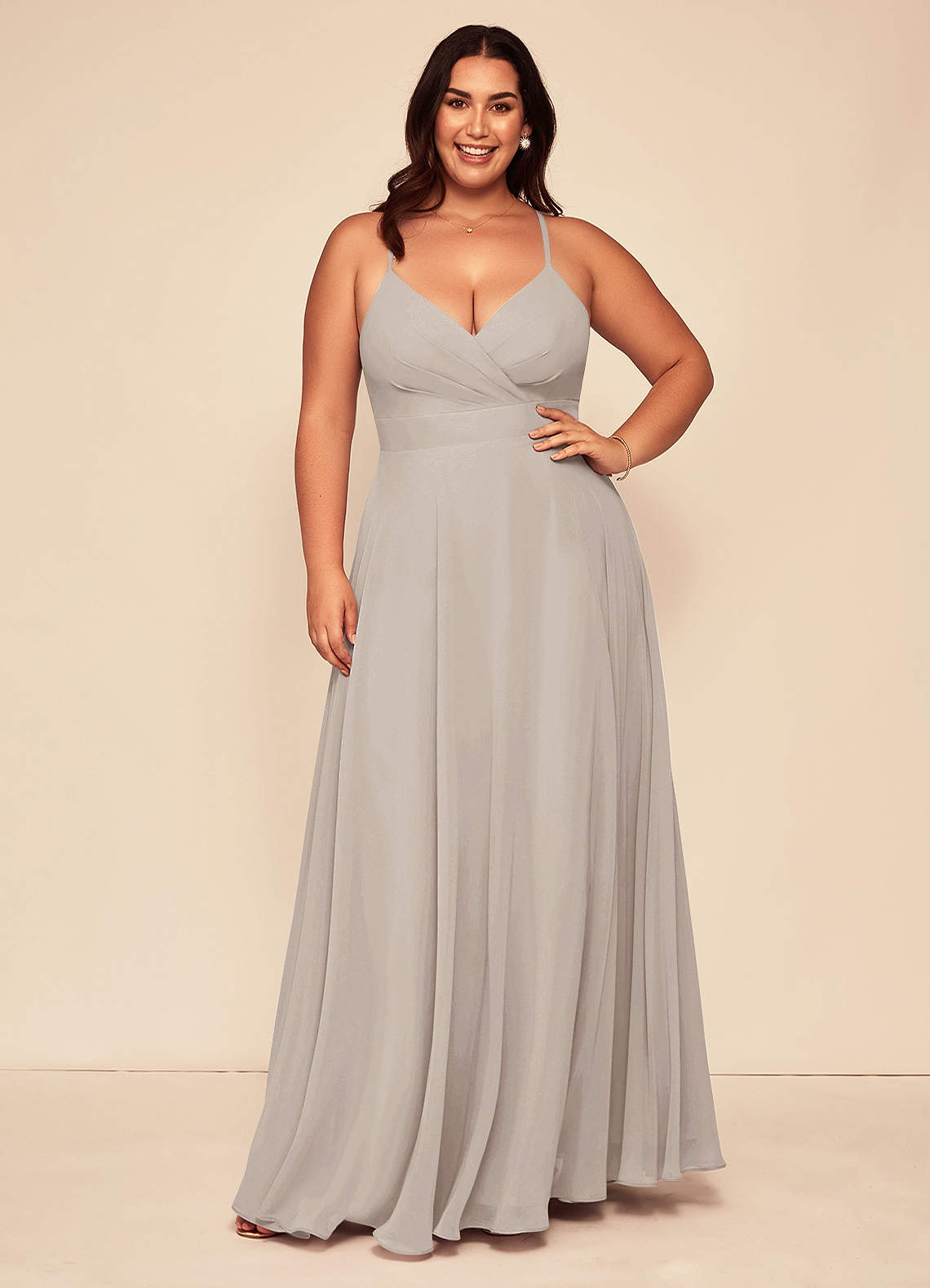 Avenlina by Azazie Shown in Frost
Azazie , Birdy Grey, Kennedy Blue, AW Bridals are known for offering plus size bridesmaid dresses. At Azazie there are over 5 shades of gray offered and over 200 silhouettes making it easy to find the perfect color of gray in a dress style your bridesmaids will love wearing.
Velvet Gray Gowns for Winter Weddings

Velvet in a soft gray shade like this would be absolutely gorgeous for a black tie winter wedding.
Long Sleeve Gray Bridesmaid Dress

Winter bridesmaid dresses often call for long sleeves and floor-length gowns to keep the bridal party warm and stylish. Silver and gray dresses come in various silhouettes and styles, ensuring bridesmaids are not only comfortable but also look elegant. A floor-length silver dress is a classic look, but modern brides can also opt for midi dresses or satin gowns for a contemporary twist, ensuring the overall look is cohesive with the wedding theme.
Sparkly Silver Bridesmaid Dresses

The winter season is the perfect time to embrace a bit of sparkle. Sparkly silver bridesmaid dresses can add a touch of magic to the wedding. Whether it's through sequins, metallic materials, or other shimmering details, these dresses capture the essence of a winter wonderland and provide an extra layer of elegance to your bridal party, making it a perfect choice for your special day.
Why Gray Bridesmaid Dresses Might be the Perfect Color for Your Wedding Party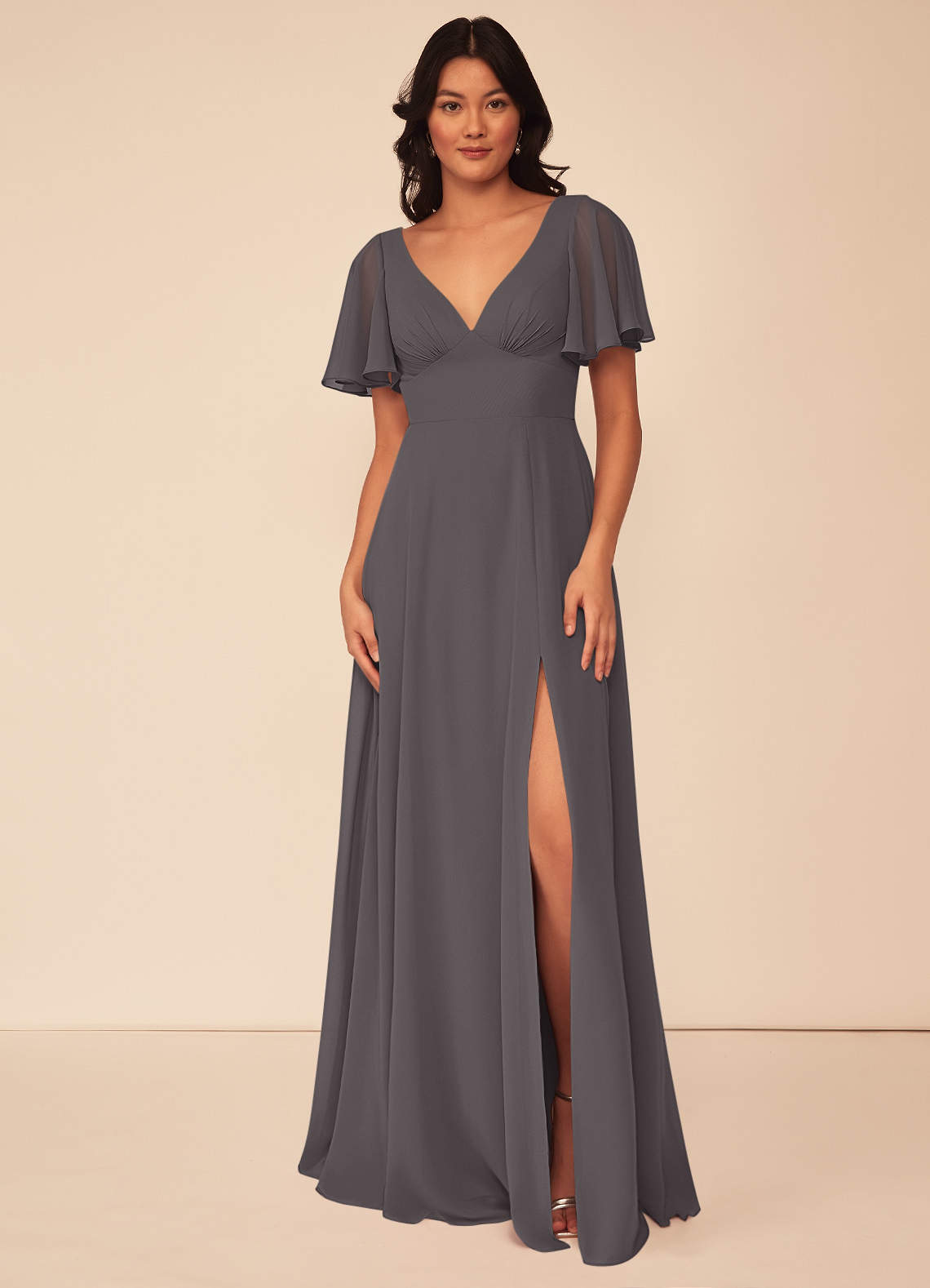 Azazie Kimber Dress in Steel Gray
Silver and gray bridesmaid dresses have emerged as a neutral, sophisticated, and timeless color for modern weddings, adding a touch of understated refinement to the bridal party.
Hues of gray or its metallic counterpart -- silver--are both versatile and stylish, and provide the perfect canvas to showcase elegant flowers and to work with many different wedding color palettes and themes. Choosing silver or gray as a wedding color will make it easy to create a sophisticated, cohesive look for your special day.
Selecting the Perfect Silver, Platinum, or Gray Bridesmaid Dresses

Allison Bridesmaid Dress in a Green Gray Color Called Dew Drop by Kennedy Blue
Gray bridesmaid dresses can serve as a subtle, neutral color that complements other shades in your wedding color palette. In a more eye-catching capacity, silver bridesmaid dresses in satin, silk or sequins can exude a festive sparkle that is perfect for adding a touch of glamour to your bridal party, making your attendants' attire on your big day become something memorable.
What Shades of Gray (And Silver) Are Best for Weddings?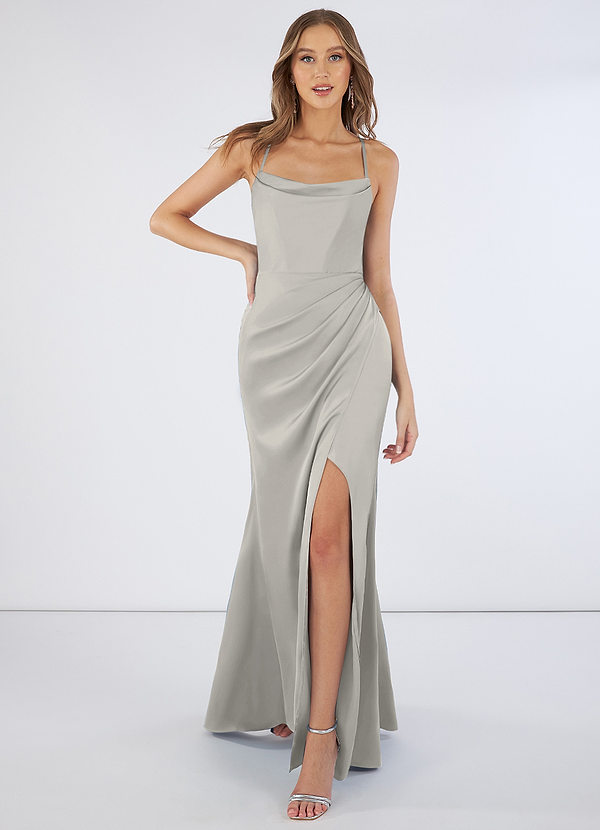 Marza by Azazie Shown in Pebble
With a nod to the book 50 Shades of... there really are so many different tones of gray. Light gray is a wonderful neutral color for bridesmaid dresses, making it suitable for weddings of nearly any season, formality, or time of day. This light calming color is a great match for a neutral spring or summer wedding.
It offers a chic color palette that can be embraced in modern weddings, allowing brides to choose from a wide range of styles to achieve the perfect look for their special day. Its versatility shines when used as a single color scheme or mixed and matched with other pastel shades. Medium tones of gray like dove gray or just a straight color medium gray can be ideal when used as a variation with a metallic color scheme or with black and white for a modern minimalist style. Dark charcoal gray can be a moody, elegant choice for evening weddings or winter weddings. Colors like greige can be more warm and neutral, with a hint of tan and taupe in the mix, and can be mixed with colors like ivory and champagne in your wedding color scheme.
Silhouettes and Lengths of Gray Bridesmaid Dresses
When it comes to silver and gray bridesmaid dresses, the wedding party has a plethora of style options at their disposal. From floor-length gowns to shorter midi dresses, satin or metallic materials, there's a style for every bridal party. Consider various silhouettes, sleeve lengths, and necklines to ensure your bridesmaids look and feel their best on your big day. Plus-size bridesmaids will also appreciate the availability of these elegant dresses that cater to their specific needs, ensuring they're just as stylish and comfortable as the rest of the bridal party.
Custom Fit Silver Bridesmaid Dresses
Silver is sometimes a color that is widely available, and in other seasons it's hard to find. When searching for the perfect silver and gray bridesmaid dresses, you'll want to consider made-to-order dresses like those at Dessy or Azazie. While these may take extra time as compared with ready to ship styles, it can be worth it to get that custom look. Azazie is especially great because they will allow you to customize your bridesmaids' dresses according to your measurements and comes in silver colors in 100s of favorite styles.It's a great option to ensure your bridesmaids' dresses are tailored to their body shape, without the cost of custom alterations.
Silver and Grey Dresses to Mix and Match

Eloise in Dove by Kennedy Blue
The trend of mix and match bridesmaids is here to stay. Not only is it practical to let your bridesmaids choose a dress style and silhouette that best suits them, it also makes for a textured and unique look for your wedding party. Mixing in different textures, beaded, or floral prints can take solid gray dresses to the next level. We need to update this idea, but we have an older post which shows one mix and match idea with a silver sequin gown You can also point your bridal party in the direction of this post and show them the different styles and have them pick the perfect dresses.
Silver and gray bridesmaid dresses are a fantastic choice for any season, but we think they especially shine during winter weddings. Their versatility in color selection, flattering style choices, and elegant appearance make them a timeless wedding favorite that will look. With various metallic materials, silhouettes, sleeve lengths, and necklines to choose from, silver and gray bridesmaid dresses offer a world of possibilities, making them the perfect choice for any wedding theme and color palette. Are you thinking about silver for other parts of your wedding? If so check out these silver mother of the bride dress styles. You may also want to check out our picks for silver dresses for wedding guests, where you might find a few styles that will also work for bridesmaids.
You may wish to also look at these related colors of bridesmaid dresses.
Neutral Bridesmaid Dresses Black Bridesmaid Dresses
Light Blue Bridesmaid Dresses Sequin Bridesmaid Dresses
This post was originally published on September 18, 2013 and was updated most recently on October 23, 2023