This shopping guide will show you some of the trusted online bridesmaid dress shops that currently carry dresses for bridesmaids in purple!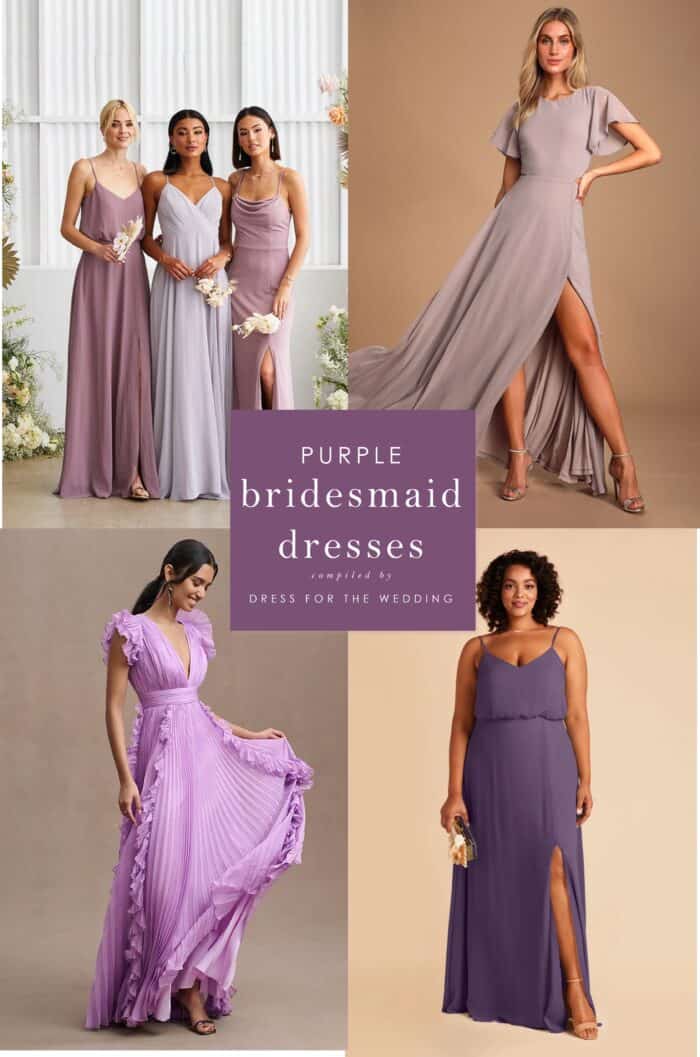 Image credits and shopping sources: 1. Birdy Grey 2. Lulus 3. Anthropologie 4. Birdy Grey
Purple Bridesmaid Dresses
Purple can be a wonderful wedding color, and a good timeless and season-spanning color to choose bridesmaids to wear. Dark purple bridesmaid dresses are particularly suitable dresses to choose for fall or winter weddings because they feature such a rich, passionate color. Purple can also be gorgeous for spring and summer if your choose lighter shades like lilac, soft lavender, or dusty mauve. Here are some of the spots to browse and shop for purple bridesmaid dresses.
Affiliate links from sponsors are used in the shopping sources this post about lavender and purple dresses for bridesmaids.
Where To Find Bridesmaid Dresses in Shades of Purple
Asking your bridesmaids wear anything from lavender, wisteria, mauve, plum to a deeply-hued eggplant shade is a beautiful way to add this regal and romantic hue to your wedding party.
Here are our picks for purple bridesmaid dresses in colors like lavender, plum, burgundy, aubergine, and wisteria from our sponsors.

Here are more spots to look and shop for purple bridesmaid dresses.
Azazie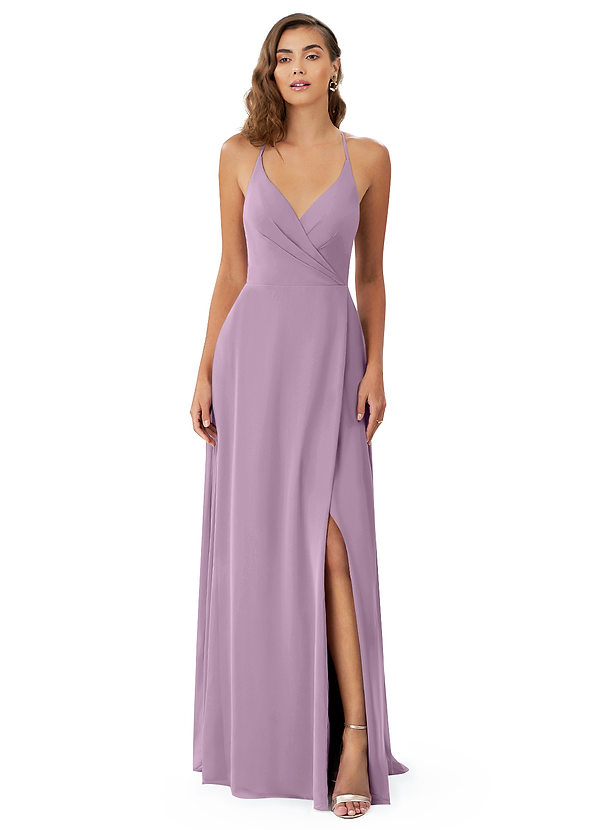 Azazie Davis Bridesmaid Dresses | Azazie
Some seasons, if purple is a trending color, almost every store, will carry some dress in some shade of purple. However, if you're looking for a specific shade of purple Azazie can be one of the best spots to look. They currently offer over 15 shades of purple! The fabrics offered range from light shades like lavender and iris, to darker shades like grape and plum, as well as some muted shades like mauve and fog. if you aren't familiar with Azazie, check out our post about the Trying Out Dresses from the Azazie Try At Home Program for more details. In short, these dresses are offered in so many silhouettes. The are also made to measure which means the sizing is more tailored to your measurements, so you may not need to have the dresses altered!
Birdy Grey

Prior to this season, mauve was the only purple dress offered by Birdy Grey, but this spring they launched a shade of Lilac that we love! Birdy Grey is known for high-style bridesmaid dresses with pockets! They are also always under $100 and usually ship right out, which is another reason we love them!
David's Bridal

David's Bridal always has hundreds of silhouettes to choose from and a great range of colors. At the time of this writing they are offering around 14 options for purple dresses, ranging from a soft barely-there shade called Violetta, to darker colors like Amethyst and Plum.
Lulus

Lulus just updated and expanded their wedding offerings and launched new dresses for the season. Purple is one of the colors that is available in their maxi dresses. Almost all of the maxi dresses at Lulus are under $100, making them a budget-friendly option, and easy to wear again. Lulus dresses are ready to ship, and arrive quickly if they are in stock. That makes them great options for bridesmaids who might need a last-minute dress. The current colors offered range from a reddish-purple plum to dusty lavender options.
Kennedy Blue

Anne from: Kennedy Blue
Kennedy Blue is another spot to look for bridesmaid dresses. They specialize in romantic styles with details like spaghetti straps, lace, pleats and pockets. They also usually run from $99 to $149, or less when there's a sale. Kennedy Blue offers colors in the purple family ranging from a dark purple eggplant, to a pinkish purple peony or primrose, with muted grayish-purple colors like wisteria, french lilac, and violet.
Want more dress ideas? Check out these helpful links:
Purple Bridesmaid Dresses at Nordstrom
Purple Bridesmaid Dresses at BHLDN
Purple Mother of the Bride Dresses
Featured dress: Kane Dress from BHLDN
This page was originally created on September 18, 2013, and last updated on February 18, 2021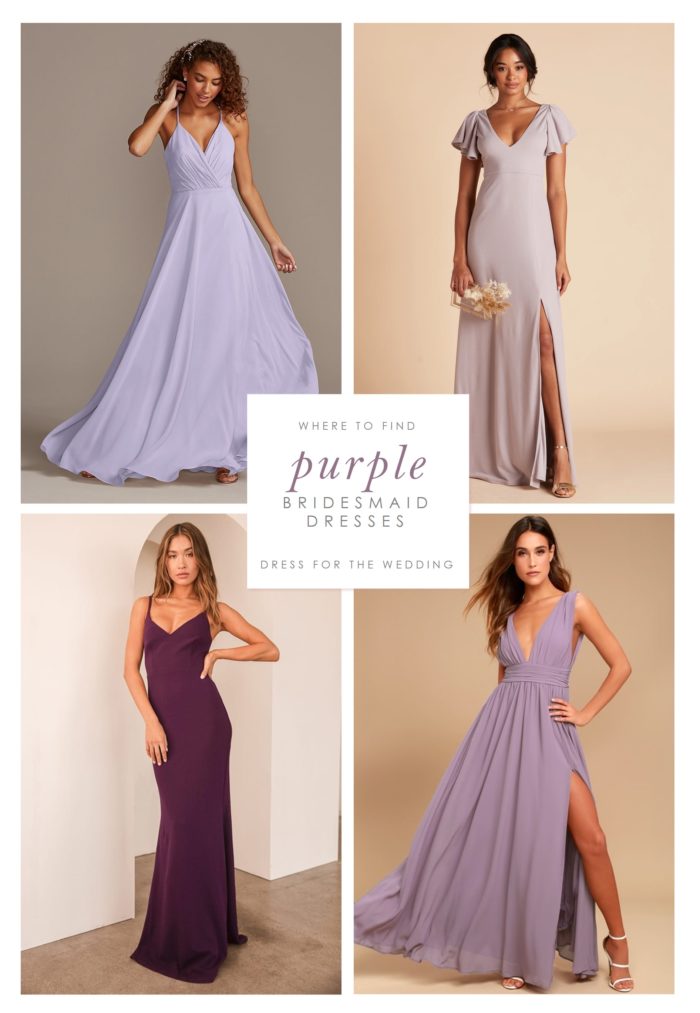 Image credits and shopping details from our affiliate partners:
1.David's Bridal 2. Birdy Grey 3.Lulus 4. Lulus