In this shopping guide post we'll share with you a few of our favorite summer mother of the bride dresses and mother of the groom dresses for warm weather summertime weddings.
Summer is one of the most popular times for weddings, and finding the dress that will stand up to summer heat, and also convey your special role as the mother of the wedding can be tricky. These MOB dresses are perfect for June, July, and August weddings in the US.
Summer Mother of the Bride Dresses
This post uses affiliate links.

Finding MOB Dresses for a Summer Wedding
Finding a dress for a summer wedding for a mother, stepmother or grandmother of the bride or groom often starts a few months before the wedding. If you have a year or more to shop, you can sometimes find dresses in store from the previous summer that will fit the bill!
Best Dress Styles and Colors for Summer Weddings
Some of our favorite styles to recommend for mother of the bride dresses during the warmer seasons are long flowy maxi dresses, short sheath dresses or tea length dresses with a bit of flared hem, sleeveless gowns, and light colors of chiffon, lace or light breathable fabrics. Floral prints can look lovely for a summer wedding as do pastel dresses light mint green, light blue, champagne or soft pinks and purples. Bright prints can also look great for weddings that are in a beach or tropical setting.
Here are some of the links to dresses we've featured previously on this page. The are likely out of stock now because they are pas seasons dresses but we keep them here in case an image on Pinterest has brought you here!
Pink lace soutache short sleeve gown from David's Bridal Long Cap Sleeve V-Neck Soutache A-Line Dress
Also, check out mother of the bride dresses with short sleeves for more ideas!
We also have picked up to date looks by color so browse or mother of the bride dresses by color, and ideas for how to accessorize mother of the bride dresses.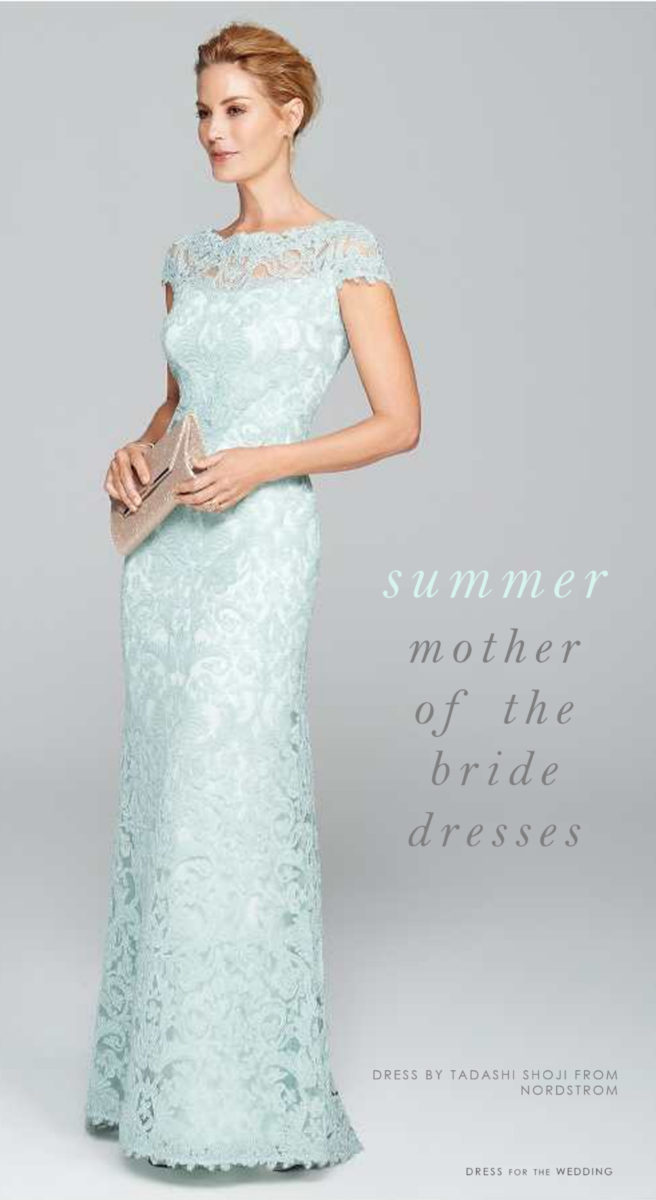 Featured Dress: Tadashi Shoji Illusion Yoke Lace Gown. Buy it from Nordstrom
You might also find searching by these colors is a good way to find a dress that suits your needs for you child's upcoming wedding.
Sequined Mother of the Bride Dresses | Red Mother of the Bride Dresses
Pink Mother of the Bride Dresses | Coral and Peach Mother of the Bride Dresses
Yellow Mother of the Bride Dresses | Green Mother of the Bride Dresses
Light Blue Mother of the Bride Dresses | Dark Blue Mother of Bride Dresses
Purple Mother of the Bride Dresses | Silver and Gray Mother of the Bride Dresses
Gold, Taupe, and Neutral Mother of the Bride Dresses | Black Dresses for Mother of the Bride
Spring Mother of the Bride Dresses
Fall Mother of the Bride Dresses
Winter Mother of the Bride Dresses