We've found the prettiest burgundy, wine, and red dresses to wear to a wedding as a guest. This is our edit of over 70 of the best burgundy and red dresses to wear as a wedding guest or for another special occasion.
This page uses affiliate links meaning that Dress for the Wedding may make a commission, at no cost to the purchaser, if a qualified sale is made.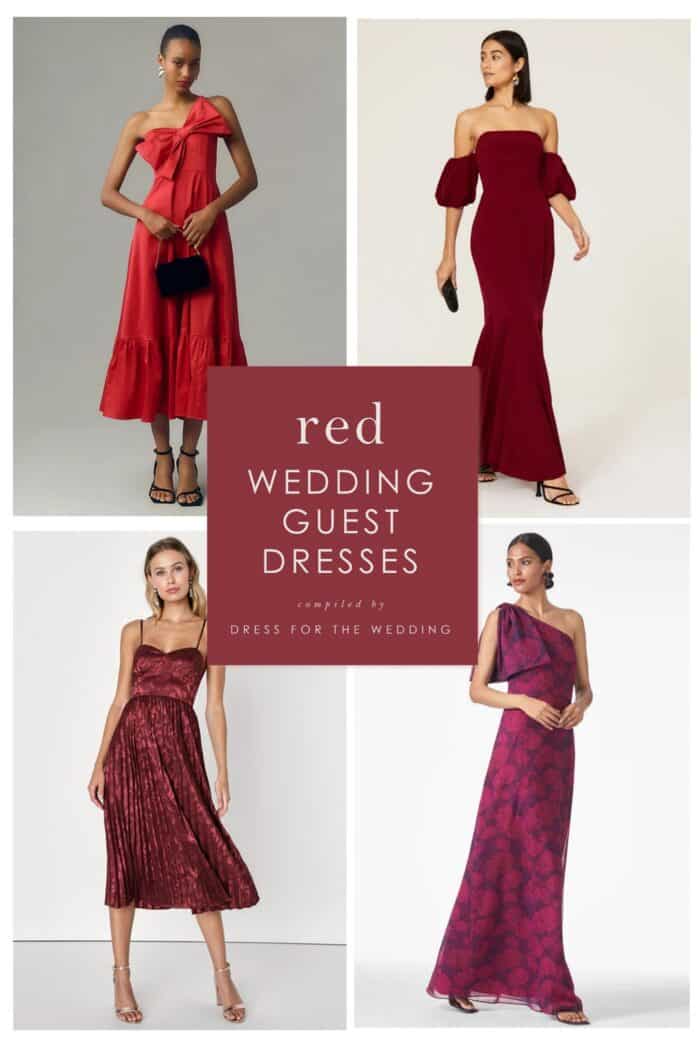 Shopping sources and image credits: 1. Anthropologie 2. Rent the Runway 3. Lulus 4. Sachin and Babi
Contrary to what you might see in some wedding etiquette experts' guidelines, you can wear red to a wedding as long as it fits your own style, the wedding dress code, and the culture of the wedding. We hope this shoppable guide will help you find the perfect dress!
Burgundy and Red Dresses for Wedding Guests
Here are a few of our favorite red dresses of the moment with ideas for where to wear them!
Burgundy Maxi Dress

This dress with an open ruffled neckline and a ruffled detail that cascades down the dress was just made for a fall formal wedding. The fluted hem of the skirt was just made to show off on the dance floor.
Square Neck Cocktail Dress

This is a classic fitted sheath style garnet red cocktail dress, with a super-flattering square neckline. This would be a lovely choice for a semi-formal fall wedding. Wear it again for a winter wedding, a date night in February, or a holiday party.
Pleated Red Dress

This breezy and unstructured red midi to maxi dress style looks like a great style for an outdoor destination wedding.
Long Sleeve Red Satin Midi Dress

We love this satin long-sleeve style because it provides lots of coverage, can look dressy with a bit of sparkle in well-chosen accessories, and also can be dressed down to be a good choice for a casual fall or winter wedding.
Square Neck Satin Dress

This is a special dress that is best worn to a winter formal or black tie wedding where colorful and festive formal attire has been requested. The modern square neck style is one of our favorite necklines this season.
Over 70 of the Best Red Dresses for Wedding Guests
Our editors created this edited collection of red wedding guest dresses that have been specifically selected for their suitability as wedding guest attire.

Because so many people ask, "Is it OK to wear Red to a Wedding" we have written more details below that offer specific guidelines for wearing red and talk about which red dresses are ok to wear to weddings. You might also want to read how to accessorize or style a red dress with these red wedding guest outfit ideas!
Red Dresses for the Wedding Party
If you're in a wedding and looking for red dresses for the wedding party, see all the specific picks we have for Red Bridesmaid Dresses and Red Mother of the Bride Dresses and Red Wedding Outfit Ideas.

When to Avoid Wearing Red to a Wedding
In general, while red is usually an okay color to wear to a wedding, in some cases and cultures it may not be as appropriate. For instance, in many Asian cultures, red is reserved for the bride or couple, so wearing red is off-limits just like guests are discouraged from wearing white dresses in Western wedding culture. Wearing red is also a no-no in some southern locations in the US where wearing bright red to a wedding can seen as a sign of disrespect towards the couple. This may also hold true at very conservative wedding ceremony sites or reception venues with specific dress codes like country clubs or churches. In all of these cases, it's always better to choose a different color or a very subtle shade of deep red if you're attending those events.

The other time to avoid red is when you know it will be the color the bridesmaids or wedding party members are wearing. This can be hard to predict, but if the wedding invitation is red or you learn that this is one of the themed wedding colors, then it might be time to pick a different wedding guest dress.
If red is one of those colors you love to wear because it suits your skin tone, you can also try dresses in the red color family like burnt orange and coral, or deep rusty rose colors.
When Should You Consider a Wearing Red Dress to a Wedding?
Red is such a seasonal fall and winter holiday color, that winter weddings and fall weddings are usually great times of year to wear a red-toned dress.
For fall, we gravitate more toward the deep burgundy color choices. In winter, especially for holiday weddings around Christmas or Valentine's Day, wearing a festive semi-formal style dress usually seems quite suitable.

In the summer, we're seeing more weddings where colorful and bold patterned floral wedding guest dresses are encouraged, in those cases a bit of a coral red, or bright red print in lightweight fabrics can work when mixed with other colors.
How to Choose The Right Red Dress to Wear as a Wedding Guest
What makes some red dresses okay to wear while others are considered off-limits? It has a lot to do with choosing a dress with the perfect fit and the right silhouette. Beyond that, you'll want to choose the perfect shade of red and perhaps an understated shade of red like burgundy or rust, rather than full-on fire engine or cherry red colors.
Since red is already a stand-out color, we suggest steering clear of minidress styles or other attention-grabbing looks.

Instead choose a formal dress, soft red maxi dress or midi dress, will ensure that your burgundy or red dress is in line with the attire guidelines for a couple's special day.
Long sleeve dresses are another way to wear burgundy or red while keeping a more modest style.
As always you'll want to adhere to the dress code and choose a longer formal wedding guest dress for a black tie wedding, and below or at-the-knee styles for semi-formal and casual weddings.
Wedding Guest Dresses in Other Colors
If you're not sure about a red dress for a wedding, try these other dress colors. If you're not sure about a red dress for a wedding, try these other dress colors. Also, be sure to follow up on LTK for updated looks and exclusive offers on wedding guest attire!
Pink Dresses | Coral Dresses | Yellow Dresses | Green Dresses | Light Blue Dresses | Dark Blue or Navy Blue Dresses | Purple Dresses | Floral Dresses | Gray or Silver Dresses | Black Dresses |
More dresses: Plus Size Dresses | Casual or Dressy Casual Dresses | Semi-Formal Cocktail Dresses | Formal Wedding Guest Dresses | Maxi Dresses Dresses for Wedding Guests Under $150
Past Features
These images were used as Pinterest article cover images to refer to this page. While these dresses are most likely sold out, we have retained the image and source links to ensure proper image credit in case you are visiting this page from an old image link or pin reference.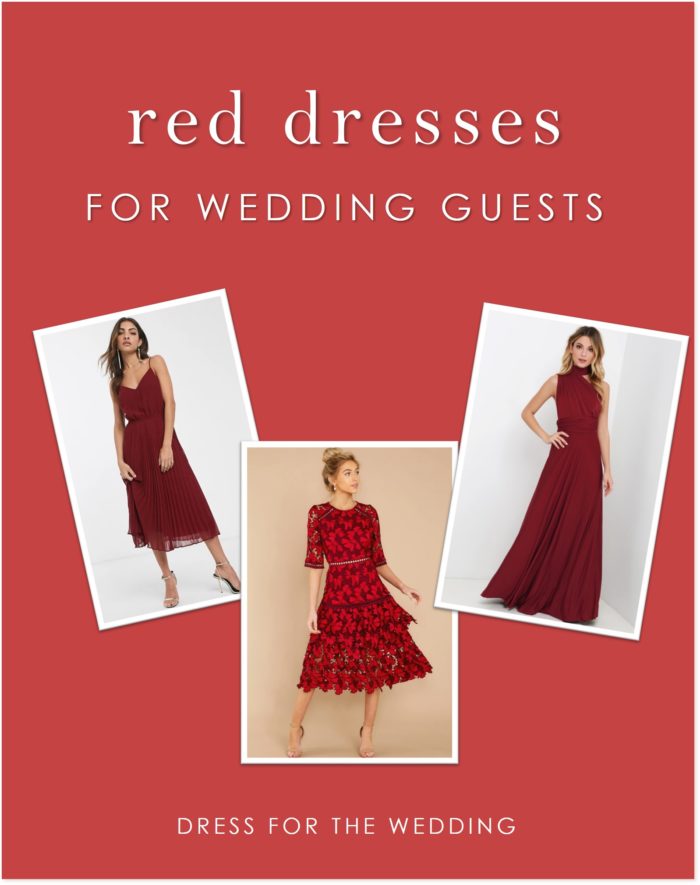 Image and shopping sources: 1. ASOS 2. Red Dress Boutique 3. Lulus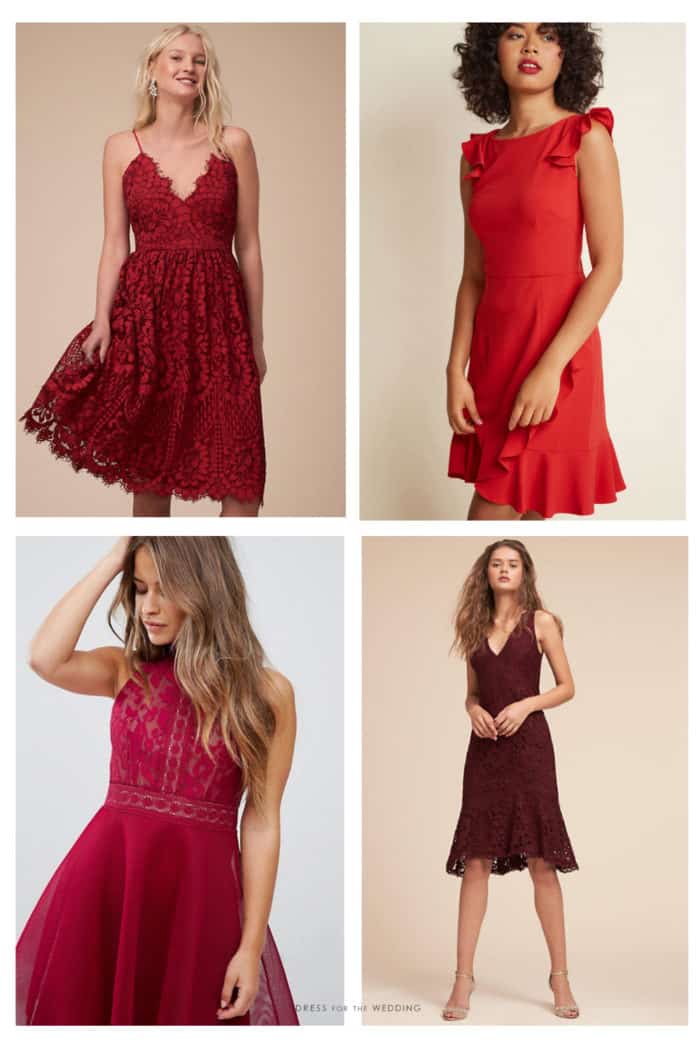 Image and shopping sources 1// Tate Dress from Anthropologie 2// Resounding Ruffles Dress from ModCloth 3// Little Mistress Red High Neck Dress from ASOS 4// Sophie Dress from BHLDN
This post was originally published on Feb 24, 2015, and was updated periodically. The most recent update was published on October 19, 2023