Black mother-of-the-bride dresses or mother-of-the-groom dresses can be a chic choice for evening weddings or formal black-tie events. To keep the look from being too severe, pick a gown with some beautiful festive detail.
Black Dresses for the Mother of the Bride
This shopping guide will help you find a great black dress. Here are are our picks for the most elegant black dresses from retailers for mothers of the wedding in dressy, semi-formal, and formal styles.
Shop sections use affiliate links from our sponsors.
Here's where to find a black dress that is perfect for a mother, stepmother, or grandmother in a wedding. Each image will lead you to the retail shop where the dress can be purchased.

Is it OK to Wear Black to a Wedding?
While a long black dress isn't a great choice for a summer daytime wedding, like everything there are exceptions! In some cases, like fall or winter evening weddings, black tie or formal weddings, it is! See this post about Is it Okay for the Mother-of-the-Bride to Wear Black? for more of our thoughts on the matter. In short, be sure to check with the couple (or whoever is making attire decisions for the wedding) to make sure a black gown will be appropriate for the event. If black is too severe for the event, try perhaps you can try a charcoal gray, navy, or silver, or a deep, jewel tone.
Where to Shop For a Mother of the Bride Dress
When looking for a Mother of the Bride dress the visual shopping guide above is meant to give you ideas for where to find a black MOB dresses. While most wedding boutiques will carry Mother of the bride dresses, some have on lead times to order. If you need a dress quickly or prefer shopping online we find the following stores always have some great dresses in stock in all sorts of colors!
Dillard's David's Bridal Nordstrom BHLDN Azazie
Featured Dress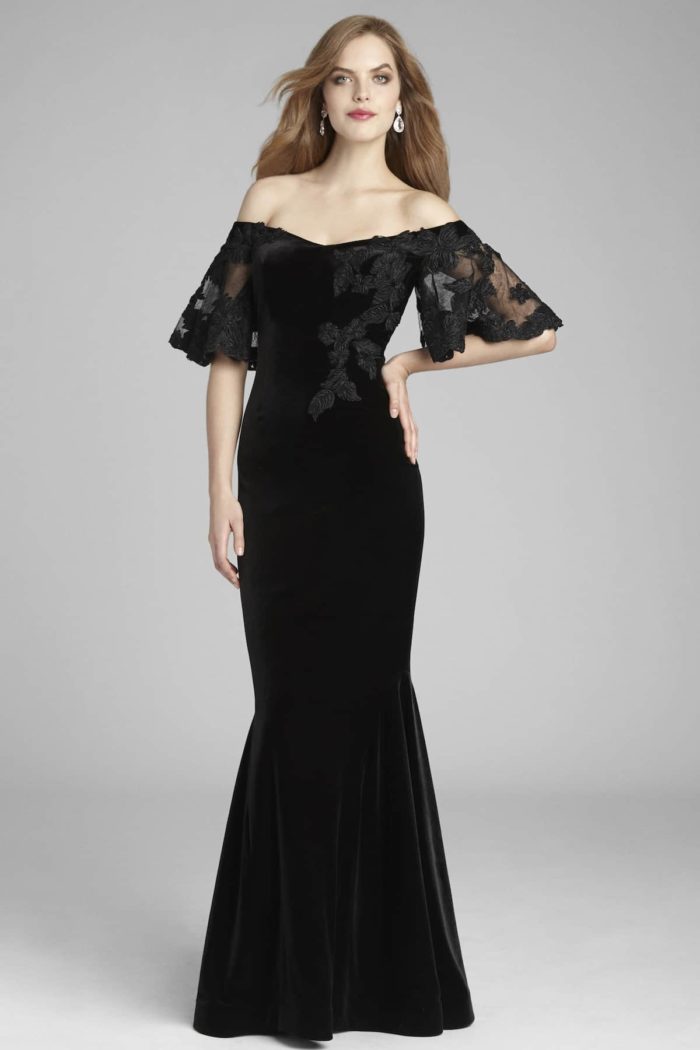 Stretch Velvet Gown from Teri Jon