We've found over 70 of the best navy blue and dark blue dresses for wedding guests, parties, and special occasions. We found the best blue cocktail dresses, midi dresses, and maxi dresses in casual, semi-formal, and formal dress code styles!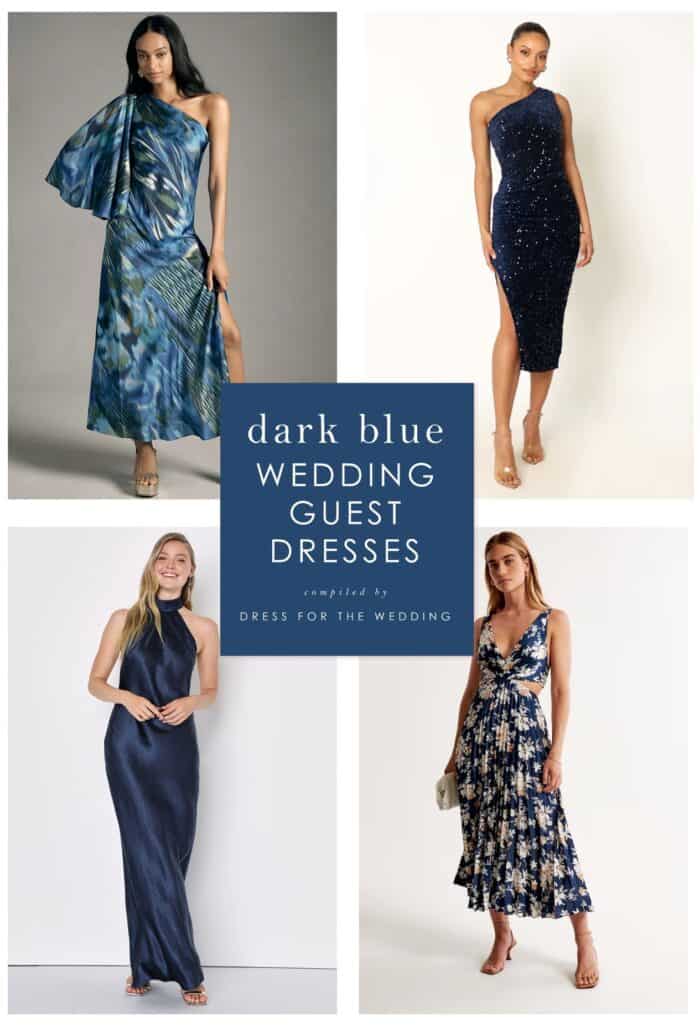 Navy Blue and Dark Blue Dresses for Wedding Guests
Is navy blue or dark blue a good color to wear to a wedding? Absolutely! There's no question that a navy blue dress can go nearly anywhere - especially to a wedding!
Dark understated colors like midnight blue are a classic for a reason, they are suitable for just about anything. The only time you wouldn't want to wear a dark blue dress to a wedding is if you know the bridesmaids will be wearing this color. You may also want to avoid navy blue for weddings where they have requested a colorful dress code, or hot summer days when a full length blue gown might be too warm.
That said navy blue is a completely classic color for a wedding guest. Similar blue hues are really great colors to choose. We think royal blue is regal, and sapphire and midnight blue exude elegance.
Here are some of our favorite dark blue dresses for wedding guests from some trusted retailers. If you prefer a lighter blue, check out these Light Blue Dresses for Weddings
70 of the Best Navy Blue Dresses to Wear to a Wedding
We combed through top retail offerings to create this collection of dark blue wedding guest dresses. We chose these dresses with female wedding guests in mind, in colors and styles that will have you as the best-dressed guest.

Top Guest Dress Styles for the Current Wedding Season
In addition to the dresses we featured at the top of this article, here are some guest looks that we feel are worthy of a little special attention. We hope to see guests wearing these at many weddings this season! Here's our take on cute blue dresses and where we'd wear them!
Halter Tie Neck Gown

This gorgeous dress is somewhere between a maxi dress and an evening gown. Blue in general is such a elegant color for formal wedding guest dresses and this one is definitely suitable for a black-tie wedding. The stand-out details for us are this rich color, the halter tie neckline, and the silky loosely pleated texture of the tiered skirt. This is from the formal gown collection at Anthropologie, and is by one of our favorite special occasion designers, Mac Duggal.
Tiered Blue Floral Maxi Dress

Floral prints are always a great way to break up a solid navy blue look, and this dress perfectly embodies formal summer wedding style. The gorgeous sweetheart neckline wide straps, and fluted tiers make this a dress to remember! See more floral wedding guest dresses if you love this kind print, or if you're heading to a black tie wedding, see more picks for formal black tie dresses.
Long Sleeve Satin Short Dress

For fall and winter weddings, long sleeve dresses in short or midi-length are in! This cute blue dress has a cocktail attire style, perfect for fall evening weddings. This is a gorgeous shade of rich blue that has a bit of green-teal color to it. You might want to check out our top picks for long sleeve wedding guest dresses if you love this look.
Satin Maxi Dress with Deep V Neck Wide Sleeves

This satin maxi dress is a gorgeous option for formal and semi-formal wedding dress codes. The deep v-neck shows a bit of skin but is far from revealing. We think this dress is the definition of modern elegance. Wear it to an evening wedding in winter or fall. If you're going to a wedding this winter, see more of the best winter wedding guest dresses.
Blue and White Floral Strapless Dress

This style looks like a perfect choice for a beach wedding or destination wedding in a warm climate or chic tropical resort. The floral detail adds a nice bit of interest to the clean lines of this sleek strapless style. See more of our beach wedding guest dress picks.
Blue Velvet Dress

This one is for winter weddings! Velvet is a beautiful choice, and this royal blue makes it even more special! Do you love velvet too? See even more velvet wedding guest dresses we love.
More Blue Dresses for Weddings
Blue is such a great color to wear to a wedding in any role you may be in. If you're in the wedding party and need a dress, also check out Dark Blue Bridesmaid Dresses and Dark Blue Mother of the Bride Dresses.
If you're a fan of lighter blue, take a peek at these light blue dresses for weddings. We also have this edit of
Where to Find Blue Wedding Guest Dresses
Here are some of the spots where we often find gorgeous dark blue dresses that are ideally suited for wedding guest attire.
Lulus

Lulus has some amazing formal gowns and maxi dresses, that are almost always under $100! They specialize in wedding attire meaning that you can find a dress as a guest or for your bridesmaids.
Nordstrom

Nordstrom always has classic dresses and plenty of navy blue styles. We love the labels they carry like Eliza J, Vince Camuto, and Tahari for wedding guest attire.
More Blue Dresses from Nordstrom
Petal and Pup

Petal and Pup has so many wedding guest dresses under $100. We love the unique silhouettes, fabrics and shades of blue they offer.
More Blue Dresses from Petal + Pup
Revolve

For chic designer style gowns, or a unique wedding guest dress, try Revolve. We especially love the fitted long gowns by Katie May for formal weddings. There's always a special almost one-of-a-kind dress to be found here!
More Blue Dresses from Revolve
Past Features of Blue Dresses
Here are some dresses we've featured in the past. Some may still be in stock while others are from past seasons. We keep these graphics in case you are looking for one of these specific styles! This article was originally publishes on March 25, 2015 and updated most recently on October 26, 2023.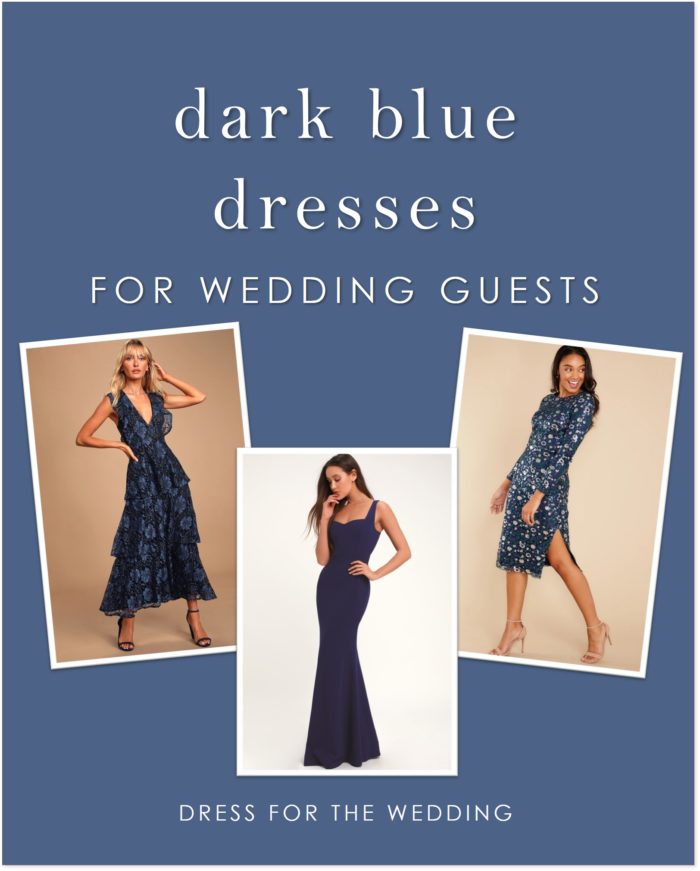 Featured image credits and product sources: 1| Molinetto Navy Blue Lace Ruffled Tiered Sleeveless Maxi Dress from Lulus 2 | The Sweetest Thing Blue Maxi Dress from Lulus 3 | Complete This Moment Sequin Dress from Red Dress Boutique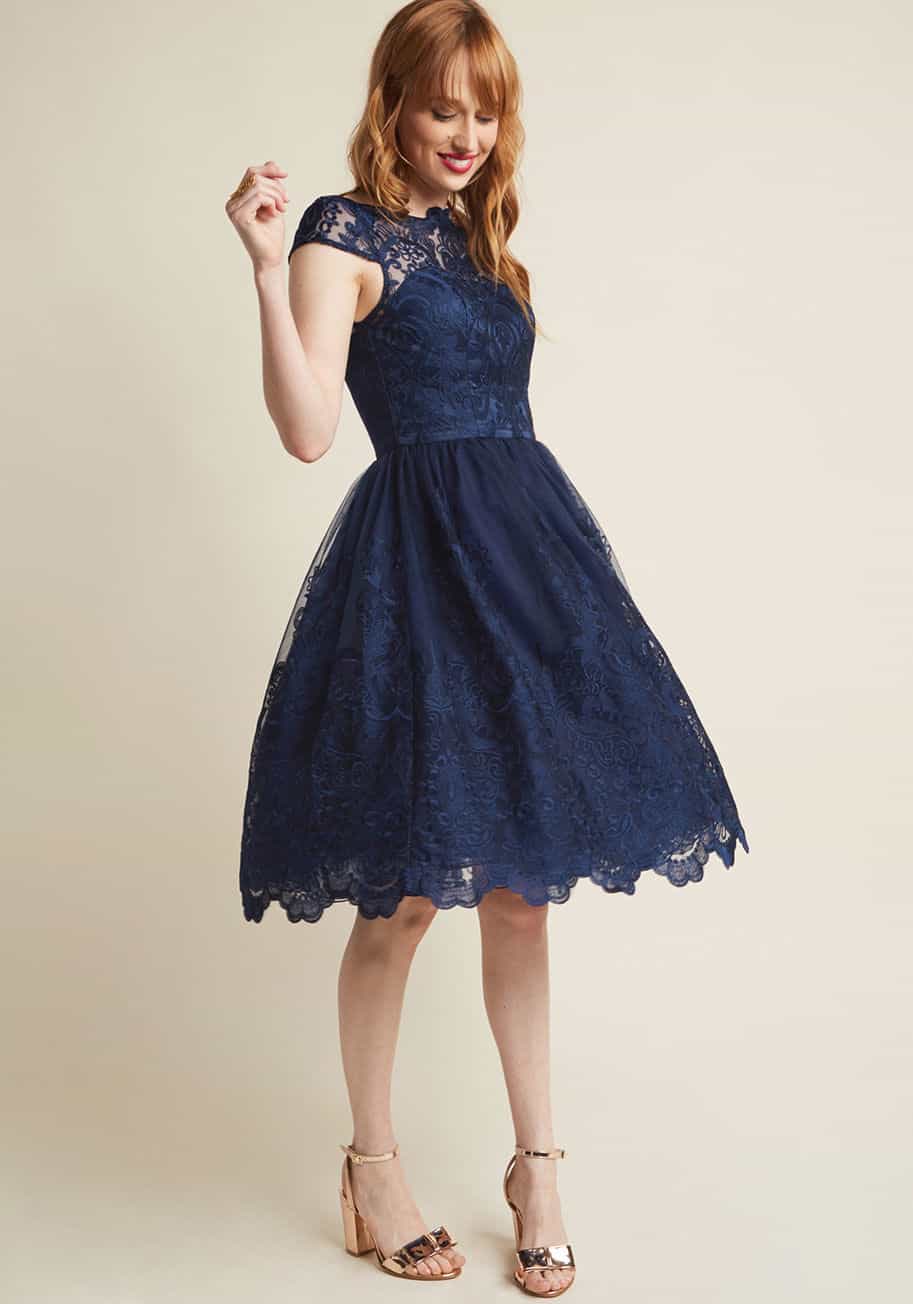 Featured navy blue dress for a wedding from ModCloth. Chi Chi London Exquisite Elegance Lace Dress
Off the Shoulder Long Sleeve Blue Dress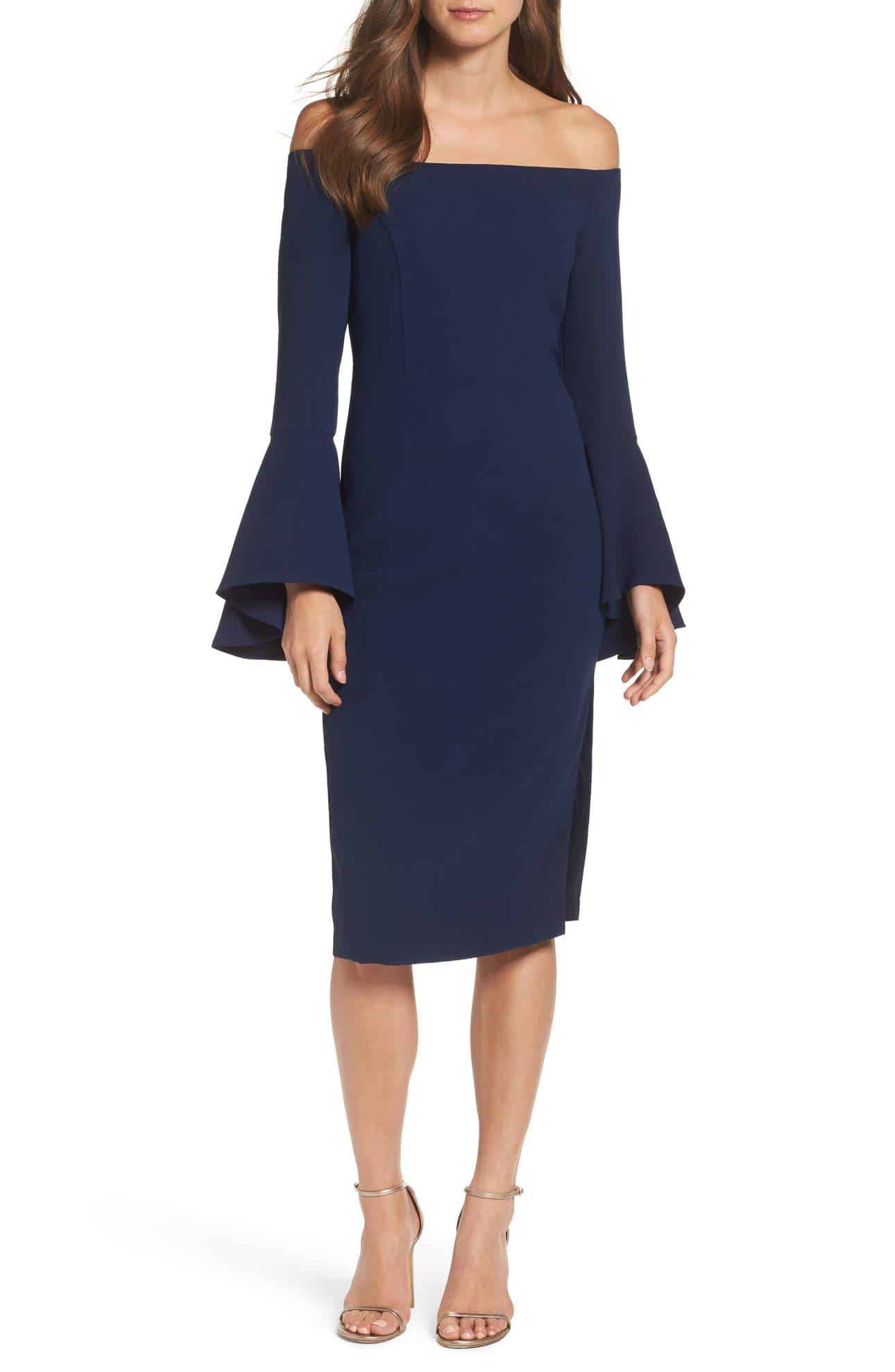 'Solange' Off the Shoulder Midi Dress
Need more Wedding Guest Dress Ideas?
Find a Dress by Color or see more dresses by style of event, season and color
Casual or Dressy Casual Dresses | Semi-Formal Cocktail Dresses
Formal Attire and Gowns | Maxi Dresses to Wear to Weddings
Red Dresses | Pink Dresses | Coral Dresses | Yellow Dresses | Green Dresses | Purple Dresses | Floral Dresses | Gray or Silver Dresses | Black Dresses | Dresses for Wedding Guests Under $150