Where to find and shop for tan, beige, taupe, or khaki suits for grooms and groomsmen.
Tan Suits for Weddings
A light-colored suit in tan beige, khaki, camel, or linen is a great look for grooms, groomsmen, and wedding guests. Light beige suits are best worn for casual daytime events like rustic weddings, beach weddings, destination weddings, and casual summer and fall weddings.
Here, we've compiled some of the best tan suits for weddings with ideas on where to buy and shop for a tan suit, jacket or vest for weddings.
The shopping sources on this site use affiliate links, which means this site may earn a commission if you make a purchase from our links.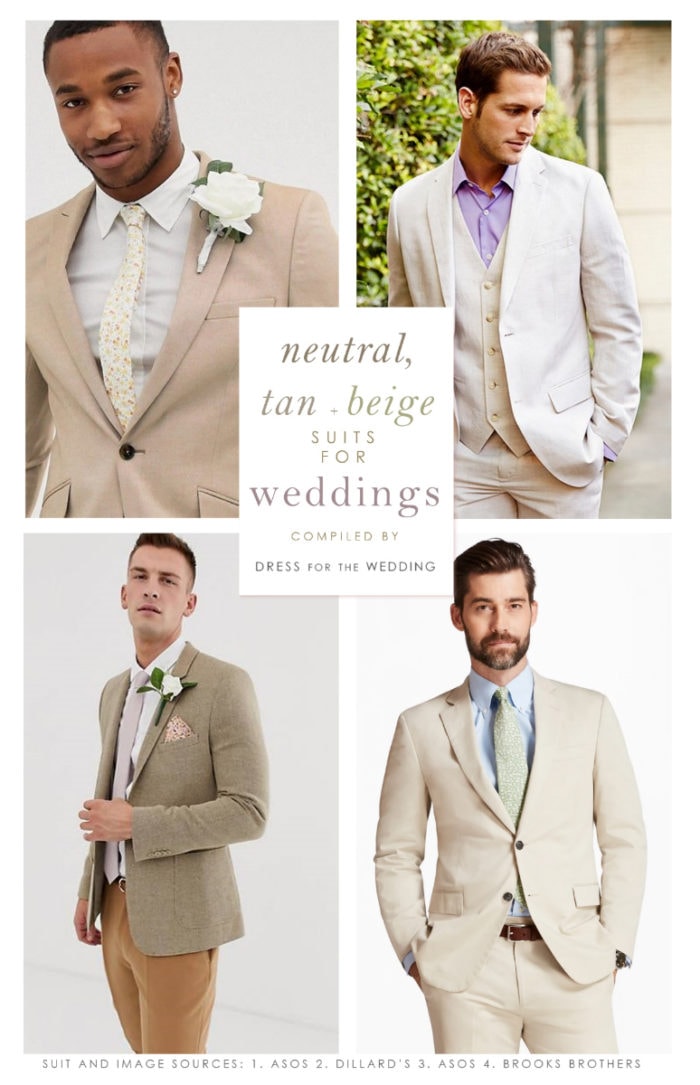 | 1 | ASOS DESIGN wedding skinny oxford blazer in Camel | 2 | Linen Herringbone Suit Separates Blazer, and Pants (Sold Separately) | 3 | ASOS DESIGN wedding skinny blazer in beige wool mix | 4 | Regent Fit Stretch Cotton Suit from Brooks Brothers
Tan Suits for Grooms and Groomsmen
Tan suits are popular choices for rustic weddings, beach weddings, destination weddings, and casual summer and fall weddings. The lighter color of a tan or beige suit makes it less formal than darker suits, and so a tan suit is ideal for a casual wedding party style in an outdoor setting.
Tan, Beige, Khaki Suits and Vests for Weddings

How To Pick a Beige or Tan Suit for a Wedding
In general, let the formality of the event be your guide to picking a tan suit. Fabric choice is important. In general, tan and beige suits for grooms and groomsmen in silk or wool are appropriate for more formal events. Casual lightweight fabrics like cotton, chambray, light blend, and linen are smart fabric choices for relaxed weddings and warm-weather locations where a heavy fabric is undesirable. Because of its more casual appeal to dark suit counterparts, a tan wedding suit is a perfect choice for grooms and groomsmen wanting to effect a more laid-back style.
How to Style a Tan Wedding Suit
Styling a tan suit is easy. White, off-white, and pastel shirts in pink or blue or a subtle print look great under tan jackets and blazers. Tan ties, light blue ties, pale green ties, white, yellow, and coral or peach ties are great pairings. Brown leather shoes are an easy footwear choice. For an even more casual look, a beige suit can be worn without a tie and just a white shirt with an open collar. Wedding parties may also choose to even wear beige pants with a vest and shirt, and forgo a jacket. This is look is often popular for rustic country weddings, and beach weddings.
Is It OK to Wear a Beige or Tan Suit for a Wedding?
A tan or beige suit is also appropriate male wedding guest attire for daytime or morning weddings, or for weddings in casual outdoor settings in warm-weather.
If you are looking for a formal tan suit, make sure the fabric is wool or silk blend. While most tan suiting styles aren't appropriate for black-tie level formal, perhaps one exception is a white, ivory or off-white dinner jacket. This formal style is perhaps the only look we know of that combines a highly formal suit with a lighter color palette.
Where to Find Tan and Beige Jackets and Suits for Weddings
If the shopping section above didn't help you find the perfect tan suit for your wedding, we found that stores like ASOS, Dillard's, Macy's, Express, J.Crew, and Brooks Brothers, each had a great selection of tan suits.
Because of the seasonal appeal of a tan suit, they are easier to find in the spring and summer seasons. Tan wedding suits will usually go on sale in early fall. Colder seasons like fall and winter weddings might consider heavier tan or brown styles in wool or tweed.
Tan suits can also be wonderful styles for ring bearers, bridesmaids, groomswomen, or women to wear for weddings so we have included some of those in the selection above.
Featured Tan, Taupe, and Beige Wedding Suits and Jackets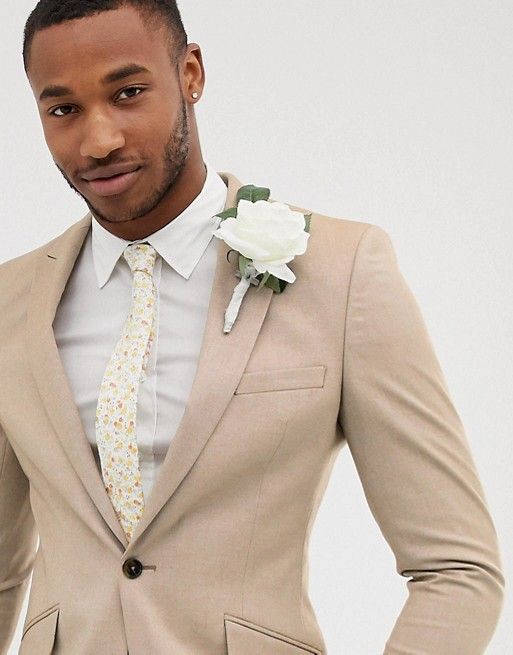 From ASOS: ASOS DESIGN wedding skinny oxford blazer in Camel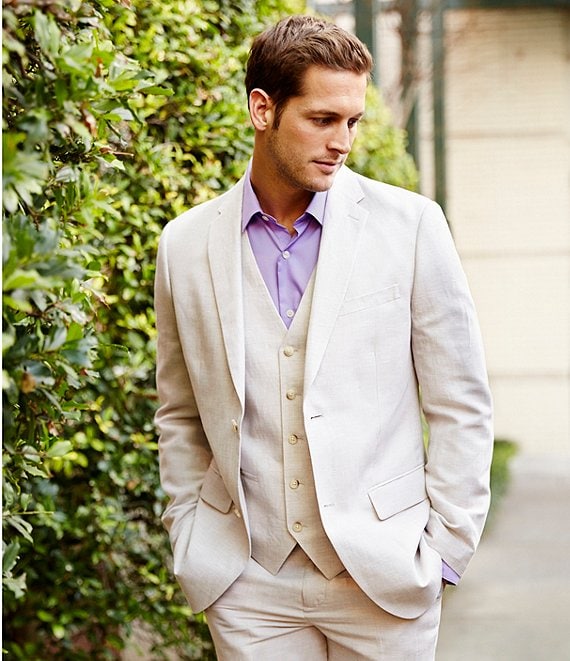 From Dillard's: Linen Herringbone Suit Separates Blazer, and Pants (Sold Separately)