Affiliate links are used on this page.
Gorgeous Mother of the Bride Dresses

Are you looking for a mother-of-the-bride dress, and wish you could search several stores at once? That's what this page is for!
This shopping guide will help you find the best dresses for Mothers of the Bride and Mothers of the Groom.
We've handpicked and organized some of the best mother-of-the-bride dresses from major retailers like Nordstrom, David's Bridal, BHLDN, Dillards and more and organized them by color, style, and season to make it easier to find the perfect dress.
Just use the links below to shop for your Mother-of-the-Bride dress for a wedding by color, style or season. Each dress image will take you directly to the store that sells the dress.
Search Dresses by Color, Style or Season
Sequined Red and Burgundy Pink Coral and Peach Gold Yellow
Light and Dark Green Light Blue Dark Blue and Navy Purple
Silver and Gray Gold, Taupe, and Neutral Black
Plus Size Short Sleeve Long Sleeve With Jackets
The shopping sources in post use affiliate links. This site may earn a commission if you make a purchase from our links.
Mother of the Bride Dresses by Color
Sequined and Metallic

Sequined and metallic MOB dresses can be especially perfect for evening, or black tie weddings, however, it's fine to wear one of these sparkling dresses any time. It's a great way to wear one of the wedding's theme colors in a glitzy way!
See More Sequined and Beaded Dresses
Red and Burgundy

Red and Burgundy tones are perfect for fall weddings, and winter weddings, especially over the holidays and can sometimes work for a summer wedding too!
See More Red and Burgundy MOB Dresses
Pink and Blush

Pink and blush is an ideal color for mothers in a wedding. Shades of pink, rose, and blush are particularly wonderful for warm weather seasons like spring and summer and for cheerful daytime weddings. Truly pink and blush is a classic color choice for a wedding of any season, and blends with older colors quite easily.
More Pink and Blush MOB Dresses
Coral and Peach

We love coral and peach for beachy destination weddings, boho desert weddings, spring and summer weddings, early fall, or just in for weddings general! If bright corals are muted peaches are your color, you might like these gowns!
More Coral and Peach MOB dresses
Yellow

Under the general color of yellow, a dress can be anything from a deep marigold or mustard to and pale butter yellow. As such we love this color for spring and summer weddings, and early fall events as well! A yellow dress or suit can be a lovely look for daytime, while gold and deep yellow bring more glamour for the evening.
Green

A pale or mint green can be an absolutely beautiful shade for spring and summer weddings, while deeper emerald and hunter green colors can be a beautiful choice
Light Blue

See more Light Blue MOB Dresses
Dark Blue and Navy

Purple

Silver and Grey

Gold and Neutral

Black

What Are The Best Colors for the Mothers in the Wedding To Wear?
If you are still stumped on what to wear, or how to coordinate your outfit with the rest of the wedding party, you might like this guide on
What Should the Mother-of-the-Bride Wear
? It answers some frequently asked questions about Mother-of-the-Bride attire!
There are some gorgeous long gowns and short cocktail dresses here for everything from a daytime wedding to a formal evening wedding, and in every color.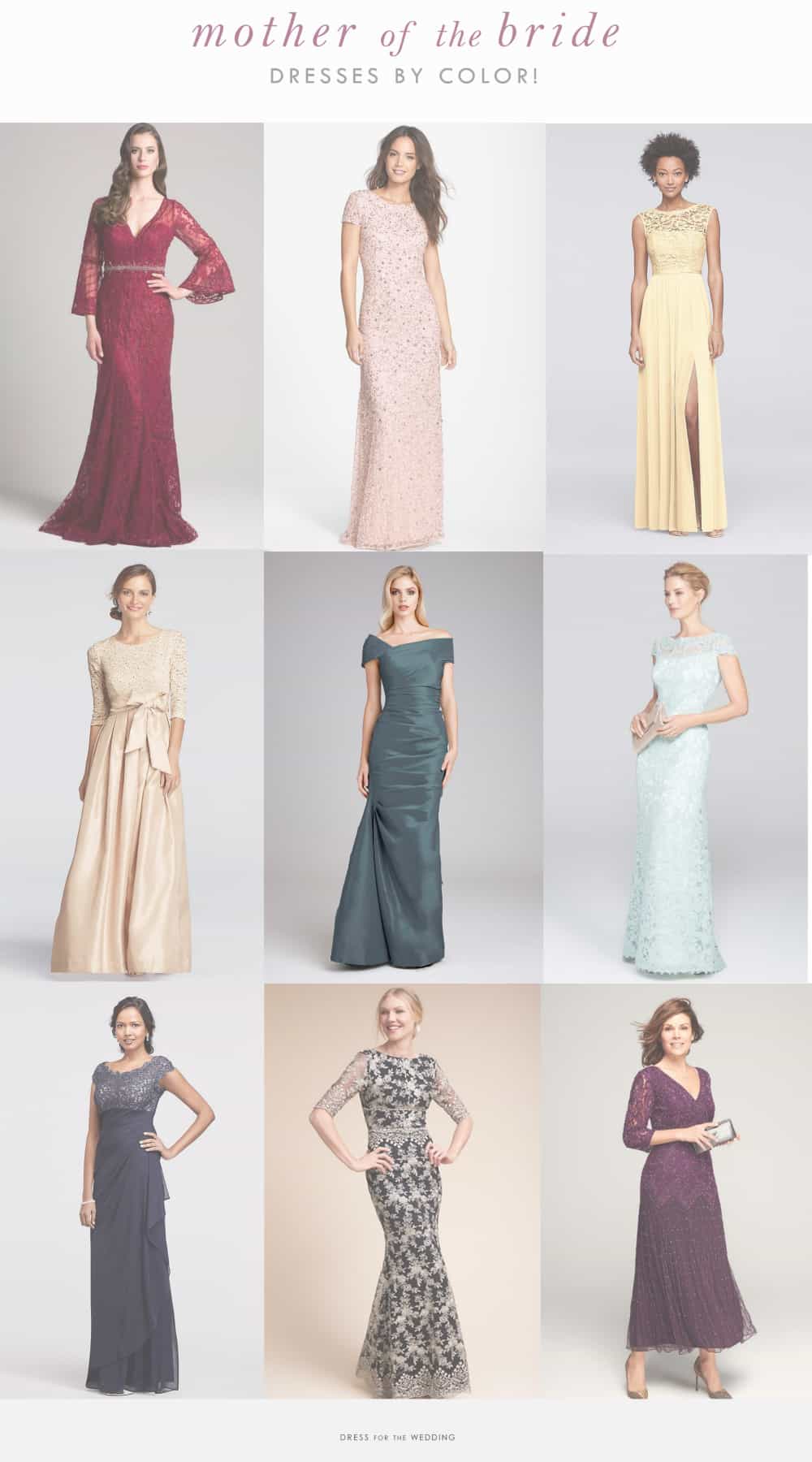 Commission links are used in shop sources: 1// Lara Dresses Beaded V Neck Dress from Couture Candy 2// Short Sleeve Sequin Mesh Gown by Adrianna Papell From Nordstrom 3// Lace Bridesmaid Dress with Lace Bodice by David's Bridal 4// 3/4 Shimmer Lace Sleeve Dress with Shantung Skirt from David's Bridal 5// Portrait Collar Gown by Teri Jon 6// Lace Column Gown by Tadashi Shoji from Nordstrom 7// Long Mesh Dress with Cap Sleeves and Lace Bodice | David's Bridal 8// Betsy Dress from BHLDN 9// Beaded Mesh Dress by Pisarro Nights from Nordstrom