Neutral Bridesmaid Dresses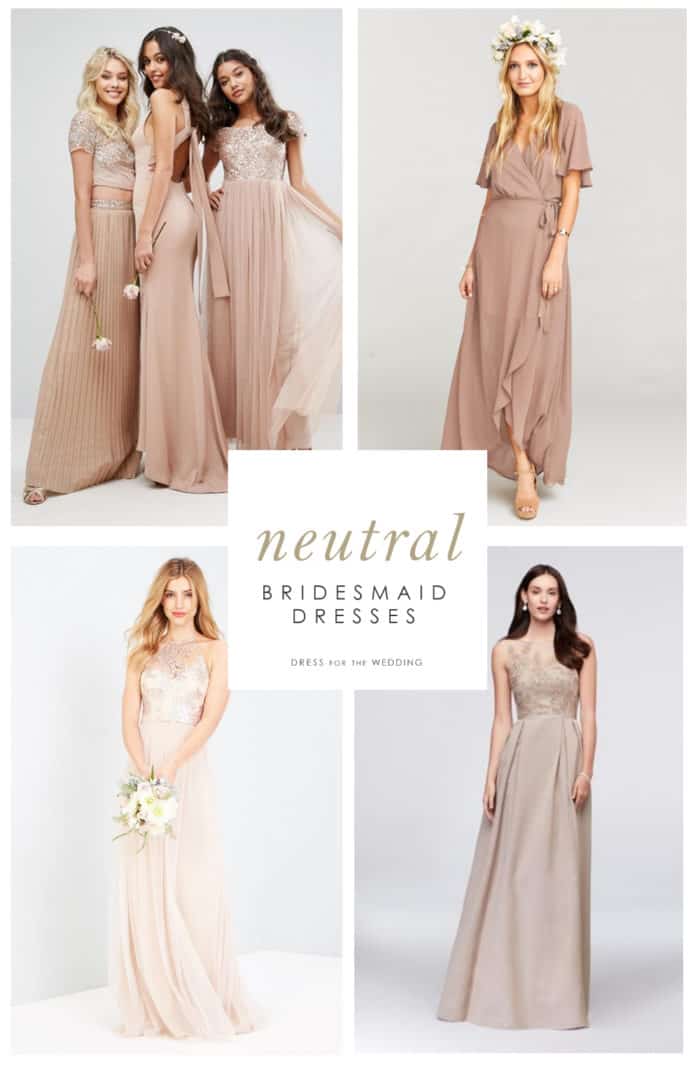 Picks for neutral bridesmaid dresses in taupe, beige, tan, blush, champagne, use affiliate links. 1/ Maya Bardot Maxi Dress With Delicate Sequin And Tulle Skirt from ASOS 2/ Sophia Wrap Dress from Show Me Your Mumu 3/ Sheridan Sequin Halter Dressby Amsale from Nordstrom 4/ Appliqued Illusion Faille Bridesmaid Dress from David's Bridal
Neutral bridesmaid dresses in pale shades of beige, taupe, tan, gold, blush, champagne, cream, and other neutrals, make for an understated and elegant wedding party. As you may know, neutral dresses like these are timeless, elegant, and a very popular style for modern weddings. For an even richer style, one can also mix in some metallic gold bridesmaid dresses or metallic sequined, and beaded styles to make your bridal party sparkle! Without further ado, here are some of my favorite picks from neutral bridesmaid dresses from trusted retailers where you can find bridesmaid dresses to purchase online.
Affiliate links are used in the shopping links in this post, meaning this blog may receive a commission from our sponsors at no cost to you, if a qualifying purchase is made.
Where to Find Neutral, Nude, Taupe, and Gold Bridesmaid Dresses

You might also like this post on how to get the mismatched look with bridesmaid dresses.
Also check out our pages for sequined bridesmaid dresses, rose gold sequin bridesmaid dresses, and neutral mother of the bride dresses.
Where to Shop For Tan Beige and Neutral Colored Bridesmaid Dresses
Also try neutral bridesmaid dresses at these sponsoring retailers.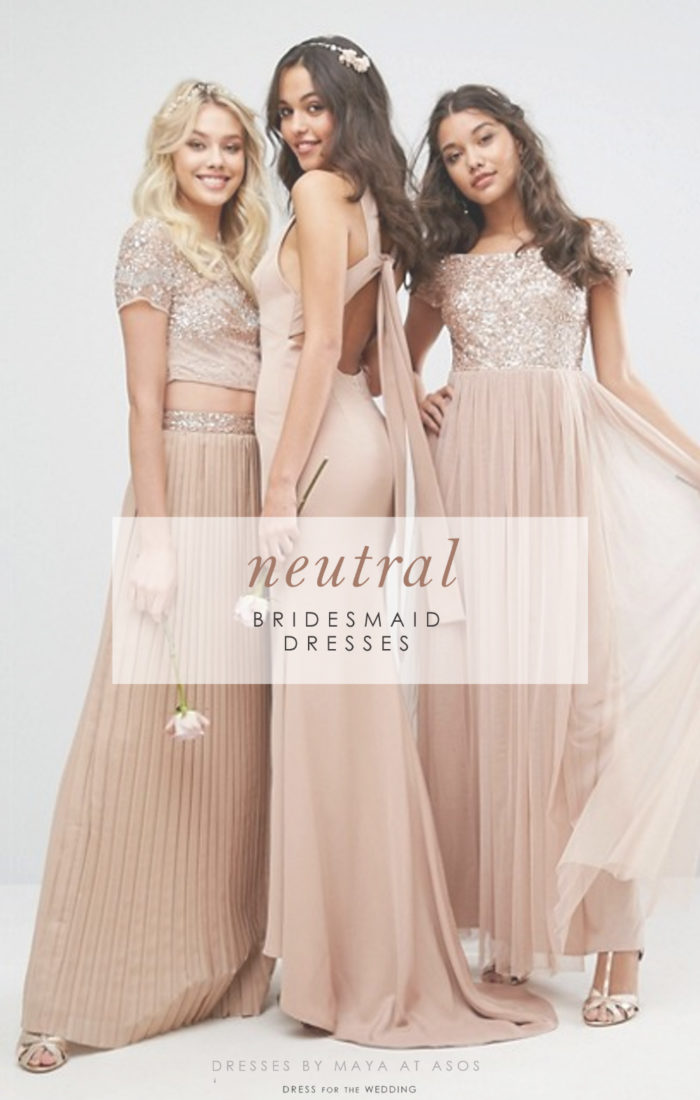 Maya Bardot Maxi Dress With Delicate Sequin And Tulle Skirt from ASOS
David's Bridal Neutral Bridesmaid Dresses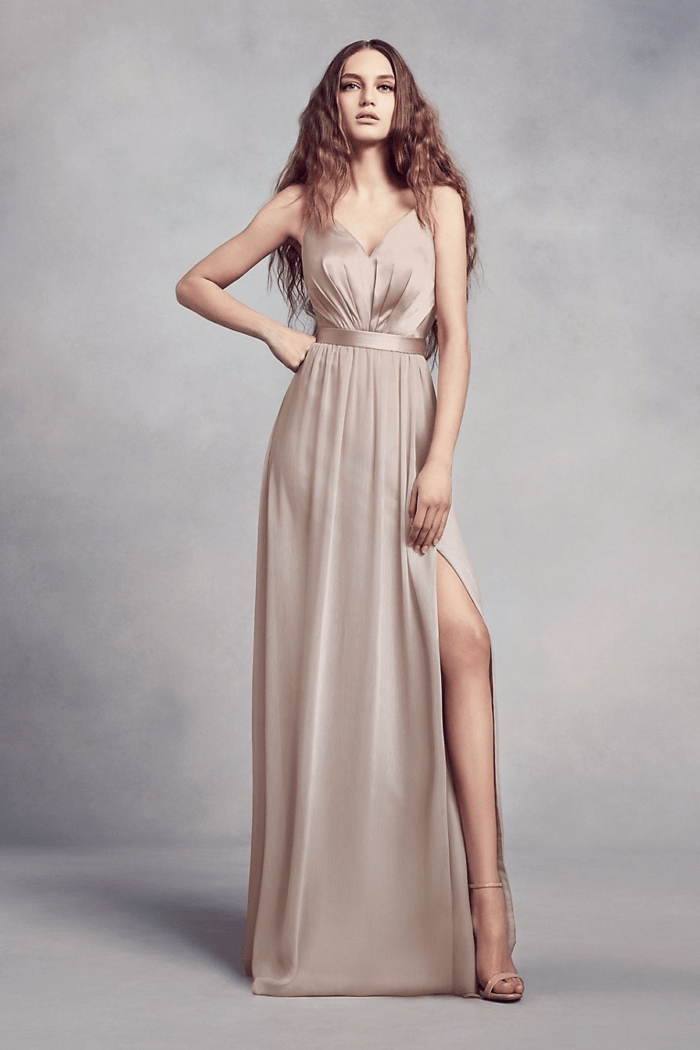 Charmeuse and Chiffon Gown by White by Vera Wang in Biscotti $199 from David's Bridal
ASOS Neutral Bridesmaid Dresses
These taupe sequin styles are some of the most popular at ASOS.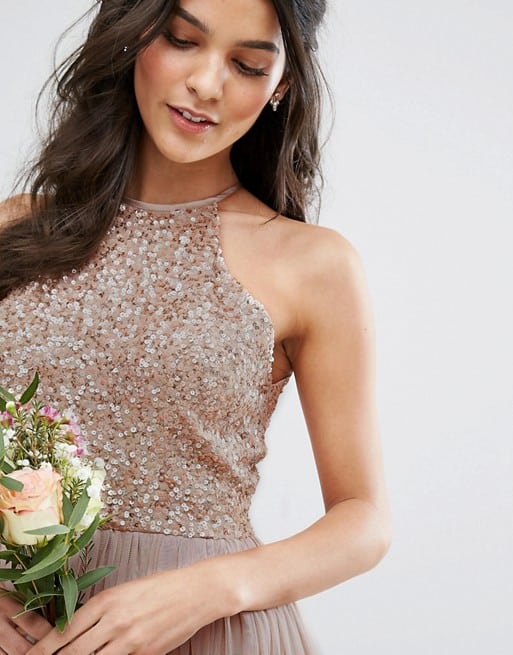 Maya High Neck Maxi Tulle Dress With Tonal Delicate Sequins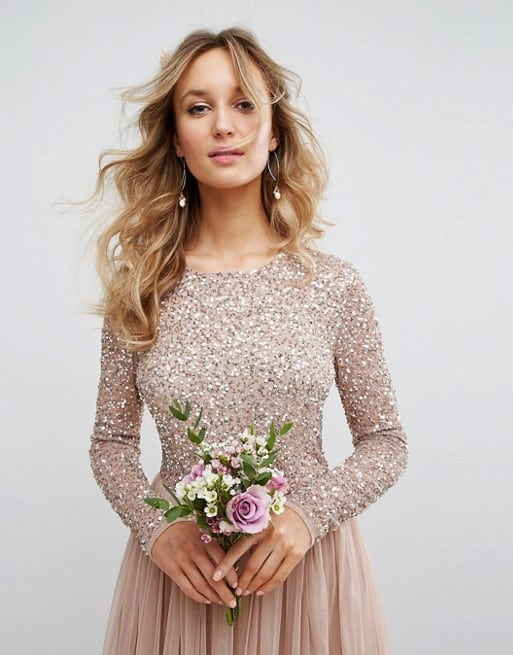 Maya Long Sleeved Maxi Dress with Delicate Sequin and Tulle Skirt
Neutral Beige and Taupe Bridesmaid Dresses from Nordstrom