We've found more than 75 stylish wedding guest dresses for fall and autumn weddings and parties to create this Fall 2023 guide to the best dresses to wear to a fall wedding. We selected fantastic new dresses with the latest trending styles to consider for every fall wedding dress code.
Wedding Guest Dresses for Fall Weddings
Each season we review some of the offerings at our favorite shops for party dresses and wedding guest dresses and make our picks for top fall wedding guest dresses for the current wedding season in September, October, and November.
Affiliate links are used in the shopping links in this post, meaning this blog may receive a commission from our sponsors at no cost to you, if a qualifying purchase is made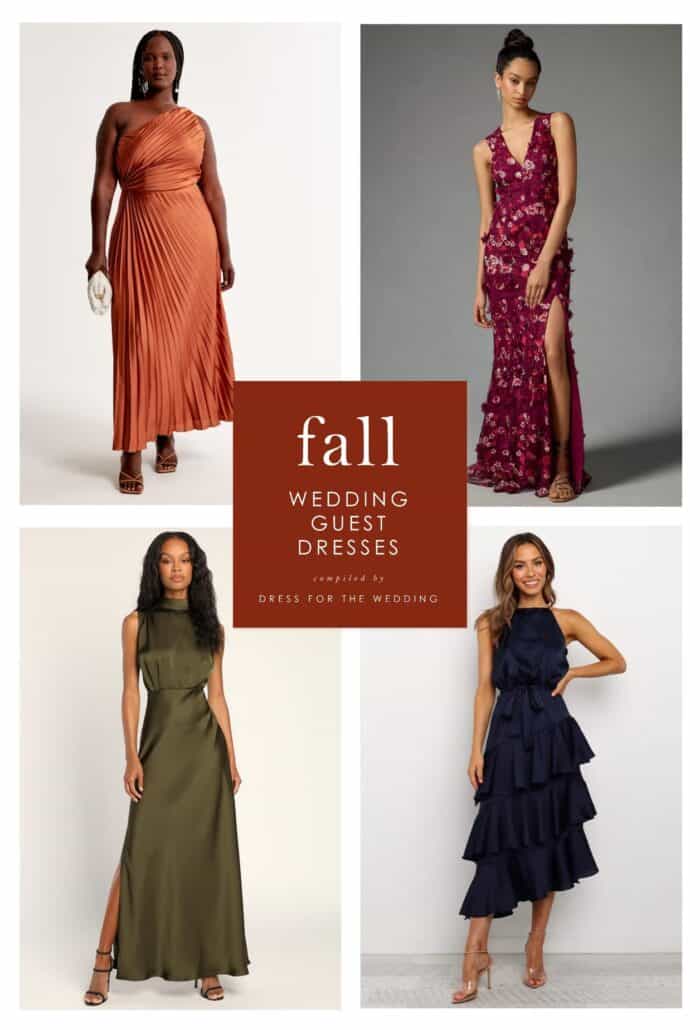 Over 75 of the Best Dresses to Wear to Fall Weddings
This shopping guide will show you where to shop for the perfect dress to help you find the best wedding guest dresses to wear to any of your upcoming wedding events. We found a selection of over 75 dresses we absolutely love for wedding guest dresses for autumn weddings. Each image is linked to the retailer where the dress can be purchased. We keep this section updated with best sellers as well as any new arrivals we see in stores, so check back often to see if we've added a new selection of dresses. We keep adding more dresses we love throughout this article, for a grand total of 90 dress recommendations!

Best Colors and Styles to Wear to a Fall Wedding
Fall weddings are a chance to wear some different colors and select from the beautiful autumnal colors, long sleeves, and cooler weather styles that make a debut during the fall season. As always, you'll want to defer to the wedding dress code for definitive ideas of what to wear, but sticking to fall fabrics, colors, and silhouettes is always a great start. Here is our edit of wedding guest dresses with our favorite ideas based on time of day, venue, and dress code. This guide will help you be the best-dressed guest for your upcoming fall wedding.
Casual Fall Wedding Guest Dresses
For casual fall weddings long-sleeved dresses, maxi dresses, and floral prints in autumnal colors can be an excellent choice. Short-sleeved wrap dresses and other casual styles with a bit of wedding elegance are a great way to go.
Flutter Sleeve Midi Dress for a Casual Autumn Wedding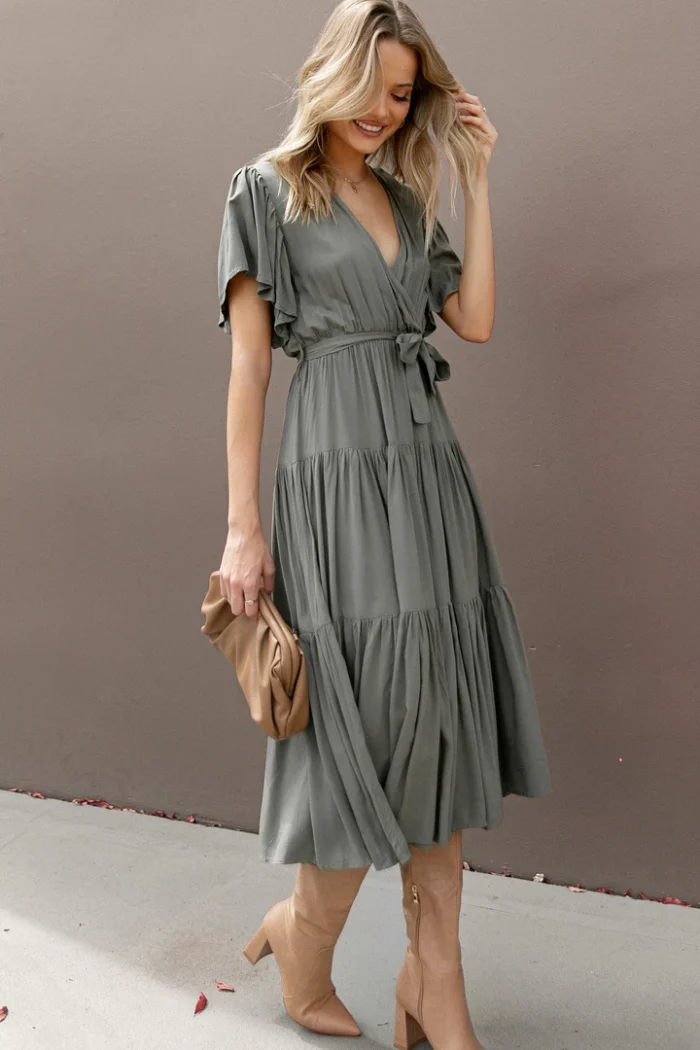 Barker Dress from Petal + Pup.
For a casual fall wedding, a short-sleeved dress with some dressed-up details like the flutter sleeves and tiered skirt keep things elevated enough for fall wedding attire but still casual for informal weddings. See more of our picks for what to wear to a casual fall wedding, or see all the green dresses we love for wedding guests.
While many late summer colors will still work, fall wedding guest attire gives way to longer sleeves, rich jeweled tones, and leafy floral prints that echo the changes of season.
Long Sleeve Dress for a Fall Wedding Guest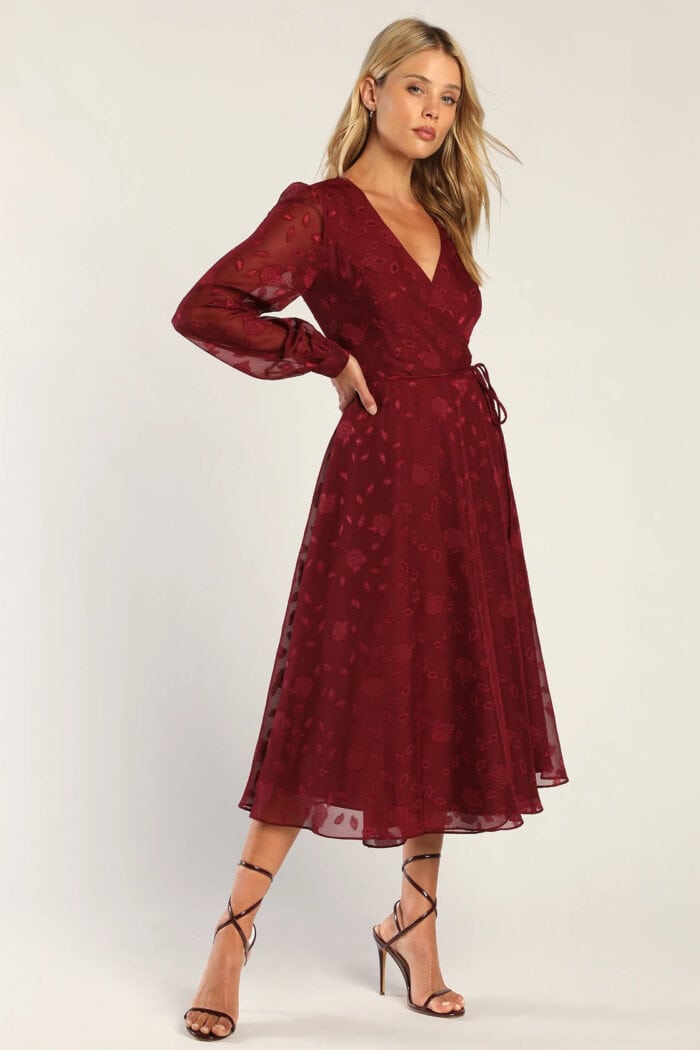 Evening of Elegance Burgundy Dress from Lulus.
This long-sleeved wrap dress in a gorgeous shade of burgundy is a great style for an autumn wedding in a semi-casual or outdoor wedding venue. The long sleeves and gorgeous color make it perfect for fall celebrations. See more long sleeve dresses we love.
Semi-Formal Fall Wedding Guest Dresses
Semi-formal or cocktail attire for a fall wedding could be a below-the-knee midi dress, a maxi dress, a dressed-up two-piece skirt or pants separates, or a jumpsuit. Once again picking fall colors and formal fabrics like fall floral chiffons, satin, and jacquard is a great choice for a semi-formal wedding dress code. Below-the-knee dresses, cocktail dresses, and midi dresses are always a good choice for a semi-formal dress code. Wear these styles of dresses with strappy heels, earrings, and a small clutch for a complete semi formal wedding guest look. See some examples below or see all of the semi-formal dresses we love for fall weddings.
Pleated Midi Dress for an Autumn Semi-Formal Wedding

Satin Pleated Cutout Dress from Anthropologie
This tea-length midi dress with pleats in a delicious aubergine color is an ideal silhouette and color combination to wear to a fall wedding in a hotel, or after 5 that calls for semi-formal wedding attire. It's the perfect cocktail dress. See more midi dresses we love for weddings and more of our picks for fall semi-formal wedding guest dresses.
Maxi Length Dresses

The length, sleeves, and colors, and print style of many of the maxi dresses we see in the fall season make them ideal wedding attire. For informal or outdoor weddings a dress like this with long sleeves is a great choice. For more formal black tie weddings, sleek long maxi dress styles can be the best option. See more of our picks for the best maxi dresses to wear to a fall wedding.
Formal Dresses for a Fall Wedding

We go into great detail about formal dresses for fall weddings and black tie wedding styles in our ideas for what to wear to a formal fall wedding. In general, longer lengths like an ankle-to-floor-length gown or a jumpsuit or suit separates in a formal fabric like satin, silk, or even velvet can be the perfect styles for female guests. This embellished long gown is a great example of blending fall colors and textures into an ideal outfit to wear to a black tie event.
Top Colors to Wear as a Fall Guest
Each season we observe the trending colors for dresses for special occasions, this fall season we're seeing the usual jewel tones but with some new interpretations for modern weddings. In general, we love harvest colors like burgundy, dark olive green or hunter green, rich teal blue, rust, bronze, purple and gold for fall wedding guest dresses. As always, the little black dress is a popular choice too. Here are some of our favorite dresses in these colors this season that will help your style stand out at the ceremony and on the dance floor.
Satin Burgundy Midi Dress with Square Neckline

Burgundy is always a fall favorite, but now we're seeing red dresses in silky satin midi styles, and trending square necklines. This dress is part of the special occasion dresses that Abercrombie + Finch just released. Here are more burgundy fall wedding guest dresses we love.
Dark Olive Green One Shoulder Maxi Dress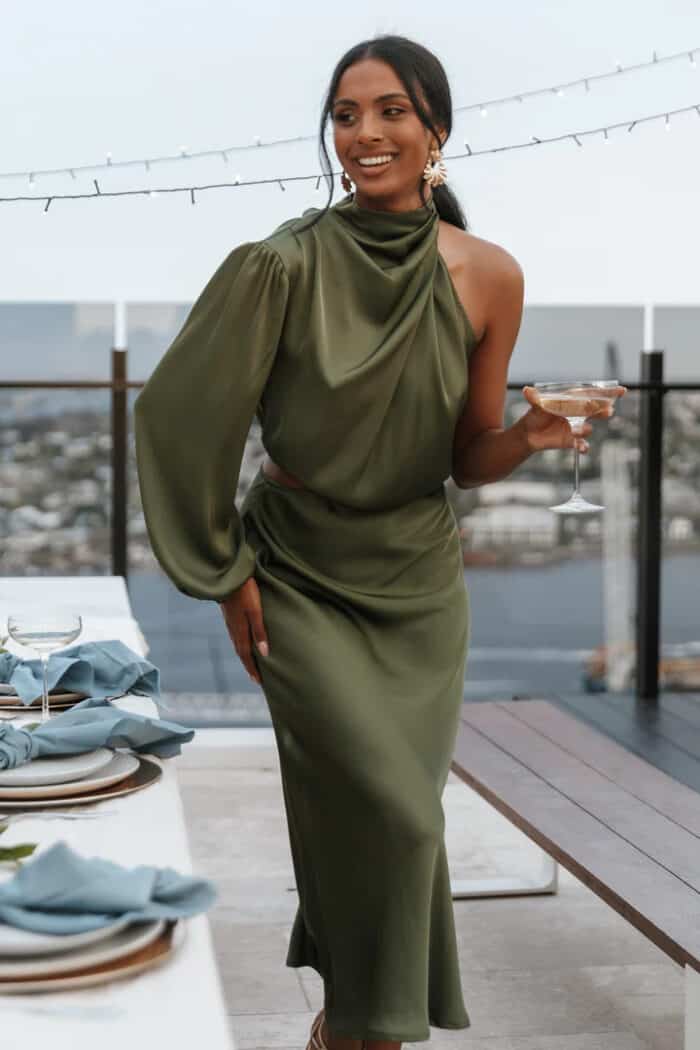 Emerald green and hunter green has long been a favorite fall color. We're also seeing this gorgeous olive green color in lots of dresses. This is the Amelie Dress from Petal + Pup. See all the green wedding guest dresses we love.
Rich Teal Blue High Neck Satin Midi Dress

This color strikes the perfect balance between emerald green and navy blue to create a gorgeous shade of deep teal. It's a unique and elegant color to wear for any fall event. See more dark blue wedding guest dresses.
Pleated Rust Maxi Dress

Rust is a natural extension of the fall hues of browns and orange, and a way to wear some of the bright colors of fall in on-trend way. Matched with a gorgeous full-length gown it makes for a statement-making wedding look. See more coral and rust wedding guest dresses.
Bronze Satin Halter Neck Dress

Brownish tones meet satin fabrics to make a metallic bronzed look that is another stand-out color for this season of weddings. See more gold dresses.
Pleated Short Sleeve Amethyst Midi Dress

This deep jewel purple is a gorgeous way to wear a purple shade from fall into winter. See more purple wedding guest dresses.
Gold Satin Dress

Golden colors are a wonderful yellow tone to wear to a wedding. This satin one-shoulder style combines a great color, cut, and rich satin fabric.
Fall Floral Dress

Florals aren't just for spring, they are well-suited to fall style as well. This shows that a floral print with a pop of color in an autumnal palette is an ideal choice for fall wedding outfits.
Top Fall Dress Trends for 2023
Some of the top dress trends we're seeing for the 2023 Season
Pleats - This look is seen is a variety of styles from short dresses to long maxi dresses. It's a forgiving fabric that ensures a perfect fit and adds texture to any wedding guest's look.
Satin Fabrics in Harvest Tones - Satin fabrics are always popular for special occasion style, but when combined with the fall harvest color palette, it gives this familiar fabric a modern look.
One-Shoulder Styles - this asymmetrical neckline is back with lots of one-shoulder dresses and gowns in the satin silk fabrics we mentioned above.
Tiered Skirts - one way to ensure a great look when you twirl on the dance floor is with a tiered flowy skirt. We're seeing the tiered look in maxi dresses and midi dresses and they add texture and movement without adding unwanted volume.
Subtle Cut Outs - Cutouts in all the right places, either at one side, back, or midriff that we saw in many summer dress styles are here to stay for fall.
Square Necklines - This super-flattering and modern style is making its way back into all sorts of wedding attire for a classic face-flattering style.
More Fall Wedding Attire Ideas
These days, the fall wedding season is almost as busy as the summer wedding season. Many couples opt for the cool, crisp days of fall as a beautiful backdrop to their wedding and reception.
The cooler temperatures offer a chance for a switch of fashion choices with outfits in new textures, and colors in fall hues. We hope this guide has given you a great idea of what to wear to a fall wedding. For more ways to understand the dress code see these posts on what to wear to an October wedding, what to wear to a November wedding, what to wear to a fall wedding, and ideas for a dressy casual September wedding guest. Also if the big day is closer to the winter months, outdoors, or in a particularly chilly location, you may want to see our picks for the best winter wedding guest dresses for even more cool weather special occasion outfit ideas.
Past Seasons
These images were used in older pins and article covers. We have kept them here because you may have arrived on this page from a Pin or Google Image search and we try to include all image credits and sources for those graphics. You may also want to follow us on LTK to see more fall wedding outfits and dress ideas like this.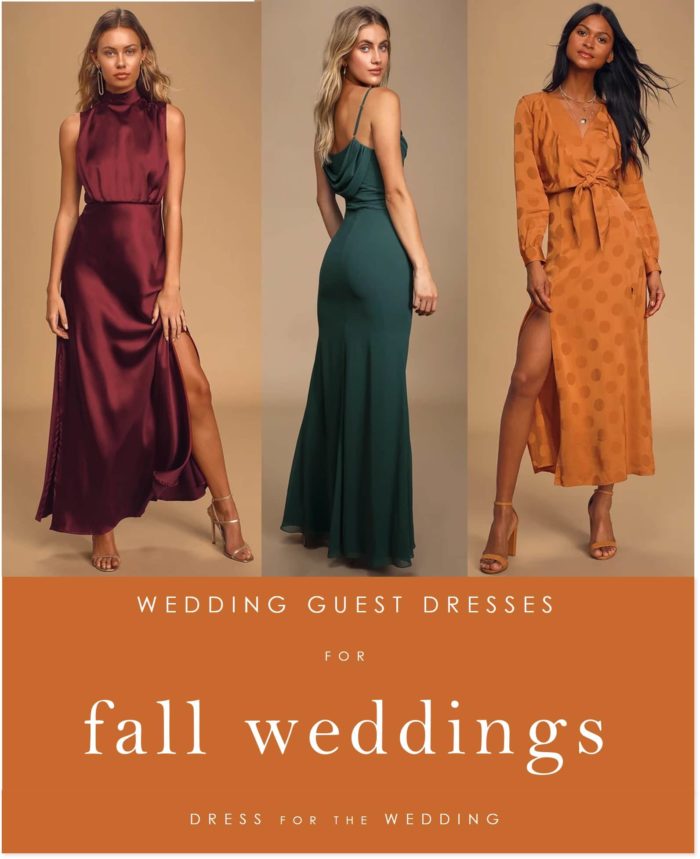 Image credits and shopping sources: : 1/Classic Elegance Wine Satin Sleeveless Mock Neck Maxi Dress2/ Emerald green cowl neck dress from Lulus 3/ Evelyn Rust Orange Dress From Lulus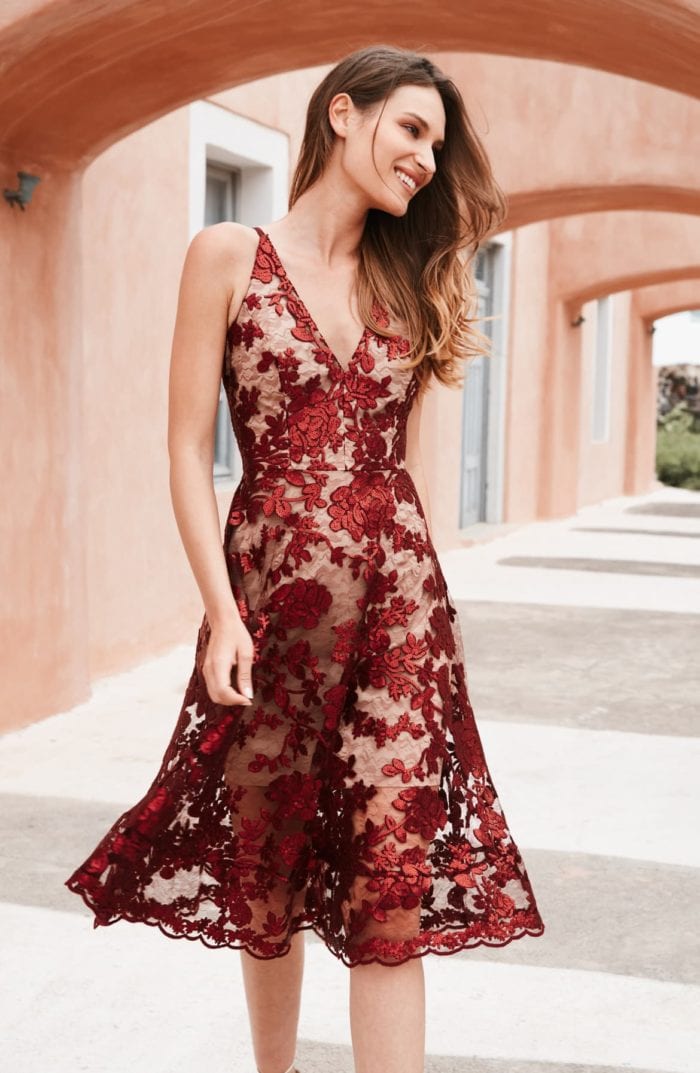 Featured dress: Dress the Population Blair Embellished Fit & Flare Dress from Nordstrom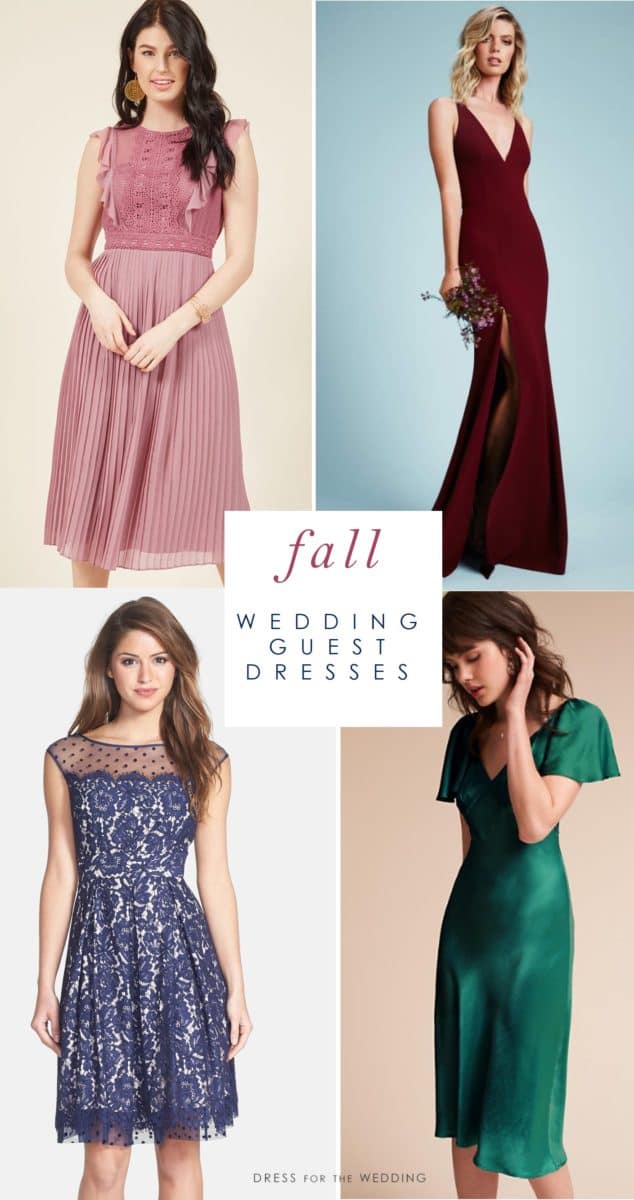 Ruffled In Florence Dress From ModCloth 2. Iris Dress by Dress the Population from Nordstrom 3. Eliza J Lace Dress from Nordstrom 4. Giselle Special Occasion Dress from BHLDN
See More Wedding Guest Dresses by Color
Red Guest of Wedding Dresses | Pink Dresses for a Wedding Guest | Coral Dresses | Yellow Dresses| Green Dresses | Light Blue Dresses |Dark Blue or Navy Blue Dresses | Purple Dresses | Floral Dresses for a Wedding Guest | Gray or Silver Dresses | Black Dresses | Dresses for Wedding Guests Under $150
Look for Wedding Guest Dresses by Formality or Style
Casual or Dressy Casual Wedding Guest Dresses | Semi-Formal Wedding Guest Dresses | Formal Wedding Guest Gowns |Maxi Dresses for Wedding Guests | Plus Size Dresses for Wedding Guests
Shop by Season
We also have guest picks for summer wedding guest dresses, and ideas for how to style your wedding guest look.
Summer Wedding Guest Outfit Ideas | Spring Wedding Guest Outfits | Fall Wedding Guest Outfits |Winter Wedding Guest Styles

Originally published August 2015, updated most recently August 24, 2023.