The best dresses to wear to a fall wedding. Over 50 stylish wedding guest dresses for fall and autumn weddings and parties!
Wedding Guest Dresses for Fall Weddings
Our picks for top fall wedding guest dresses for current wedding season in September, October, and November!
Affiliate links are used in the shopping links in this post, meaning this blog may receive a commission from our sponsors at no cost to you, if a qualifying purchase is made.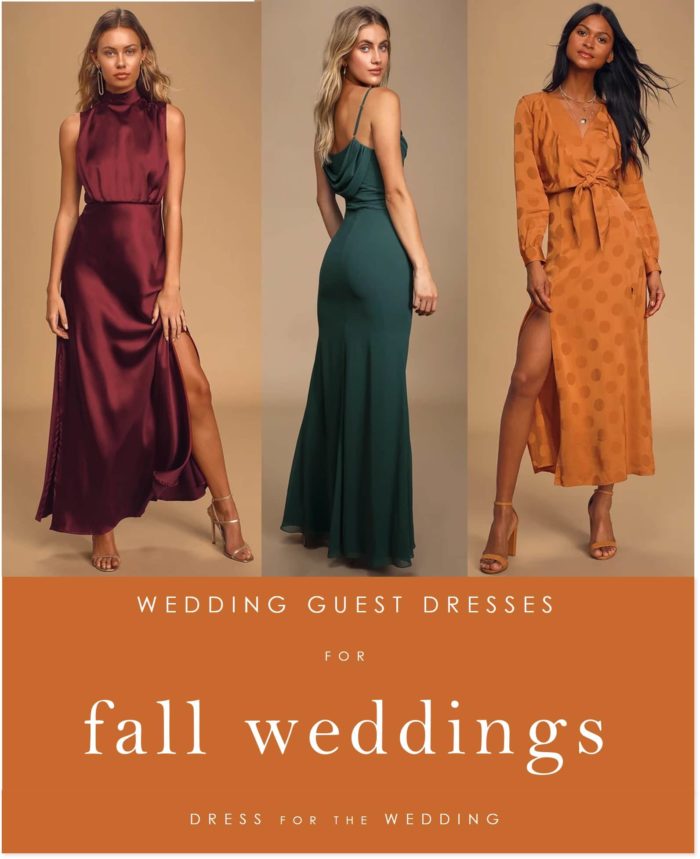 Dress and image shopping sources: 1/Classic Elegance Wine Satin Sleeveless Mock Neck Maxi Dress2/ Emerald green cowl neck dress from Lulus 3/ Evelyn Rust Orange Dress From Lulus
Shop Top Dresses for Fall Weddings

Fall Attire Ideas
These days, the fall wedding season is almost as busy as the summer wedding season. Many couples opt for the cool, crisp days of fall as a beautiful backdrop to their wedding and reception.
The cooler temperatures offer a chance for a switch of fashion choices with outfits in new textures, colors in fall hues.
Ideas for What to Wear to a Fall Wedding
While many late summer colors will still work, fall wedding guest attire gives way to longer sleeves, rich jeweled tones, and leafy floral prints that echo the changes of season.
This page stands as a shopping guide to our picks for dresses for fall wedding guests.
Featured Fall Wedding Guest Dresses from Past Seasons: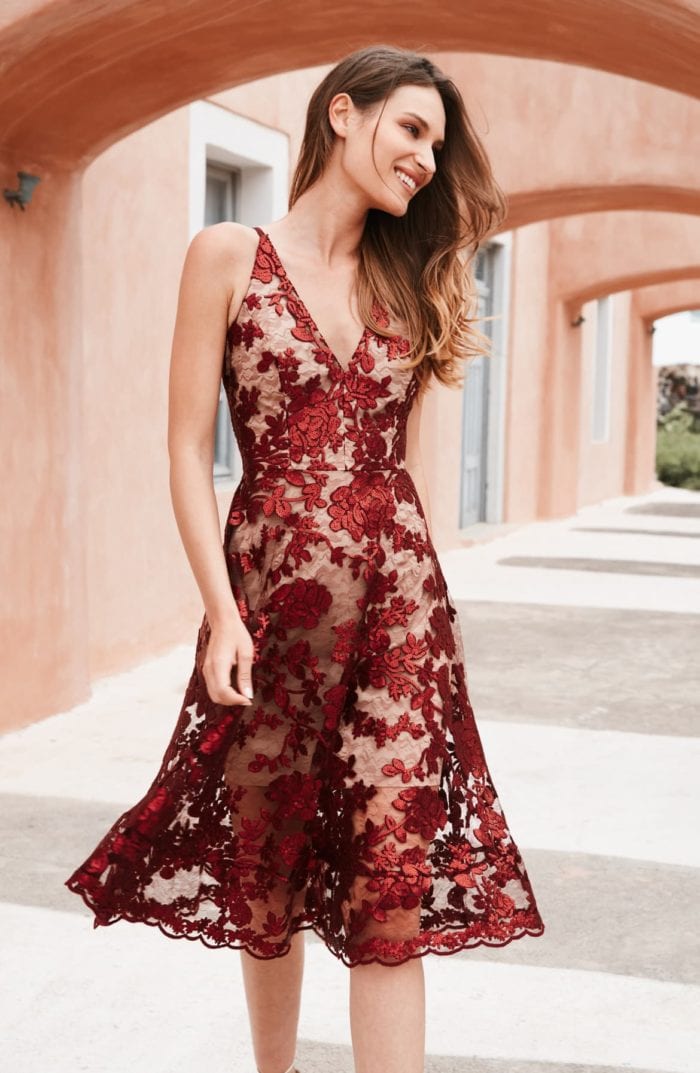 Featured dress: Maria Embellished Fit & Flare Dress from Nordstrom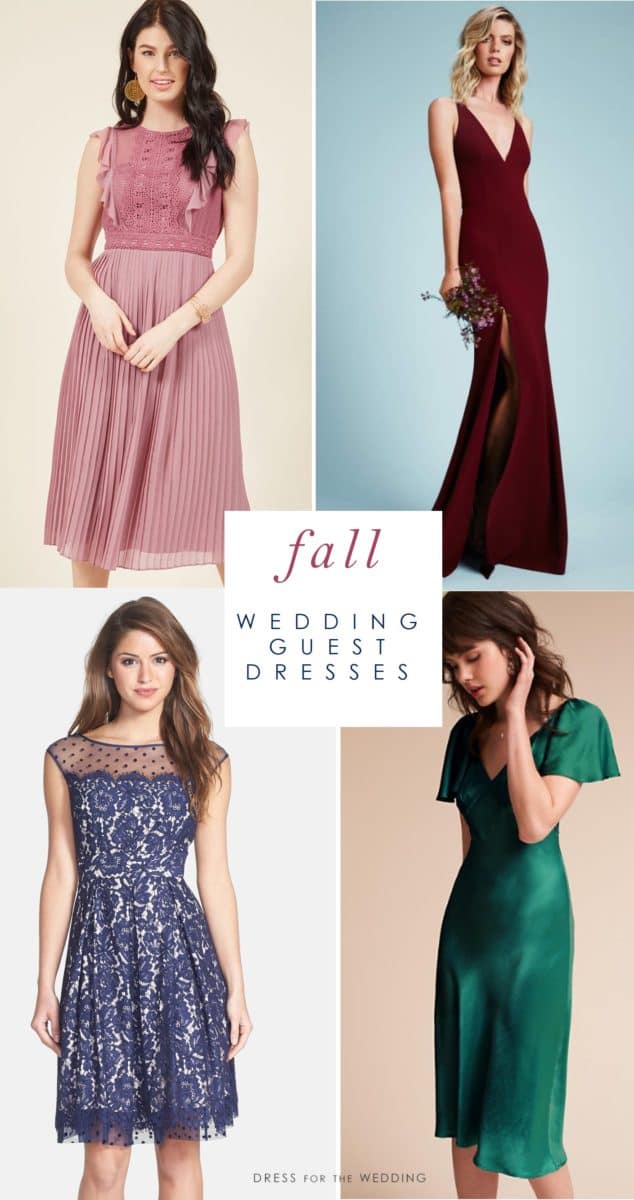 Ruffled In Florence Dress From ModCloth 2. Iris Dress by Dress the Population from Nordstrom 3. Eliza J Lace Dress from Nordstrom 4. Giselle Special Occasion Dress from BHLDN
Fall Wedding Guest Dresses by Color
Red Guest of Wedding Dresses | Pink Dresses for a Wedding Guest | Coral Dresses | Yellow Dresses| Green Dresses | Light Blue Dresses |Dark Blue or Navy Blue Dresses | Purple Dresses | Floral Dresses for a Wedding Guest | Gray or Silver Dresses | Black Dresses | Dresses for Wedding Guests Under $150
Wedding Guest Dresses by Formality
Casual or Dressy Casual Wedding Guest Dresses | Semi-Formal Wedding Guest Dresses | Formal Wedding Guest Gowns |Maxi Dresses for Wedding Guests | The Wedding Guest Dress Shop
Shop by Season
Summer Wedding Guest Outfits | Spring Wedding Guest Outfits | Fall Wedding Guest Outfits |Winter Wedding Guest Styles
Cover photo image credit: Photo by bantersnaps on Unsplash