We've sourced some of the prettiest coral dresses for weddings in this post. We hope to make it easy for you to find a cute coral dress to wear to a wedding as a guest, bridesmaid, or member of the wedding party.

Orange and Coral Dresses for Weddings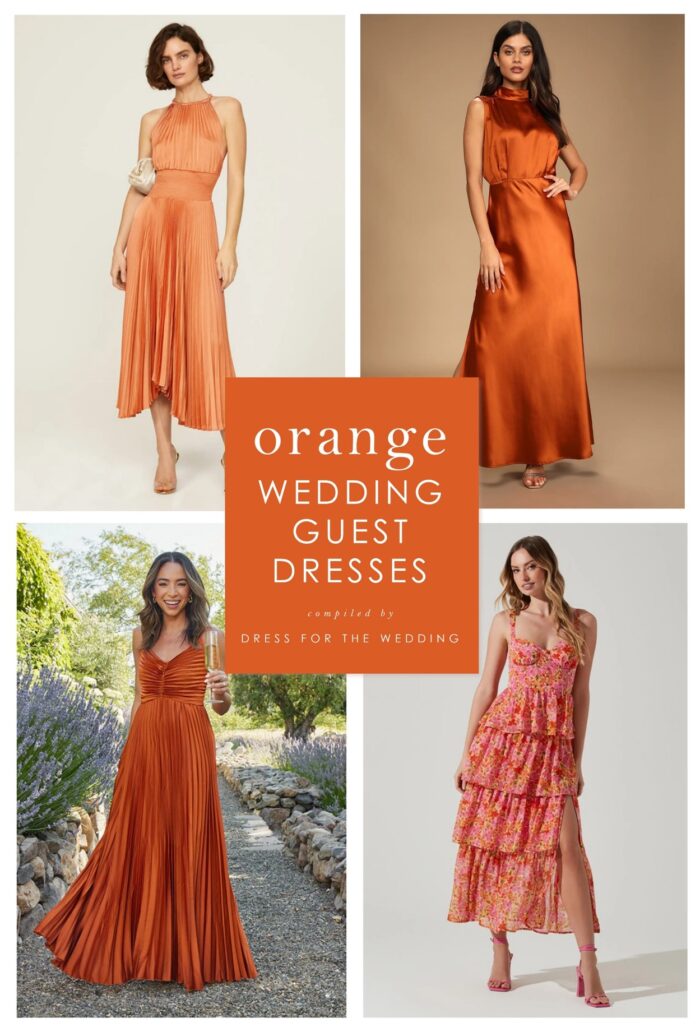 Shopping sources and image credits: 1. Renzo II Dress from Rent the Runway 2. Classic Elegance Mock Neck in Copper from Lulus 3. Naira Pleated Dress from Petal + Pup 4. Floral Tiered Maxi Dress from Astr the Label
Somewhere between pink, orange, peach, and red, there is the delightful color of coral. Orange or coral dresses make great, cheery, and festive wedding guest dresses. While coral can be a bright color, some variations are actually more of an understated and subtle shade of orange or peach. No matter what color you choose, it's a wonderful color to consider for your next wedding guest outfit!
Orange Dresses in Every Shade: Coral, Peach, Copper, and Terracotta
Here are our most recent finds for orange and coral dresses that we think are wedding-appropriate from these favorite shops.
Shop sections use affiliate links, which means this site may earn a commission if you make a purchase.

When to Wear a Coral or Orange Dress to a Wedding
A bright coral is wonderful in a bright festive setting like a destination wedding or tropical celebration or where colorful attire has been requested. Bright tangerine, orange, or coral looks great in a summer wedding, beach wedding, or citrus-themed wedding, while harvest shades of orange like pumpkin, terracotta, or burnt orange are the perfect fall wedding guest color.
In the summer months, you'll see this page will be full of more coral, peach, and vibrant tangerine shades. In the fall season we add in more rust, copper, burnt orange, and rusted rose dresses since those harvest shades are more fitting for the autumn months.
Both a bold or muted orange, peach, rust, or coral dress will most certainly fit in lots of situations. We found some formal evening styles in coral and hot pink for black tie and formal weddings. The more casual styles like coral floral maxi dresses and the peach printed dresses that are more of sundress styles will work for anyone wanting a pretty dress for a casual outdoor wedding, bridal shower, rehearsal, or party!
Orange, Rust, or Coral Wedding Attire for the Wedding Party
While some of these orange dresses might also work for the members of the wedding party, we have separate and specific picks for bridesmaids and moms. If you want your bridesmaids to wear an orange or coral color, please check out coral bridesmaid dresses. and these terracotta bridesmaid dresses, if the mothers of the wedding want to wear this shade, please see coral mother-of-the-bride dresses.
Places to Look for an Orange or Coral Dress
The following shops usually have fantastic dresses in orange or coral.
Anthropologie

For a unique orange dress, Anthropologie is the place to look. Fun prints and unexpected silhouettes.
Sachin + Babi

Sachin + Babi has the best selection of formal gowns in this color. They offer true coral shades as well as soft peachy tones all in modern and elegant full length gowns.
Lulus

Lulus offers some bright rusty orange colors, muted coral rose shades, and a color called rusty rose in many of their dresses, which we think is a great coral style.
Petal and Pup

Petal and Pup is showing some amazing rust and burnt orange colors for fall. We absolutely love the combination of this color in a satin midi dress.
More Wedding Guest Dresses Other Colors You Might Love
Red Dresses | Pink Dresses | Yellow Dresses |Dresses for Wedding Guests Under $150
Casual or Dressy Casual Dresses | Semi-Formal Cocktail Dresses | Long Formal Gowns | Maxi Dresses | Back to Shop Page
Past Features
These are dresses we've featured in the past that may now be out of stock. This article was originally Published on March 26, 2015, and last updated on October 11, 2023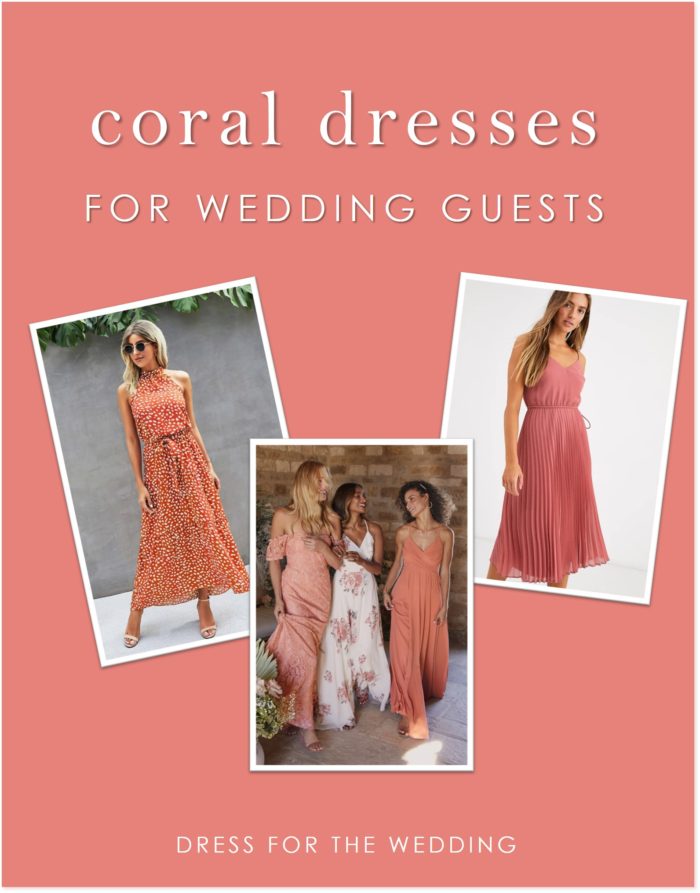 Image and product sources 1. Dotted Maxi Dress from Shein 2. Three Dresses from Lulus: Lace Off the Shoulder Dress, Cream Floral Print Maxi Dress, Rusty Rose Surplice Spaghetti Strap Maxi Dress 3. Pleated Midi Dress from ASOS