We've sources some of the prettiest coral dresses for weddings in this post. We hope to make it easy for you to find a cute coral dress to wear to a wedding as a guest, bridesmaid, or member of the wedding party.

Coral Dresses for Weddings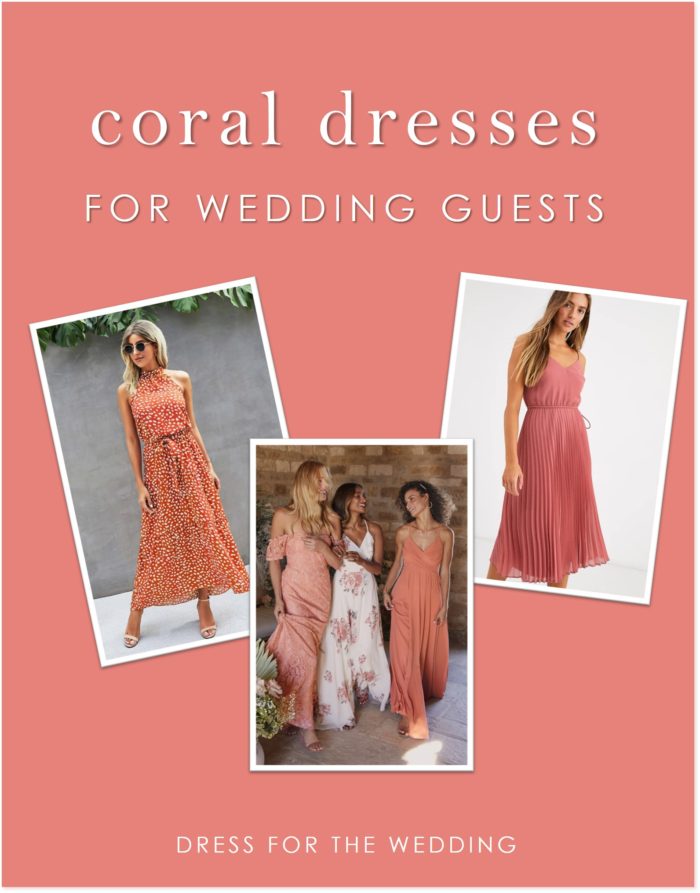 Image and product sources 1. Dotted Maxi Dress from Shein 2. Three Dresses from Lulus: Lace Off the Shoulder Dress, Cream Floral Print Maxi Dress, Rusty Rose Surplice Spaghetti Strap Maxi Dress 3. Pleated Midi Dress from ASOS
Somewhere between pink, orange, peach, and red, there is the delightful color of coral. Coral dresses make great, festive wedding guest dresses. While coral can be a bright color, and some situations call for more of an unstated shade. A bright coral is wonderful in a bright festive setting like a destination wedding or tropical celebration.
However, some shades of what can be thought of as coral, can veer more towards, rust, terracotta, copper, rose gold, peach or pink. A subtle coral dress will most certainly fit in lots of situations. We found some formal evening styles in coral and hot pink for black tie and formal weddings.
While some of the more casual styles like floral maxi dresses and the dresses that are more of sundress styles, will work for anyone wanting a pretty dress for a casual outdoor wedding, bridal shower, rehearsal or party!
Styling hint: coral dresses look great with turquoise, white, gray, and gold! Here are a few of our favorite coral dresses that we think are wedding-appropriate.
Shop the Dresses
Our most recent finds for coral dresses to wear to weddings from these favorite shops.
Shop sections use affiliate links, which means this site may earn a commission if you make a purchase.

More Ideas for Coral Wedding Attire
While some of these dresses might also work for the members of the wedding party, we have separate picks for those too! If you want your bridesmaids to wear this color, please check out coral bridesmaid dresses. and these terracotta bridesmaid dresses, if the mothers of the wedding want to wear this shade, please see coral mother-of-the-bride dresses,
Also check out these coral dresses for wedding guests that are from our retail partners.
Shop sections for coral dresses for wedding guests use affiliate links, which means this site may earn a commission if you make a purchase.
Places to Look for A Coral Dress
The following shops usually have dresses in this coral shade
Lulus

Lulus offers some rose shades and a color called rusty rose in many of their dresses, which we think is a great coral style.
Red Dress Boutique

Red Dress Boutique often has some maxi dresses in this coral color, especially in peach and coral prints that are perfect to wear to a beach, outdoor, rustic, or garden wedding.
Originally Published on March 26, 2015, and last updated on March 3, 2021
More Wedding Guest Dresses Other Colors You Might Love
Red Dresses | Pink Dresses | Yellow Dresses | Green Dresses | Light Blue Dresses | Dark Blue or Navy Blue Dresses | Purple Dresses | Floral Dresses | Dresses for Wedding Guests Under $150
Casual or Dressy Casual Dresses | Semi-Formal Cocktail Dresses | Long Formal Gowns | Maxi Dresses | Back to Shop Page