On your wedding day, you very well might need a place to stash some wedding-day essentials to have on hand at your table, Why not invest in a beautiful bridal clutch that you can use again? These pretty clutches will keep your lipstick, mints, and compact close by, and will add a pretty little finishing detail to your wedding look!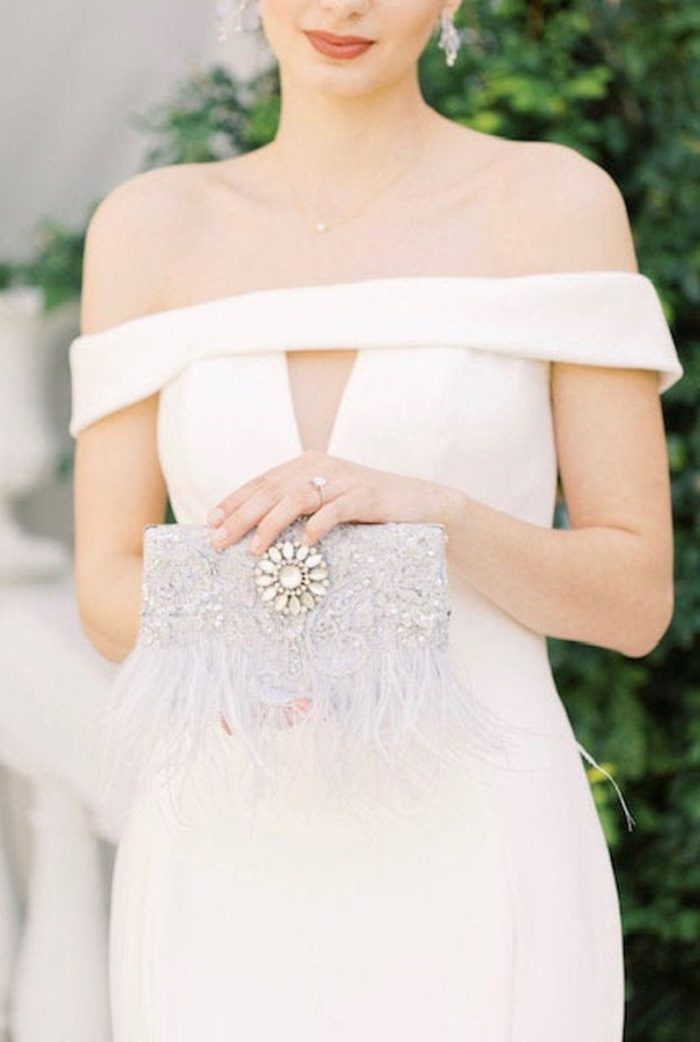 Featured Image and Clutch: The Something Blue Wedding Clutch by CloeNoel on Etsy
Wedding Clutches We Love
Here's our latest pick for wedding clutches and bridal clutches we love!


Where to Find Bridal Clutches
Most wedding boutiques both in-store or online will carry a small selection of bridal accessories, including clutches. Here are some of the shops and designers we love for wedding clutches.
Etsy

If you are looking for something special and unique, or perhaps personalized, we highly recommend checking out some of our favorite shop for wedding clutches on Etsy! We especially love the acrylic customized clutches found at and the highly detailed creations of CloeNoelDesigns on Etsy.
BHLDN

BHLDN also has a curated selection of vintage-inspired clutches. These clutches are chosen especially coordinate with the latest trends, fabrics and styles of BHLDN wedding dresses.
David's Bridal

David's Bridal has a great selection of wedding clutches, in metallic, ivory, and embellished styles. Most clutches are under $50. David's Bridal also often offers BOGO accessory deals which would make it easy to Buy One Get one free on clutches for the whole wedding party!
Dillard's

Dillard's always has a great selection of evening bags and special occasion clutches. We particularly love the Kate Landry brand of clutches for their ornate details and affordable under $75 price point. The Gianni Bini label also has some fantastic clutches.
This post was originally published in two posts in 2013, and has been updated for 2021. In case you have reached this post from an old pin, the details of those original collages are below.
Bridal Clutches
In some of the posts where I speak about my own wedding on this site, you may have deduced that as much as I love fashion, I was fairly uncomplicated when it came to my own wedding attire. My style was pretty classic and understated -- which was what I was going for-- but when I look back I sometimes feel I was a little too low-key.
For instance, I would have worn some bigger stand-out jewelry, a pretty hair accessory, and I would have definitely carried a bridal clutch. Not having a bridal clutch was not only a missed style opportunity, but it was also inconvenient not to have a little pretty bag by my side for lipstick touch-ups throughout the day. A bridal clutch isn't just pretty place to stow things, it gives a more put-together style to your wedding day look. I've compiled a few of my favorites for every style of bride and every kind of wedding.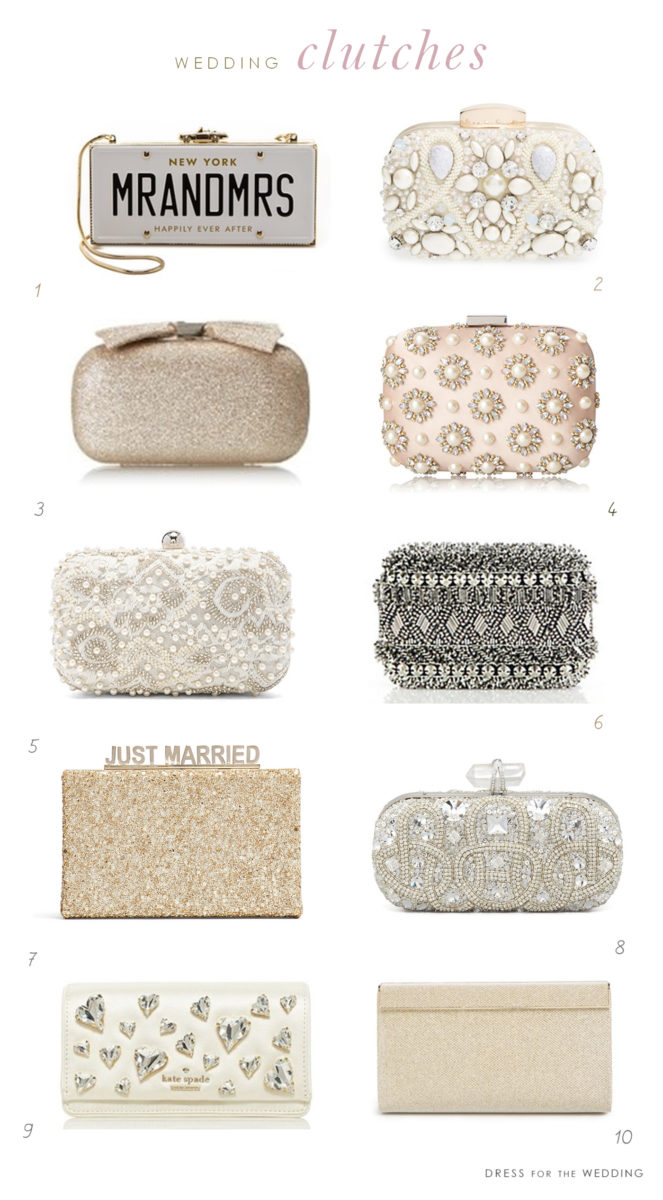 Shopping links in italics are from our affiliate sponsors: 1. kate spade new york 'license plate' clutch from Shopbop 2. Natasha Couture 'Vintage Stone' clutch from Nordstrom 3. 'Parcines' Glitter Clutch from Aldo 4. 'Cantley' Clutch from Aldo 5. Santi beaded clutch from Revolve 6. Alice + Olivia Beaded Clutch from Saks Fifth Avenue 7. kate spade new york 'wedding belles' ravi 'just married' clutch also available to rent at Rent the Runway 8. Marchesa 'Lily' embroidered clutch 9. kate spade 'stirling' wedding belles clutch 10. Jimmy Choo 'Cayla' Lamé Glitter Clutch from Nordstrom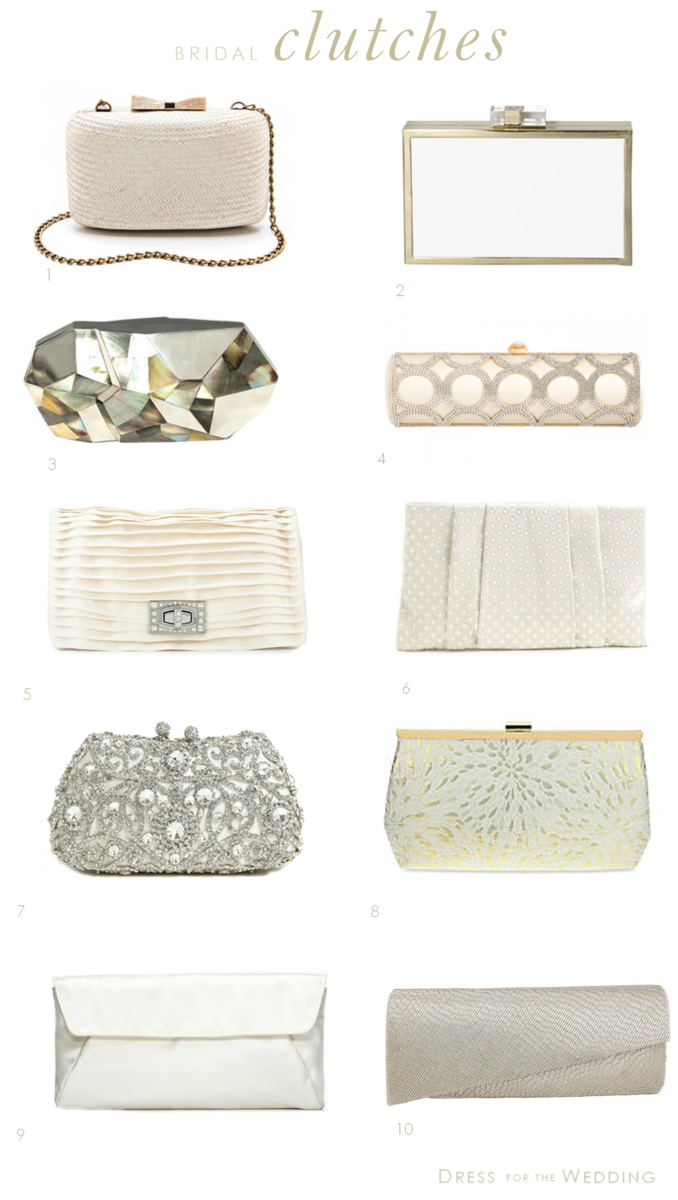 Affiliate links are used in shopping sources. 1. Kayu Annie Straw & Shell Clutch 2.Vince Camuto Mira Clutch 3. Susanna Valero Shell Clutch from Bottica 4. Amanda Pearl Marilyn Clutch 5. Pleated Pave Turnlock Clutch from Ann Taylor 6. Wedding Belles "April" Clutch by Kate Spade 7.Tasha Princess Clutch 8. Nina "Luther Clutch in Champagne and Gold 9. Ann Taylor Satin Clutch 10. Nina Meredie Clutch Update: some of these have sold out, so see new stock in the shop section for Bridal Clutches
You may think you don't need a bridal purse, but trust me -- it's so nice to have an elegant place to store your lipstick, hairpins, compact, mints, and tissues that can sit neatly next to you or in your hand. A place that is not a giant tote-bag that you hauled with you and left in the getting ready room, that you awkwardly rummaged through on quick trips back to the room to touch up your makeup. (i.e., exactly what I did.) Here's a little more detailed view of these beauties and some thoughts on which clutches I'd pick for each wedding style. (Note: because of the date of the post, most styles have sold out. Here are some new clutches we love!)