We've found so many amazing and festive winter wedding guest dresses to wear to your next winter wedding or holiday party!
As temperatures dip, and we get into the colder months of late November, December, January, and February, you'll want to find an outfit to wear to a winter wedding that is both wedding-appropriate and reflects the holiday season! We've created this shoppable guide of the best winter wedding guest dresses to wear to a winter wedding. From formal gowns to semi-formal styles we have included plenty of options for what to wear to specific wedding dress codes and picked some dresses by the trending colors and styles for the 2023-2024 winter wedding season. We hope to help you find the right dress to make a grand entrance and leave a lasting impression.
Affiliate commission links are used in this post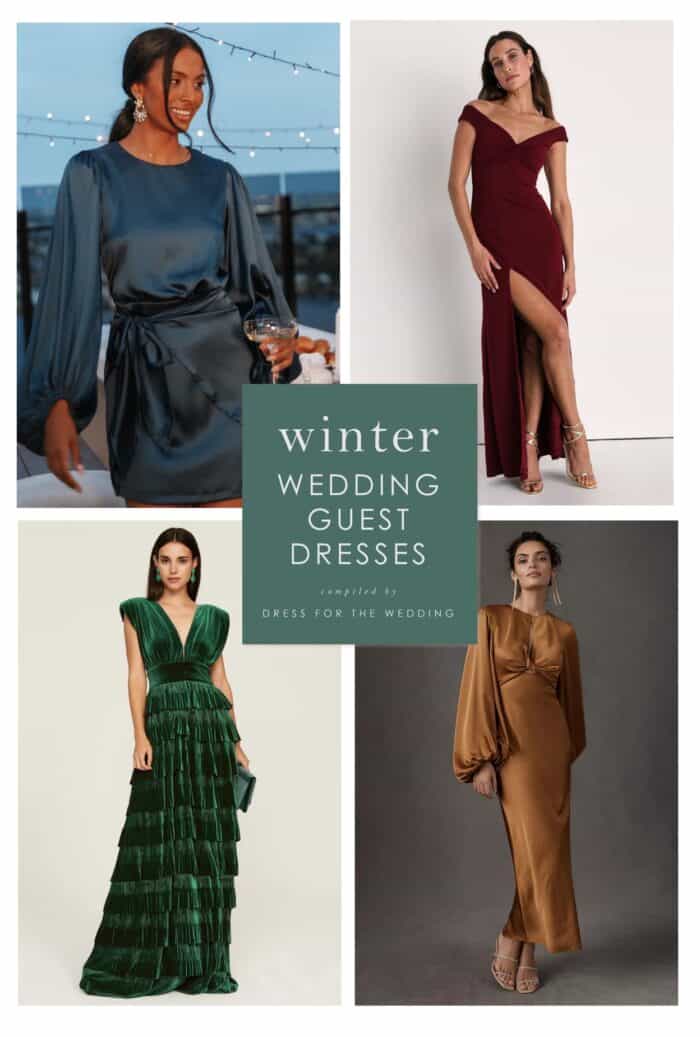 Image credits and shopping sources: 1. Opal Dress by Petal + Pup 2. Behold My Love Off-the-Shoulder Burgundy Gown from Lulus 3. Emerald Velvet Gown from Rent the Runway 4. Significant Other Backless Gown from Anthropologie
75 Beautiful Winter Wedding Guest Dresses to Wear This Season
We've collected some favorite winter dresses to help you create the ideal winter wedding guest outfit for this time of year. Each image source will take you to the shop where the dress can be purchased. These winter special occasion dresses also do double-duty for holiday dresses for office party attire and to wear to holiday social gatherings. We keep updating this section with new arrivals so be sure to keep checking back!

What are the Best Colors to Wear For a Winter Wedding?
When choosing colors to wear to a winter wedding, one is always safe picking wintry colors in dark shades of cranberry red, pine green, teal and sapphire blue, plummy purple, bronze, gray, or gold. Rich jewel tones are always appropriate and a pattern that mixes these shades are also certainly a great way to get into the season's festivities. Here are a few gorgeous examples of dresses in these colors.
Red Satin Gown for a Winter Wedding Guest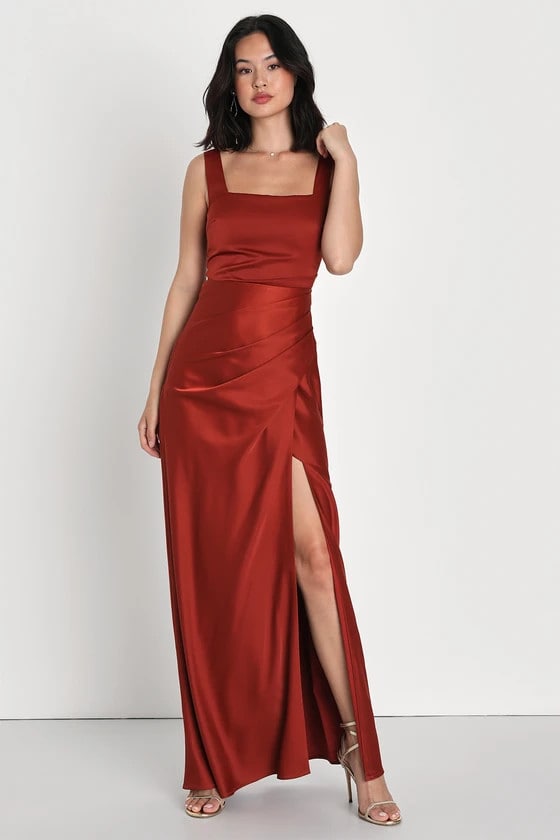 While sometimes bold colors are discouraged at weddings, in the winter months it can completely work to brighten up the room. Red dresses like this satin gown with a fitted silhouette and gorgeous square neckline will look great at any holiday wedding where festive attire of the season is encouraged. If this red is too bright, burgundy gowns are another great option. See more of the red wedding guest dresses we have picked as favorites.
Emerald Green Dress for a Formal Winter Wedding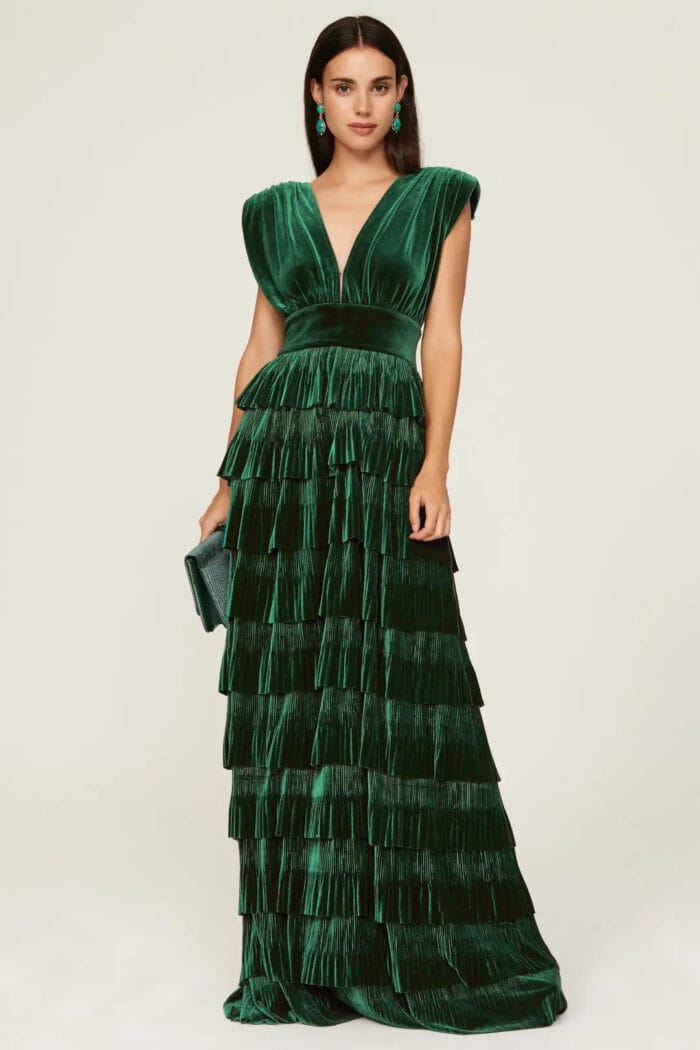 Rent the Runway
This elegant emerald green velvet gown style from Rent the Runway combines some of our favorite styles for this winter season. Dark colors like this dark green velvet and has of-the-moment tiered styling. The floor-length gown and formal fabric make the perfect dress for a black tie winter wedding or winter formal. See more of the green wedding guest dresses we love.
Dark Blue Satin Maxi Dress

This satin sapphire dress has flutter sleeves and a long length that makes it gorgeous for early winter weddings. We think sapphire blue and teal blue are great options for a winter dress color in a blue hue. See more of this style in our picks for over 70 dark blue, navy blue wedding guest dresses
Gray Velvet Gown or Silver Sequin Dress

Icy gray does a beautiful job of echoing some of the frosty winter style. We love velvet gowns and an off-the-shoulder look for a black-tie wedding. This gown has a flattering slide slit that will make it easy to take a turn on the dance floor. If this isn't the color for you you can opt for a deeper charcoal gray in the second example with beading and sequins, which works for black tie optional or semi-formal winter weddings. If you are smitten with this color, here are more gray wedding guest dresses you might like.
Gold or Bronze Maxi Dress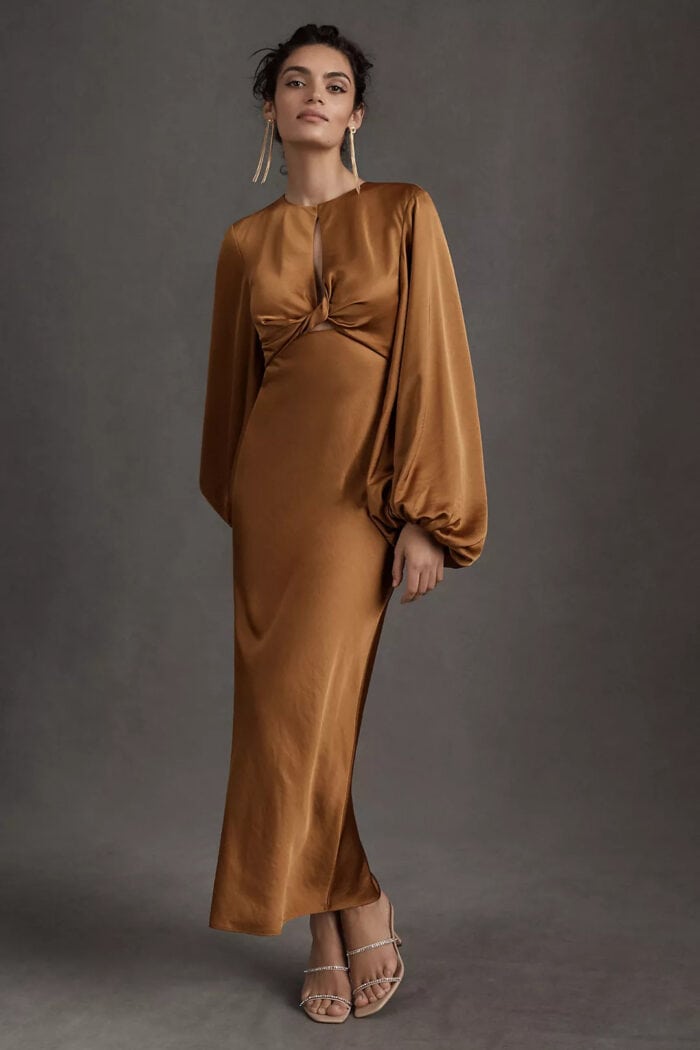 Gold is such a festive color. While it might be a little over the top at an informal summer wedding, it fits right into the sparkling scene at a winter wedding! This rusty gold satin dress with long sleeves is perfect for a winter wedding guest, and the length works for a formal winter wedding. See all of the gold dresses we love for wedding guests.
Black Cocktail Dress

Little black dresses are always a staple for formal dress codes, but not always ideal for warm-weather events. However, a winter wedding is usually the right place time to wear a black dress. Just be sure to dress it up so that it feels like a party dress and not a dress for a somber occasion. We love the chic neckline and cut of this one from Anthropologie. See more black wedding guest dresses we think perfectly suit a wedding dress code.
What Are the Best Fabrics to Wear For a Winter Wedding?
Winter weddings call for often call for semi-formal and formal styles that speak to the colder temperatures while still keeping with the wedding dress code. Fabrics like brocade, velvet, and heavier silks and satins can work well to wear for the big day. Dresses of rich fabrics like velvet, brocade, or dresses that are heavily embellished offer a little more warmth, as do longer hemlines and sleeves. Fortunately, there are lots of special occasion dresses that fit this description.
Velvet

Velvet gowns and dresses were made for winter weddings and celebrations! If this is a style you love, see more of our picks for velvet wedding guest dresses.
Silk or Satin

Rich silk and satin shimmer fabrics are thicker fabrics that perfectly suit winter wedding dress codes. The added structure and sheen, which would be too heavy a fabric for some summer events, looks ideal here! The first dress is by Petal + Pup and is great for a casual or semi-formal winter wedding. The second gown is gorgeously formal and perfect for a winter black tie event.
Jacquard

The floral and rich textures of jacquard fabric is a great way to wear different colors and dark florals in the cooler months. The added weight and heavy satin texture of the fabric add a bit of warmth and structure to winter wedding guest outfits.
Sequins and Beading

Winter is a festive season and the perfect time to rock sequin fabric at a wedding. We love this one-shoulder neckline midi dress in a gorgeous sapphire blue shade. See more sequined wedding guest dresses and sequin gowns we love.
Best Dress Styles and Silhouettes to Wear to a Winter Wedding
We think choosing long-sleeve gowns, long dresses, wrap dresses, and high necklines is a great way to make sure special occasion dresses will be ready for chilly winter events.
However, if you love a sleeveless or strapless style, you can still wear it in the winter, just add a faux fur wrap or jacket, dressy wool jacket or cardigan for a little portable warmth.
Here are some of our favorite silhouettes, necklines, and sleeve styles to look for in a winter wedding guest dress.
Long Sleeves

It goes without saying that the cold weather calls for warmer styles and more coverage! Long-sleeved dresses like this one are an ideal choice. See more of our favorite long-sleeved wedding guest dresses.
Cocktail or Midi Dresses

Again slightly more coverage can be gained through calf-length midi styles. Combine it with a long-sleeve or full skirt for a cold-weather style! See all of the midi dresses we love for wedding guests.
Long Gowns

This chic rust velvet gown is a stunning dress with a spaghetti strap style that's ideal for formal weddings in the winter months.
Winter Maxi Dresses

This winter-weather maxi dress shows off a bit of velvet fabric and a jewel-toned sapphire blue. See more favorite maxi dresses to wear to fall weddings.
What to Wear as a Guest of a Cold Weather or Winter Wedding
Winter weddings often have a more formal theme than their summer counterparts. Since many winter weddings are held either around the holidays or in the evening you may find that the dress code is slightly more formal than some of the summer outdoor weddings.
At the same time, we also see a lot of small intimate receptions, casual weddings, and simple ceremonies in the winter that may call for more cozy casual attire. For a casual wedding, a dressy sweater dress and tall boots can be a great look, when worn with statement earrings or dressy accessories. As always, you'll want to refer to the invitation or wedding website for details on the dress code.
Figuring out a Winter Dress Code
If no dress code is given, let the time of day and venue help guide you. In general, formal spaces like hotel ballrooms, historic homes, or grand wedding halls are more formal events, while a small gathering at a private home, inn, small local restaurant, brewery, or informal rental space is likely to be more casual.
A daytime ceremony and reception is usually less formal than one that starts late afternoon or early evening.
Warm Weather Winter Weddings
While this site is written from the perspective of the east coast of the US. But we all know, that destination weddings and warm-weather beach weddings also happen during the winter months in some parts the US, so if you're looking for something to wear to one of those check out our posts for destination wedding guest dresses and beach wedding guest dresses. We also have readers all over the world so if winter means warm weather in your hemisphere, then our spring and summer wedding guest dress ideas will be more suitable.
What to Wear to a Black Tie or Formal Winter Wedding

A floor-length or below-the-ankle gown is usually the best thing to wear for a formal or black tie dress code. To make it even more appropriate for a winter wedding we encourage a sparkling fabric like the one shown, or a velvet gown, or even a long sleeve floor length gown for a stunning effect. See all the winter formal dresses we love this season, or browse our picks for formal wedding guest dresses.
What to Wear to a Casual Winter Wedding

As we mentioned if you're not attending a formal winter wedding, there's an equally good chance you'll be an honored guest at a small and intimate winter wedding. This long sleeve midi style shows a great way to dress for a winter wedding in a dressy casual style.
What to Wear to a Semi-Formal Winter Wedding

A cocktail dress, maxi dress, or midi dress is our pick for a semi-formal winter wedding. Again, choosing a dress in these lengths with high necklines, sleeves, or a long skirt will add to the cozy factor. You might also want to consider a jumpsuit!
More Ideas for What to Wear to Weddings
We hope this has been a helpful guide to what to wear to this season's winter weddings. If you are planning a winter wedding, you might also enjoy our picks for winter dresses for the mothers of the wedding, and our winter wraps for brides-to-be.
Featured Dresses From Past Seasons
These dress ideas were featured in previous seasons, but are now likely to be out of stock. This article was originally published on October 5, 2017, and was most recently updated on September 24, 2023, and again on October 18, 2023.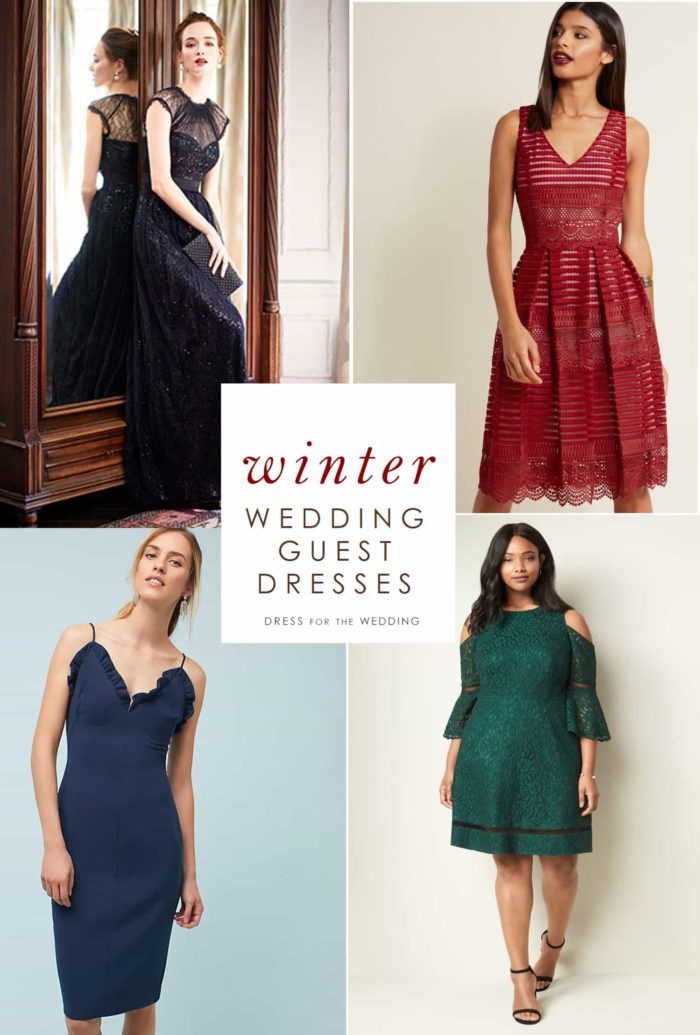 Affiliate links are used in this post.
Dress sources: 1. Cap Sleeve Sequin Dress with Chantilly Lace by Adrianna Papell 2 . Sleeveless Lace Fit and Flare Dress in Ruby from ModCloth 3. Cate Column Dress from Anthropologie 4. Cold Shoulder Lace Dress from Nordstrom