Cute little white dresses for weddings and brides to wear to rehearsal dinners, engagement parties, bridal showers, and other wedding events!
Shopping sources on this site use affiliate links, which means this site may earn a commission if you make a purchase from our links.
Little White Dresses for Wedding Events

White Dresses for Bridal Showers, Wedding Rehearsals, and More!
Cute little white dresses are the friend of every bride-to-be! They make the perfect choice for bridal shower dresses, bachelorette party dresses, engagement party dresses, and honeymoon dress - it's the perfect thing to wear to nearly every pre-wedding event if you're a bride-to-be.
White dresses also make great summer dresses for anyone going to spring and summer events (except for wedding guests - remember, it's still considered bad form to wear white as a guest!) These light and cute styles make great looks for graduations, sorority events, or summer parties!
Little white dresses are the staple of any good summer wardrobe, especially if you're the Bride to Be.
Cute White Dresses
In a previous post about dresses for bridal showers, we wrote a little bit of our take on little white dresses. We love little white dresses and think each bride-to-be should have at least one.
We also think that the color white should still be "reserved" for the bride not only for the wedding but for all the events leading up to the wedding. After all, there's something so dazzling about a white dress that it does tend to make one the center of attention, so shower guests and friends should try to choose another color.
Where to Wear a White Dress
A little white dress is simply a great staple for any closet and a great summer dress for any age! Here are some of the seasons hottest little white lace dresses, short white cotton dresses in a variety of styles and silhouettes that are sure to please! Even if you are having a winter wedding - a white dress with long sleeves or in a warm fabric for the winter season is a great idea!
These short white dresses for weddings also can make great short wedding dresses or looks for informal or intimate weddings, beach wedding ceremonies, city hall weddings, and for second wedding dresses. You might also consider having your bridesmaids all wear white and pick up one of these pretty white dresses.
White Dresses for Brides
Some feel that the bride should wear white to all the events she attends for pre-wedding events, which can include several engagement parties, bridal brunches, rehearsal dinners, bachelorette parties and showers. If that is your personal style or dream to wear a cute little white dress to each of these-- by all means go for it. After all, it really is the one time in your life you are given carte blanche to wear white. That said, my personal opinion (gained while watching TV shows where the bride wears white to everything) is that if your friends' guests see you in nothing but white at every single event in your honor, the big white (or ivory) dress at the wedding may lose a little - wow-look-at-her factor! Additionally, you might just not enjoy wearing white - since it stains easily, and usually needs a little think-through with undergarments. So with that said, feel free to change it up and wear colors, prints and patterns too!
Ivory, Cream and White Dresses for Rehearsal Dinners and Engagement Parties
Check out these other white dresses we love!
ASOS Beaded Fringe Dress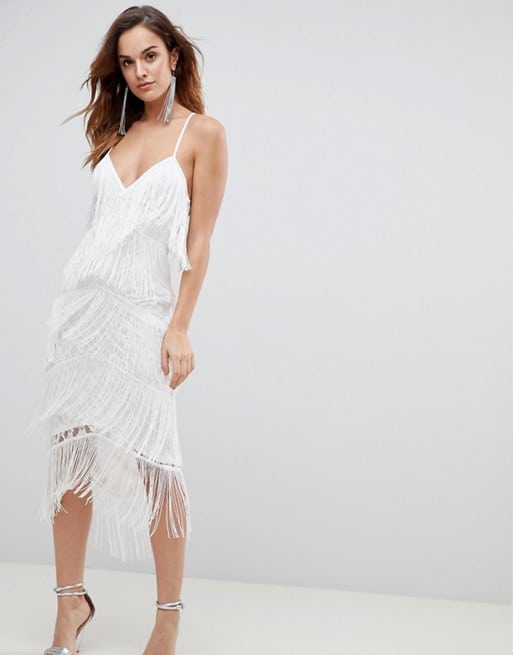 ASOS Fringe & Lace Plunge Bodycon Midi Dress
White Sequin Dress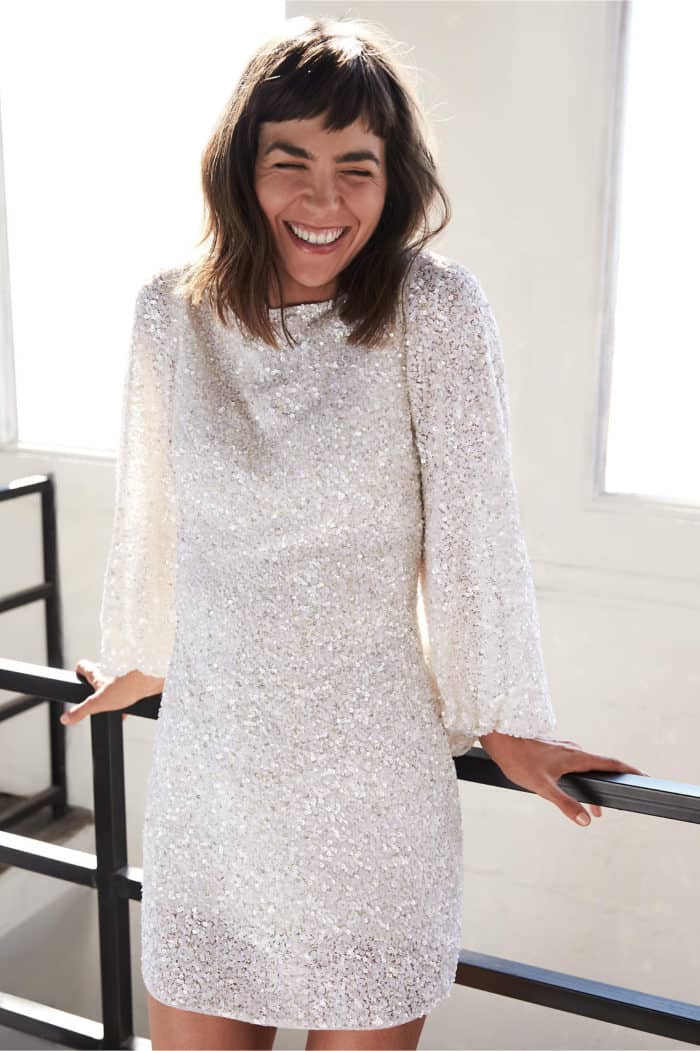 Goldie White Sequin Dress from BHLDN
White Cocktail Dress with Feather Skirt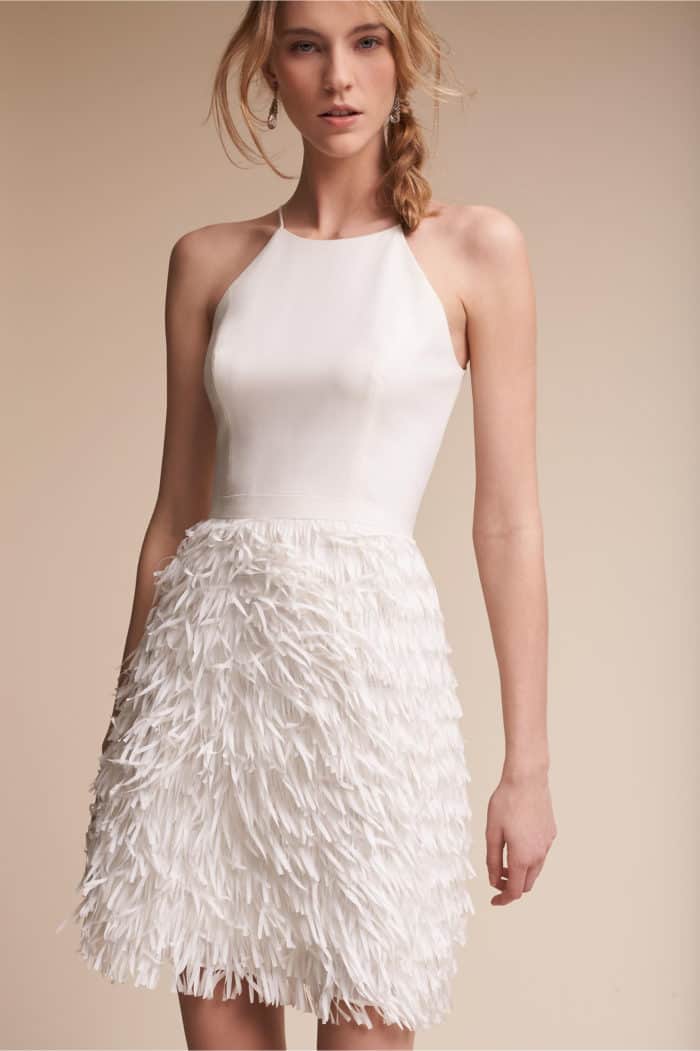 White dress with fringe skirt - Promenade Dress by BHLDN
Fitted White Dress with Tiered Skirt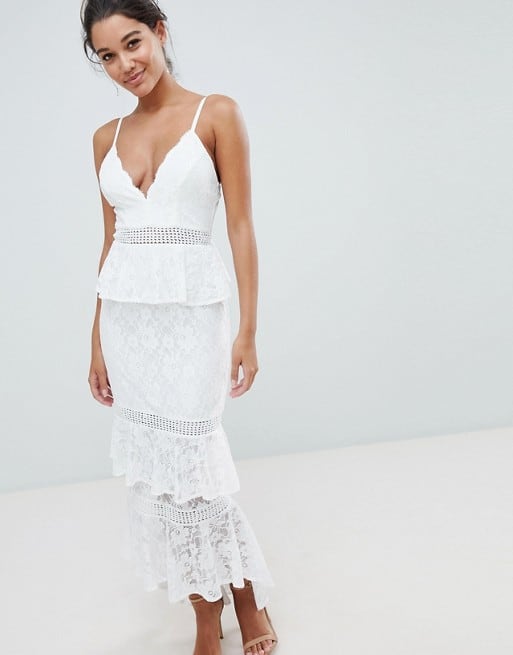 Love Triangle All Over Lace Tiered Maxi Dress from ASOS
3/4 Sleeve All Over Lace Cocktail Dress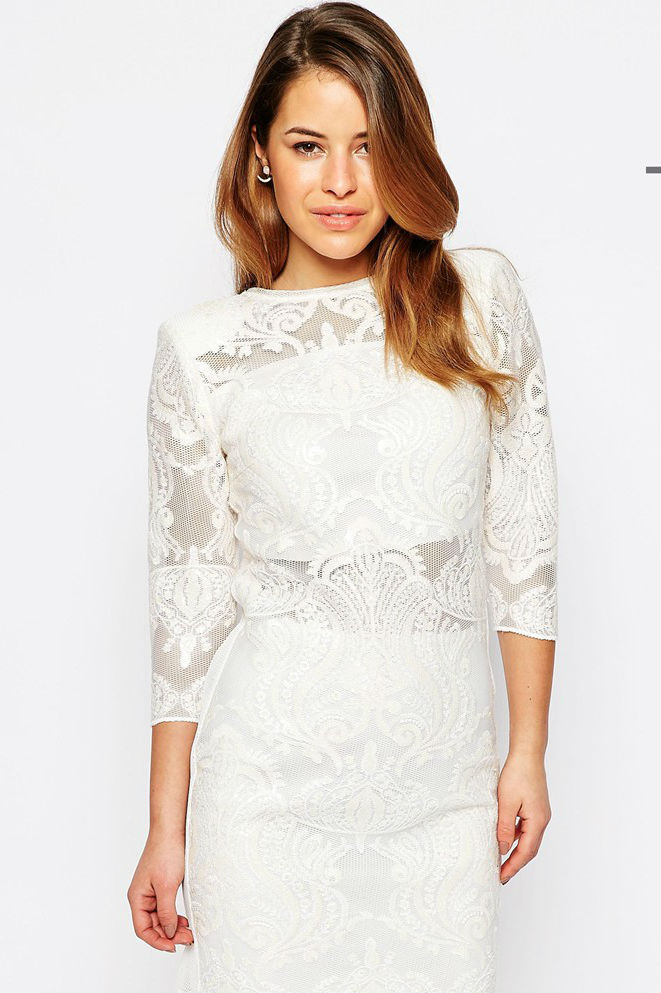 Featured Dress: John Zack Sequin Mesh Mini Dress from ASOS | Shop more white dresses at ASOS
More white dresses you might love: