We're frequently asked if some of the Mother-of-the-Bride Dresses we show are available in plus sizes; and the answer is - yes! - so many of them are! Here's a shoppable guide that links you to the places that carry some of the prettiest plus size special event dresses we've seen!
Links in italics and images in the shop section have affiliate links from our retail partners and sponsors.
Where to Find Plus Size Mother-of-the-Bride Dresses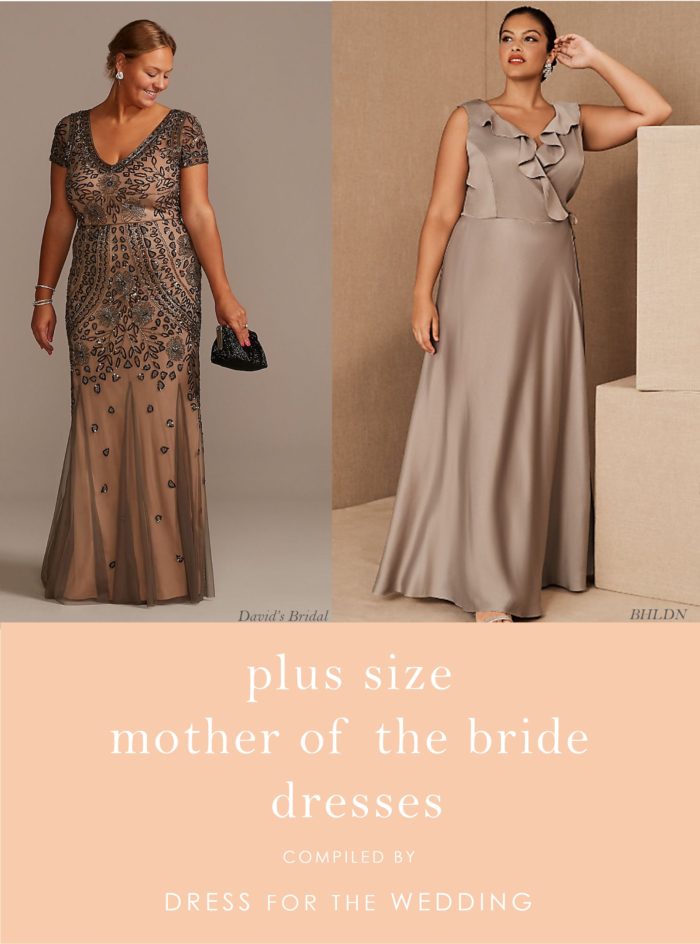 Image and shopping sources: 1. Bead and Sequin Mesh Gown from David's Bridal 2. Tansy Satin Maxi Dress from David's Bridal
Shop Plus Size Mother of the Bride Dresses
Here are our latest finds for dresses in curve and extended sizes that would suit Mothers-of-the-Bride. Each image links to the retailer where you can find dress details or purchase the dress you like!

Where to Shop for Plus Size Special Occasion Dresses
David's Bridal , Lane Byrant, Dillard's and Nordstrom, in general, has a fantastic selection in general of pretty dresses in plus sizes. Also Birdy Grey and BHLDN have started offering curve and plus size bridesmaid dresses which double perfectly as Mother of the Bride dresses. Here are some plus size dresses that I've handpicked for upcoming weddings.
Some of the designers we often recommend like Adrianna Papell, Tadashi Shoji, Solemates, and Alex Evenings and others offer a good range of sizing.
More Ways to Find Plus Size Special Occasion Dresses
You may also try looking through these mother of the bride dresses by color, many of which are available in plus versions:
Sequined MOB Dresses | Red MOB Dresses | Pink MOB Dresses | Orange and Coral MOB Dresses | Yellow MOB Dresses | Green MOB Dresses | Light MOB Dresses | Dark Blue and Navy Blue Mother of Bride Dresses | Purple MOB Dresses | Silver and Gray Mother of the Bride Dresses | Gold, Taupe, and Neutral MOB Dresses | Black MOB Dresses
This page was originally published on August 21, 2015 and was last updated November 19, 2020