If you recently received a wedding invitation with a semi formal wedding dress code request, you may be wondering what to wear. We've selected more than 90 of the best semi-formal wedding guest dresses. These picks for midi, maxi, and cocktail dresses were all selected with semi-formal daytime weddings, afternoon receptions, and evening weddings in mind for the current wedding season.
Semi-Formal Wedding Guest Dresses
If you're looking for a cocktail-style dress to wear for an afternoon or evening semi-formal wedding, We've collected these dresses as an easy-to-shop collection of dresses in this comprehensive guide to semi formal wedding guest style.
The dresses featured in this section use commissionable affiliate links to help support this site.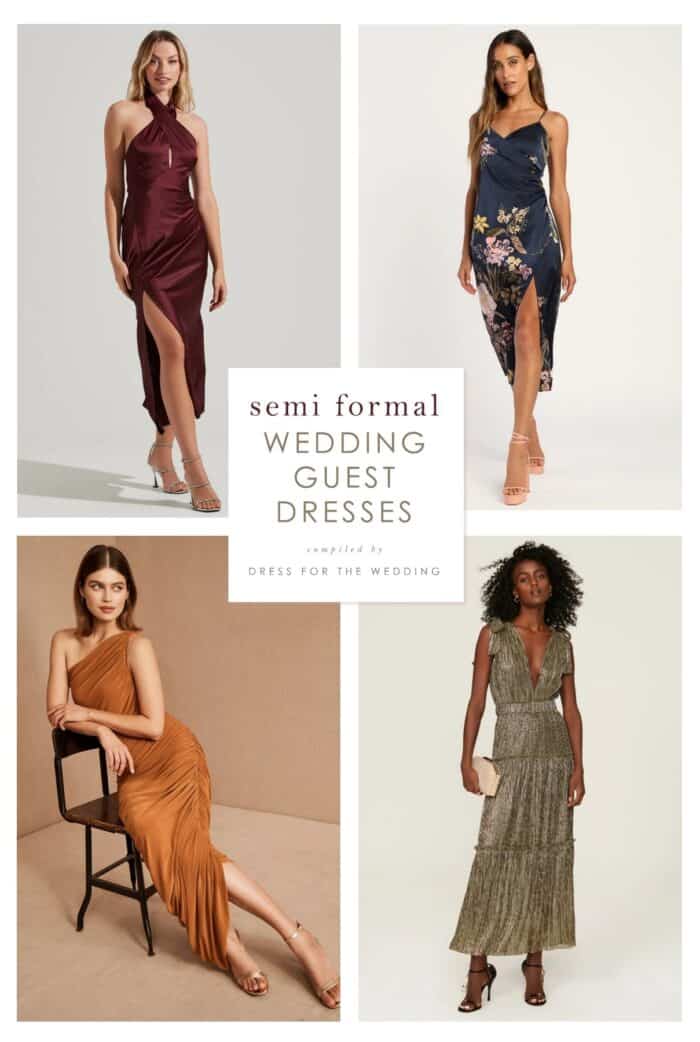 Image credits and shopping sources 1. Marissa Satin Halter Neck Midi Dress from Astr the Label (Comes in other colors) 2. Remarkable Entrance Navy Blue Print Satin Midi Dress from Lulus 3. Norma Kamali One Shoulder Dress from Anthropologie 4. Helena Gown from Rent the Runway
A classic cocktail dress is standard for an afternoon wedding, evening reception, or an evening wedding at a hotel or elegant reception revenue -- these weddings usually call for semi-formal attire and pretty dresses like these top picks.
Cocktail and Semi-Formal Wedding Guest Attire

Need more suggestions? Visit the main list of wedding guest dresses. Additionally, many of these midi dresses for wedding guests or our favorite picks maxi dresses for wedding guests also work well for semi-formal attire!
What to Wear to a Semi Formal Wedding
Weddings that start in the late afternoon and go into the evening are usually classified as semi-formal dress codes, but even a daytime wedding can have a semi-formal dress code. With this kind of attire request, Women usually wear festive special occasion cocktail dresses, midi dresses, jumpsuits, dress pants, or skirts. Men's attire will wear dark suits with a dress shirt and tie.
A semi-formal look of any tie of day or season calls for somewhat formal cocktail attire in a fabric that shows seasonal colors. Semi-formal wedding attire is more elegant than a casual dress code. Usually, semi-formal attire stands somewhere between a cocktail dress code and a black tie optional or formal dress code. While long gowns are more for black tie events, they still certainly have a place at semiformal weddings. In place of a floor length evening gown, which might be the choice for a formal dress code, female guests may instead choose a maxi dress, or a high low dress.
Semi-Formal Attire by Season
Here's a quick visual guide and description of ideas for what to wear for each season, to dress for semi-formal events and weddings based on the time of year.
Summer Semi-Formal Style

We're seeing bright, festive light colors as dress code requests for summer weddings. Summer semi-formal style calls for a semi formal fabric and look. Maxi Dresses, midi dresses and cocktail dresses in lighter fabrics and fun colors are good options. Stay elegant and cool in this summer wedding guest dress from Lulus. It's the Cascading Crush Dress from Lulus which comes in over 6 colors.
See more of our top summer wedding guest dress picks.
Fall Semi-Formal Style

The fall season always brings to mind rich jewel-tone colors and sleek modern dresses like this one. The twisted halter neckline and midi length are semi-formal perfection. This wine color is delicious for fall weddings, but if you prefer another shade it is available in several other colors. This dress is also under $100. It's the Marissa Halter Neck Dress from Astr the Label.
For more fall styles, see our favorite fall wedding guest dresses.
Winter Wedding

We think winter weddings call for rich colors of the season like deep red, dark greens, blues, silver, and gold. Fabrics like jacquards, satins, and velvets are ideal to wear at this time.
See more winter wedding guest dresses.
Spring Wedding

We always gravitate to florals and pastels for spring since it's the first time after the winter season that wedding guests can wear something light and airy. This look is great for all the outdoor weddings that begin in the spring months.
See more guest dresses for spring weddings.
Daytime Semi Formal Dress

This pretty printed midi dress style with a halter neckline is a semi-formal length, but the pattern and fabric is well-suited for daytime events or an afternoon wedding. This is the Ansa Pleated Dress from Rent the Runway.
See more of our favorite wedding guest dresses to rent.
Beach Semi Formal Dress

This style print looks beach-ready but the elegant tailoring, ruffled edges, and length make it elevated for a coastal wedding with a semi-formal dress code. This is the Keyhole High-Low Gown by Ralph Lauren from Rent the Runway
See more beach wedding guest dresses.
More Formal than Semi Formal

If you're unsure of the dress code, and think it might lean into more formal territory, or you just simply feel more comfortable erring on the side of being slightly overdressed, rather than underdressed, we always recommend going the maxi dress route. This one with the slight high-low detail and floaty silhouette strikes the perfect balance between formal and semi-formal. This is the In Love Forever High Low Maxi Dress from Lulus and comes in other colors as well!
See more formal and black-tie wedding guest dresses.
Rustic Semi Formal

With increasingly more rustic barn weddings and weddings in country settings, finding an outfit that reflects the ease of a country-style wedding but still is dressed up doesn't need to be a tricky task. We love floral prints in dressed-up silhouettes to get this look right. This dress is called the Genesis Silk Dress from Reformation.
See more guest dresses for rustic weddings here.
Satin Pink Dress

Pink is an excellent color to wear to a semi-formal wedding. For spring and summer, we like vibrant pinks and soft pastel pinks. For fall and winter, we focus on more muted tones like mauve, or even stronger pink berry colors. This dress is called High-Status Satin Maxi Dress in Rose.
If you love this color, see more of our selections of pink dresses for wedding guests.
Red Off the Shoulder Tulle Dress

This off-the-shoulder style in burgundy red is a great semi-formal style of dress. The tulle accents make this an inherently celebratory style of dress style to wear! This is the Regal Radiance Tulle Dress from Lulus
See more red dresses for weddings.
Burnt Orange Satin Dress

This color was just made for a fall wedding. The satin one-shoulder style makes it extra special for a stand-out wedding guest style. This is the Luella Dress in Rust from Petal + Pup.
See more coral and orange dresses we love for guests of weddings.
Strapless Yellow Cocktail Dress with Twist

This stunning golden yellow strapless style is a classic look with a twist for a wedding guest. This one is the Twist Front Bandeau Dress from Asos.
See more of our favorite yellow dresses to wear to a wedding.
Green Midi Dress

Sage and pale green is an excellent dress color choice for spring and summer months, while we love the deep olive, emerald, hunter, teal, and forest tones for fall and winter dressing. This pretty mixed media fit-to-flare below-the-knee midi dress with a deep v-neckline is from Dress the Population at Nordstrom and comes in a variety of colors including this chic green shade.
See more green dresses for wedding guests.
Cobalt Blue Tiered Dress

We think blue is one of those colors that always works for wedding attire. We love light blue and navy as well, but this striking color of cobalt will stand out in just the right way. This is the Celebration Time Dress in Royal Blue from Lulus.
See more light blue or dark blue wedding guest dresses.
Purple One Shoulder Dress

Purple is such a wonderful color for a guest. The pastel version of this color is right at home at spring and summer occasions, while the deeper amethyst and eggplant tones look just right for fall.
See more purple wedding guest dresses.
Black Cocktail Dress

A little black cocktail dress is the staple of many a wedding guest. In certain east coast areas, for weddings after 5, black dresses are still the go-to for chic wedding attire. This modern square neckline and the fitted style keep this one both modern and classic. This is the Baby You're the One Cocktail Dress from Lulus.
More Black Dresses for Wedding Guests
Past Features
This dress was previously featured on this page but is now out of stock.

Featured Dress: Chi Chi London Structured Bandeau Midi Dress in Polkadot from ASOS
Need more ideas?
Dresses for Wedding Guests Under $150
Wedding Guest Dresses by Style:
Casual or Dressy Casual Wedding Guest Dresses | Formal Wedding Guest Gowns | Maxi Dresses for Wedding Guests
Originally published September 2013 and updated most recently July 2023.