Where to find Strapless Wedding Dresses and Bridal Gowns
This post on strapless wedding dresses is a shopping guide with tips for finding where to shop and find the best strapless bridal gown for your wedding!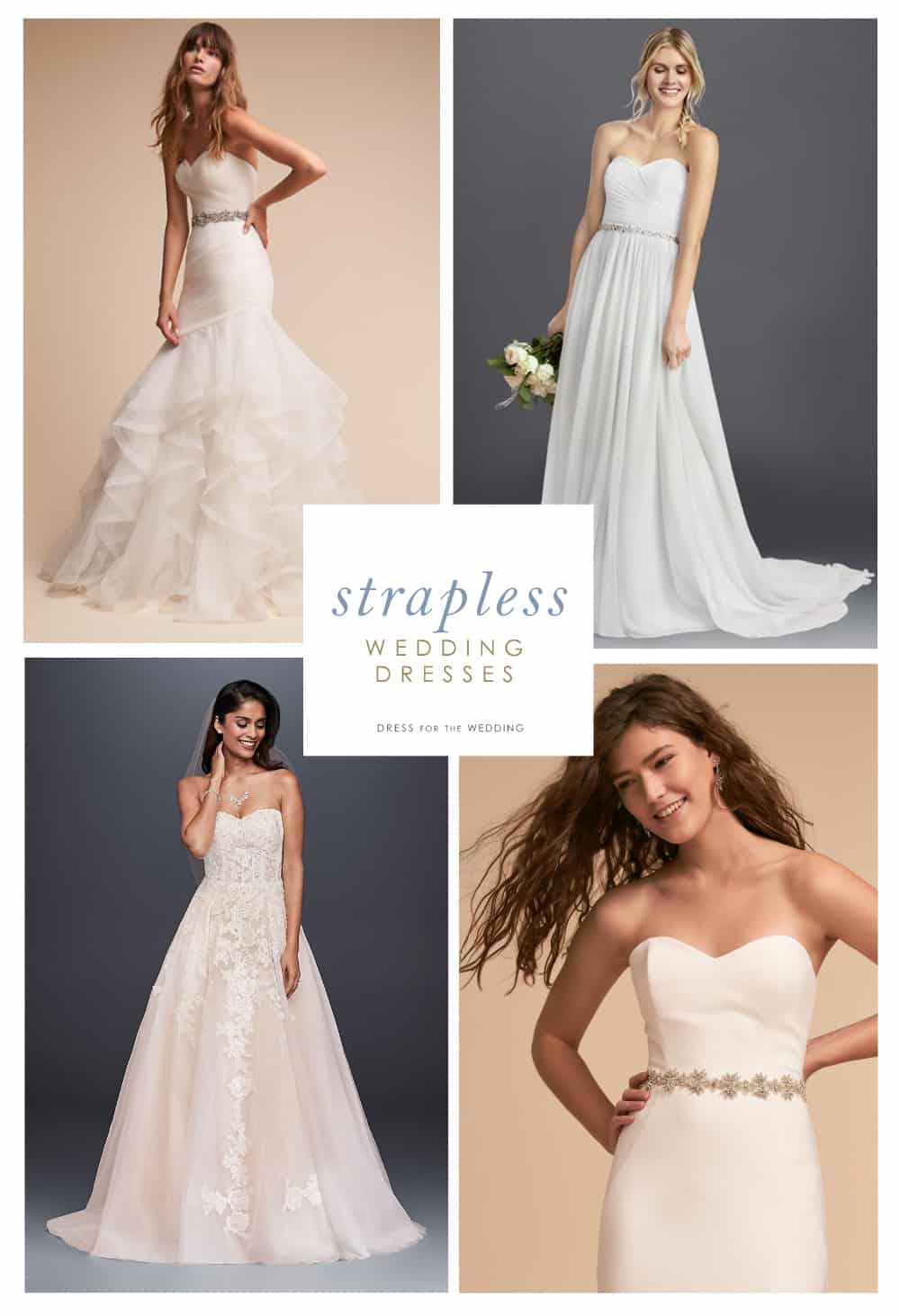 This shopping page about uses commission links.
1/ Forte Gown from BHLDN 2/ Azazie Effie Gown 3/ Sheer Lace and Tulle Ball Gown Wedding Dress 4 / Paige Gown from BHLDN
Classic Strapless Wedding Gowns
Strapless wedding dresses are always a classic choice! Even though the strapless gown is a traditional choice, there are many possibilities for your individual style to shine through in these gowns.
The strapless neckline can vary from simple sweetheart, straight or plunge necklines. Skirt and silhouettes for strapless wedding dresses can vary from A-line, to sheath to a ball gown!
A wedding dress with a strapless bodice will not only show off your shoulders, it also eases the need to get exactly the right fit in the arms and straps.
Strapless Wedding Dreses - Shop the Look

Strapless Wedding Dresses Are Versatile!
Strapless wedding dresses also offer the option getting two looks in one when one adds a topper or glamorous bridal jewelry. Accessorizing a strapless gown is a great way personalize the look even more! Strapless bridal gowns come in all sorts of fabrics and silhouettes. They can vary from sleek silk, form fitting lace gowns, to tulle strapless bridal gowns with sweeping ball gown skirts. Plenty of ways to find just the strapless wedding dress you are seeking!
The following gowns are hand-picked by us are from trusted online retailers who sell reputable wedding dresses online! When buying a dress online from other sources, make sure it is a trusted wedding dress retailer!
Commission links are used in this post and shop section.
Where to Buy a Strapless Wedding Dress
Some of our favorite places to look for a strapless wedding dresses are:
Tips for Finding More Dresses and Styling Your Bridal Gown
Also have a look at our wedding dress features that highlight the latest strapless bridal gowns from top wedding dress designers.
Need tips for how to accessorize your dress? This post on styling your strapless wedding gown will help!
Dress for the Wedding does not directly sell any of the following wedding dresses. Rather, we refer you to the online stores and sponsors that carry these strapless bridal gowns. Commission links are used in these referrals.