We've made our picks for the best summer wedding guest dresses for 2023 as we go into the current wedding season! We've scoured the top stores for wedding guest dresses and brought the best dresses and outfits to wear to a summer wedding. Great ideas for what to wear to a June, July or August wedding.
This site may earn a commission if you make a purchase from our links to our dress recommendations.
The Best Summer Wedding Guest Dresses for 2023
The summer season is, of course, one of the most popular times for weddings. Finding pretty wedding guest dresses that are comfortable and ready to sit through hot outdoor ceremonies can sometimes be a difficult task. This shopping guide for dresses for summer weddings is here to help with everything from shopping for breezy maxi dresses and sundresses for outdoor daytime weddings to semi-formal and formal gowns that won't wilt in summer temperatures. We take the best guest dresses from our favorite shops, and present them here for quick and easy one-stop shopping!
70 Pretty Dresses to Wear to a Summer Wedding
These are our picks for summer wedding guest dresses up to date for the 2023 summer season.
This post uses affiliate links. This site may earn a commission if you make a purchase from our links.

Please also check out these posts which will help you find semi formal wedding guest dresses, wedding guest dresses for June and July weddings and wedding guest dresses for August weddings!
Tips for a Guest of a Summer Wedding
With this shopping guide, finding wedding-appropriate summery styles should be a cinch! We've picked out stylish summer dresses that will stand up to outdoor ceremonies and receptions in hot weather temperatures, and have you looking lovely! Also, remember to bring sunglasses and to wear sunscreen, You may also want to possibly bring some water, bug spray, and some shoes like wedges or block heels that won't have you sinking in the grass.
What to Wear to a Summertime Wedding
The usual wedding attire guidelines stay about the same. Female summer wedding guests may wish to wear lighter colors and more informal fabrics for daytime weddings; dress up a little more for evening weddings. Pick special occasion styles and formal-length dresses for black tie weddings. Maxi dresses, cocktail dresses, skirts with pretty tops, or jumpsuits can all be appropriate. Just remember not to wear white, or anything too ill-fitting or flashy. Men can opt for lighter color suits or blazers for daytime; darker suits for the evening.
Past Wedding Guest Dress Picks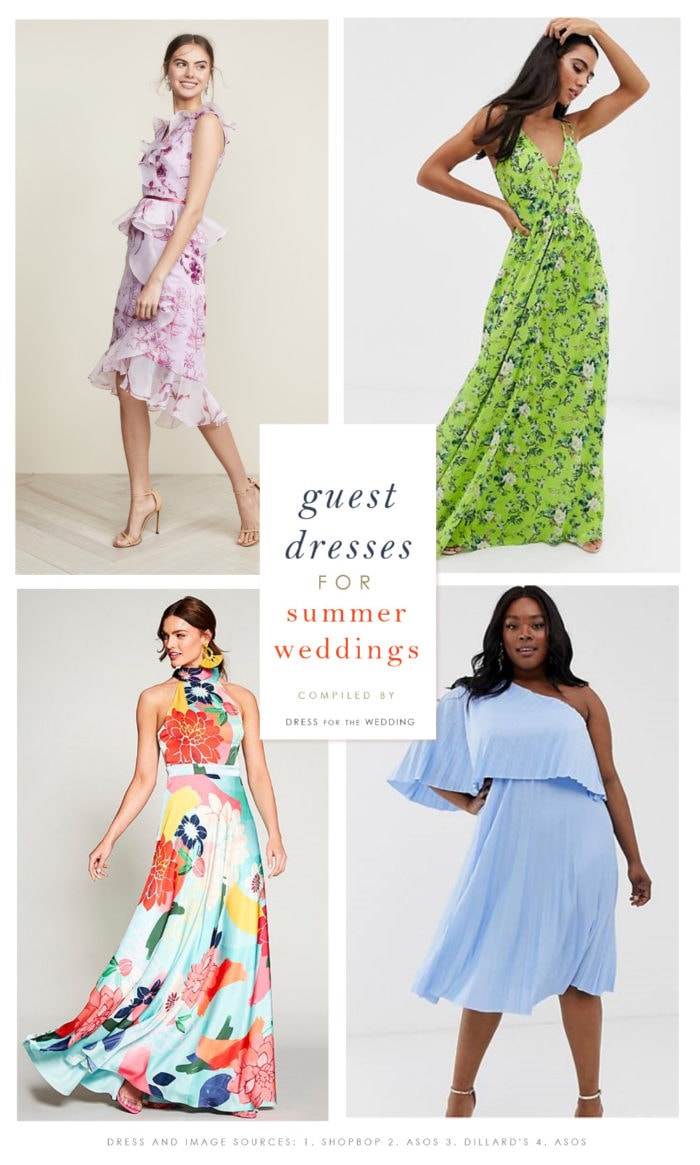 Dresses: 1. Shopbop: Marchesa Notte Sleeveless Floral Organza Cocktail Dress 2. ASOS: ASOS DESIGN maxi dress with cami straps and cut out detail in summer green floral print 3. Dillard's Laundry by Shelli Segal Floral Print Mock Neck Maxi Dress 4. ASOS: ASOS DESIGN Curve one shoulder pleated light blue midi dress
This post uses affiliate links. This site may earn a commission if you make a purchase from our links.
Wedding Guest Dress Picks from Past Seasons
These are some of the past picks that were found on this page, the images have been removed because the products are out of stock, however, we've left a description of the image and dress and the links in the event that they might come back in stock and you might be looking for these dresses.
If you've reached this page from a Pinterest pin, and no longer see the dress on this page, it means it has gone out of stock with the retailer and it disappears from the shopping widget we use. Those images sometimes get unintentionally pinned by people to Pinterest and will accidentally get attributed to this page, instead of to the retailer where the product is from. In order to help connect you with the dress you might be looking for, we try to keep track of the dresses that have been featured and may have been pinned from this site but are no longer on this page. Descriptions with a link to the original sources are below.
Peach and pink floral high low midi dress: Eliza J Halter High/Low Midi Dress from Nordstrom
A pink jumpsuit for a wedding guest: Cami Jumpsuit from ASOS
Lavender floral midi dress for a rustic summer wedding: Hermia Midi Dress from Anthropologie
Gold party-ready mid length swing dress: Dress the Population Cameron Sequin Blouson Dress
A navy blue, pink and white floral maxi dress: This Eliza J Halter Neck Ruffle Maxi Dress can go from daytime events to evening with just a change of accessories! A versatile style for summer wedding guests!
A mint green knee length short sleeve lace dress: Toast of the Town Dress from ModCloth
A pink one-shoulder cocktail dress with a bow shown on Gal Meets Glam: Gal Meets Glam Summer Wedding Guest Dress with Oversized Bow in Pink or Navy
A pale blue pleated midi dress with crop top layer and spaghetti straps: ASOS Design Pleated Crop Top Dress
A pink lace cocktail dress with a square neck, full skirt, and wide straps: Rosamund Lace Dress from Anthropologie
Past Guest Collages
Here are some of the collages we featured previously on this page. These dresses are now usually out of stock, but we keep the link and product information for continuity.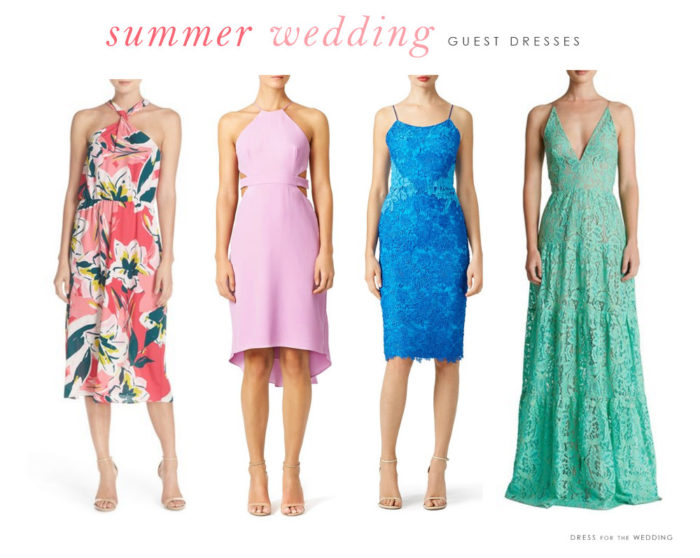 1. Twist Neck Floral Midi Dress 2. Lilac Crossed Dress from Rent the Runway 3. Blue Contrast Lace Sheath by Monique Lhuillier from Rent the Runway 4. Green Lace Dress for Summer Formal Wedding Guest
More picks from the wedding guest dress shop
Wedding Guest Dresses by Color
Red Dresses | Pink Dresses | Coral Dresses | Yellow Dresses | Green Dresses | Light Blue Dresses | Dark Blue Dresses | Purple Dresses | Floral Dresses for a Wedding Guest | Gray or Silver Dresses | Black Dresses | Dresses for Wedding Guests Under $150
Summer Wedding Guest Dresses by Formality
Casual or Dressy Casual | Semi-Formal | Formal Wedding | Maxi | The Wedding Guest Dress Shop
Shop by Season
Summer | Spring | Fall Wedding | Winter Wedding