We've made our picks for the best summer wedding guest dresses for 2023 as we go into the current wedding season! We've scoured the top stores for wedding guest dresses and brought the best dresses and outfits to wear to a summer wedding. Great ideas for what to wear to a June, July, or August wedding.
This site may earn a commission if you make a purchase from our links to our dress recommendations.
The Best Summer Wedding Guest Dresses for 2023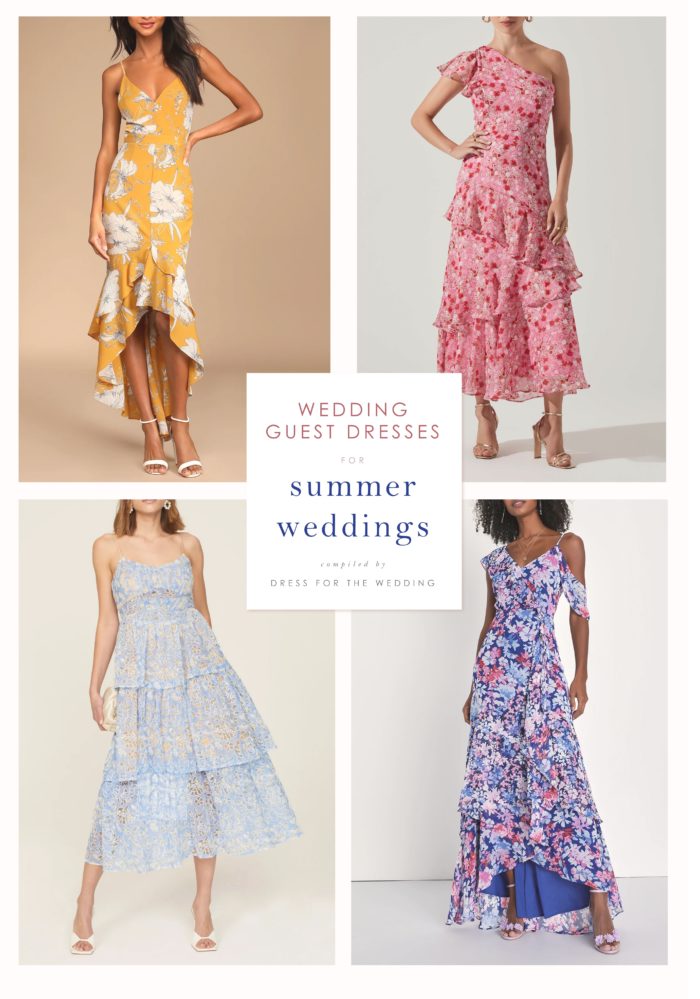 Image credits and shopping sources: 1. Darling Daylily Mustard High Low Dress from Lulus 2. Victoriana One Shoulder Midi Dress from Astr the Label 3. Santos Dress from Rent the Runway 4. Radiant Blue Chiffon Floral Dress from Lulus
The summer season is, of course, one of the most popular times for weddings. Finding pretty wedding guest dresses that are comfortable and ready to sit through hot outdoor ceremonies can sometimes be a difficult task. This shopping guide for dresses for summer weddings is here to help with everything from shopping for breezy maxi dresses and sundresses for outdoor daytime weddings to semi-formal and formal gowns that won't wilt in summer temperatures. We take the best guest dresses from our favorite shops, and present them here for quick and easy one-stop shopping!
1. Pink Camilla Floral Midi Dress from Astr the Label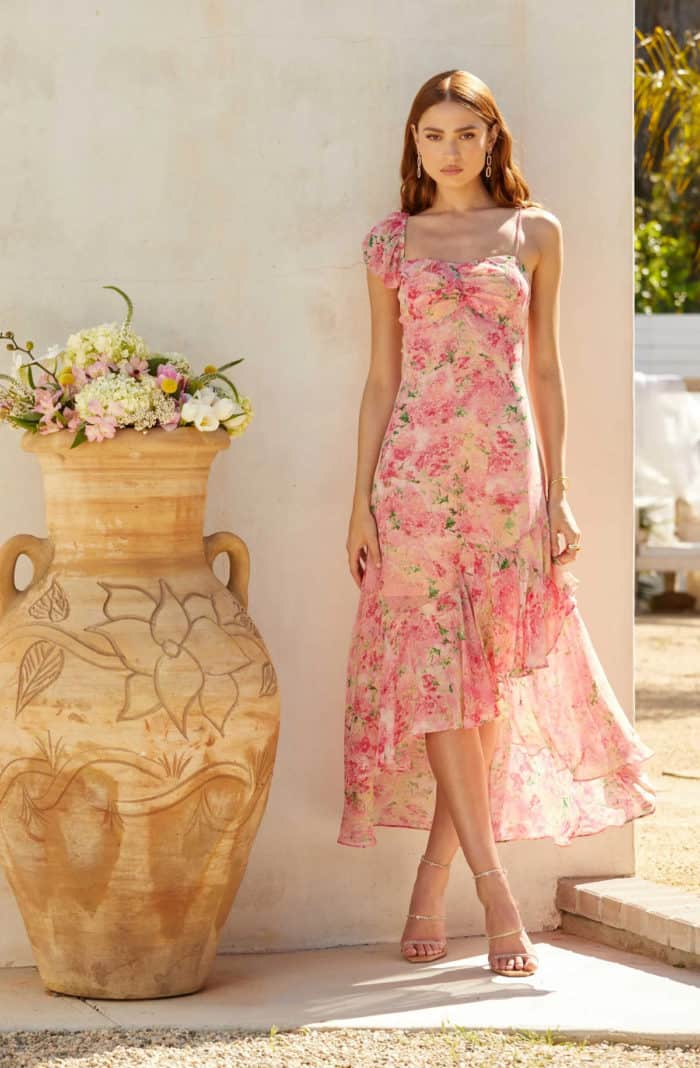 Astr the Label is quickly becoming one of our favorite spots to look for unforgettable wedding guest dresses and it's because they specialize in this modern romantic style. This pink floral dress is everything that is delicious about summer wedding guest attire. The asymmetrical skirt and one shoulder plus spaghetti strap neckline add interest, while the beautiful pink floral pattern is elegant and eye-catching all at once. The floaty ruffles of the skirt were just made to hit the dance for at the reception. Best of all, it's under $130.
Shop This Floral Dress from Astr the Label
2. The Santos Dress from Rent the Runway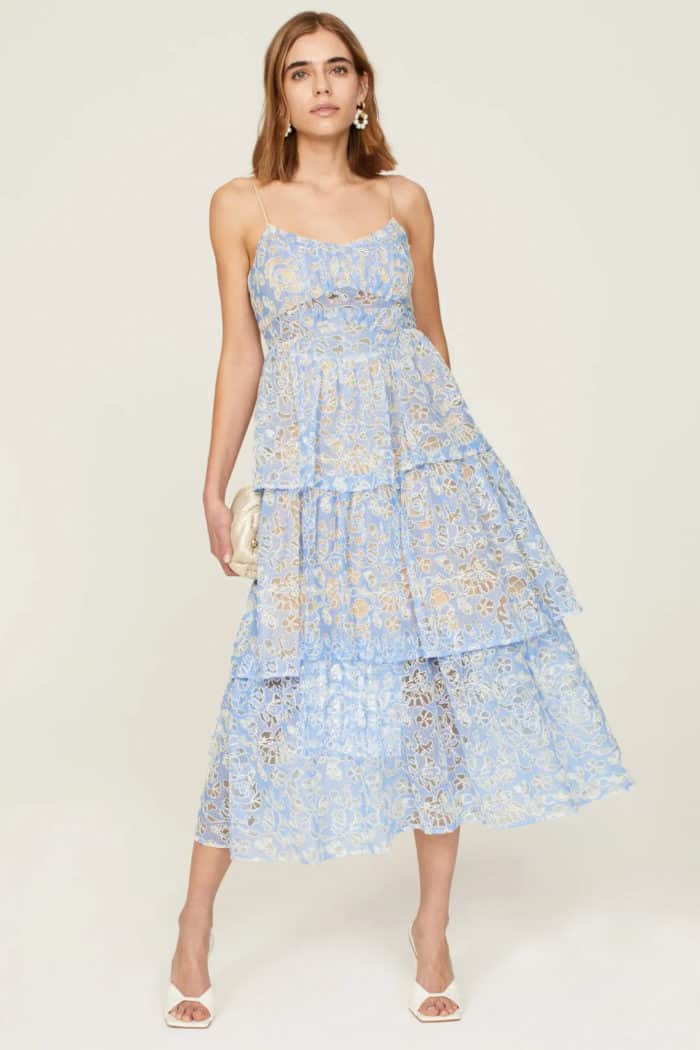 If you have every summer weekend booked with weddings and wedding-related events, we think a Rent the Runway membership is often the best way to go. Not only are they a sustainable wedding guest attire option, but they also have added so many amazing designer summer wedding guest dresses to their line-up of offerings. We love this pale blue lace midi dress with a tiered skirt for a semi-formal summer wedding look.
Rent The Santos Dress at Rent the Runway
3. Blue Floral Maxi Dress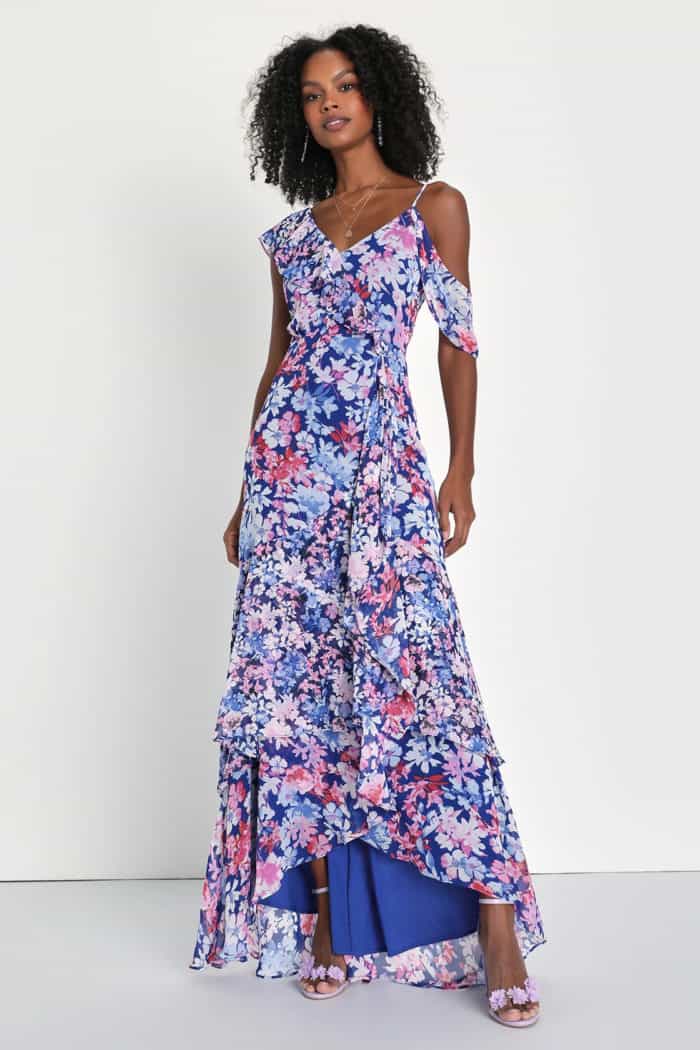 We think Lulus has one of the best wedding guest dress selections - ever. There's a style of dress for everyone on the Lulus site and they do an amazing job of capturing the best trends and colors of each season. That's why we consistently pick these as some of the best dresses. We especially love a maxi dress like this one because it can look formal for a summer black tie wedding, but won't be out of place at nearly any other wedding dress code. This bright blue floral style features of-the-moment interesting details like the asymmetrical neckline style and hem, plus a ruffled, tired skirt. We think the mix of bright blue and pink florals on this dress is particularly appealing too! This is how formal in the summer is done!
4. Pink Watercolor Print Halter Midi Dress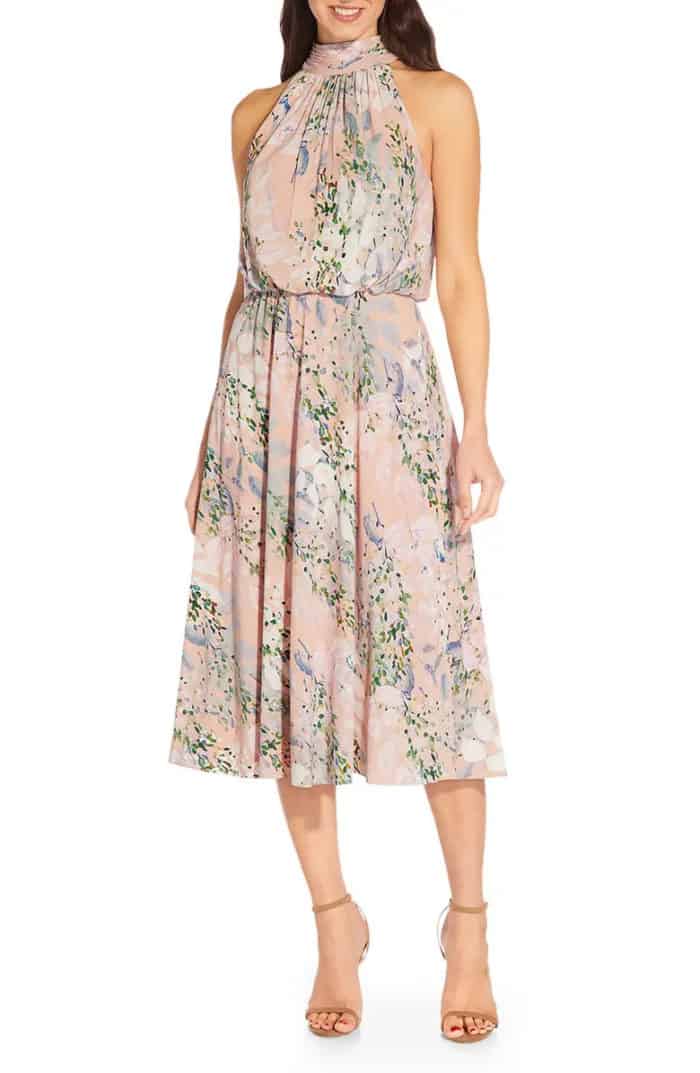 Not every wedding calls for black tie attire, especially in the summer months. That's why we like to pick a few styles like this pale pink floral dress, that is well-suited to a casual daytime or afternoon wedding. We love the full pleated chiffon skirt and the ruched halter neckline. This is also great for a rehearsal dinner or other dressy casual pre-wedding parties.
Shop This Pink Dress at Nordstrom
5. Pink Floral Maxi Dress from Revolve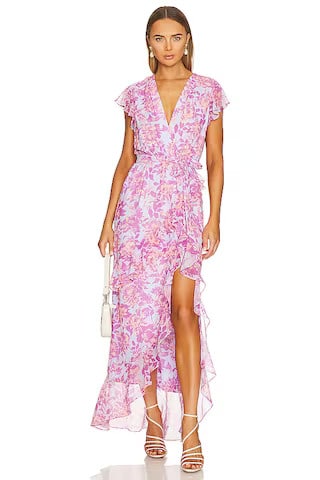 Revolve is our go-to-for the best designer dresses. If we're looking for impeccable elegance, trending styles, and top designers, we look to the latest dresses at Revolve time and time again. This beautiful floral maxi dress was just made to make an entrance and garner non-stop compliments at your next summer wedding.
Shop this Floral Dress at Revolve
6. Bright Green Halter Maxi Dress from Hello Molly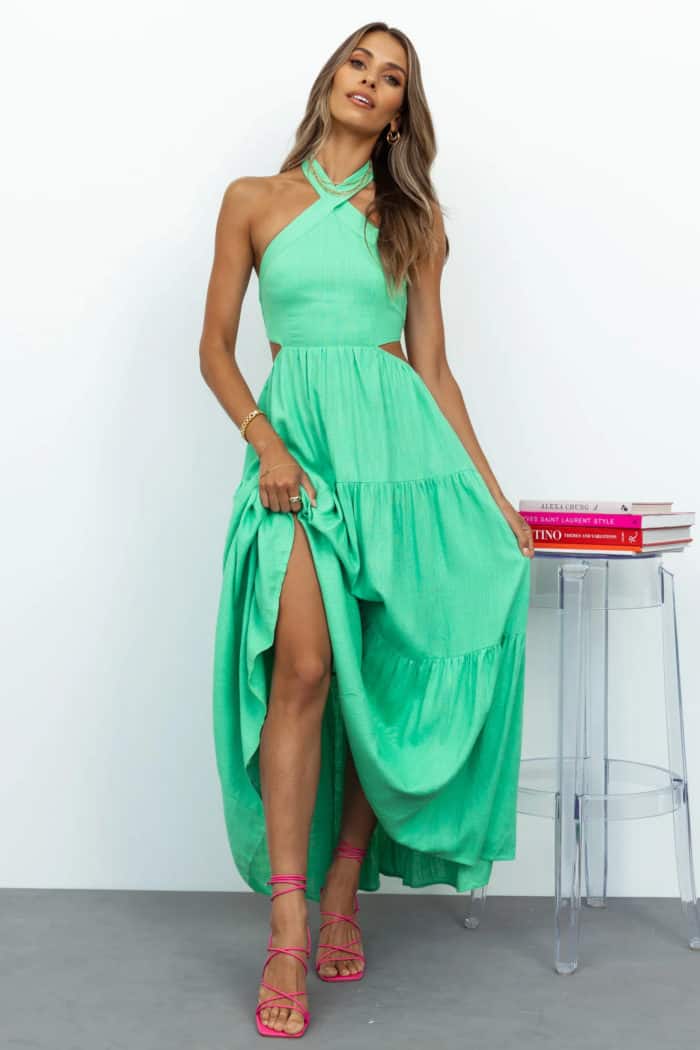 The styles at Hello Molly are not only gorgeous, but they are also fairly affordable, with most wedding guest styles coming in at under $100. This bright kelly green dress with a halter neckline is one of our favorite colors to wear in the summer. This style has cute side cutouts and a beautiful length. We like this maxi dress for any outdoor wedding.
Shop this Green Maxi Dress from Hello Molly
7. Navy Blue Floral Asymmetrical Cocktail Midi Dress from Lulus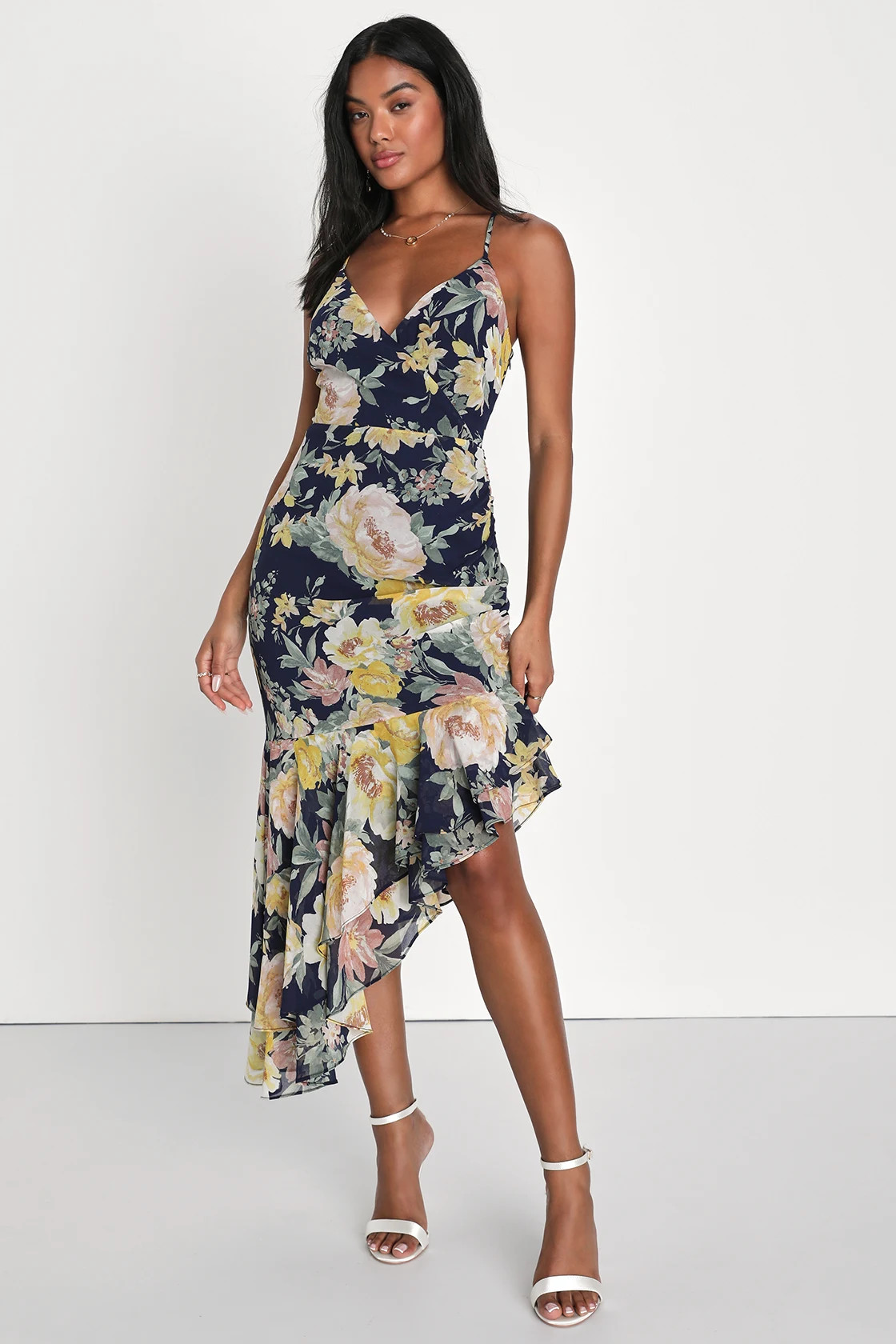 We present to you yet another Lulus find; we think they are knocking it out of the park with this summer's wedding guest options! If the bright colors aren't your style or aren't appropriate for the wedding itself, we love this navy dress as a classic option with a little bit of springtime color in the floral pattern. Again another asymmetrical detail makes for a trending and flattering new style to add to your wedding guest rotation! This one is great for rustic weddings, winery weddings, and for semi-formal weddings.
Shop This Navy Floral Dress at Lulus
8. Norma Kamali One Shoulder Dress from Revolve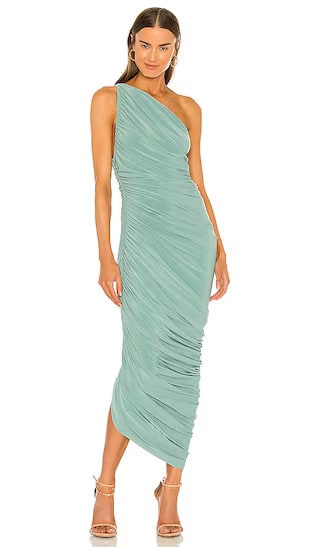 If there's one dress we're officially smitten with, it's this Norma Kamali one-shoulder cocktail dress with its flattering body-con fit. It comes in a variety of colors and has a midi length that looks just right for an evening formal or semi-formal summer wedding.
9. Yellow Flutter Sleeve Floral Maxi Dress from Nordstrom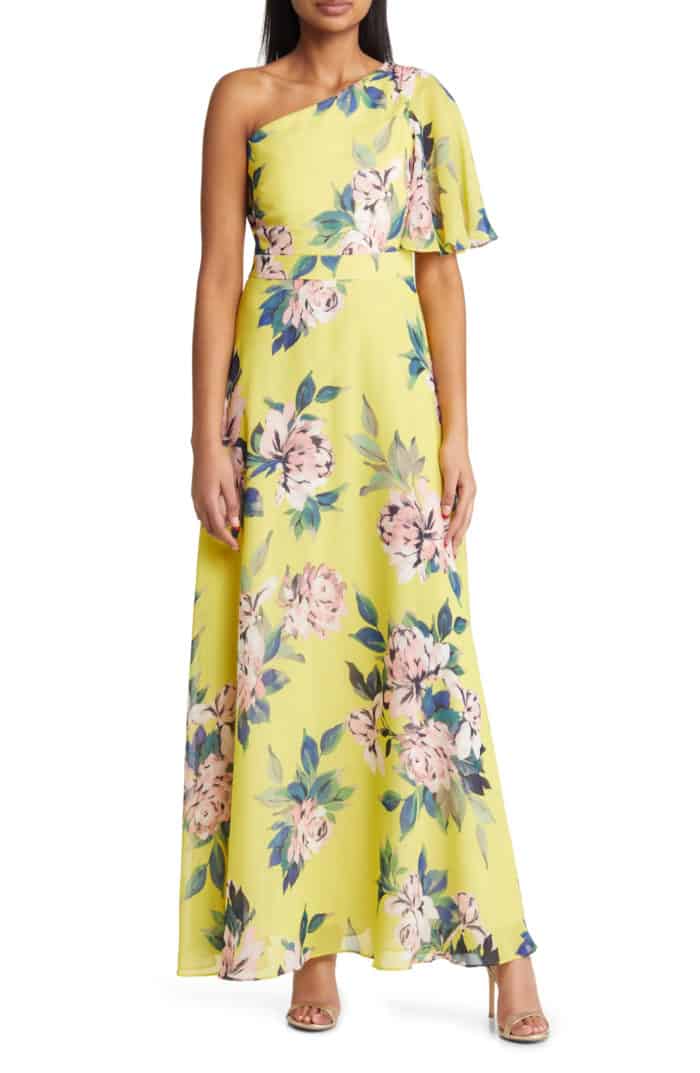 Formal events in the summer take on a more light-hearted look. If you need a long gown for a wedding, try it in a summery color like this yellow print, or in a delicious pink or purple like some of the dresses below. This one is by Eliza J and is available from Nordstrom.
Shop this Yellow Floral Dress from Nordstrom
10. Feeling Like Forever Dress in Rose Pink from Azazie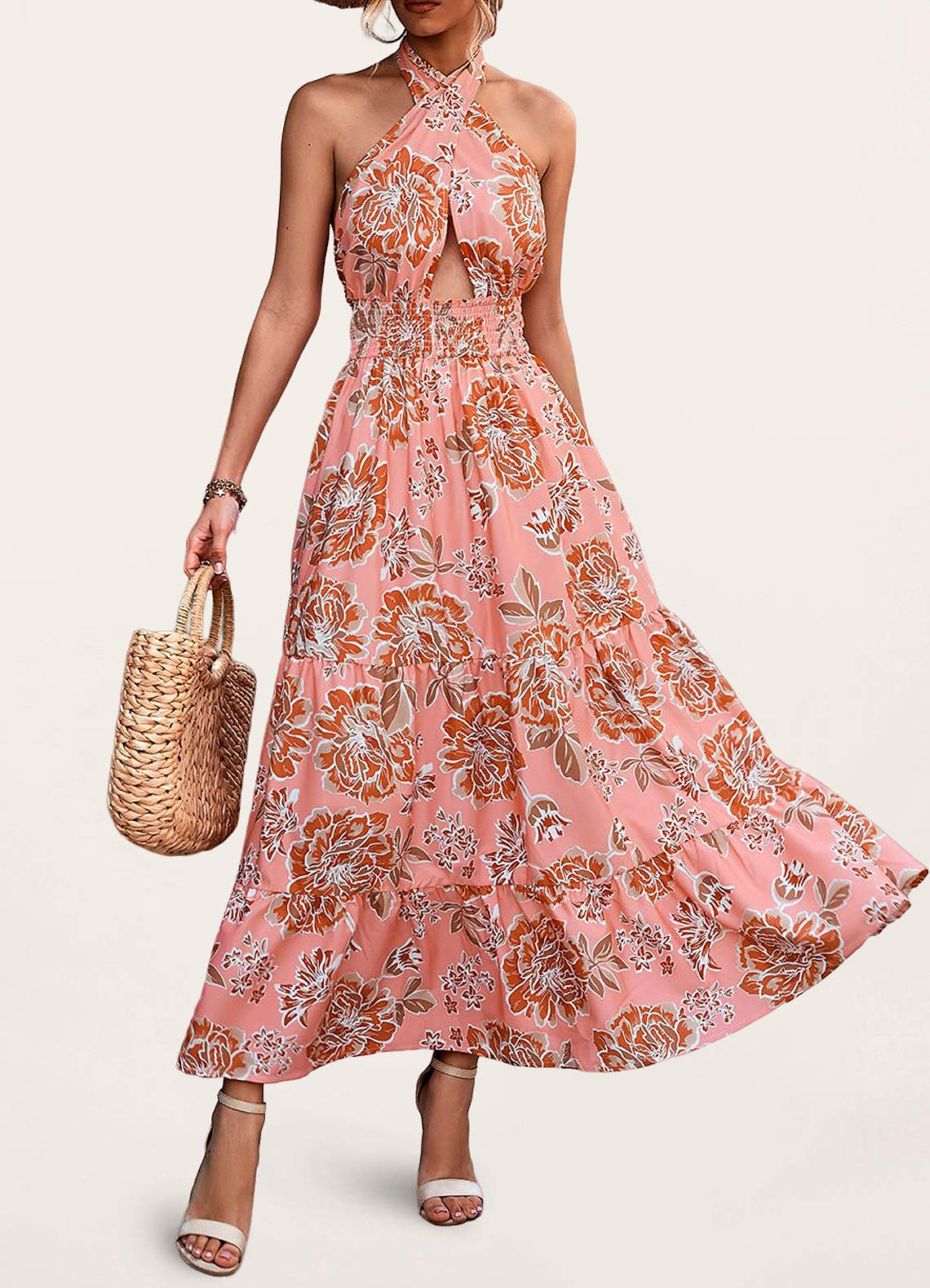 We love Azazie for bridesmaid dresses and mother-of-the-bride dresses (see our review of Azazie here!) but did you know they have lots of wedding guest dresses? Most of the dresses are under $50, and all of them are extremely pretty and stylish. Best of all, these ship out quickly (as compared to the bridesmaid dresses and mother-of-the-bride dresses because some take a little longer to customize the size and ship) We absolutely adore all of these Azazie wedding guest dresses , and our wallets appreciate the under $50 price point.
Shop this Rose Pink Floral Dress
11. Strappy Pleated Midi Dress in Sage Green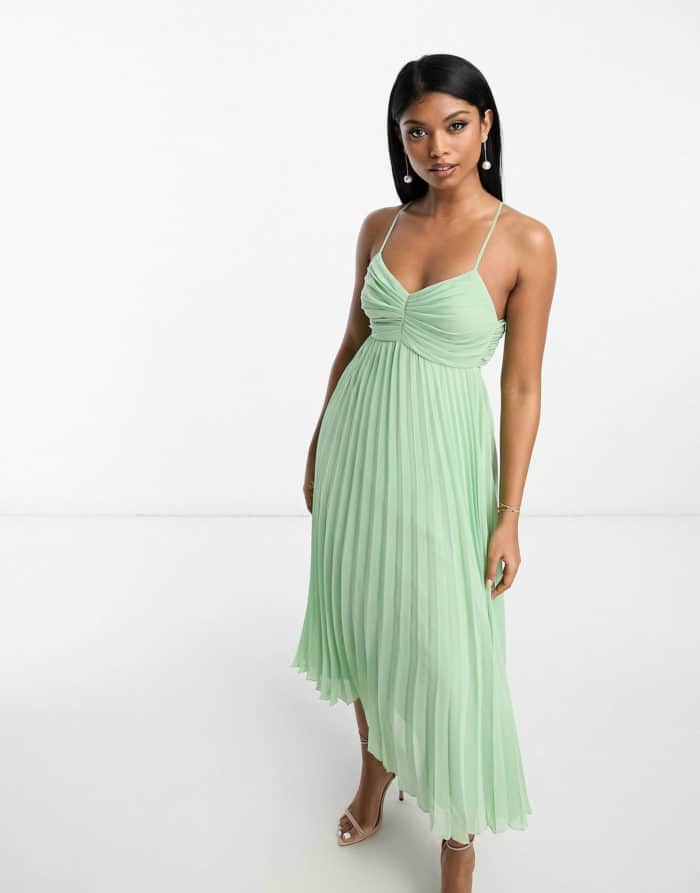 Pleated cocktail dresses are one of our other favorite trends for the season, in addition to asymmetrical hemlines, ruffles, and tiered skirts. The pretty sage green color and the pleats elevated this simple midi to summer guest perfection! It also comes in a few other colors like bright coral, and a similar style in rust rose.
Shop This Pleated Dress at Asos
12. Stunning Soiree Ruched Midi Dress from Lulus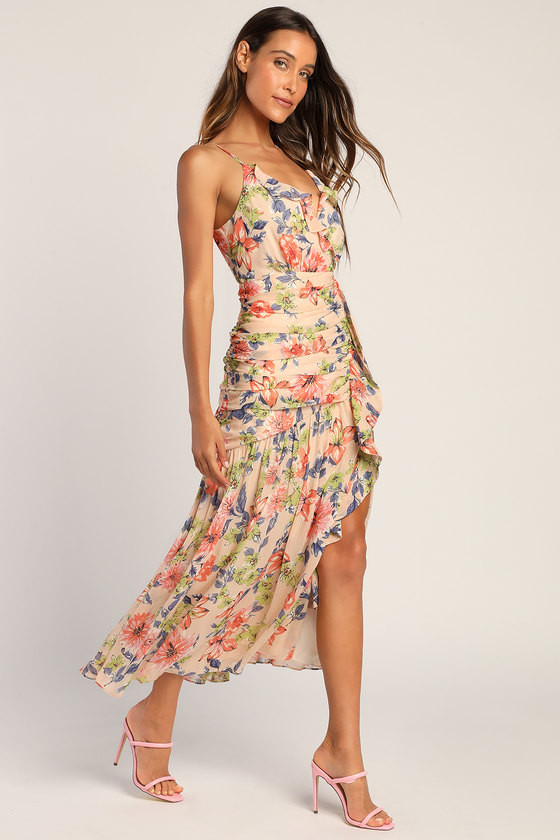 Can't stop, won't stop showing you the newest wedding guest styles from Lulus because we love them so. this floral dress has a super-flattering ruched style and a symphony of colors. Wear this one to the next garden wedding you're invited to!
13. Classic One Shoulder Cocktail Dress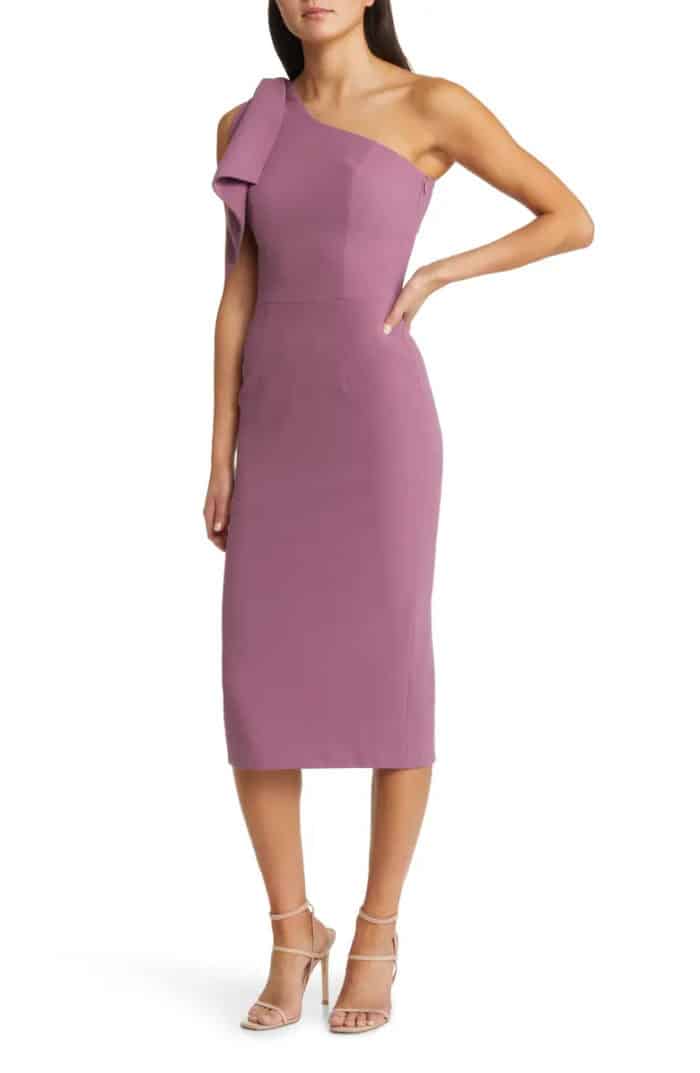 Dress the Population dresses specialize in classic fitted cocktail dresses in beautiful colors, and this is just one example. We love this mauve meets purple shade for summer evening cocktail wedding receptions.
Shop This Purple Cocktail Dress from Nordstrom
14. Sparkling Summer Green Floral Print Pleated Midi Dress from Azazie

Here's another wedding guest style from Azazie that caught our eye. We love this subtle green and rose print and the pleated halter style. Wear this one to a daytime summer wedding, a winery wedding, or a hot venue like a boho desert wedding. Again another great Azazie wedding guest style that's under $50!
15. Aesthetic of Elegance Dark Sage Ruched One-Shoulder Dress from Lulus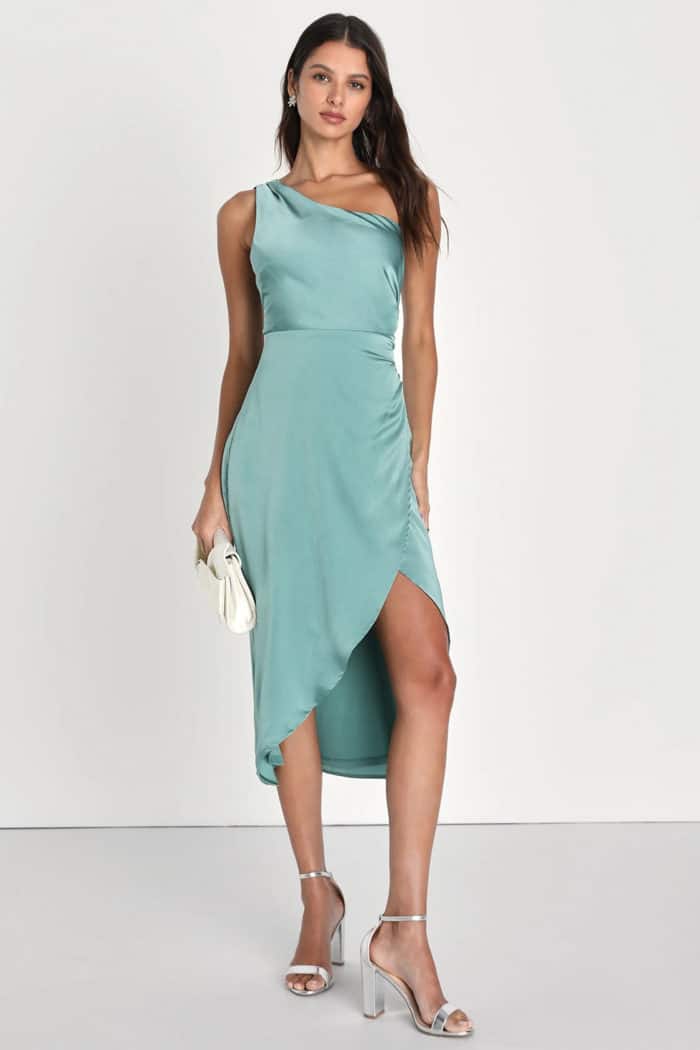 Sometimes you just want a simple clean look - especially if it's an evening wedding or a semi-formal wedding. In the summer months, we like the idea of lightening up the color palette with a gorgeous sage green a little but keeping the fabric semi-formal, and this satiny one-shoulder dress fits that bill. It's another one of our favorites this season from Lulus!
Shop this Satin Dress
16. Pleated Floral Jumpsuit from Rent the Runway
Sometimes the best look isn't a dress at all! We love jumpsuits for wedding guests, and there are lots of summery styles to be had! This particular look is a rental from Rent the Runway, making it a low-commitment look that exudes summer afternoon wedding ease!
Rent this Jumpsuit from Rent the Runway
90 Summer Wedding Guest Dresses
If that group of dresses didn't do it for you, here a few more! This shoppable section shows all 90+ of our top dress picks for summer wedding guests, kept up to date for the 2023 summer season.
This post uses affiliate links. Our editors hand-select these dresses from top retailers, based on suitability for summer wedding attire. This site may earn a commission if you make a purchase from our links.

Please also check out these posts which will help you find semi-formal wedding guest dresses, wedding guest dresses for June and July weddings, and wedding guest dresses for August weddings!
Tips for a Guest at a Summer Wedding
With this shopping guide, finding wedding-appropriate summery styles should be a cinch! We've picked out stylish summer dresses that will stand up to outdoor ceremonies and receptions in hot weather temperatures, and will have you looking lovely! Also, remember to bring sunglasses and wear sunscreen, You may also want to possibly bring some water, bug spray, and some shoes like wedges or block heels that won't have you sinking in the grass.
What to Wear to a Summertime Wedding
The usual wedding attire guidelines stay about the same. Female summer wedding guests may wish to wear lighter colors and more informal fabrics for daytime weddings; dress up a little more for evening weddings. Pick special occasion styles and formal-length dresses for black tie weddings. Maxi dresses, cocktail dresses, skirts with pretty tops, or jumpsuits can all be appropriate. Just remember not to wear white, or anything too ill-fitting or flashy. Men can opt for lighter color suits or blazers for daytime; darker suits for the evening.
Browse Top Wedding Guest Dresses by Color
Red Dresses | Pink Dresses | Coral Dresses | Yellow Dresses | Green Dresses | Light Blue Dresses | Dark Blue Dresses | Purple Dresses | Floral Dresses for a Wedding Guest | Gray or Silver Dresses | Black Dresses
Wedding Guest Dresses by Price
We group some of our favorite dresses by price point so that you can find the best style for your budget
Dresses for Wedding Guests Under $150 | Dresses for Wedding Guests Under $100
Summer Wedding Guest Dresses by Formality
Casual or Dressy Casual | Semi-Formal | Formal Wedding | Maxi | The Wedding Guest Dress Shop
Shop by Another Season
Spring Wedding Guest Dresses | Fall Wedding Guest Dresses | Winter Wedding Guest Dresses
Past Wedding Guest Dress Picks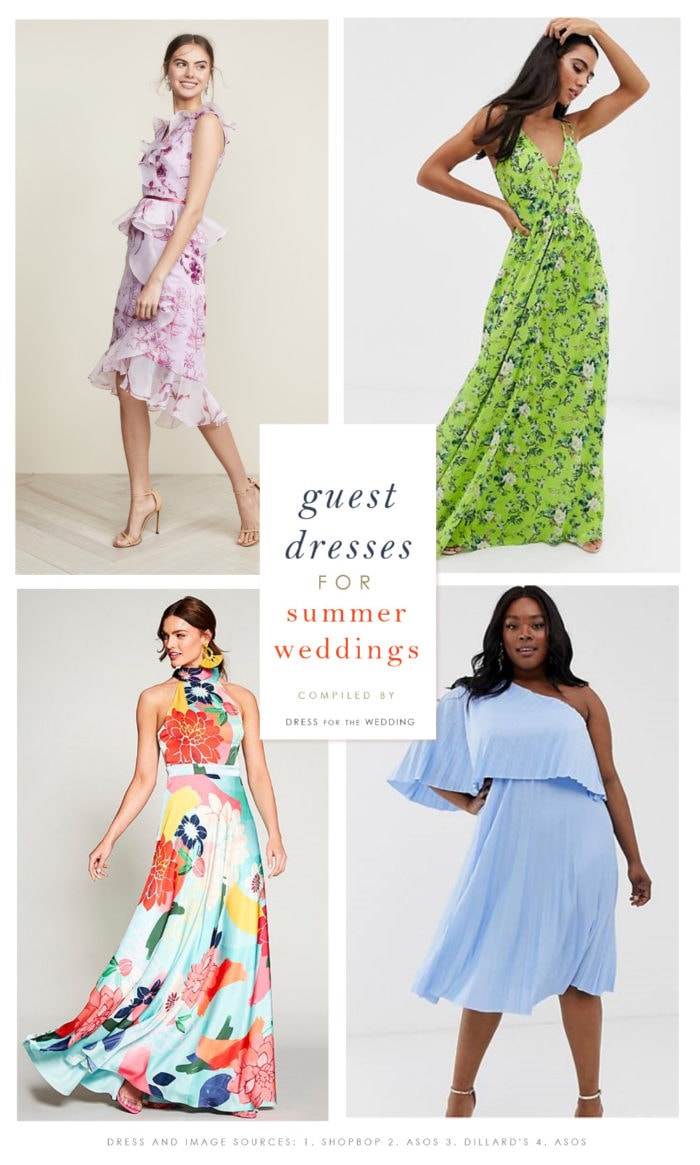 Dresses: 1. Shopbop: Marchesa Notte Sleeveless Floral Organza Cocktail Dress 2. ASOS: ASOS DESIGN maxi dress with cami straps and cut out detail in summer green floral print 3. Dillard's Laundry by Shelli Segal Floral Print Mock Neck Maxi Dress 4. ASOS: ASOS DESIGN Curve one shoulder pleated light blue midi dress
This post uses affiliate links. This site may earn a commission if you make a purchase from our links.
These are some of the past picks that were found on this page, the images have been removed because the products are out of stock, however, we've left a description of the image and dress and the links in the event that they might come back in stock and you might be looking for these dresses.
If you've reached this page from a Pinterest pin, and no longer see the dress on this page, it means it has gone out of stock with the retailer and it disappears from the shopping widget we use. Those images sometimes get unintentionally pinned by people to Pinterest and will accidentally get attributed to this page, instead of to the retailer where the product is from. In order to help connect you with the dress you might be looking for, we try to keep track of the dresses that have been featured and may have been pinned from this site but are no longer on this page. Descriptions with a link to the original sources are below.
Peach and pink floral high low midi dress: Eliza J Halter High/Low Midi Dress from Nordstrom
A pink jumpsuit for a wedding guest: Cami Jumpsuit from ASOS
Lavender floral midi dress for a rustic summer wedding: Hermia Midi Dress from Anthropologie
Gold party-ready mid-length swing dress: Dress the Population Cameron Sequin Blouson Dress
A navy blue, pink, and white floral maxi dress: This Eliza J Halter Neck Ruffle Maxi Dress can go from daytime events to evening with just a change of accessories! A versatile style for summer wedding guests!
A mint green knee length short sleeve lace dress: Toast of the Town Dress from ModCloth
A pink one-shoulder cocktail dress with a bow shown on Gal Meets Glam: Gal Meets Glam Summer Wedding Guest Dress with Oversized Bow in Pink or Navy
A pale blue pleated midi dress with crop top layer and spaghetti straps: ASOS Design Pleated Crop Top Dress
A pink lace cocktail dress with a square neck, full skirt, and wide straps: Rosamund Lace Dress from Anthropologie
Past Guest Collages
Here are some of the collages we featured previously on this page. These dresses are now usually out of stock, but we keep the link and product information for continuity.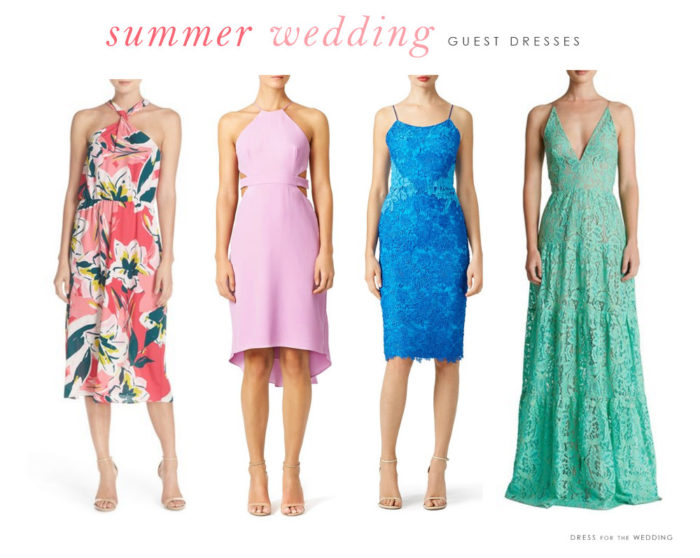 1. Twist Neck Floral Midi Dress 2. Lilac Crossed Dress from Rent the Runway 3. Blue Contrast Lace Sheath by Monique Lhuillier from Rent the Runway 4. Green Lace Dress for Summer Formal Wedding Guest
This page was created in 2015, updated in April 2018, and most recently updated for 2023 on May 30, 2023.