Did you get an invitation to a black-tie wedding? A formal dress code requirement might have you wondering exactly what to wear and where to find the perfect formal wedding guest dress or other attire. But don't worry, this shopping guide is here to make it easy to get dressed for a formal black-tie wedding.
We've collected some of the best dresses to wear to black-tie weddings in an easy-to-shop format. We'll go over some of the dress code guidelines for what to wear to a black-tie wedding. And. lastly, we'll show you where to shop for some of the best gowns, dresses, tuxes and other attire for a black-tie wedding.
Our editors select the gowns and dress we feature. Commissionable affiliate links are used in the images and links to shopping sources.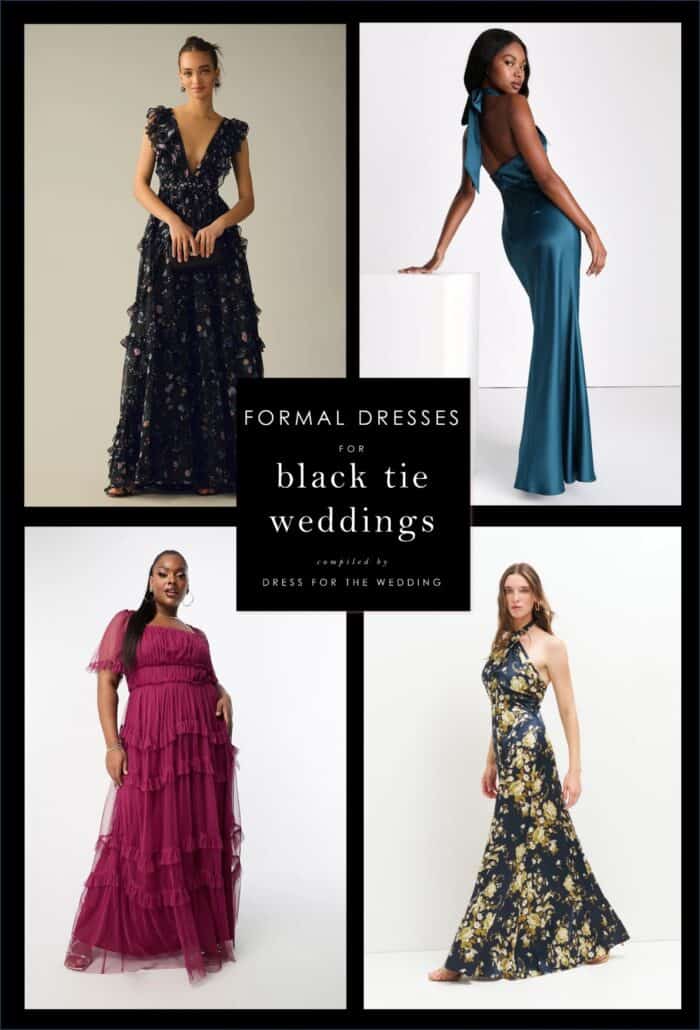 Image credits and shopping sources: 1. Mac Duggal Floral Cap Sleeve Gown from Anthropologie 2. Regal Arrival Teal Mermaid Maxi Dress from Lulus 3. Anya Statement Dress in Red Plum from Asos 4. Veria Silk Dress from Reformation
The Best Gowns and Wedding Guest Dresses for Formal or Black Tie Weddings
Each season we look through all of our favorite sources for wedding guest dresses and pick out the best of the best. Then we organize them by formality, color, season, style of wedding, and more. If you're heading to a black-tie or formal wedding where a full-length gown is in order, these formal gowns, and dresses for black-tie weddings have been picked just for guests. If you're a male wedding guest or tuxedo wearer, here's where we keep more tuxedos for weddings and women's tuxedos.
Styles of Black Tie and Formal Dresses for Guests
Summer Black Tie Wedding Guest

A full-length off-the-shoulder gown in a beautiful, rich shade of turquoise blue perfectly illustrates a summer black tie style. This is the Bacall Gown from Rent the Runway. See more of our picks for a summer black tie wedding.
Spring Black Tie Wedding

Florals always come to mind for spring dressing, and we think both soften and elevate the look of any formal gown. This floral dress is the Garden Meandering Gown from Lulus. See more ideas in our complete collection of recommended guest dresses for spring weddings.
Fall Black Tie Wedding

As the months get colder we see the rise in black-tie wedding invitations and longer gowns. Fall is often the first season to see an influx of more formal dressing. Wearing a full-length formal look in a fall tone like burgundy, navy, rust, dark green, or even classic black is a great look for this time of year. We have lots more specific fall formal wedding guest picks for fall weddings here.
Winter Black Tie Wedding

Winter and the holiday season were just made for dressing in your finest! Velvets, metallics, and the holiday colors of the season like gold, pewter, sapphire blue, green, and burgundy are wonderful choices for winter wedding style! See all of our picks for winter wedding guests, or see more velvet wedding guest dresses.
Plus Size Formal Gowns

This gorgeous plus-size gown has lovely sheer sleeves and plenty of tiered and ruffled details. We also love this gorgeous color that works for nearly every season. We have more plus size wedding guest dress ideas for you to peruse!
Affordable Black Tie Attire

We are firm believers that dressing up shouldn't be cost-prohibitive. We find that places like Lulus and Rent the Runway offer some of the best affordable styles for black-tie weddings! See all of our picks for affordable black tie dresses.
Rustic Black Tie

Even weddings in the countryside or at a barn venue can call for a little bit of formality. If you've been invited to a rustic black tie wedding here's one dress we love. See more picks for rustic wedding guest dresses.
Beach Formal

Just like a rustic wedding, some beach weddings can be a little bit more formal than just sun, sand, and flip-flops. If you've been asked to dress for a black tie wedding at a beach venue like a beach club, or oceanside resort, but still want a beachy style, try a dress like this. If you want to continue your search. we have many, many more picks for beach wedding guest dresses.
Black Tie Optional

As we discuss in the dress code recommendations below, a black tie optional means that you don't necessarily need a long gown, but a formal style is still in order. An above-the-ankle maxi like this, a dressy midi or tea-length cocktail dress, or a high-low dress style can be just the thing.
Colorful Black Tie

We're seeing more and more calls for festive or colorful black tie. This means a black or navy gown probably isn't the one to pick. Instead go bold with citrus colors, coral, yellow, hot pink, vibrant blues, and greens. Just thinking about all that color makes us happy! The pictures of the gathered guests are sure to be fantastic!
Pink Formal Gown

Pink can be a great choice for a black-tie wedding. Since so many bridal parties wear blush, you may want to select a deep color like bright pink (especially for colorful black tie) or something with a bit more coral tone, or a purple mauve pink for fall or winter. if you'd like to browse some more, we've collected ideas for more pink dresses for wedding guests.
Red Formal Gown

Red is sometimes considered a questionable color for wedding guests, but in most circles, shades of muted red and burgundy are more than acceptable. Here's one great gown, and we have more red dresses for wedding guests for you to consider.
Coral Black Tie Dress

Coral, rust or orange is another unexpected color that can be gorgeous for a beach wedding, a summertime wedding or in a deeper pumpkin color as the seasons transition to fall. More coral dresses for wedding guests.
Yellow Formal Gown

Yellow or its metallic cousin gold can be stunning in a formal gown. This high-low style looks perfect for a warm-weather formal event. See more yellow dresses for weddings.
Green Black Tie Dress

This satin off-the-shoulder style is a classic silhouette in a gorgeous color. A deep emerald tone like this would be a beautiful choice for a late fall or winter formal wedding. This is the See more of the green dresses for wedding guests that we love.
Light Blue Formal Dress

Pale blue is such an elegant color to wear to a wedding, and even more so in a full-length gown like this. A high neckline like this is even more tasteful, and the solid color is just ready to be the backdrop to some polished accessories.
Dark Blue Formal Dress

This modern satin navy blue style is a beautiful look for a black-tie event. This gown is We feel one can very rarely go wrong with a navy blue wedding guest dress!
Purple Formal Dress

This formal gown has a lovely pattern to it, and a strapless neckline and ruffles add to the feminity. Pair it with some black heels and a clutch, or golden accessories for an even richer look. This is the karaline Gown from Rent the Runway.
See all of the purple dresses for wedding guests we've selected.
Black Formal Gown

There's nothing basic about black when it comes to formal dressing. It's the standard for many black tie styles of dress. You can't go wrong wearing a sleek black gown, or add some interest with a pattern and ruffles and a beautiful sleeve and neckline like this gown has. See more of the black dresses we love for wedding guests.
Tuxedos

As we mentioned in the dress code requirements, a tuxedo is usually standard for male wedding guests. Female wedding guests can choose them as well. Here's where we have our favorite tuxedos for weddings and tuxedos for women.
Jumpsuits

The key to wearing a jumpsuit to a black tie wedding is to make sure it's in a very formal fabric like this satin style. Even though we're showing a variation on a terracotta color, a black dressy jumpsuit can also be a good idea since black is always such a formal style. Here are more jumpsuits we recommend to wear to weddings, and more black jumpsuits for special occasions.
Our Top Picks for Black Tie Wedding Guest Dresses

What to Wear to a Black Tie Wedding
If you haven't already, you may want to read our wedding guest dress code guidelines for more details on how to dress for a black-tie wedding vs. a formal wedding. For convenience, we'll also go over some of our tips here as well:
A Black Tie dress code for a wedding is a formal and elegant dress standard. It is typically reserved for evening events, although sometimes in the wedding world, you will encounter weddings that start in the afternoon but have this dress code because of the reception following the wedding. If you're unsure about any specifics, see if you can get more information from your hosts via the wedding website or through other members of the wedding party for clarification on the dress code. Be sure to ask early; do not wait to ask your wedding attire questions in the days leading up to the wedding and certainly never on the wedding day itself!
Formal Attire Tips For All Guests
Dress tastefully. Avoid overly revealing outfits, very casual attire, or flashy styles that are overly attention-grabbing.
Adhere to the other cues regarding the type of formal attire. If a color scheme or additional element of black tie attire is expected try to embrace the theme, weather, and style of the event while choosing attire that reflects the formal tone of the day.
Women's Black Tie Dress Code
A below-the-calf to floor-length formal gown is usually called for. If you aren't a dress wearer, a formal suit, a women's tuxedo in black or navy, a long skirt and formal dressy top, or pants with a formal top are also options. Formal maxi dresses can often work, just make sure the fabric is more formal like chiffon, rayon, silk, or satin, and not a light sundress cotton or informal jersey fabric dress.
Some very formal evening black tie events may request that the women wear gowns in darker colors such as black, navy, or deep jewel tones. However, we are seeing much more flexibility and color in black-tie dressing. This means that richly hued, colorful, or patterned gowns are not only allowed they are also often preferred, to reflect the celebratory nature of a wedding.
As always, steer away from anything in the white, ivory, cream, off-white, or pale nude color family. Since you may be wearing a full-length gown, anything off-white may easily resemble a wedding gown and is, therefore, a big no-no.
If you know what color the bridesmaids or other members of the wedding party are wearing, try to avoid those colors. However, this can be difficult to predict, especially with trends like mismatched bridesmaid dresses in multiple colors.
Wear some elegant accessories. Choose sophisticated accessories like evening clutches, jewelry, and elegant heels, embellished high heel sandals, or dressed up low heels or flats if you can't or don't wear heels.
If you have fine jewelry, now is a great time to wear it, but you can also find affordable faux pearl, rhinestone, CZ, and crystal costume jewelry that will be just as elegant and have a glamorous, elevated yet tasteful effect.
Hair can be styled in an elegant updo or left down, but certainly try to make it neat and elegant. While not required, the elevated style of dress can be an opportunity to try a style more glamorous or formal than your day-to-day hair.
Makeup, if you wear it, can be also more glamorous than daytime looks. Smokey eyes, lashes, statement lipstick, and other elements of glam certainly fit in here.
Men's Black Tie Dress Code
A well-tailored black tuxedo jacket and trousers are recommended, although some formal cuts of black suits and dinner jackets can also work. Ask the for the best recommendation of what is the current fashionable cut of tuxedo jacket.
Again, if you're in a crowd where you know creative black tie is encouraged, then you may fit right in with a tux in a different color or dinner jacket, but most likely you should stay away from novelty patterned tuxes.
A fresh white dress shirt with a pleated or piqué front is customary
A black, self-tied bow tie is the traditional choice for the most formal and classic black tie, but some weddings allow for a bit more creativity. If there's some flexibility, you may wish to choose bow ties that have a subtle pattern, texture, or a regular black tie in solid black.
Polished black leather dress shoes and black socks are appropriate, typically oxfords or patent leather shoes.
Cufflinks, formal buttons or stud sets, and a black vest, suspenders or cummerbund can be added if it suits your style.
What to Wear to a Black Tie Optional or Formal Wedding
To us, a black tie optional dress code means that guests have the option to dress in formal attire, as outlined above or opt for a slightly less formal take on those guidelines. It's still a formal and elegant look but with a bit more of a relaxed approach. This allows for a bit more of the flexibility with color and individual style we mentioned above while maintaining a level of sophistication and formality appropriate for the occasion. It's always a good ideaIn general it's always best to lean towards a more formal and elegant look when attending a wedding with the black tie optional dress code.
For Women
A formal long gown is still the traditional choice but, you may also choose a below-the-knee dressy formal cocktail dress or a chic formal jumpsuit, pantsuit, or formal skirt and top for your outfit.
Accessories, makeup, and hair should still be elegant, but elements like sparkly jewelry or all-out glamour are not as emphasized.
For Men
A tuxedo is still a choice, but you may also choose a dark-colored suit usually navy or black. A black suit is the most common choice for black tie optional. A dress shirt with a tie is expected. While a black bow tie is traditional for, you can opt for a regular necktie that gives a formal look, usually black or in a single dark color.
Where to Shop For Black Tie Wedding Attire
While black tie is the most formal, elegant, and by extension fancy and luxurious style of attire, it need not be cost-prohibitive to get dressed for this type of wedding. There are plenty of stores that will give you that black tie style within your budget.
However, if designer dressing and formal attire are your thing, and you can't wait to show up in a fantastic designer dress, we also have options for how to find the best designer gowns and stand-out formal looks for your next black tie wedding.
Best Online Stores For Special Occasion Gowns and Formal Attire
Here is a list of the stores where we routinely search to find the best formal gowns and black tie attire.
Past Features
This section is an older part of the post and the dresses are likely sold out. You may have reached this page from this image, which is why we keep it as a reference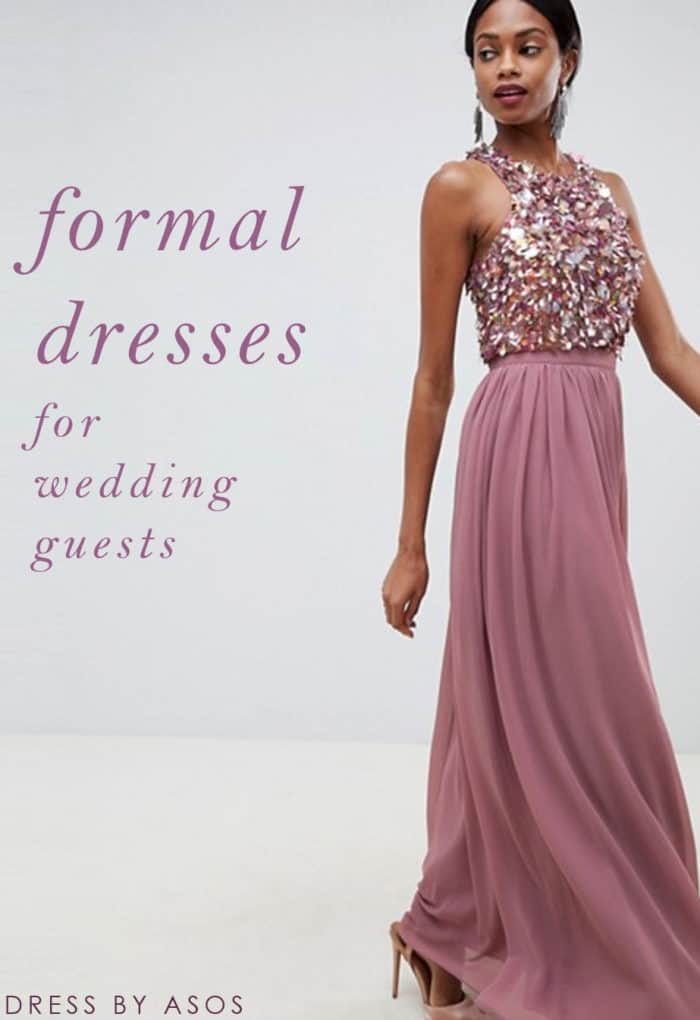 Originally published September 2013, and updated most recently August 2023.