Here in the eastern United States, winter weddings have a special allure! The possibility of snow, the advent of the holiday season, and the romantic cozy feeling that a winter wedding can impart all add to the mystique of a winter wedding. This all calls for a special winter wedding style! We've found some of the best mother-of-the-bride dresses for winter weddings.
The shopping suggestions in this post about winter mother-of-the-bride gowns and dresses use affiliate links.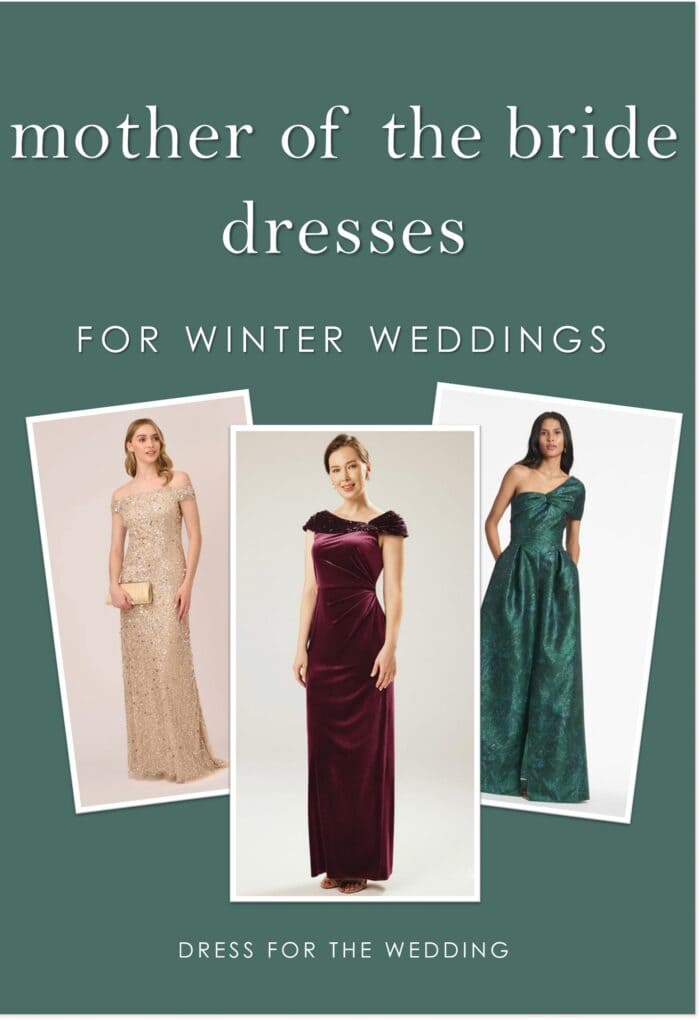 Image and Shopping Sources: 1. Off the Shoulder Beaded Gown in Champagne by Adrianna Papell 2.Red Velvet Off the Shoulder Rosemary Dress by AW Bridal 3. Malachite Gown by Sachin and Babi
Mother of the Bride Dresses for Winter Weddings
For that reason, if your daughter or son's wedding is during the months of November, December, January, or February, you are likely will want a dress that will keep you warm, stylish, and will reflect the festive flair of the season. Here are a few picks from our retail partners that will allow you to find and shop for the prettiest mother-of-the-bride dresses for the winter season!
75 of the Best Winter Dresses for the Mother of the Bride
Here is our curated collection of what we think are some of the prettiest and most elegant long-sleeve gowns, formal dresses, and winter special occasion styles for mothers of the bride or mothers of the groom.

Check out more Elegant Mother of the Bride Dresses organized by color.
Best Colors for Mother of the Bride Dresses for Winter Weddings
If none of these picks for mother-of-the-bride dresses for winter weddings are fit, mother-of-the-bride dresses in traditional winter colors like deep ruby reds, emerald green mother of the bride dresses, midnight blue, silver, gold and champagne shades will serve you well as well! Here are some of our favorite examples of the best colors and silhouettes for mothers to wear in winter weddings.
Burgundy

You probably can also picture how red and its more subtle cousin - burgundy would be top colors for the winter and holiday seasons. Burgundy is a more muted way of wearing the traditional red ruby colors of the season, however straight-up red can be an option as well. See more of our selections for the best burgundy and red mother of the bride dresses.
Emerald Green

Just like red, deep forest or emerald green is known to be a color of the winter season. It brings up pine-scented trees and winter greenery and is just a traditional favorite. It's also such a flattering color that can coordinated well with other colors. This elegant hi-low gown looks like it was just made to go to a formal winter event. See more emerald green dresses here.
Gold

For instant celebration, gold is a way to wear a beige of neutral color in a festive way. Add sequins and beading and this gown will be getting compliments. We imagine this for a New Year's Eve wedding, but it can also be a great color for any December or November weddings as well! See more gold dresses for mothers of the wedding.
Silver or Charcoal Gray

Try a frosted look with the help of metallic pewter sequins in this off-the-shoulder style. If the wedding is featuring cool winter tones like sage green ivory or gray, a silver or charcoal grey dress can be a lovely choice. This, like the dress before it, is also ready for a New Year's Eve wedding event, or holiday formal. See all our silver mother of the bride picks.
Sapphire Blue

Deep jewel tone blue is another gorgeous color to select for winter. The cool tones of the blue, mixed with he richness of this particular sapphire shade make for a bit of a brighter look than the traditional navy blue ( but that's a great color as well!) See all of our picks for dark blue mother of the bride gowns.
Red

If your son or daughter is planning to have a Christmas wedding or a wedding wedding wear color is encouraged, winter is the time to go for a rich red satin like this!
Black

Black is always chic in the winter months. Picking a black gown with some ornamental touches of gold, a printed or some beading ensures a celebration-ready outfit!
Blue Gray

This shade of silvery blue-gray isn't one you'll see a lot of, but it's an excellent way to choose something in the light blue color family and make it a winter look. The sequins on top make this one a stunner for all sorts of winter black-tie celebrations.
Best Fabrics for Cold Weather Mother of the Bride Dresses
Beading and Sequins

Beaded and sequined mother-of-the-bride dresses are pretty standard for all seasons, but the heavy weight of the beaded fabric is much easier to bear, and perhaps welcomed, in the winter months! It's also instant sparkle which makes for a radiant look during the otherwise moody winter months.
Velvet

If winter had a fabric it would be velvet. Late fall and early winter cold temps are really the only tie most people would even feel like donning this cozy, rich, and soft fabric. It's almost an unspoken requirement that if you're planning a winter wedding there should be some velvet somewhere. Why not make it a dress?
Satin or Silk

Satin and silk are standbys for all wedding attire, but in rich colors the sheen of these fabrics looks even grander. You won't wilt in satin on a cold day, but you might if you wear it in July! It's a great option for shine and warmth in December, January, and February.
Jacquard

This rich woven tapestry-meets-satin kind of fabric is a great warm way to get a structured look and to wear a bit of a floral pattern or print.
Best Styles and Silhouettes for Winter Weddings
Long Sleeve

It goes without saying that longer sleeves and longer hemlines equal more coverage and warmth, and therefore work well for snowy days and winter events. We just had to say it, and show you a gorgeous example!
Off the Shoulder

Shoulder-baring styles don't exactly make practical sense, but there's something about the shawl like appearance of an off-the-shoulder style that makes it a style we see a lot of in winter. It's like a few inches more fabric than spaghetti straps or strapless but somehow that seems like enough, perhaps? You can also always wear a winter wrap with any gown that seems a bit chilly!
Ballgown

A ballgown is ideal for a winter wedding, especially since indoor wedding receptions are often held in ballrooms for the winter months. The overscale skirt of a ballgown is flattering and fun to dance in and makes for a grand and stately look befitting a mother of the wedding.
Floor Length

Again, the length here adds a bit of warmth and a lot of formality!
This article was originally published on Aug 31, 2016 and was most recently updated on September 26, 2023.