From ruby to burgundy, garnet to cranberry, and a bit of mauve and rusty rose we've selected these red hued and ruby jewel-toned red Mother-of-the-Bride dresses. We've found the most elegant dresses from the best sources for red and burgundy Mother-of-the-Bride and Mother-of-the-Groom dresses and rounded them up for you. Just remember red can be an eye-catching color, so be sure the couple has given this color the thumbs-up!
The sources in this shopping guide to red dresses and gowns for the Mother-of-the-Bride use affiliate links, which means this site may earn a commission if you make a purchase from our links.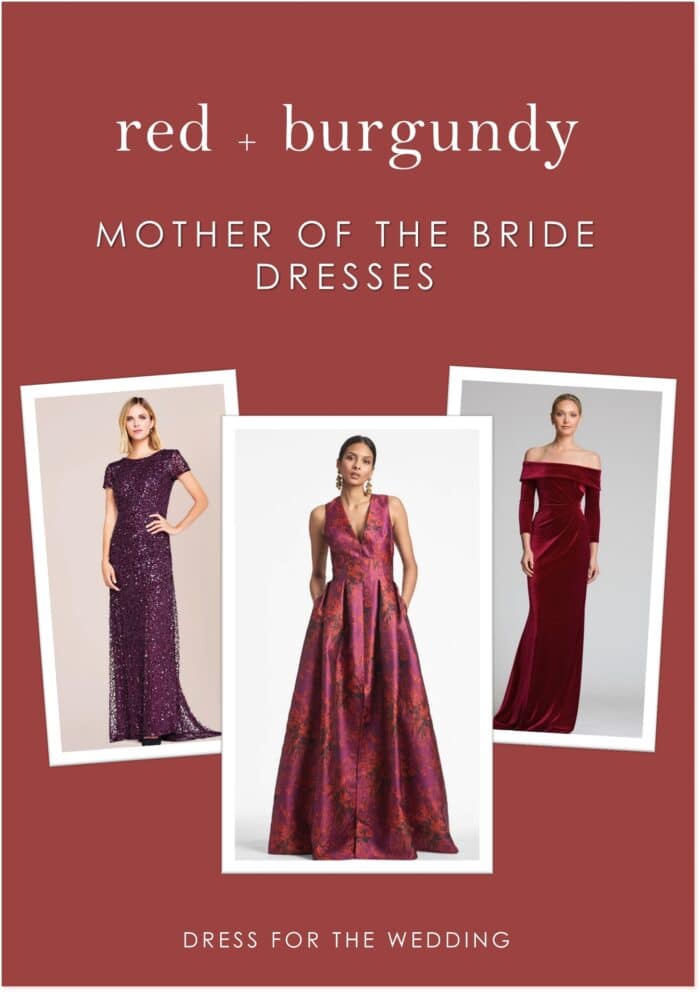 Image credits and shopping sources 1. Scoopback Sequin Gown in Cabernet by Adrianna Papell 2. Brooke Gown in Raspberry by Sachin + Babi 3. Off the Shoulder Stretch Velvet Gown by Teri Jon
Beautiful Burgundy and Red Dresses for the Mother of the Bride or Mother of the Groom
These red-toned colors are a lovely choice for a fall or winter wedding or any wedding where a touch of wine, berry, red, or plum, will complement the color scheme.

Where Shop Red Mother-of-the-Bride and Mother-of-the-Groom Dresses
Nordstrom Dillard's Teri Jon Adrianna Papell
Favorite Red Special Occasion Dresses for Mothers
Here are a few of the red gowns and dresses we've been eyeing lately!
Tea Length Cap Sleeve Burgundy Dress with Embellished Details
This tea-length high-low gown pairs beautifully with an embellished cap sleeve bodice. Embellished details and a sheer neckline add to the interesting details of this gown. The length and style make this a beautiful choice for an outdoor wedding in the early fall season.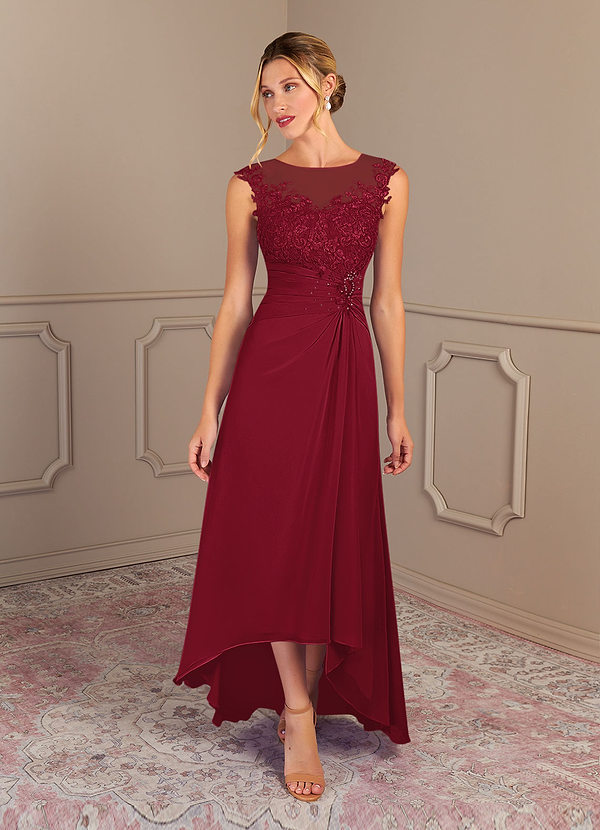 Tea Length Dress Endora by Azazie
Short Sleeve Sequin Drop Waist Gown with Godet Skirt
This short sleeve wine-colored ankle-length gown has some art deco details like beading and the gathered godets in the skirt which give this dress lots of movement.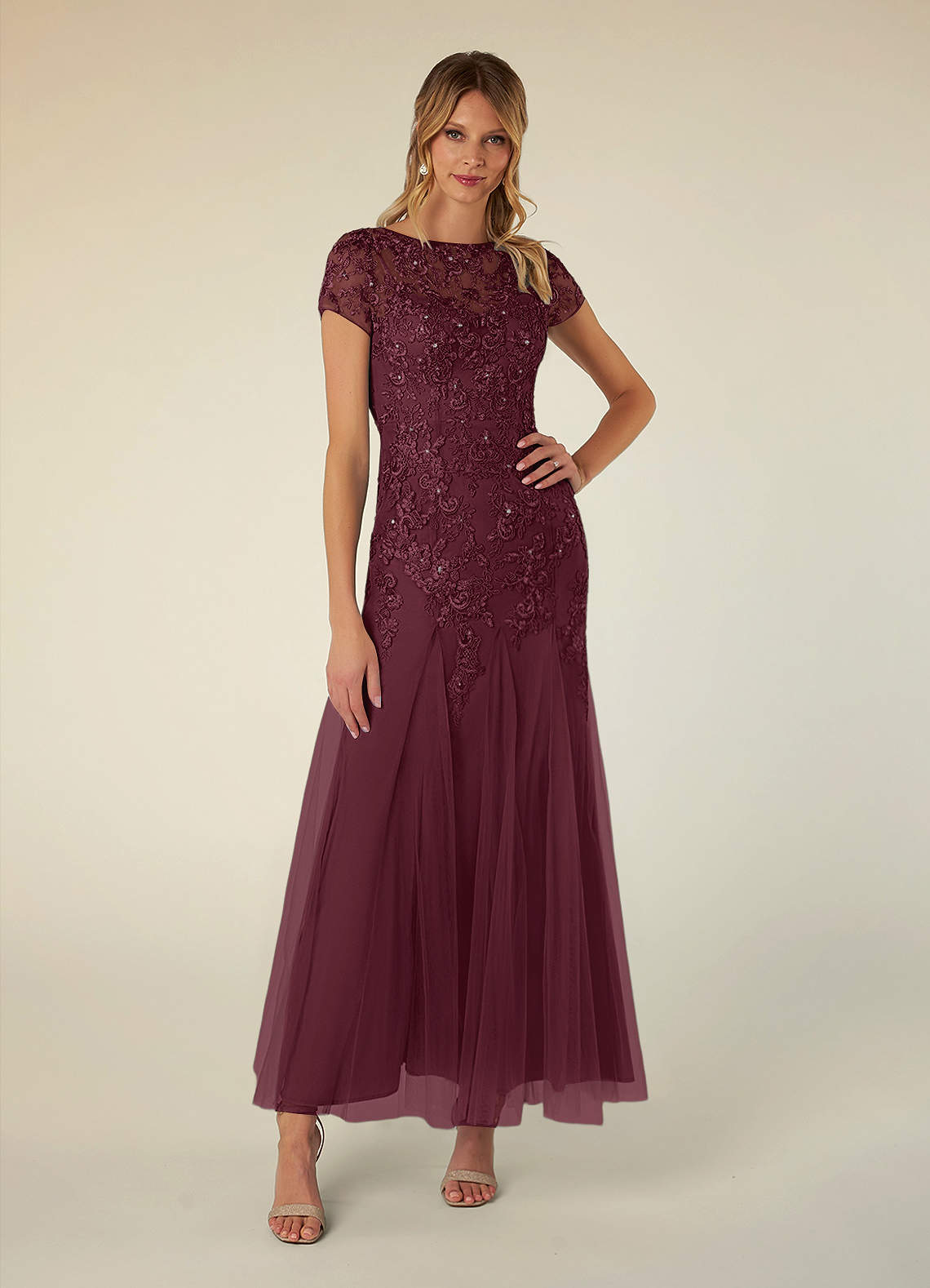 Laurie from Azazie Comes in Burgundy, Cabernet Mulberry, and Other Tones for Red - $299
Red Gown with Sweetheart Neckline and Embellished Short Sleeves
The flattering neckline and waist-defining draping on this gown make it an elegant look for fall or winter. We love the embellished lace detail at the sleeve.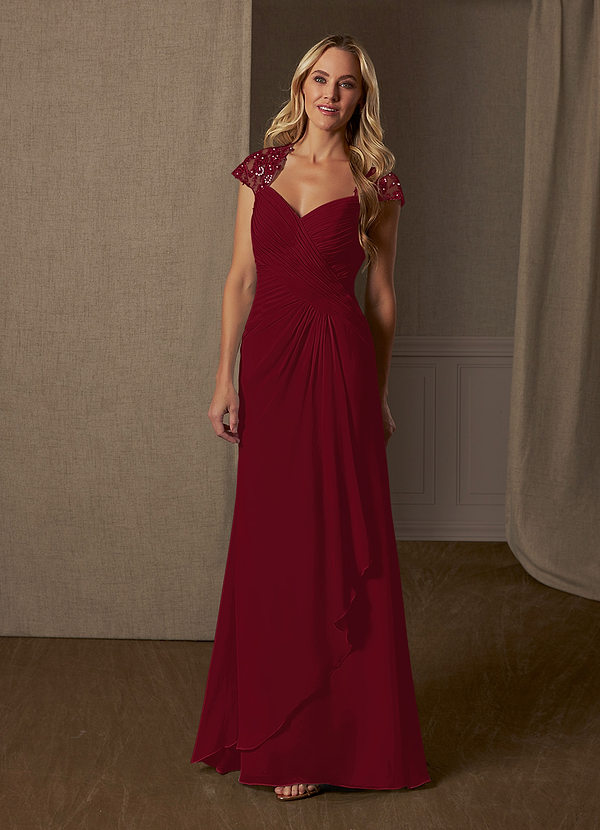 Birdie By Azazie Shown in Burgundy, comes in many other colors including 4 more shades of red
Flutter Sleeve Gown
This black-tie worthy gown has some delightful details in the flutter sleeve, high boat neck, and shirred swept waistline. Elegant and understated!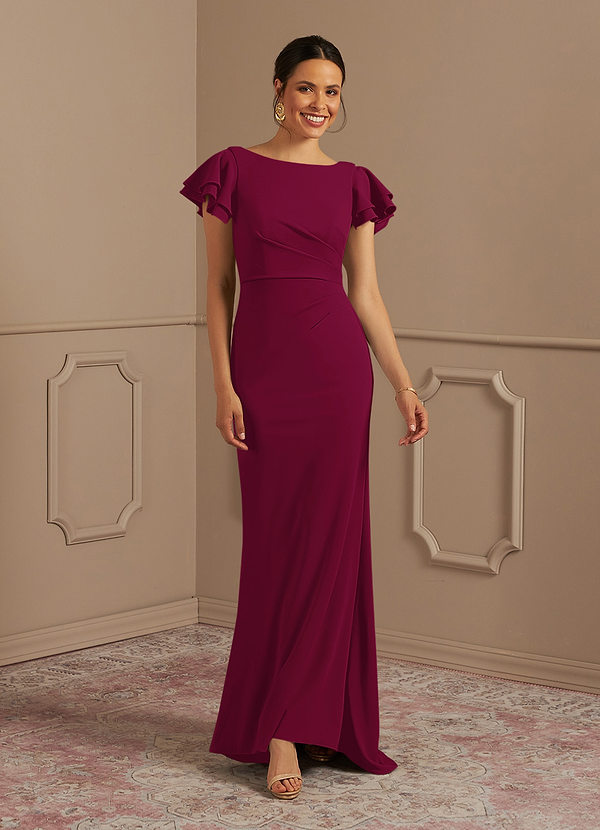 Peppermint by Azazie
Tea Length Burgundy Dress
This length and style is ideal for a daytime autumn wedding or a rustic wedding ceremony.
What Bridesmaid Dress Colors Pair with a Red Mother-of-the-Bride Dress?
Usually, it's nice to have the bridesmaid dresses echo the main theme and color scheme that the couple has selected for the wedding decor. Ideally, the mothers of the wedding will choose dresses that not only harmoniously work with the colors the bridesmaids and groomsmen are wearing, but will also tie in other color scheme elements in the wedding. Here are some color options that can go nicely with a red mother-of-the-bride dress.
Blush, Mauve, or Pink
If the bridesmaids are wearing a pink-hued color like blush, rose, or pale pink, especially in the late summer or early fall, a mother-of-the-bride gown in a dark pink or rich burgundy can add a bit of harmonious but distinct hue. The combination of light pink paired with deep red can be echoed in the flower to give some wonderful depth to wedding decor with a pink color scheme. See Pink Bridesmaid Dresses Here.
Other Shades of Red
We love a monochromatic look, so if the bridesmaids are wearing a shade of red like rust or even garnet, and you like the idea of staying within the red color family, the mother of the bride can choose a gown in a color that is either lighter, or darker or perhaps a shade warmer or cooler than the bridesmaids' dresses. Another way to do this is to select else has a print, pattern, or texture, like beaded or lace that allows the mother's dress to stand apart. Having this style can create a color-coordinated look for photos while allowing the mother of the bride to have a distinct look from that of the bridesmaid dresses.
Dusty Blue or Navy Blue
Navy blue is a classic and timeless color that pairs beautifully with red. While blue and red can sound like a patriotic theme when done correctly a deep burgundy gown paired with rich, deep tones of navy or dusty blue in the bridesmaid dresses can create a sophisticated and elegant contrast for a fall or winter wedding.
Emerald and Olive Green
Green and red are contrasting colors, but the contrast can be pleasing when it's a pairing of jeweled-tone colors. We like the idea of deep emerald contrasted with wine-colored red mother-of-the-bride dress for a holiday or winter wedding. The pairing of a dusty olive green and a rusted red tone for the mother of the bride makes a nice color combination for fall.
Golden Colors
Warm gold neutral shades like beige, champagne, and bronze are so popular for bridesmaid dresses. Gold and shades like deep rich red, wine, or rich plum can be an excellent pairing.
Silver or Gray
Adding red into the mix if the bridesmaids are wearing cool-toned dress colors like silver or gray can again add some warmth and depth to a wedding party color range.
Black
If the bridesmaids are wearing black, it can be important to balance the black with other wedding colors to avoid an overly dark or somber atmosphere. Having a rich red shade in the mix again through the florals and perhaps in the mothers' gowns can be a nice way to add a festive shade.
Plum
If the bridesmaids are wearing a deep shade of purple, then a wine-colored mother-of-the-bride dress can provide some subtle contrast to that shade, while still creating a warm autumnal color scheme and pairing of two rich warm tones.
Didn't find quite the right dress yet? Here are some links to help! We love these stores and designers for finding mother-of-the-bride or groom dresses from affiliates who are trusted online retailers. And here's a tip: Your dress doesn't have to be labeled "mother of the bride" to be appropriate. A pretty cocktail dress, evening gown, and sometimes a formal bridesmaid dress will work, too!
Dillards | Nordstrom | Saks Fifth Avenue | Neiman Marcus
Featured Dresses from Past Seasons
This article was originally published Ocotber 4, 2013 and was most recently updated on September 17, 2023. We keep some of the older images and pins on this page for continuity. These gowns are now most likely out of stock, but we keep links to the original sources here.
Short Sleeve Sequin Satin Gown with Tulle Overlay by Teri Jon
Long Cap Sleeve Party Dress With Beaded Neckline from David's Bridal
Tadashi Shoji Embroidered Lace Gown from Dillard's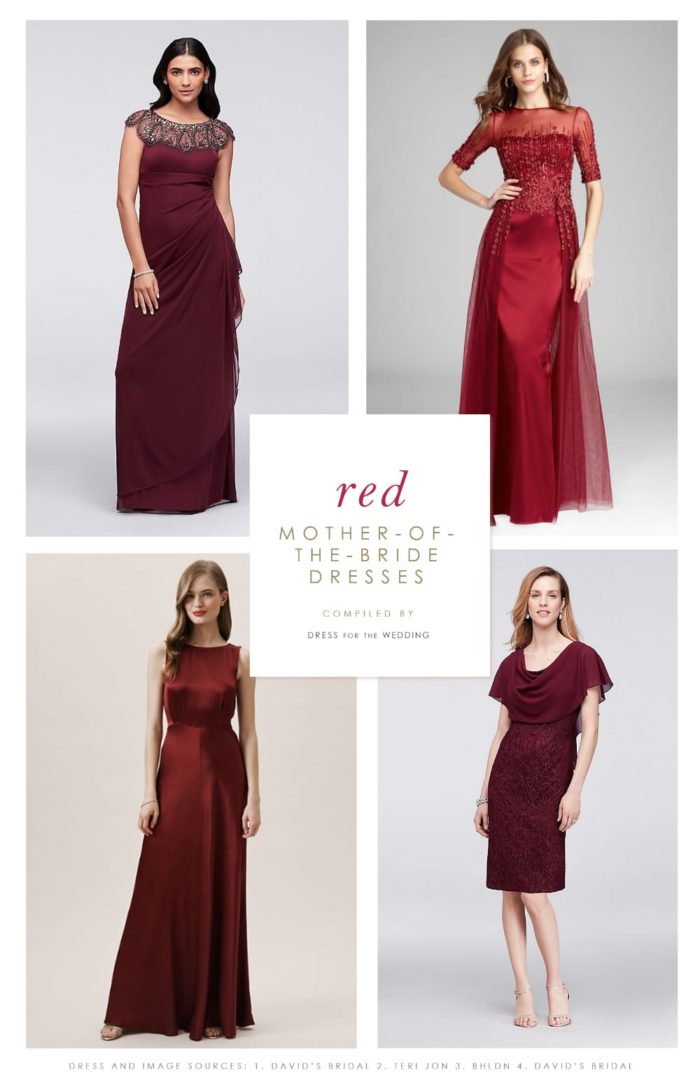 Sources: 1. Long Cap Sleeve Party Dress With Beaded Neckline from David's Bridal 2. Short Sleeve Sequin Satin Gown with Tulle Overlay by Teri Jon 3. Alexia Dress Bordeaux from BHLDN 4. Glitter Lace Sheath Dress with Attached Capelet from David's Bridal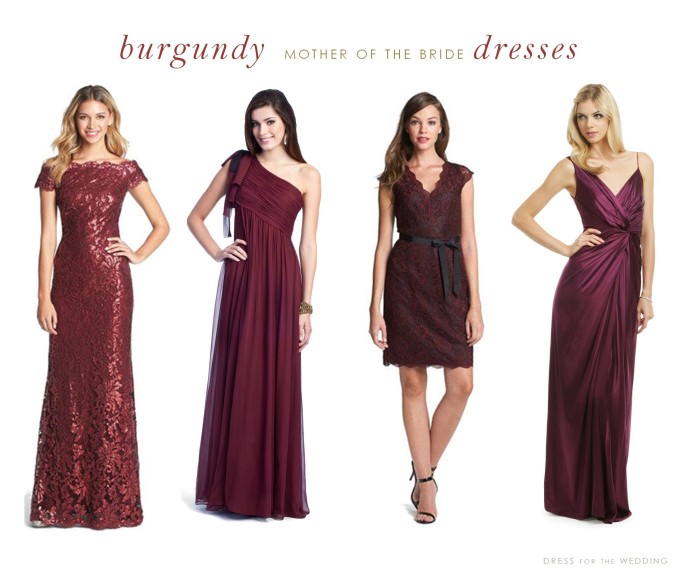 1. Tadashi Shoji Dress 2. Olympia Gown 3. Cap Sleeve Lace Dress 4. Forget Me Knot Gown
You may also want to check out these related pages:
Pink Mother of the Bride Dresses
Coral Mother of the Bride Dresses
Purple Mother of the Bride or Groom Dresses