Orange, coral, and peach can add a bit of citrusy bright color to a summer or a tropical wedding, so if you're looking for a coral or peach mother-of-the-bride dress that is orange, marigold, or pinky coral, We've collected our top picks from special occasion dress retailers of these orange mothers of the bride dresses in cocktail length and formal styles.
Coral, Orange, or Peach Mother of the Bride Dresses
This post about peach, coral, and orange dresses for mothers of the wedding uses commissionable links in the shopping resources.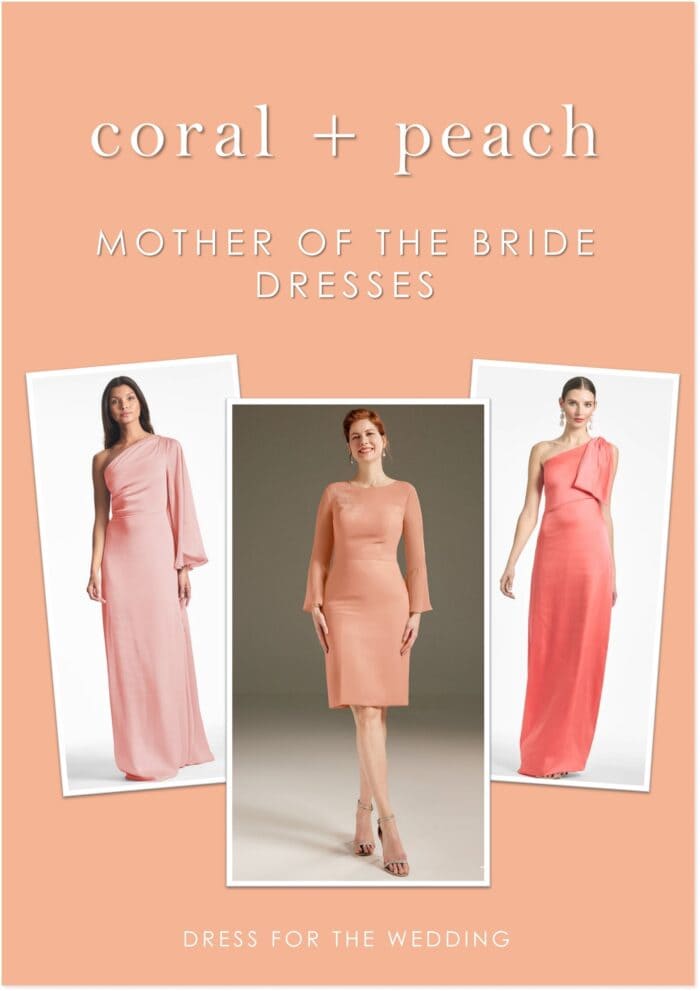 Shopping details for featured dresses and image credits: 1. Keely Gown by Sachin + Babi 2. Natividad Dress from AW Bridal 3. Chelsea Gown in Coral by Sachin + Babi
Over 50 Coral Dresses for Mothers of the Wedding
We've rounded up what we think are some of the best examples of orange, peach, and coral special event dresses for mothers to wear.

Our Top Picks for Orange, Peach and Coral Mother of the Bride Dresses
Pleated Hot Coral Pink Gown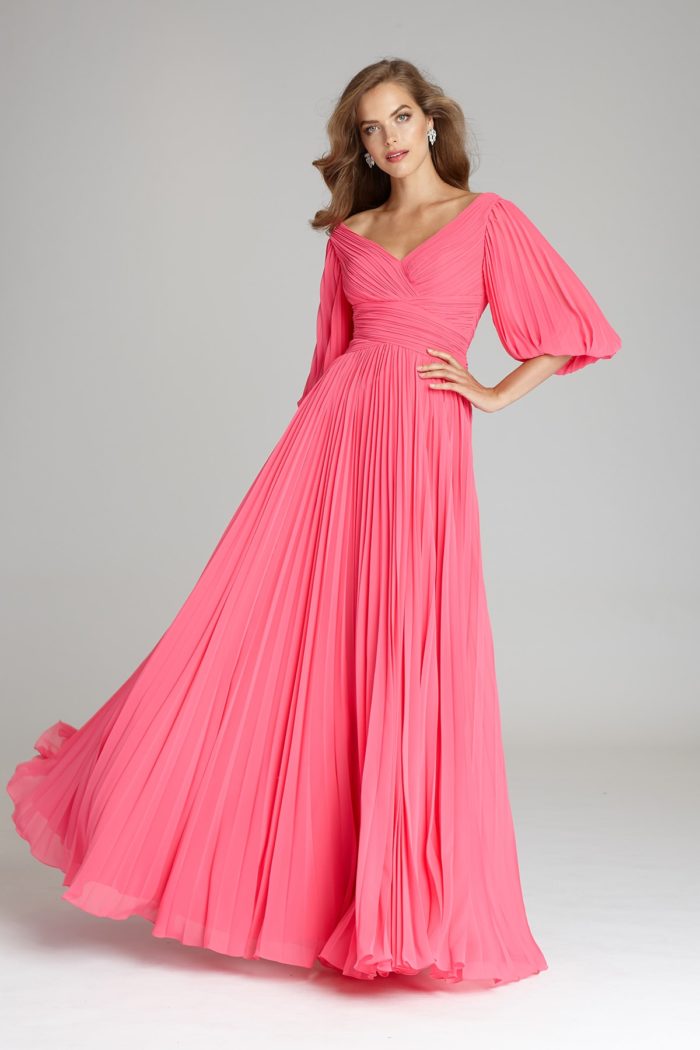 If bright coral colors that are on the verge of hot pink are part of the wedding color scheme, this dazzling pleated puff sleeve gown might be for you! It comes in several other colors, but this shade - Watermelon - is an eye-catching style that is perfect for a resort wedding, a beach wedding or a summer wedding with a colorful dress code. It's the Chiffon Puff Sleeve Pleated V-Neck Gown by Teri Jon
Short Coral Dress

Since coral can be a great color for warm-weather weddings, desert weddings and beach weddings, it only makes sense that shorter styles of mother-of-the-bride dresses would be popular as well. This style has long sleeves and a beautiful sheer overlay at the bodice. It's also under $100 and comes in other color options. This dress is from AW Bridal.
Beaded and Sequined Coral Gown

Combine coral colors and sequins for a show-stopping look. Our favorite pick for beaded and glamorous gowns for the mother of the bride is always Mac Duggal. This would be a great look black tie or a formal fall wedding in a warmer climate. Draped Sequin V Neck Dress by Mac Duggal from Nordstrom.
Hot Pink Formal Gown

If you're inspired by the hot pink color that was seen everywhere this summer thanks to the Barbie movie, this hot pink one-shoulder gown might be the one for you! This is a black tie formal gown for a mother of the bride or groom would loves pink. We are seeing more and more pink-themed and bright, colorful wedding color schemes, so this vibrant gown with both stand out and fit it! One Shoulder Stretch Gazar Gown by Teri Jon.
Coral Gown for a Beach Wedding

A softer, less structured style of gown or maxi dress with a pretty floral print can be just the thing to wear for your son or daughter's beach wedding, destination wedding, or informal spring wedding. This gown is by Sachin + Babi.
Coral Satin Gown for Under $100

When we are looking for special occasion styles for under $100 in beautiful colors, fabrics and in a range of sizes and styles, we often look to Birdy Grey. This is a bridesmaid dress in their satin fabric in the color Terracotta, but it could easily be worn by the mother of the bride or groom. Dress by Birdy Grey.
Can the Mother of the Bride Wear Coral or Orange?
Yes, as long as coral fits with the color scheme of the wedding, and the color has the couple's approval, coral or orange mother-of-the-bride dresses can be a wonderful color for the mother of the bride to consider! We hope the preceding examples of mother-of-the-bride and mother-of-the-groom dresses in shades or orange have shown how wonderful the range of this color can be!
What is the Best Season and Style of Wedding to Wear an Orange or Peach MOB Dress?
Orange, terracotta, and coral dresses fit right into many wedding color themes and can be worn in almost all seasons.
Thanks to summer weddings with their return to bright sunny and vibrant colors in the dress code, bright colors, with orange, tangerine, watermelon pink, and other vibrant variations on think pinky and orange hues are making a comeback.
But coral dresses aren't limited to summer weddings. Try a muted coral dusty rose or satin or velvet terracotta colored dress for a fall wedding. For spring weddings the pastel shade of a light shade of coral -- also known as peach -- is simply a classic. Rose gold, coral's sparkling cousin, makes for a great choice for a way to wear coral in the evening or in the cooler months.
Coral floral prints with a mix of pink, coral or rose gold can be great for beach, rustic, or outdoor garden weddings. Beaded dresses in coral add texture and interest. and We've rounded up what we think are some of the best examples of orange, peach and coral special event dresses for mothers to wear.
What Wedding Color Schemes and Seasons Work With Coral Dresses?
Coral is a usually vibrant color, but it can also be a soft muted shade of a coral pink for a tropical or summery wedding. Hot pink is a great choice if it's a signature color of the mother or bride, or as a park of a pink wedding color scheme. We also love the look of citrus-inspired wedding color palettes and the color coral certainly has a role in that. If you want the softer side of coral and orange dresses, look to peach pastels which fit well with summer and spring wedding color schemes. For fall weddings rosey rusty shades of orange and peach, and rose gold tones can work well!
See More Mother of the Bride Dresses by Color
Sequined Mother of the Bride Dresses| Red Mother of the Bride Dresses
Pink Mother of the Bride Dresses | Coral and Peach Mother of the Bride Dresses
Yellow Mother of the Bride Dresses | Green Mother of the Bride Dresses
Light Blue Mother of the Bride Dresses | Dark Blue Mother of Bride Dresses
Purple Mother of the Bride Dresses | Silver and Gray Mother of the Bride Dresses
Gold, Taupe, and Neutral Mother of the Bride Dresses | Black Dresses for Mother of the Bride
This page was first published on Ocotber 4, 2013 and was updated most recently on September 26, 2023