Red Bridesmaid Dresses
Red is a fantastic vibrant color for weddings, and red bridesmaid dresses suit so many skin tones and seasons! If you're planning a fall, winter, or summer wedding, pretty red dresses like these will certainly add a splash of color.  Since Dress for the Wedding is intended to be a shopping resource that will help you find the perfect dress for your wedding party, I have handpicked these red bridesmaid dresses from my affiliated retail partners.
This post uses affiliate links.


More Dresses to Love:
ML by Monique Lhuillier | Amsale Bridesmaids
Related Pages
Red Mother of the Bride Dresses
Red Ties for Grooms and Groomsmen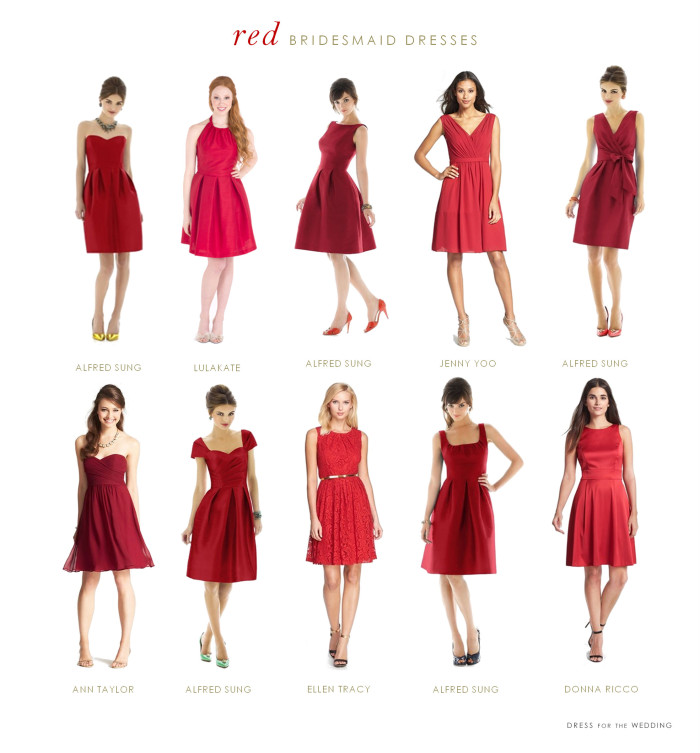 From our  partners Row 1: Alfred Sung Style D620   2. LulaKate Style Nicole  3.Alfred Sung Style D448 4.Cory Chiffon Dress by Jenny Yoo 5. Alfred Sung Style D595
Row 2:  Ann Taylor Georgette Strapless Dress  2. Alfred Sung D576  3. Ellen Tracy Red Lace Dress 4. Alfred Sung 5. Donna Ricco
ML by Monique Lhuillier | Amsale Bridesmaids
Dessy Bridesmaid Dresses | 57 Grand
Dessy Twist Wrap Dresses | Donna Morgan
Related Pages
Red Mother of the Bride Dresses
Red Ties for Grooms and Groomsmen
Also check out these  bridesmaid dress designers:
ML by Monique Lhuillier | Amsale Bridesmaids
Dessy Bridesmaid Dresses | 57 Grand
Dessy Twist Wrap Dresses | Donna Morgan