Red dresses for bridesmaids are an extremely popular and classic color choice for a wedding. Here are some of our favorite red bridesmaid dresses, plus guidelines on where to shop for burgundy, rust, and wine-colored red bridesmaid dresses.
Affiliate commission links are used in the shopping links in this post. This means this blog may earn a commission if a qualified purchase is made.
Burgundy and Red Bridesmaid Dresses

Red is a fantastic vibrant color for weddings, and red bridesmaid dresses suit so many skin tones and seasons! If you're planning a fall, winter, or summer wedding, pretty red dresses like these will certainly add a splash of color. We've seen red and burgundy as a very popular color for wedding parties in fall weddings. Long cranberry-colored or ruby gowns also look great for a winter wedding.
Shop Red Bridesmaid Dresses
Since Dress for the Wedding is intended to be a shopping resource that will help you find the perfect dresses for your wedding party, I have handpicked these red bridesmaid dresses from my affiliated retail partners to help you find just the right dresses!
There are so many hues of red like burgundy, to orangey cinnamon, to a bright cherry red and to deep jewel-toned ruby and garnet bridesmaid dresses. There is a wide range of bridesmaid dress lengths and silhouettes from short and long styles, maxi dresses, formal and casual styles.
Here are more places that carry bridesmaid dresses in red. Colors and styles shown here are just a small representation of what they offer.
ASOS
Asos offers on-trend and affordable bridesmaid dresses in a selected grouping of colors that rotates by season. Usually, ASOS will offer several burgundy dresses for fall/winter season.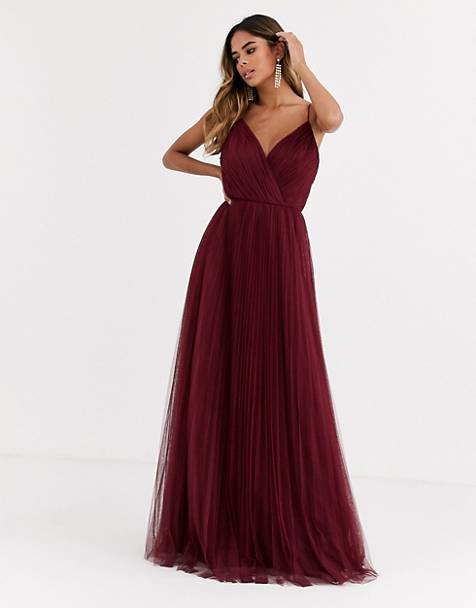 A beautiful burgundy dress from ASOS under $110.
Azazie
Azazie has a whole range of bridesmaid dresses by color. They offer probably one of the largest selections of bridesmaid dresses under $150, and with a huge range of colors, styles, sizes, and silhouettes. This dress is just one of the hundreds they offer! You might also like to read about our Bridesmaid Dress try-on experience with Azazie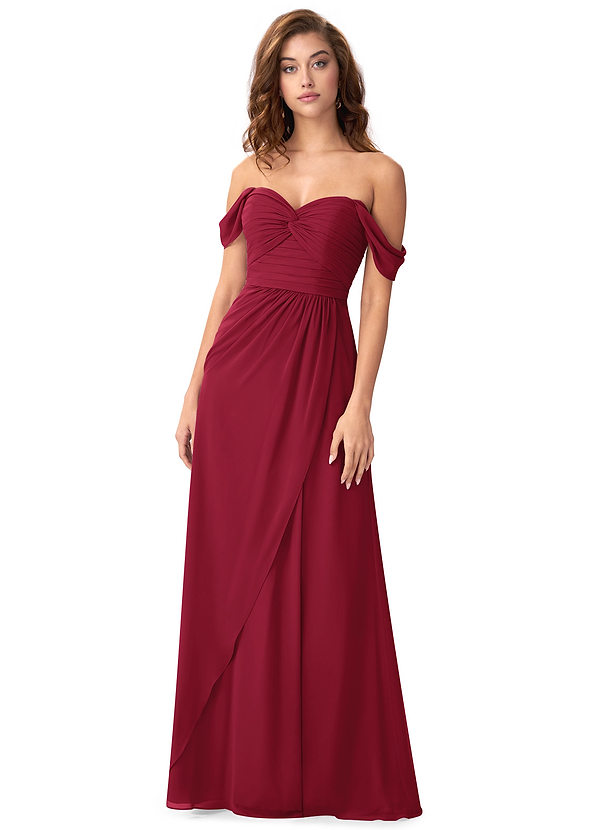 Azazie Millie Bridesmaid Dresses | Azazie
BHLDN
BHLDN always offers a boutique-like selection of modern bridesmaid dresses with a romantic style and classic lines. They have recently created their own line of bridesmaid dresses which features many bridesmaid dress styles under $200. Right now they offer a gorgeous red velvet bridesmaid dresses from Jenny Yoo, as well as satin dresses and some modern crepe styles.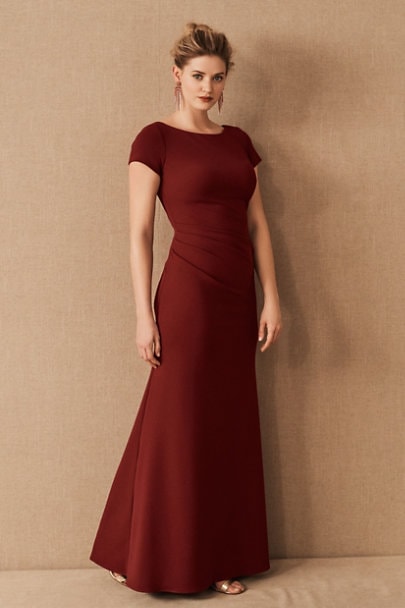 Birdy Grey
Birdy Grey specializes in stylish bridesmaid dresses under $100. They offer a color called Cabernet which is just beautiful, and it comes in several different silhouettes and convertible styles like the one below. They also have pockets!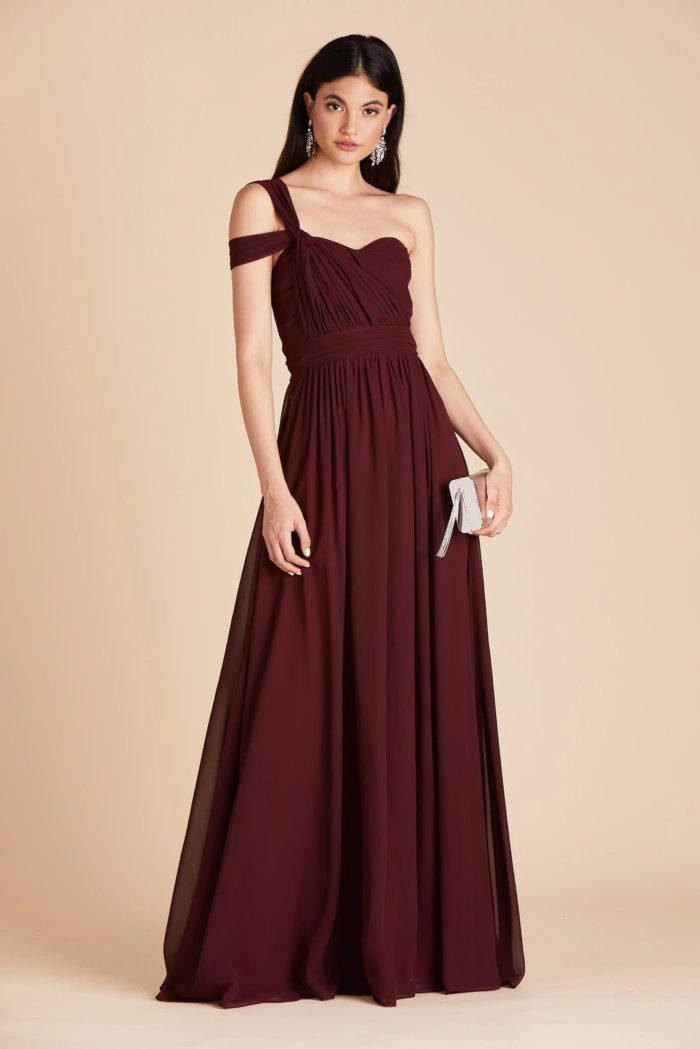 Grace Convertible Dress - Cabernet
David's Bridal
David's Bridal also has a huge selection of bridesmaid dresses in a range of sizes, styles and a dress for nearly every budget. Most of their bridesmaid dresses are under $150, which makes it easier to find a great style. Red shades include a bright apple red, to a mellow rose red called Chianti, and some other pretty rust and cinnamon shades.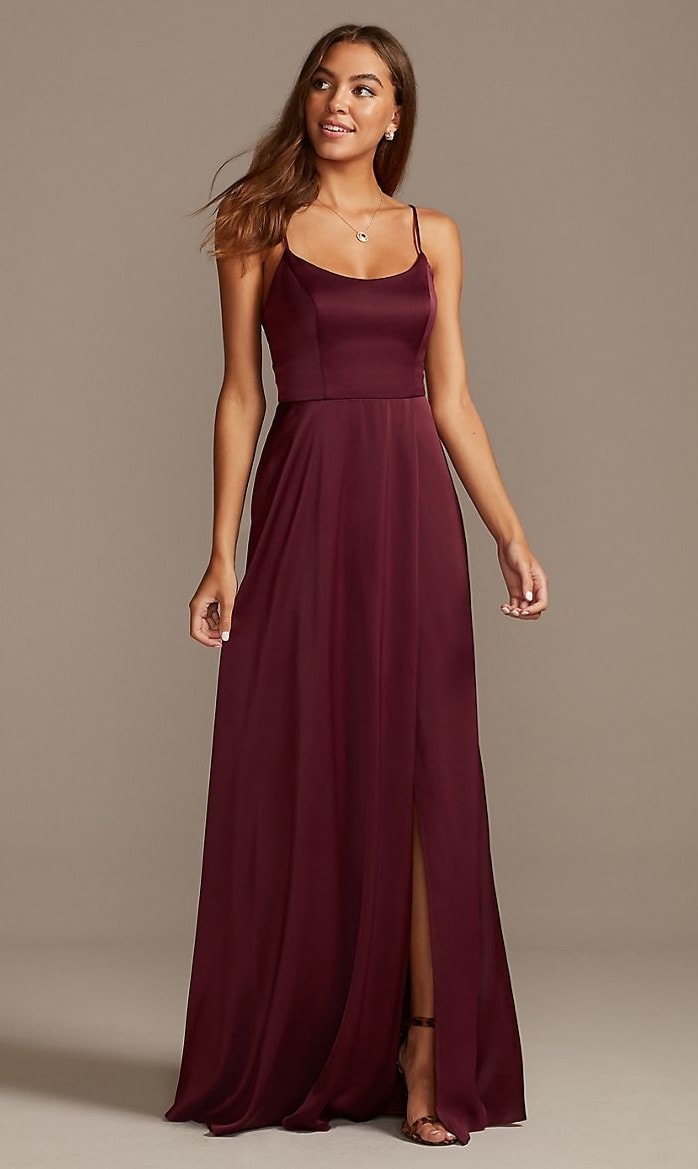 Crepe-Back Satin Spaghetti Strap Bridesmaid Dress
Dessy
Dessy offers bridesmaid dresses in a huge range of colors and styles and offers several lines of bridesmaid dresses that are exclusive to Dessy. This line called Lovely Bridesmaids has some beautiful rusty red dresses.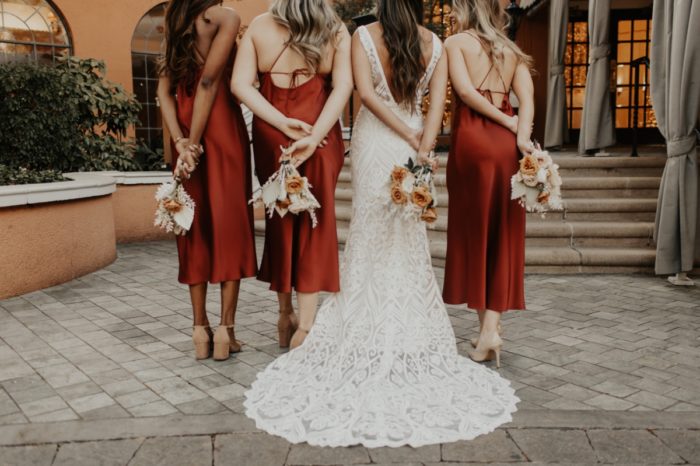 Lulus
Lulus has so many wonderful and affordable options for wedding parties. Most of their maxi dresses are perfectly suited as bridesmaid dresses and are priced at well under $100. They are also great for wedding guest dresses to wear again. They offer so many burgundy dress styles including this one the Heart of Marigold Burgundy Wrap Maxi Dress which is only $68!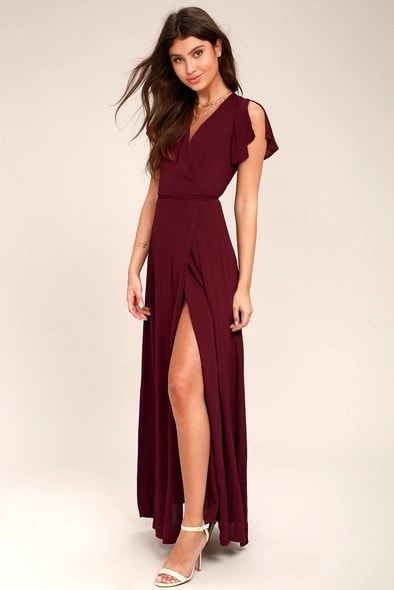 Heart of Marigold Burgundy Wrap Maxi Dress
Show Me Your Mumu
We absolutely love the laid-back and super chic styling of Show Me Your Mumu bridesmaid dresses. Right now they offer three shades of red: Merlot, and Ruby Satin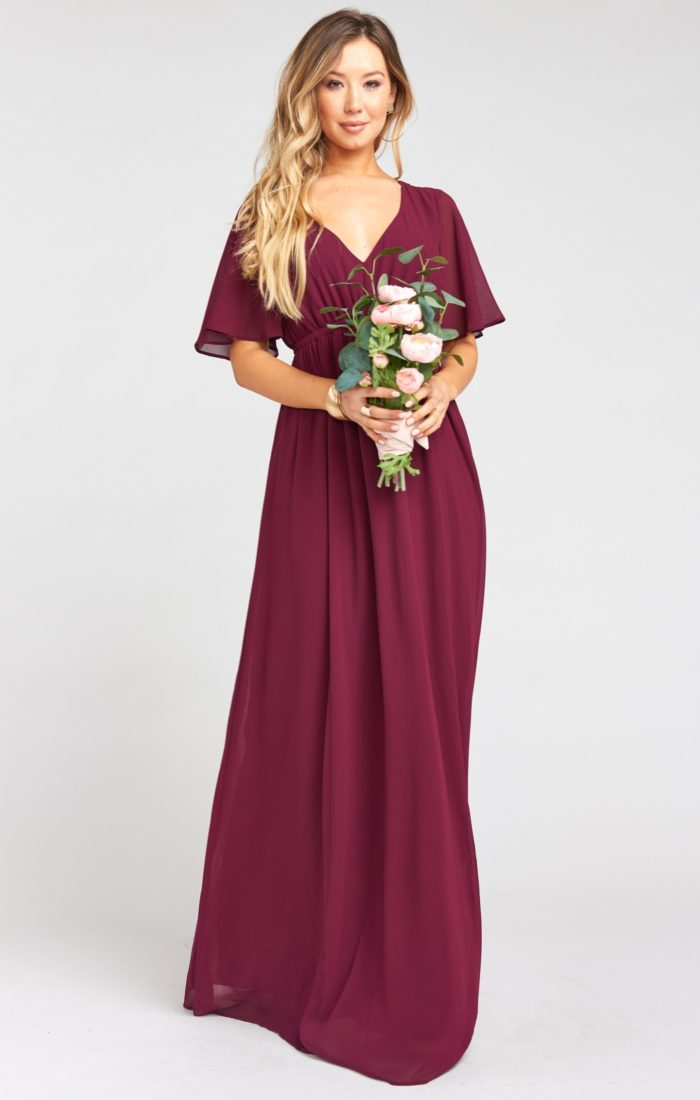 Emily Empire Maxi Dress from Show Me Your Mumu
More Dresses to Love
If garnet, red or burgundy is your wedding color, you might also like these posts.
Red Mother of the Bride Dresses
Red Ties for Grooms and Groomsmen
Or see these designer bridesmaid collections like Jenny Yoo Bridesmaid Dresses Fall 2019, or Jenny Yoo Bridesmaid Dresses or Amsale Bridesmaid Dresses Fall 2019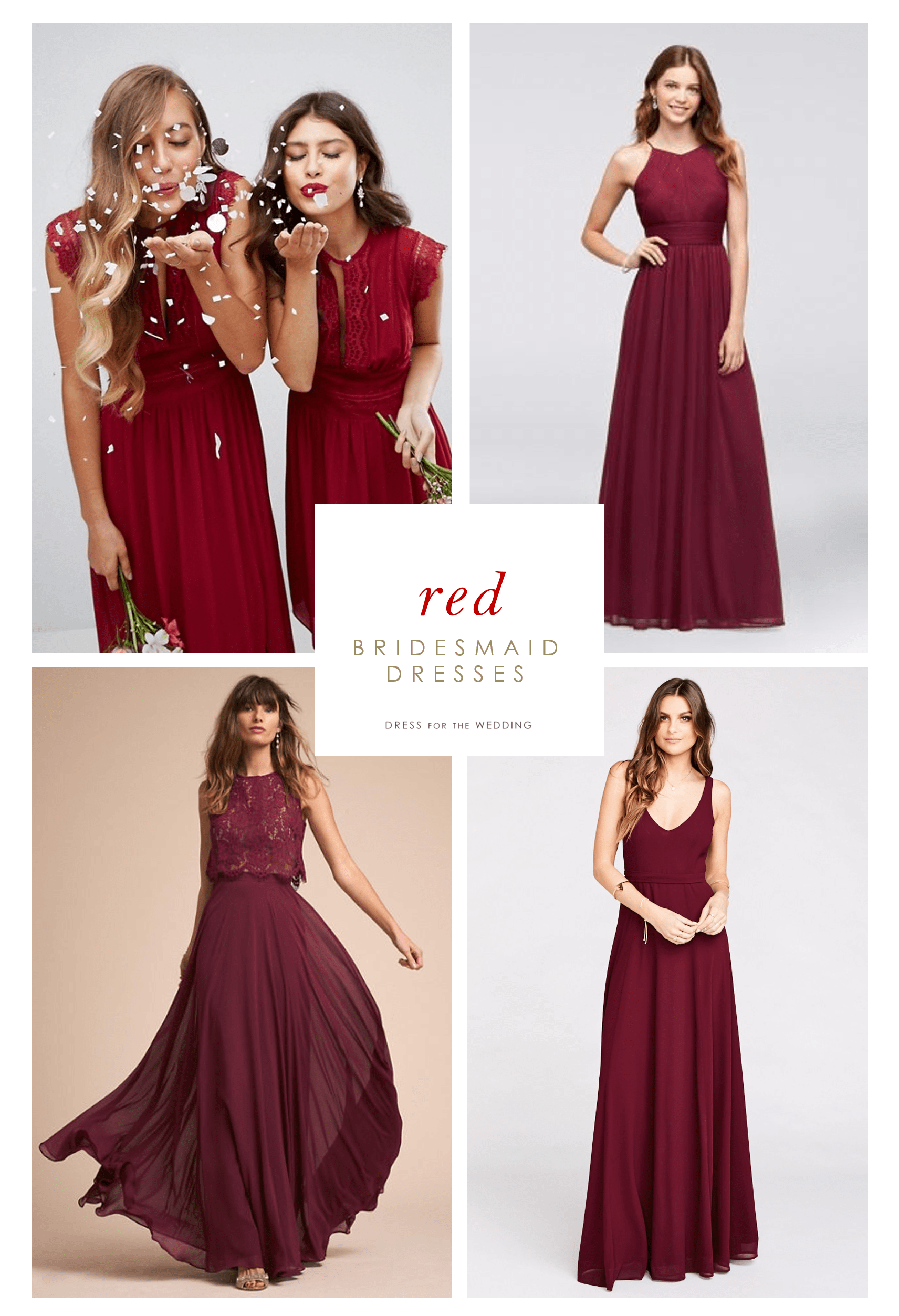 Shopping sources in our posts use commission links.
Sources: 1/ ASOS 2/ David's Bridal 3/ BHLDN 4/ Show Me Your Mumu