Red dresses for bridesmaids are an extremely popular and classic color choice for a wedding. Whether you're seeking short dresses or long dresses, our curated selection includes a variety of styles, ensuring the perfect fit for every member of your bridal party. Here are some of our favorite red bridesmaid dresses, plus guidelines on where to shop for dresses in all shades of red like burgundy, rust, and wine-colored red bridesmaid dresses.
Affiliate commission links are used in the shopping links in this post. This means this blog may earn a commission if a qualified purchase is made.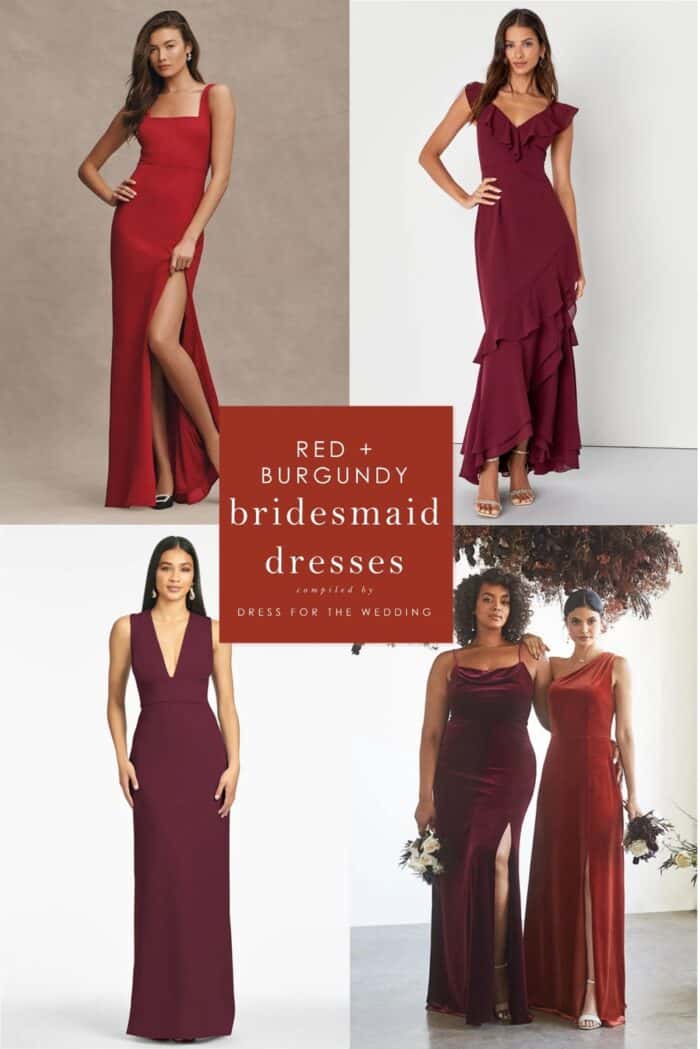 Image credits and shopping sources: 1. Red formal Gown from Anthropologie 2. Flutter Sleeve Dress from Lulus 3. V neck Burgundy Dress Sachin + Babi 4. Velvet Dresses Birdy Grey
Burgundy and Red Bridesmaid Dresses
Red is a fantastic and vibrant color for weddings, and red bridesmaid dresses suit so many skin tones and seasons! If you're planning a summer, fall, or winter wedding, pretty red dresses like these will certainly add a pop of color to your special day. We've seen dark red and burgundy maxi dresses and gowns as very popular colors for wedding parties in fall weddings. Long cranberry-colored ruby, or garnet gowns or long-sleeved red bridesmaid dresses are also a great choice for winter bridesmaid dresses. When it comes to finding the perfect red bridesmaid dress, our collection features various shades, from bold and bright reds to deep and rich burgundy tones. We understand the importance of accommodating different body types, which is why we offer an array of sizes, including plus-size dresses and custom-size options. We want every member of your bridal party to feel comfortable and confident on the big day.
Finding the Perfect Red Bridesmaid Dresses
Since Dress for the Wedding is intended to be a shopping resource that will help you find the perfect dresses for your wedding party, our editor has handpicked these red and burgundy bridesmaid dresses and organized them by a few different factors like price, style, and wedding season to help you find just the right dresses for bridesmaids. We want you to find dresses that will garner tons of compliments from your bridesmaids and wedding guests alike.
Winter Red Bridesmaid Dress

This bright cherry red in a satin fabric makes us instantly think of winter weddings. We think around the holiday bright red bridesmaid dresses are a perfect choice for a festive look! This red square neck crepe dress is from Anthropologie.
Red Velvet Bridesmaid Dresses for Fall and Winter Weddings

Velvet is one of those fabrics that is best saved for cooler temperatures like Fall and Winter. If your wedding day falls in one of those seasons, give red velvet dresses a serious look. It's such a cozy, elegant style that adds such a beautiful style to formal occasion or a late fall or winter wedding. This red velvet mermaid hem maxi dress is from Lulus.
V Neck Gown in Burgundy Red

This red formal dress and color is an ideal shade and style for a fall wedding party. We think your bridesmaids will thank you for choosing such a flattering a line silhouette. This one is from the BHLDN line at Anthropologie Weddings and they have many styles and silhouettes in this rich, deep red shade.
Red Plus Size Dresses for Bridesmaids

Azazie, Birdy Grey, ASOS, Dessy, Kennedy Blue and some limited styles at Anthropologie and Lulus all come in plus sizes, making those spots great options for the entire bridal party.
Red Bridesmaid Dress for a Summer Wedding

If you're planning a summer celebration, then red can work too! Floral red dresses are one great way to go! This is the Riley Dress from Sachin and Babi. Also, the brighter more vibrant shades of red can look great for an outdoor wedding, or try a dusty rose muted red shade for a subtler style like Rosewood by Birdy Grey that still looks great for summer celebrations.
Red Bridesmaid Dresses under $100

If you're looking for a burgundy or red bridesmaid dress under $100, you're in luck! There are quite a few places to look for dresses at an affordable price including Birdy Grey, where all the dresses are under $100, and there are many shades of red that are best sellers. Lulus also has quite a selection of red maxi dresses, midi dresses, wedding guest dresses and bridesmaid dresses under $100. AW Bridal also has jester red, rust, claret, and burgundy bridesmaid dresses in styles with skirt and sleeve options we haven't seen before!
Long Sleeve Red Bridesmaid Dress for a Winter Wedding

For winter weddings we love the long sleeve off-the-shoulder style of this gown. It's one of those looks that is perfect for winter! This is the Solsana Maxi from Petal and Pup.
Red Midi Dresses for Bridesmaids

We focus a lot on long dresses for bridesmaids, but midi dresses are a great choice too. We really love all the great options for this satin tea-length style at Birdy Grey.
Burgundy Red Bridesmaid Dresses

Burgundy is such a distinctive and popular shade of red that we've dedicated other posts to that color. We love this shade for fall weddings. Check out these burgundy bridesmaid dress ideas, and these burgundy dresses for weddings under $100.
Over 70 of the Best Red Bridesmaid Dresses
There are so many red hues like burgundy, orangey cinnamon red, bright cherry red, deep jewel-toned ruby, and dark red bridesmaid dresses. There are a wide range of bridesmaid dress lengths and silhouettes from short and long styles to maxi dresses, and formal and casual styles. We constantly look for the best bridesmaid dresses, and add them to our top picks. Here are a few of the new arrivals we think you might want to consider!

Where to Shop for Red or Burgundy Dresses for Your Wedding Party
You probably now have some more ideas of where to shop for dresses, but in case you're skimming through, here's our current list carry bridesmaid dresses in red. The colors and styles shown here are just a small representation of what they offer.
Nicolina by Azazie in Scarlet
Azazie
has a whole range of bridesmaids dresses by color. They offer probably one of the largest selections of bridesmaid dresses under $150, and with a huge range of different colors, styles, sizes, and silhouettes. The shades of red that they offer are currently from rust,
burgundy,
terracotta,
pomegranate
, and more. These dresses are just a few of the hundreds they offer! You might also like to read about our
Bridesmaid Dress try-on experience with Azazie
where we found the dresses we tried to be of great quality for the pricing and their unique sizing method which allows your bridal part to have custom sized bridesmaid dresses based on their measurements. This sizing technique helps include every body type and helps ensure the perfect fit without too many alterations. Azazie is also a great option if you want to assign a color and let your bridesmaids choose between all of their different fabrics or silhouettes including a line dresses, short dresses, and long bridesmaid dresses
check out all their red dresses.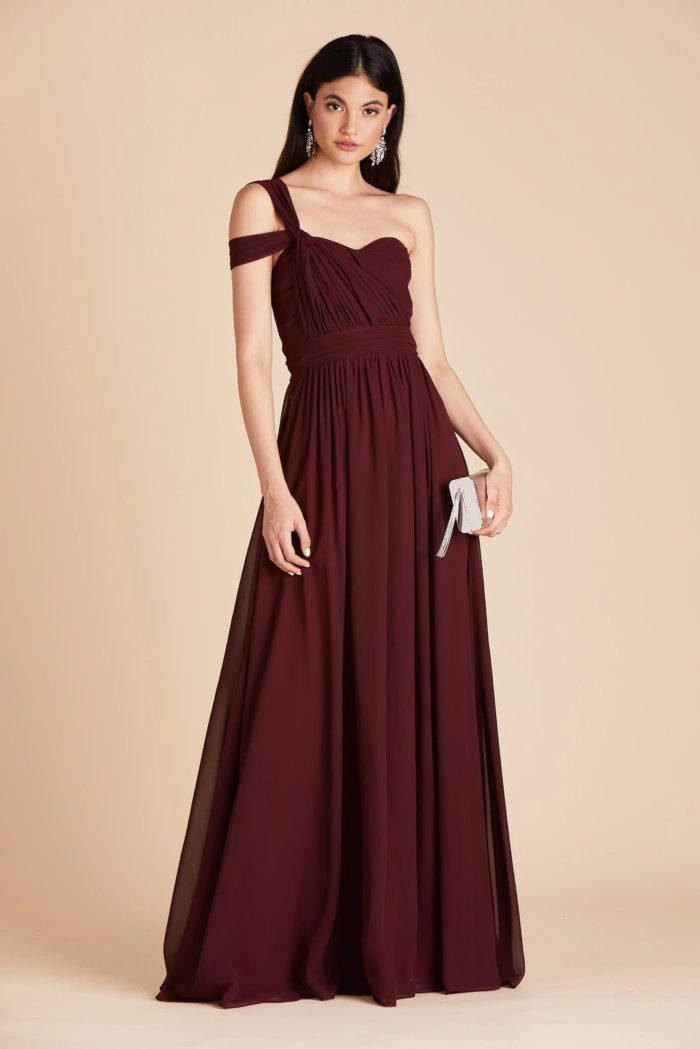 ​
Grace Convertible Dress - Cabernet
Birdy Grey specializes in stylish bridesmaid dresses under $100. They offer a few colors like Cabernet which is just beautiful, and Rosewood. All of the color offerings come in several different silhouettes and convertible styles like the one below. They also have pockets! They also offer so many luxurious fabrics including stretch satin, velvet, and midi and maxi lengths along with plus size dresses and maternity styles. You'll want to check here frequently because they often have many new arrivals and new color palettes are released seasonally.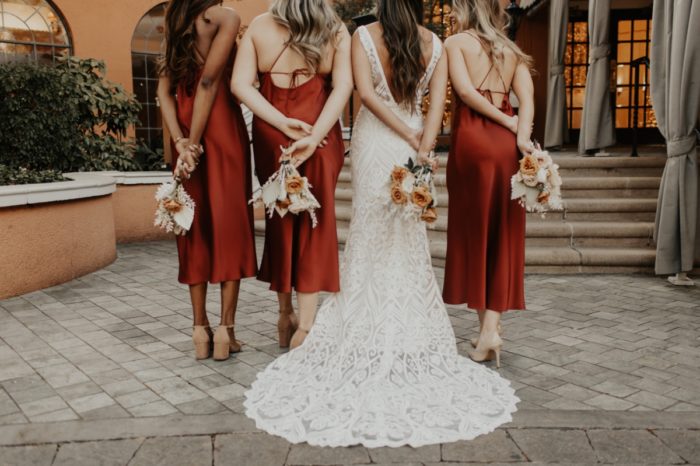 Dessy offers high quality bridesmaid dresses in a huge range of colors and styles and offers several lines of bridesmaid dresses that are exclusive to Dessy. This line called Lovely Bridesmaids has some beautiful rusty red satin dresses.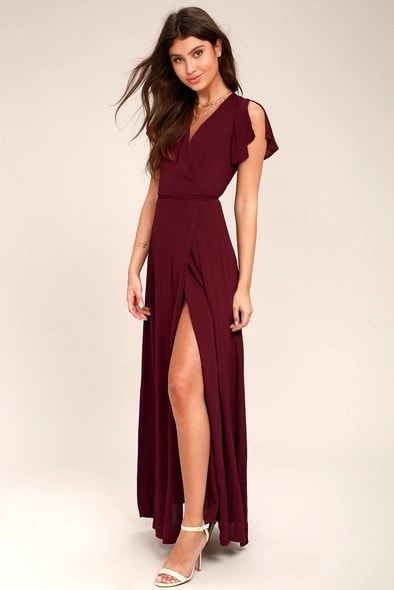 Heart of Marigold Burgundy Wrap Maxi Dress
Lulus
has so many wonderful and affordable options for wedding parties. Most of their maxi dresses are perfectly suited as bridesmaid dresses and are priced at well under $100. They are also great for wedding guest dresses to wear again. They offer so many burgundy dress styles including wrap dresses like this one the
Heart of Marigold Burgundy Wrap Dress which is only $68!
Kennedy Blue

Elena Bridesmaid Dress in Cinnamon from Kennedy Blue

BHLDN is now known again under its parent label, Anthropologie. Anthropologie Weddings always offers a bridal boutique-like selection of modern bridesmaid dresses with a romantic style and classic lines. They have recently created their own line of bridesmaid dresses which features many bridesmaid dress styles under $200. Right now they offer gorgeous red velvet bridesmaid dresses from Jenny Yoo, as well as satin dresses and some modern crepe styles.

Asos offers on-trend and affordable bridesmaid dresses in a selected grouping of colors that rotates by season. Usually, ASOS will offer several burgundy dresses for the fall and winter season.
More Red Wedding Ideas
Red bridesmaid dresses when paired with complementary accessories and bouquets, further enhance the overall look. Silver or gold jewelry can add a touch of glamour, while nude or black heels can complete the ensemble. Bouquets featuring fall foliage colors, white, orange, or green flowers can provide a striking contrast.
Red bridesmaid dresses are a timeless and elegant choice for bridal parties, giving both sophistication and vibrancy to a wedding color palette. Red dresses are known for making a classic but striking statement, adding a pop of color to the wedding day. The color red symbolizes love, passion, and courage, making it an ideal choice for a wedding.
If garnet, red or burgundy is your wedding color, you might also like these posts.
Red Mother of the Bride Dresses
Red Ties for Grooms and Groomsmen
You may also like these popular bridesmaid dress colors including pink dresses, and little white dresses for the bride.
Past Features
This article was originally published on September 13, 2013 and was most recently updated on October 20, 2023.
These images were previously used on Pinterest to link to this page. These dresses are now likely to be sold out, but we have included these images here for credit to the shopping sources in the event that you are looking for these dress details.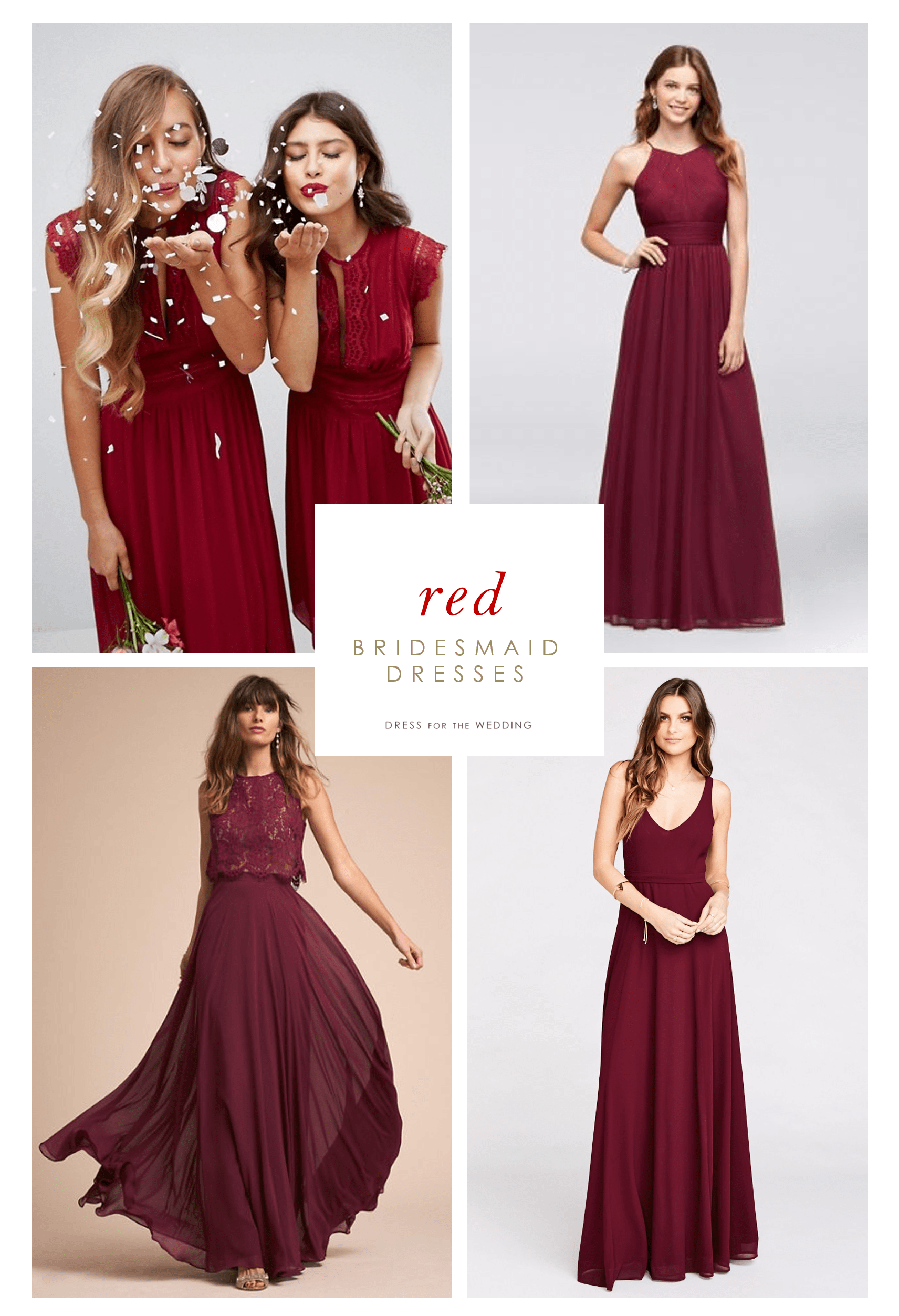 Shopping sources in our posts use commission links.
Sources: 1/ ASOS 2/ David's Bridal 3/ BHLDN 4/ Show Me Your Mumu