Pretty mother of the bride dresses for spring weddings.
Dresses for Mothers of the Bride or Groom for Spring Weddings
To help you on your search for the perfect spring mother of the bride attire, we've collected these spring mother of the bride dresses that have the unmistakable look of the season. These pretty dresses are for mothers, stepmothers, or grandmothers to wear in their role of honor at a March, April, May, or June spring wedding.
Links in italics in the text of this post and in the shop section are from affiliates and sponsors, meaning that this blog may earn a small referral commission from the retailer, at no cost to the purchaser, if a qualified sale is made.
Spring Mother of the Bride and Groom Dresses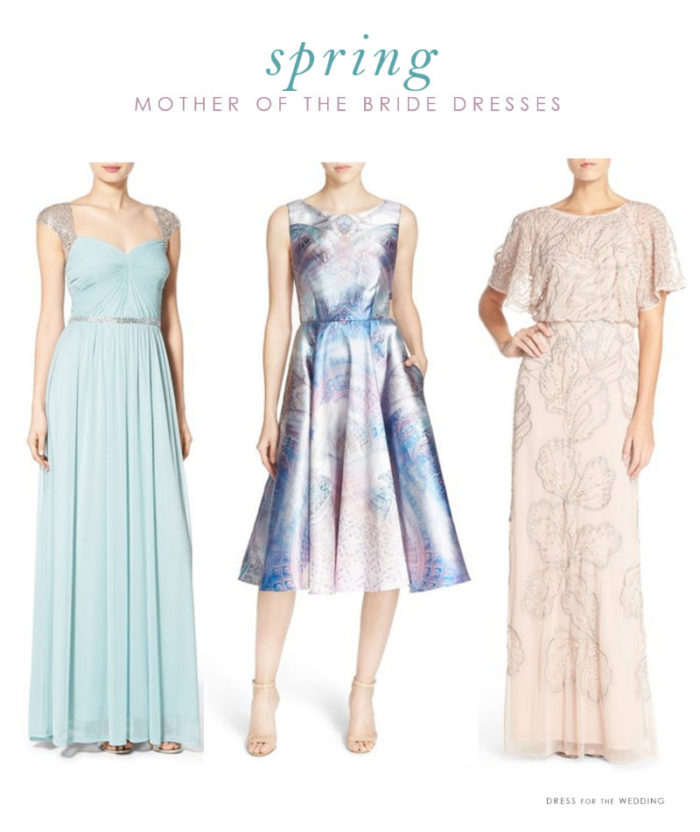 Featured image:1. Embellished Ruched Jersey Gown by Adrianna Papell 2. 'Larin Dress' by Ted Baker London from Nordstrom 3. Embellished Blush Gown by Aidan Mattox
Finding Spring Dresses for Mothers of the Bride
Spring weddings have a feeling all their own. Light, sunny, and usually full of flowers, and they often use pastel colors inspired by springtime blooms.
For that reason, it only makes sense that mothers of the bride or mothers of the groom would want to select attire that reflects these pretty colors for the season! If you are still looking for a spring dress, you can also browse Mother of the Bride dresses by color.
Find a Mother of the Bride Dress by Wedding Color
Sequined Mother of the Bride Dresses | Red Mother of the Bride Dresses
Pink Mother of the Bride Dresses | Coral and Peach Mother of the Bride Dresses
Yellow Mother of the Bride Dresses | Green Mother of the Bride Dresses
Light Blue Mother of the Bride Dresses | Dark Blue Mother of Bride Dresses
Purple Mother of the Bride Dresses | Silver and Gray Mother of the Bride Dresses
Gold, Taupe, and Neutral Mother of the Bride Dresses | Black Dresses for Mother of the Bride
Summer Mother of the Bride Dresses
Fall Mother of the Bride Dresses