If you're shopping for a mother-of-the-bride dress in navy or dark blue, we've done some of the searching for you! We'll show you where to find and shop for navy blue and dark blue Mother of the Bride Dresses. We've selected some short and long navy blue styles, navy sequined gowns, and blue mother-of-the-bride dresses with sleeves, and also some sleeveless styles to hopefully help with your search for the perfect navy blue gown for the Mother of the Bride.
This site uses commissionable links in the products we feature. Each image or link is linked to the retailer's site where you may shop these looks.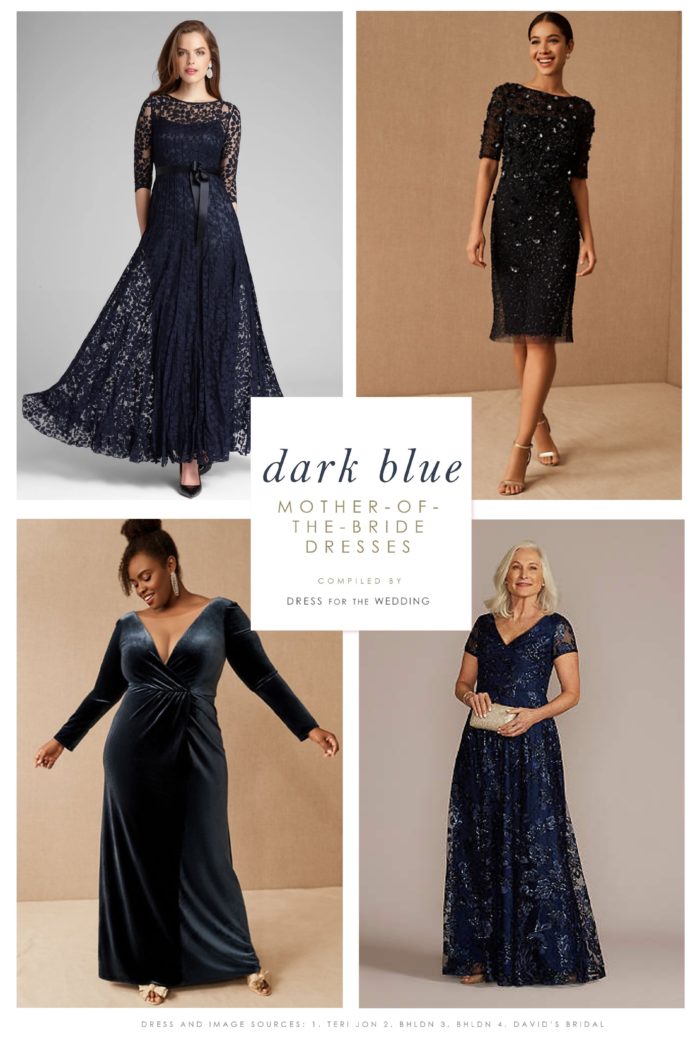 Shopping sources: 1. Long Sleeve Navy Lace Gown from Teri Jon 2. Short Sequin Cocktail Dress BHLDN 3. Velvet Gown from BHLDN 4. Short Sleeve Lace Gown from David's Bridal
Dark Blue Mother of the Bride Dresses
From the darkest midnight or navy blue to deep cobalt, dark blue, or navy, blue mother-of-the-bride dresses are a completely classic choice for any wedding event. Dark blue is timeless and blends with so many other colors that the wedding party might wear. We've selected some of our favorite casual, semi-formal, and formal navy blue dresses for mothers in a wedding from some of my sponsors and affiliated retailers to simplify your hunt for the perfect dark blue mother of the bride or mother of the groom dress.
Shop The Dresses
Here's our latest curated selection of dark blue mother-of-the-bride gowns we've found in our searches. Each image links to the retailer where the dress can be purchased.

Short Blue Dresses
Short cocktail length styles are perfect for afternoon or early evening weddings or the warmer seasons. Here are a few of our current favorite shorter styles for mothers of the wedding.

Lace Tea Length Gown
A classic lace gown in a chic tea length. Ideal for daytime weddings or casual weddings. We also love that it features a bit of a short sleeve.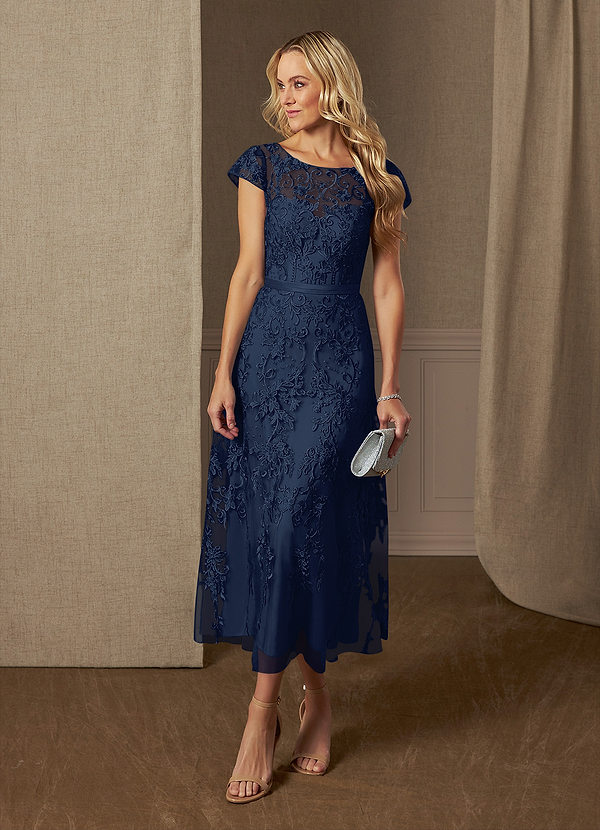 Long Dark Blue Gowns
Long gowns are favorites for all types of weddings but are particularly appropriate for evening, black tie, and formal wedding styles. Here are some of our favorite navy blue gowns.

Blue Dresses with Sleeves
One of the biggest requests we see is for gowns with long sleeves. Here are a few styles we love with short. long or 3/4 sleeves.

Chiffon Gown with Illusion Top and Lace Overlay and 3/4 Sleeves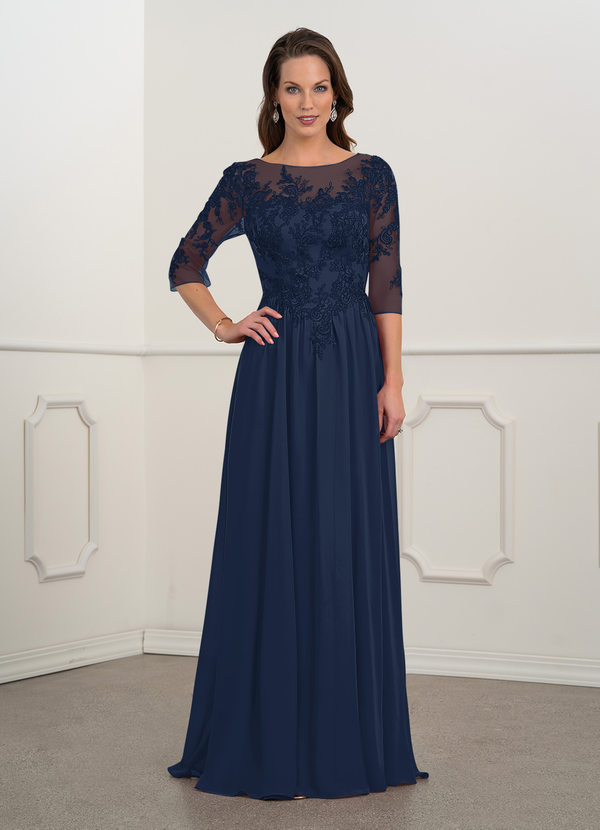 Modern Dresses
This tailored crepe gown with short flutter sleeves offers a clean and modern style mother of the bride gown.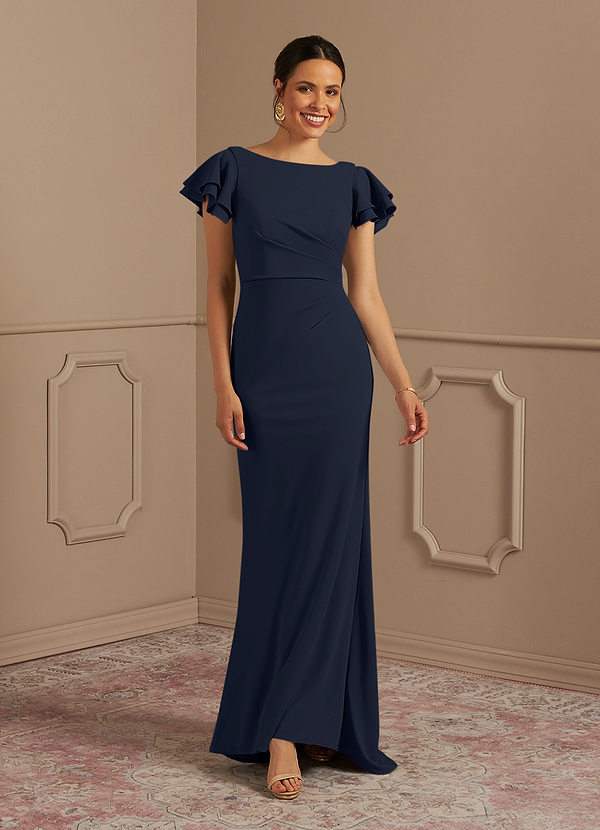 Peppermint Dress in Dark Navy from Azazie
More Navy Blue Dresses and Dresses for Weddings
The links below go to some of the dresses that were featured in the past on this page, but are now out of stock. We keep the link here in case you have reached this page from a pin on Pinterest, and in case the dress returns to being in stock at a later date.
Featured dress a Beaded Lace 3/4 sleeve gown with overlay skirt by Teri Jon
Can't find the dark blue gown or dress you thought you'd see here? See more navy blue dresses for weddings.
Still looking? See more dresses on the Find a Dress by Color Page, or the Mother of the Bride Dress Page.
The shopping section and links in italics are from our affiliated partners.
Blue Mother of the Bride Dresses at Nordstrom | Dresses at Neiman Marcus | BHLDN
Also check out these other Mother of the Bride Dresses sorted by color:
Sequined MOB Dresses | Red MOB Dresses | Pink MOB Dresses | Coral MOB Dresses | Yellow MOB Dresses | Green MOB Dresses | Light Blue MOB Dresses | Navy Blue MOB Dresses | Purple MOB Dresses | Silver and Gray Mother of the Bride Dresses | Gold, Taupe, and Neutral MOB Dresses | Black Dresses for Mother of the Bride | Plus Size MOB Dresses | BHLDN MOB Dresses | Teri Jon MOB Dresses