Beaded, Metallic, and Sequined Bridesmaid Dresses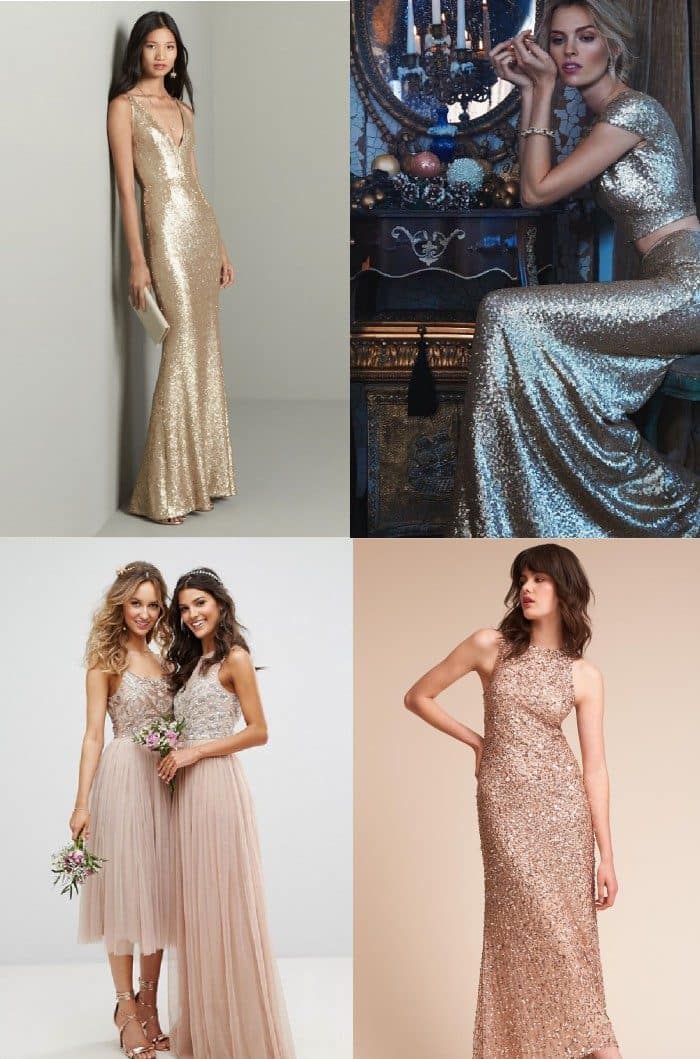 Featured Sequined and Beaded Dresses : 1. 'Mermaid Gown' From Dress the Population at Nordstrom 2. 'Cara' Two Piece Dress from Dress the Population Nordstrom 3. Maya Dresses from ASOS   4.Vanity Dress from BHLDN

There's no doubt about it — beaded, metallic and sequined dresses are here to stay, and they are making a huge splash in bridesmaid attire. These embellished gowns and dresses make a wonderful accent to a sequined mismatched bridesmaid look, or can give your whole bridal party that a uniform metallic glow and subtle sparkle.
These special glittering gowns are perfectly suited to black tie weddings, and the also work for the bride to wear to engagement events or rehearsal dinners, and some are gorgeous for wedding guests and mothers of the bride!
This shop section uses images and links in italics to Dress for the Wedding sponsors and affiliates.
Where to Find Sequin Bridesmaid Dresses
Without a doubt, some of the best-dressed bridal parties choose sequined or beaded dresses by Adrianna Papell. They are a great choice because all of her styles mix and match effortlessly and offer a range of sizes from petite to plus. If you've pinned an image of long beaded bridesmaid dresses lately, there's a very good chance that the look was created using those dresses. We've also found some great metallic, beaded and sequin styles at Nordstrom by Amsale, Jenny Yoo, and Lulus. We've updated the latest picks in the shop above.
Top Picks for Beaded or Sequin Bridesmaids' Dresses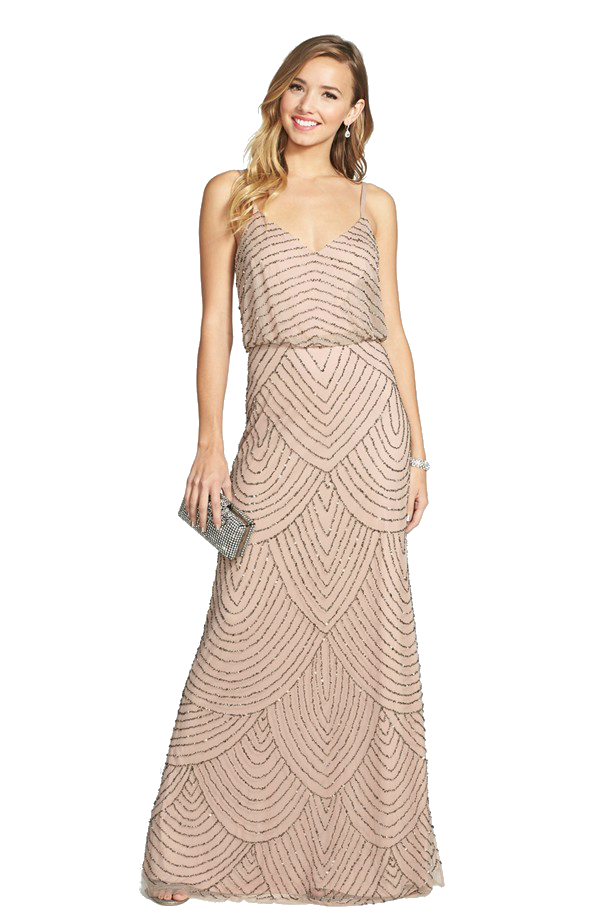 One of the top styles of beaded dresses is this Adrianna Papell Blouson Sequin Gown in Blush Taupe Combination
Sequin Bridesmaid Dresses to Rent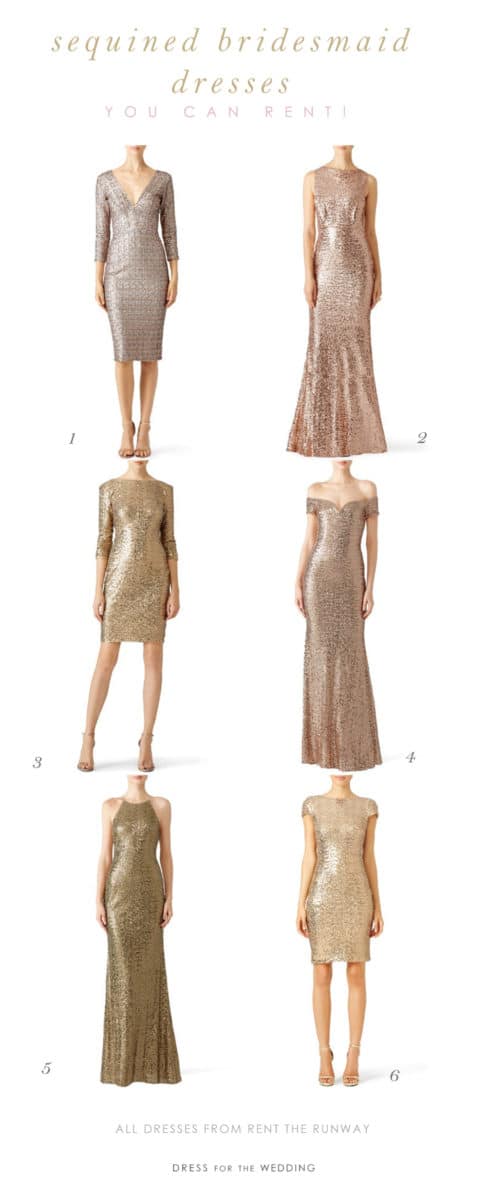 All Dresses from Rent the Runway by Badgley Mischka and Dress the Population:    1| Long Sleeve V Neck Sheath Dress by Dress the Population 2 | Blush Sequin Blouson Gown 3 | Gold Sequin Long Sleeve Cocktail Dress  4| Off the Shoulder Sequin Gown  5| Gold Sequin Racerback Gown (also comes in a Rose Gold Sequin Racerback Gown   6|  Gold Sequin Short Sleeved Sheath Dress
While designer beaded and sequin dresses for weddings can often be found for reasonable prices at places like Lulus, you may also want to just have your wedding party rent a dress, or offer it as an option for those who don't want the expense, from Rent the Runway carries all of the top sequin styles, like these Badgley Mischka Gowns. 
More Blush, Gold and Silver and Rose Gold Sequin Bridesmaid Dresses
Adrianna Papell Bridesmaid Dresses come in every size from petite to plus.
This gorgeously embellished beaded style from ASOS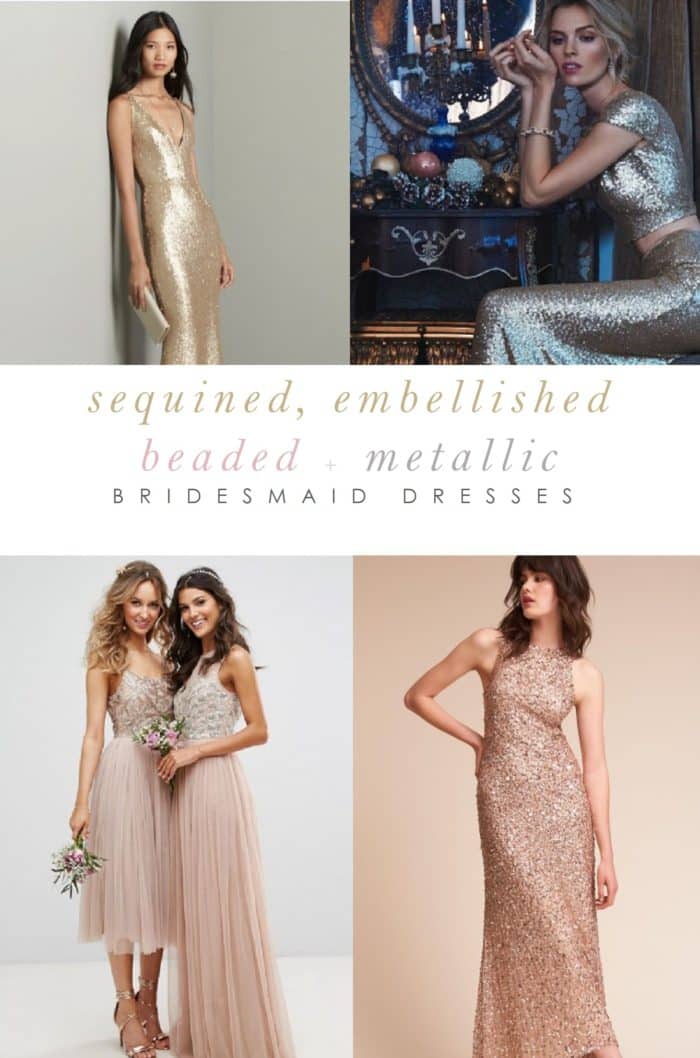 1. 'Mermaid Gown' From Dress the Population at Nordstrom 2. 'Cara' Two Piece Dress from Dress the Population Nordstrom 3. Maya Dresses from ASOS   4.Vanity Dress from BHLDN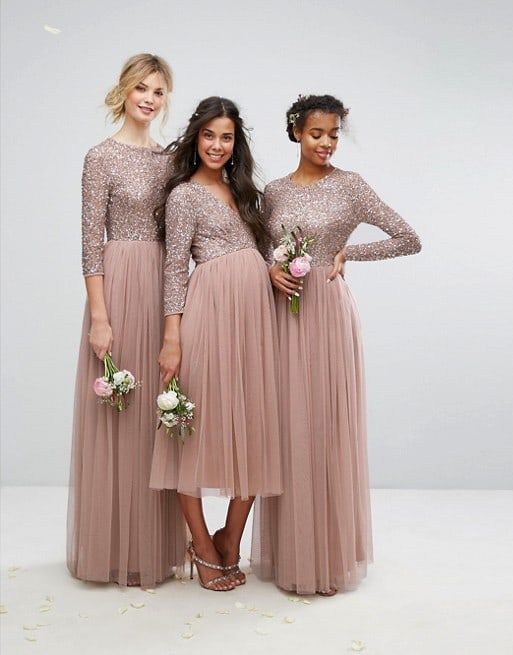 Long Sleeve Sequin Dresses for Bridesmaids by Maya at ASOS.
See some of our favorite shopping posts with even more bridesmaid styles to choose from:
Pink and Blush Bridesmaids' Dresses
Neutral and Taupe Bridesmaids' Dresses
Shop by Color for Bridesmaids' Dresses
Top Picks for Beaded or Sequin Bridesmaids' Dresses